Iota Mu/Missouri named a recipient of the 2018/2019 Sidney Ann Gilpin Lewis Award
Bloomington, IN - Theta Chi Fraternity is proud to announce Iota Mu Chapter at the University of Missouri as a 2018/2019 recipient of the Sidney Ann Gilpin Lewis Award. The award was presented during the third session of the 2019 Initiative Academy.
Today, this award recognizes the true spirit of An Assisting Hand. The award may be presented to a collegiate chapter or a brother who most exemplifies our ideal of extending a helping hand.
Iota Mu did an outstanding job of showcasing this spirit to their campus and their community.
The brothers raised over $11,000 for the USO through their annual country concert, "Rally for the Troops".
During MizzouThon, an annual dance marathon to benefit the Miracle Children, the chapter raised $7,566, the second highest amount raised by an organization on campus. Iota Mu Chapter also had more than 70 members participate in a blood drive and donated over 5,000 cans of food to local food pantries.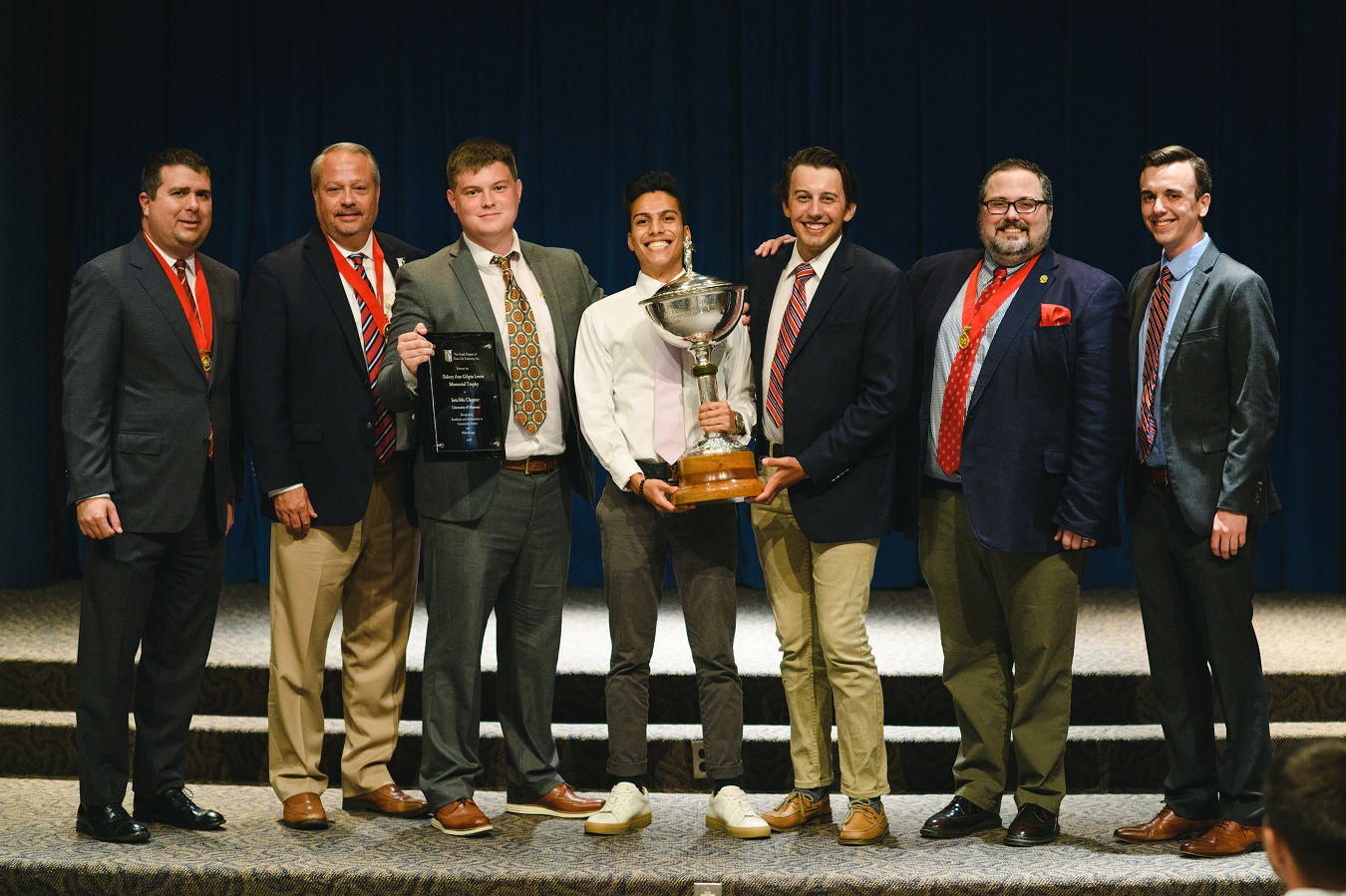 In coordination with MizzouThon, the chapter has been part of a team to sponsor their sweetheart, Cassiday-Rae Luebbering, a local fifth grader who has cerebral palsy. In her honor, the chapter created a scholarship to be given out to one local high school senior each May. Through early fundraising methods, they expect this year's recipient to receive a scholarship for well over $1,000.
The gentlemen of Iota Mu Chapter continue to strive in instilling the critical ideals of Theta Chi within their chapter, on campus, and in the community of Columbia, MO.
The Sidney Ann Gilpin Lewis Award, represented by the Lewis Memorial Trophy, is tied to a story of true friendship and brotherhood that epitomizes our motto of "The Assisting Hand."
In 1930, then-National Vice President James G. Lewis' daughter, Sidney Ann, was in a New York City hospital, stricken with spinal meningitis, which developed from an infection following a serious operation. Brother Lewis gave several blood transfusions and when doctors refused to use his blood again, it was essential that others be found whose blood could be a match. Fellow Grand Chapter member Dr. Robert L. Irish was in constant contact with the situation and informed the officers of Upsilon Chapter at New York University. The next day, several members of Upsilon Chapter arrived at the hospital offering to donate their blood. Two more transfusions were made, but tragically, Sidney Ann died at midnight.
Later that year, Brother Lewis presented a trophy to the Grand Chapter in memory of his daughter. He did not specify a purpose, but merely wanted to thank the Fraternity for its assistance during the period of his daughter's illness.
Founded in 1856, Theta Chi Fraternity is a men's collegiate fraternity with more than 191,000 initiated members and has established 241 chapters. Leadership development, personal development, and service to alma mater are fundamental to Theta Chi Fraternity's mission.