Kappa Mu/Point Loma Nazarene Installed
San Diego, CA - It was a beautiful, picturesque day in San Diego on Saturday, April 27, 2019. The sun was shining, the breeze was blowing in off of the Pacific Ocean, and the temperature was 68 degrees. It was a perfect day to be outside.
The Resolute Men of Theta Chi found themselves indoors at the San Diego First Church of the Nazarene for much of the day. It was time to extend a Helping Hand. It was time to initiate 28 new brothers and install the Kappa Mu Chapter of Theta Chi Fraternity.
What makes Point Loma Nazarene University unique is that there was not a Greek life presence on campus. Though local fraternities had existed for a time until the early 2000s, no national Greek organization had ever been represented. As a freshman, Joe Bravo (2019) recognized the importance and value of the fraternity experience in developing men. Joe and several of his friends decided to take it upon themselves to be leaders and start the first fraternity on campus. These men realized that college can be a formative time for men, and that having a support system that a fraternity offers provides a commitment to the betterment of each other in academic, athletic, spiritual, and social life.
Joe and the other members of the interest group reached out to friends on campus to gauge their interest in starting the first fraternity at Point Loma Nazarene. Meanwhile, they also reached out to friends at other universities who were in fraternities including Janson Fritzley, a Theta Chi from the recently reinstalled Alpha Sigma chapter at University of Oregon. Fritzley spoke highly of his time in Theta Chi and gave Joe the contact information for then-Director of Recruitment and Expansion JD Ford. Upon researching the history and ideals of Theta Chi, the members realized it was a great fit to their aims and what they were looking for in a fraternity. "The values of true friendship and the usefulness of the Fraternity spoke to the vision that we had for ourselves", stated Bravo. "The military background of Theta Chi appealed to many of our members as well. Three of our members are currently apart of ROTC, and others either plan to or are considering a future in the military".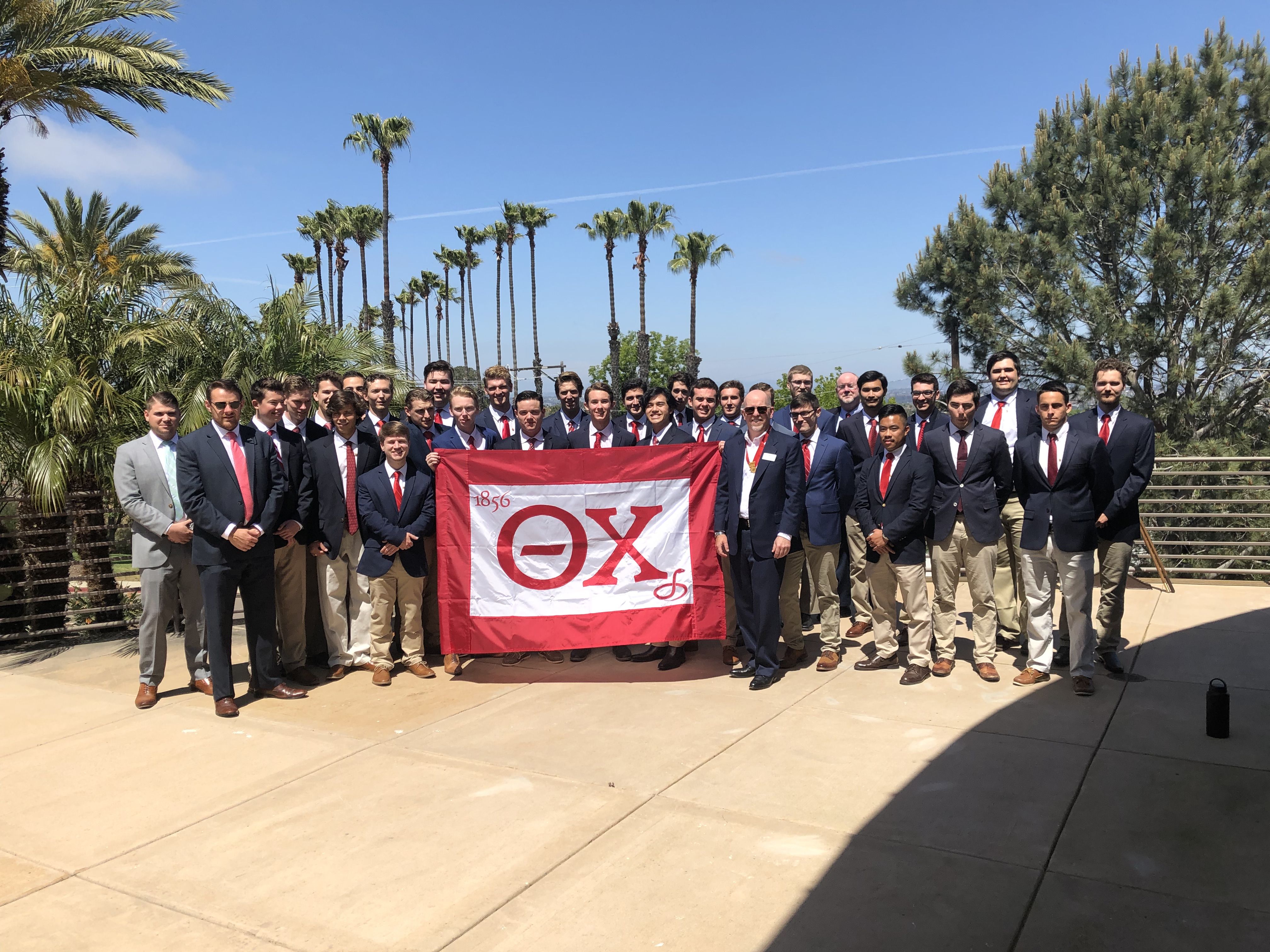 In an effort to grow the group, the members got involved with numerous organizations on campus including: Air Force ROTC, Alumni Association, College Republicans, Discipleship Ministries, DPS, Enactus, French Club, Friends of Zion, Homeless Ministries, Intramurals, Launch Point, Paddling Club, PLNU Botanical Service Projects, Public Safety, Rugby Club, School Newspaper, SGYC Junio Sailing Program, Sodexo, Speech and Debate Team, Spikeball Club, Student Accounting Society, Student Senate, Surf and Serve Ministry, Toastmasters, Video Game Club, Volleyball Club, We are Righter, and Young Americans for Freedom.

Following their formal colonization in March 2017, members attended Theta Chi's international and regional leadership education events and began the work of recruiting and growing their membership. The colony reached out to the Student Veterans Club to help in setting up the first annual G.I. Theta Chi event to benefit the USO, held on campus on the soccer field overlooking the ocean. The colony also volunteered at Special Olympics of Southern California's spring games, held on PLNU's campus.
Prior to the start of the 2018/2019 academic year, the colony held a brotherhood retreat at Granite Ridge Christian Camp near San Luis Obispo, CA. The group came back to campus ready to hit the ground running. After overcoming some challenging obstacles during their recruitment efforts, the group thrived and organized their first official social/date function. Several members became involved with and volunteered at Homecoming. The colony held a beach cleanup event and their positive reputation on campus gained traction.
As the group continued its growth and achievements, they petitioned the Grand Chapter for installation as a full chapter in Theta Chi Fraternity. Their petition was approved in April 2019.
The 28 Kappa Mu Charter Members are: Cody Adams (2022), Griffin Aseltine (2019), Dirk Bates (2021), Clayton Bendigkeit (2020), Cody Bocoboc (2021), Joe Bravo (2019), Logan Bruun (2021), Lucas Difley (2021), Drew Edwards (2022), Jonny Espinosa (2020), Zach Faust (2022), Ethan Hammershaimb (2019), Zach Henderson (2019), Zach Kall (2021), Chris Mansfield (2022), Liam McTigue (2021), Matt Meyers (2021), Zeshan Monks-Husain (2022), Jacob Pelto (2021), Jonny Ramon (2020), Joshua Schneider (2021), Luke Solaas (2022), Joe Stanphill (2021), Joey Stull (2021), Matthew Swaim (2022), Jesse Thompson (2021), Walker Thurston (2019), and Lyle Torwick, (2019).
International Chaplain Herb Morgan presided over the ceremonies held in the Ellipse Chapel and led the Installation Committee composed of other long-time Southern California volunteers including: Past Grand Chapter Officer Ron Ramos (Gamma Theta/San Diego State 1968), Past Norwich Housing Corporation Officer Jeff Anderson (Beta Alpha/UCLA 1989), CAB Ambassador Jim McMahon (Zeta Epsilon/Long Beach State 1979), and Gamma Theta Alumni Secretary Kia Sepassi (Beta Iota/Arizona 2001). Brother Morgan was also joined by his son, Spencer Morgan (Kappa Alpha/Spokane, WA 2016). Staff members in attendance included Chief Operating Officer Ray Vanlanot, Chief Communications Officer Ben Hill, Director of Recruitment and Expansion Taylor Dahlem, and Field Executive Colin Ogle.
Taylor Dahlem and Colin Ogle were joined by three Zeta Rho chapter brothers from the University of Kentucky: Ian Blair (2014), Tristian Cook-Ziegler (2017), and Patrick Tancula (2014). Blair, Dahlem, and Tancula had been Rechartering Members of Zeta Rho during their collegiate years.
Lucas Dias (2020) and Nicholas Lucius (2021), two Charter Members from Kappa Lambda Chapter installed just a month prior at CSU-San Marcos, traveled the 40 miles to support brothers that they had known for the past few years as they both worked to install their respective chapters.
The Initiation began at 11:15 AM and was followed by the Installation of Kappa Mu Chapter and then the Installation of Kappa Mu's officers, with Jonny Espinosa as Kappa Mu's first Chapter President.
At 3:00 p.m., brothers, parents, and guests converged at the Family Life Center of the church for the Installation banquet. Remarks were shared by Taylor Dahlem, Colin Ogle, Chapter Adviser Steve Brenoskie, Ben Hill, Ray Vanlanot, Former Colony President Joe Bravo, and Chapter President Jonny Espinosa.
Espinosa shared, "Theta Chi Kappa Mu is a fraternity that has triumphed over all adversity. This can be attested to the determination, focus, and unity within our chapter." He continued, "Theta Chi has given foundation and purpose for several young men at our university through its traditions and ideals. Theta Chi challenges us to constantly build our character by living our motto of lending an Assisting Hand to all who seek it and by striving to become a Resolute Man…There is a lot of work to be done. But I have no doubt through hard work, creativity, and most importantly, grit, this chapter can soar to its highest potential." Espinosa concluded by saying, "I am proud to call each and everyone single member of this Fraternity my brother. It has been my utmost pleasure to serve you all as your President. I urge you to continue to live our Creed and realize that you now share the traditions, ideals, and fellowship of over 185,000 other men across North America. We are here, boys. We have made history. We are Theta Chi."
Espinosa then presented awards on behalf of Kappa Mu Chapter to the following brothers:
Assisting Hand Award: Matthew Swaim
Scholar of the Year Award: Joe Bravo
Brother of the Year Award: Logan Bruun
Next, Chapter Adviser Steve Brenoskie (Zeta Omega/West Chester 2006) received the David E. DeVol Award in recognition of his exemplary support of the men seeking to bring Theta Chi to Point Loma. International Chaplain Herb Morgan made the award presentation and was joined by the award's namesake, the Grand Old Man himself, Past International President Dave DeVol (Gamma Theta/San Diego State 1959). DeVol attended the banquet with his daughter, Sue, an alumna of Point Loma Nazarene University.
Brenoskie said, "I was privileged to be the advisor for this incredible group of collegiate men on their journey to be initiated and installed as a chapter of Theta Chi Fraternity. I was humbled to be a part of their journey and see them accomplish their goal. It is a privilege to now call them brothers!"
Brother Morgan welcomed the new brothers to the Fraternity and shared his personal history of being a Charter Member of Theta Iota/UC-Santa Cruz and establishing the very first international fraternity on his campus, something shared by his son Spencer (a Charter Member of Kappa Alpha Chapter while a student at Gonzaga University) and now shared by the Resolute Men of Kappa Mu Chapter. Morgan congratulated the new brothers on their accomplishments and urged them to continue to continue their great work.

Upon reflection on the journey of Kappa Mu Chapter, Joe Bravo shared, "When I first got onto campus I wanted a space where I could be authentic and make friendships that would last a lifetime. However there were few such distinctly male groups on the campus that provided this sort of friendship and support. I had friends from high school who had joined fraternities when they went to college. Those of us who would go to form the interest group gathered, and we felt that the campus would benefit from a fraternity, and that we wanted to be the ones to start one. I can safely say that I know the friendships I have developed in Kappa Mu will last a lifetime, and that the chapter will continue to good works at PLNU."

Kappa Mu is the 241st chapter installed in Theta Chi Fraternity and the 23rd installed in California.
Congratulatory notes can be sent via email to Jonny Espinosa.
You can follow the progress of Kappa Mu Chapter on Instagram.
Founded in 1856, Theta Chi Fraternity is a men's collegiate fraternity with more than 191,000 initiated members and has established 240 chapters. Leadership development, personal development, and service to alma mater are fundamental to Theta Chi Fraternity's mission.