Kappa Nu/Colorado Installed
Boulder, CO - On August 29, 2020, Theta Chi installed the Kappa Nu Chapter at Colorado. The fraternity now boasts three active chapters in the state of Colorado.
In Fall 2017, Director of Recruitment and Expansion Taylor Dahlem received a call from Marc Stine, the Greek Advocate for the IFC on the Hill, which is an independent and autonomous Undergraduate Interfraternity Council in Boulder, CO. Given their open expansion policy, Stine informed Dahlem that they would like to have Theta Chi join the IFC on the Hill. In spring 2018, Dahlem submitted a request for Theta Chi to expand to Boulder, CO and was accepted, with the start date slated for the fall 2018 semester.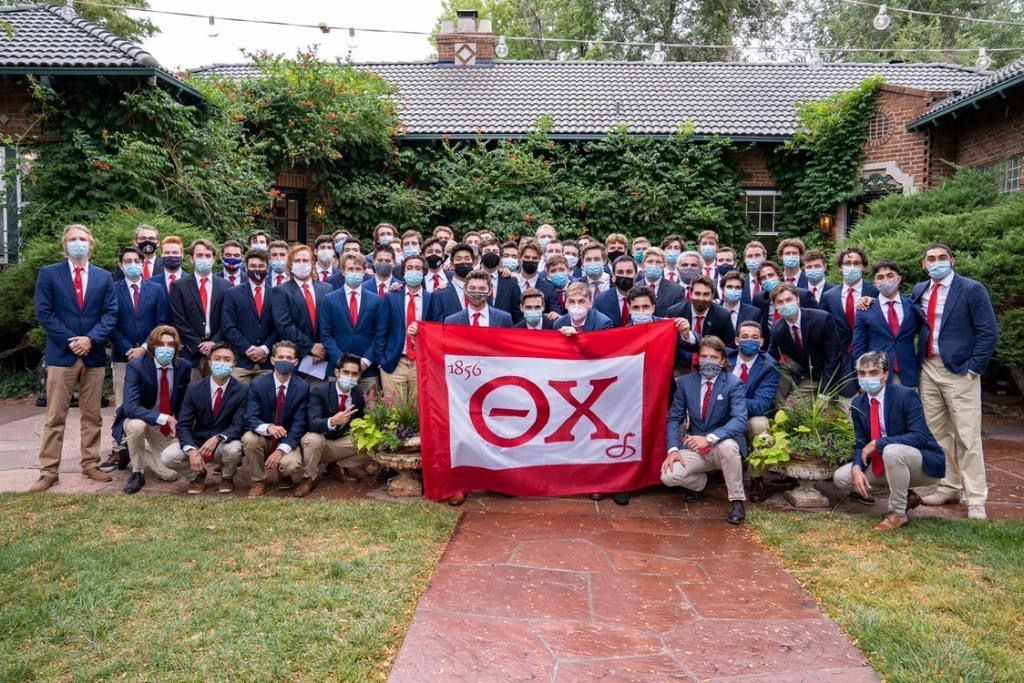 In August 2018, Field Executives Mitch Nolan and Brandon Taylor departed from the International Headquarters in Carmel, IN, and traveled to Boulder, CO, to begin the process of starting a new colony. Through vigorous recruitment efforts that lasted over two months, the Field Executives were able to build the colony to 20 members and Colorado was officially colonized on October 20, 2018.
In order to grow the colony, members got involved with numerous groups on campus including Advertising Club, AICHE, Alpine Club, Archery Club, Backcountry Ski Club, Boulder Freeride, Buff Sports Live, Club Baseball, Club Fly Fishing, Club Swimming, Club Tennis, Colorado Crew, CUARC, CU Endurance Racing Team, CU Equestrian Team, CU Free Ride, CU Hiking Club, CU Rave Club, CU Russian Club, CU Skate Society, CU Snowboard Team, Eagle Scouts, EWB, Free Ski Club, Generation Exchange, Intramural Sports, Leeds Mentor Program, Media Club, Mixed CU, Mountain Biking Club, Museum Preservation and Appreciation Club, Music Club, National League of Young Men, Paintball Club, Pre Med Club, Psychology Club, Racing Club, Radio 1190, Real Estate Club, Rotary Club, SASA, Ski/Snowboard Club, Student Veterans, VSA, Wildlife Club, and YAM.
The colony also hosted Sacred Purpose events pertaining to suicide prevention and intervention, drug use and abuse, and hazing prevention, participated in multiple sorority philanthropies, and helped clean up the hill as part of the annual Halloween Hillanthropy.
Originally scheduled to be installed near the end of the spring 2020 semester, the ceremony was postponed when campus was closed due to COVID-19. The colony stayed connected throughout the summer and were able to reconvene on August 29, 2020, when they were officially initiated and installed as the Kappa Nu Chapter of Theta Chi.
The 63 Kappa Nu Charter Members are students at the University of Colorado: Jacob Alderman (2023), Colin Bailey (2022), Braden Bartlett (2023), Josh Bond (2022), Dylan Bontranger (2023), Grant Brooks (2023), Mark Chernyshov (2021), Nate Christy (2022), Joey Crowley (2021), Jack Czarnecki (2023), Shanay Dingwaney (2020), Brian Elledge (2021), Hunter Evering (2020), Jack Forman (2023), Eli Fuchs (2021), Nico Gianos (2022), Henry Greene (2023), Tyler Greene (2022), Anthony Grippo (2021), Noel Hackett (2022), Alex Harlan (2023), Trevor Hayes (2023), Chad Hemauer (2022), Will Holder (2022), William Hollenbach (2023), Glenn Holzhauer (2022), Alec Horn (2022), Tim Hoyev (2021), Zack Hubbard (2021), Nicholas Kuhn (2022), Nathan Lane (2023), Pierce May (2023), Callum McCarthy (2023), Ian McLean (2023), Alexander Miceli (2023), Markus Millan (2022), Bingham Mitchell (2021), Oliver Movtady (2020), Michael Pogrebitsky (2023), Brett Polley (2022), Matthew Riegelman (2020), Erik Roberts (2022), Pablo Rodriguez (2023), Caden Scates (2022), Justin Schwartz (2023), Quinn Seawalt (2021), Kyle Seiler (2021), Brock Settlemier (2021), Omkar Shine, Nathan Shomo (2022), Cole Smith (2022), Kyle Smith (2023), Drew Spear (2021), Anthony Stanz (2023), Tommy Storey (2023), Ali Sultan (2022), Kevin Truong (2022), Blake Vallum (2022), Ryan Wallis (2022), Robert Weber (2023), Evan Wilkinson (2021), Christian Williams (2022), and Garrick Wong (2023).
One Theta Chi legacy became a brother: Matthew Riegelman (2020), son of Kurt Riegelman (Zeta Epsilon/Long Beach State 1987).
The Installation Ceremony was held at the Lionsgate Center in Lafayette, CO, with past International Secretary Doug Miller serving as the Presiding Officer. Others in attendance included Past International President Dick Elder, Past International Vice President Brian Hall, Past International Vice President Jim Moylan, Past International Secretary CJ Vanstrom, International Chaplain Jim McMahon, Director of Chapter Development Mitch Nolan, and Field Executive Daniel Conner.
Chapters represented at the Installation Ceremony included alumnus brothers from Omega/Penn State, Alpha Kappa/West Virginia, Beta Iota/Arizona, Beta Phi/Nevada, Gamma Epsilon/Western Colorado, Gamma Theta/San Diego State, Gamma Lambda/Denver, Delta Eta/Colorado State, Delta Psi/Kansas, Zeta Beta/Adrian, Zeta Epsilon/Long Beach State, Eta Psi/UAB, Theta Eta/Sam Houston State, and collegians from Theta Kappa/Texas Tech.
A reception was held immediately after the installation ceremony at the Lionsgate Center as well. Doug Miller implored the new chapter to focus on what they can do this semester rather than what they cannot do; Dick Elder stated his excitement for the chapter's future and to reach out to him if they needed anything; Mitch Nolan talked about how being installed is just the starting line to becoming a great chapter; and Daniel Conner spoke about ensuring the future brothers they bring in are joining for the same reasons the Charter Members joined.
Kappa Nu Chapter President Zack Hubbard said, "It was a long road from colony to Kappa Nu, but looking to the future there is nothing this chapter cannot do. To be able to still hold ceremonies and events safely and in the midst of a pandemic, promoting brotherhood and companionship in times where we feel isolated, was well worth the extra effort from our executive board. Not only are we brothers with one another, but also with Theta Chis all over the world. We all take big pride in the chapter we built, and we will pass that pride down to all who seek to enter our ranks."
Chapter Adviser Power Donnelly (Alpha/Norwich 2017) remarked, "Watching the young men of Kappa Nu over the last two years grow and develop their identity as a group has been very rewarding. From the first gathering to now, they have all been committed to the goal of bringing Theta Chi to Boulder. I am proud to call them brothers and look forward to what they will accomplish!"
Several Official Family members paused after the momentous occasion and, upon reflection, shared their thoughts:
"Congratulations to our 63 (!) new Brothers of Kappa Nu Chapter! I was thrilled to join five former Grand Chapter members on the Installation Committee. I was particularly proud to have my Zeta Epsilon Chapter Brother Kurt Riegelman (1987) serve on the team, welcoming his son Matthew Riegelman into Theta Chi. These are the people and events that further convince me that the future is in good hands, and that the precepts, concepts, and principles of Theta Chi are even more important today than ever before."
– International Historian Jim McMahon
"I have done many installations, but this was the first that took place entirely outdoors. In this age of COVID-19, it is difficult to bring so many people together, but 63 new brothers were able to socially distance, mask and take the oaths of brotherhood. I was excited that my brother-in-law, Herb Henion, could become a member of the organization with this outstanding group of men. Taking everything into account, this will go down as one of the most memorable ceremonies in Theta Chi for me."
– Past International Secretary Doug Miller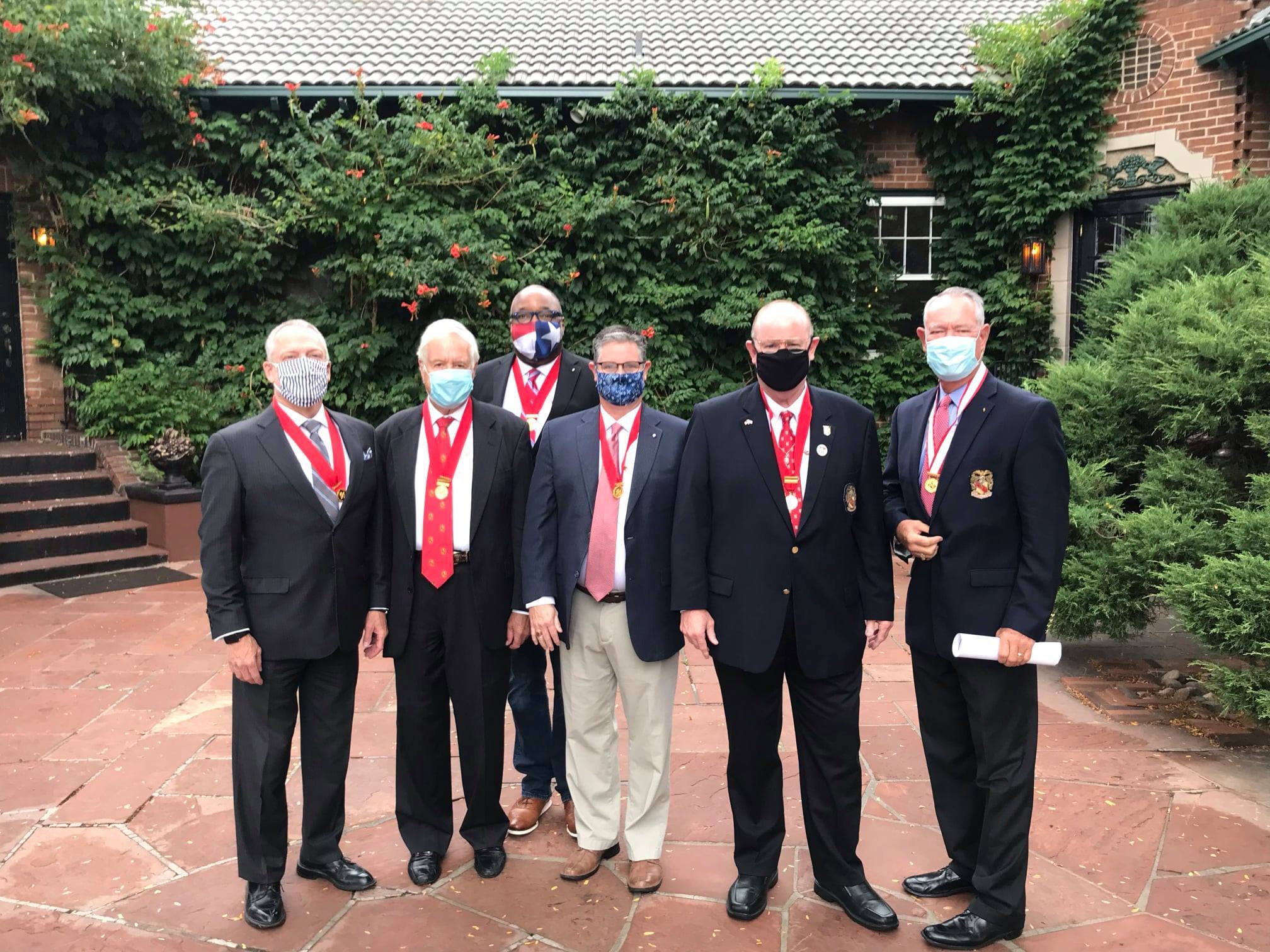 From L-R: Past International Secretary CJ Vanstrom, Past International Vice President Jim Moylan, Past International Vice President Brian Hall, Past International Secretary Doug Miller, International Historian Jim McMahon, Past International President Dick Elder
"The threat of rain couldn't "mask" the excitement and experience of the courtyard initiation of 63 new brothers into Theta Chi Fraternity this past weekend. Although all parties involved work masks for safety, their eyes beamed with pride and accomplishment. I'm extremely proud to be back in my home state and honored to help usher in the Kappa Nu Chapter of Theta Chi in such a beautiful ceremony."
– Past International Vice President Brian K. Hall
"I was especially privileged to serve on the Installation Team for Kappa Nu Chapter at Colorado since I was also fortunate to participate in its Colonization in 2018. I am very impressed with the quality of the 63 men we initiated into the Brotherhood of Theta Chi Fraternity. I am proud to call these men brothers and I wish them continued success. As a resident of Colorado and an alumnus of Gamma Lambda/Denver, I am available to lend a Helping Hand to them at any time."
– Past International Vice President Jim Moylan
"Attending a chapter installation is one of my favorite parts about working for IHQ. Having been one of the Field Executives who colonized the group, it is incredibly rewarding to see the Kappa Nu Chapter installed! I know the chapter will succeed and be nothing short of an asset to the Boulder community."
– Director of Chapter Development Mitch Nolan
---
Kappa Nu is the 242nd chapter installed in Theta Chi Fraternity and the fifth installed in Colorado.
Welcome and Congratulations to our new brothers in Colorado! Though born amidst a pandemic, may Kappa Nu's future be safe, healthy, and bright!
Congratulatory notes can be sent via email to Chapter President Zack Hubbard.
You can follow the progress of Kappa Nu Chapter on Facebook, Twitter, and Instagram.
Founded in 1856, Theta Chi Fraternity is a men's collegiate fraternity with more than 196,000 initiated members and has established 243 chapters. Leadership development, personal development, and service to alma mater are fundamental to Theta Chi Fraternity's mission.