Learning, Virtue, Piety: Kappa Pi Chapter Installed in Boston
Located just one mile from Theta Chi Fraternity's oldest active chapter— Beta Chapter at MIT—the Fraternity's newest chapter, Kappa Pi, was installed in Arlington, MA, just outside Boston, on Saturday afternoon, May 7, 2022, at the Arlington Masonic Temple in Arlington, MA.
Then-International Vice President Creig Andreasen (current International President) served as the Presiding Officer and initiated 37 men who currently attend and are pursuing degrees at Boston University:
Issam Alaga (2025)
Gmo Alonzo Salazar (2025)
Janier Arias (2024)
Karim Benromdhane (2023)
Eli Bunnell (2024)
Hinsley Casenet (2025)
Benjamin Craft (2024)
Renan De Cunha (2025)
Zack Doiron (2023)
Krishan Eskew (2023)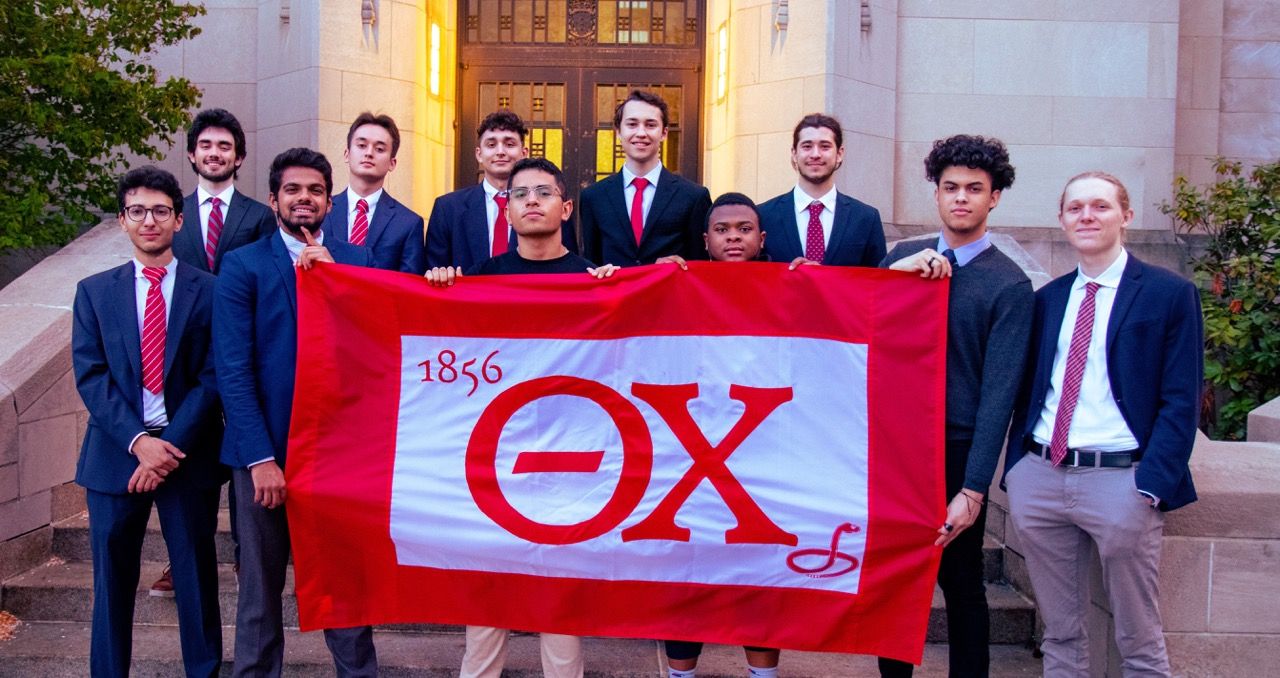 Burke Everett (2024)
Michael Fygetakis-Mandel (2023)
Matt Gibson (2023)
Xavier Guzman (2024)
Quan Ho (2025)
Ashburn Hu (2023)
Jason Huang (2025)
Abir Islam (2025)
Dominic Kennedy Slesar (2024)
Andriy Kolenov (2025)
Thomas Lawton (2024)
Brian Li (2024)
Moises Loriente (2022)
Nicholas North (2024)
Manan Patel (2024)
Joey Pauletto (2023)
James Persons (2022)
Easwer Raman (2024)
Jakob Rundlett (2024)
André Salkin (2024)
Sebastian Sanchez (2024)
Arjun Sawai (2022)
Evan Spalding (2025)
Robert Steger (2023)
Bharath Venkatesan (2025)
Parker Wu (2023)
Sinan Zerbe (2023)
Then-International Chaplain Toby Roth (current International Vice President) was also in attendance representing the Grand Chapter. Nine alumni were present representing six different chapters. These alumni were Kenneth R. Schumacher (Beta/MIT 2012), James M. Melvin (Epsilon/WPI 1985), Vincent G. Pagano (Zeta/New Hampshire 2020), Roy A. Velez (Zeta/New Hampshire 2020), Daniel P. Masterson (Eta/Rhode Island 2013), John D. Murphy (Eta/Rhode Island 1983), Thomas D. Wintle (Delta Zeta/Nebraska-Omaha 1970), CAB Member David B. MacDonald (Eta Delta/Babson 1978), and Chapter Adviser Adam M. Sachs (Eta Delta/Babson 1993). Senior Director of Growth Zack Brown and Director of Engagement Erik VanDenBerghe represented the International Headquarters staff.
Directly after the Initiation Ceremony, the Citation of Honor was presented to MacDonald and Sachs for their service as both adviser and chapter adviser for Kappa Pi Chapter. Moving forward, it will be critical for Kappa Pi to use these alumnus brothers' leadership qualities and experiences to become recognized as an official student organization by the Boston University administration. By becoming a recognized student organization, the chapter will be able to receive the same benefits and privileges of other recognized groups on the BU campus.
"We want to do things the right way," explained Zack Doiron, President of Kappa Pi Chapter. "Being a part of this organization is more than just the social scene—yes, we're going to have fun, but that fun doesn't represent who we are as a group." Now President of the chapter, Doiron was originally recruited to join the organization when they were "Boston Colony." Now, Doiron hopes to guide the chapter to the right place. "It's definitely a burden off my shoulders to know that we made it to installation, but our goal now is to get more involved with other groups on campus and host events with them," he tells. "While we are not yet recognized by the university or IFC, we hope that won't be a barrier for other organizations to be involved with us. We want to make our campus [at BU] a better place, but we'll also need to work with university administration and foster positive relationships along the way."
This group of young men are a mixture of Boston-locals, New Englanders and others from the northeastern U.S., and others from all around the world, representing an extremely diverse brotherhood in terms of geographic location and cultural representation.
A few pledges graduated before Kappa Pi became an official chapter of Theta Chi, so the group hopes to invite these individuals back to the area soon to initiate them as brothers of Kappa Pi Chapter.
As for Grayson Midkiff, now a BU graduate, who started the "Boston Interest Group" with fellow student Kyle Smith, he's impressed to see the group become a chapter of Theta Chi. "It's amazing seeing what they've done with themselves," he remarked of the chapter. "We started off as a tight group of guys who found brotherhood. Now, that same brotherhood will be preserved indefinitely—they finished the relay for all of us."
"This chapter of Theta Chi Fraternity is a true testament to the Fraternity's growth over the years," commented Senior Director of Growth Zack Brown. "As of today, Theta Chi's oldest active chapter, Beta/MIT, and our newest chapter, Kappa Pi/Boston, are now located within one mile of each other. We've truly come full circle in terms of representation across the country."
Thanks to the Freemasons of Arlington donating their space, the Arlington Masonic Temple provided an extremely unique and special venue for Kappa Pi's initiation ceremony. While the location of initiation shouldn't necessarily make one chapter's ceremony "better" than another, the new chapter and visiting brothers felt a serious, meaningful, and somber aura during this particular Ceremony.
While some last names were fumbled by the Presiding Secretary, the Kappa Pi brothers were humored by his attempts and forgave him wholeheartedly for his fantastic attempts at pronunciation. And, although the initiates originally had struggled with lining up in three rows at the start of The Ritual, they eventually felt more comfortable and got the hang of things.
"We were fortunate to have our Installation in the Temple," President Doiron recalls. "We're reaching back out to the Temple to see if they'd be willing to let us have our Initiation Ceremony at the same spot every semester. If the ceremony had been in some sort of shared space on campus, like a gym or something similar, I think it would've taken away from its importance. We're thankful that Erik [VanDenBerghe, Director of Engagement for Theta Chi Fraternity] found the place!"
The chapter has a long road ahead of them, full of ups and downs, but they're ready for whatever comes next. "There were definitely tough conversations we had starting out as a colony," said Doiron, explaining the debate and conversations regarding what ideals the group should stand for and traditions they should follow. "At the end of those conversations," he summarized, "we decided that we want to grow, but we want this [growth] to be quality over quantity. We want to build a positive image of the chapter, help create a positive environment at BU, and want people on campus to know that we want to be involved. We can't lose those ideals as we continue to grow the chapter."
Kappa Pi can rest a bit easier, knowing that Midkiff and others who graduated before their installation are ready to help whenever they are needed. "I think everyone in a fraternity who graduated worries about what's next for their collegiate brothers," started Midkiff. "However, I know the guys in Kappa Pi will only continue to grow, both as a group and as individuals, and those of us who graduated will always be there to give An Assisting Hand. I hope they move forward with optimism and zeal towards wherever they go."
Notes of Congratulations may be sent to Kappa Pi Chapter President Zack Doiron via email here.
You can support and follow Kappa Pi Chapter by visiting their website and following them on Instagram. If you'd like to recommend a recruit who will be attending Boston University in the coming semesters, be sure to fill out our form here.