Kappa Xi/Albany Installed
Albany, NY - On September 5, 2020, Theta Chi installed the Kappa Xi Chapter in Albany, NY. The Fraternity now boasts a total of 14 active chapters in the state of New York.
The idea to create a new chapter came about when members were walking to class and talked about how fun it would be to start a fraternity. From there, they began having small meetings in the library study area about gauging interest and looking into how fraternities typically start on college campuses and ultimately selected Theta Chi as the first fraternity to contact.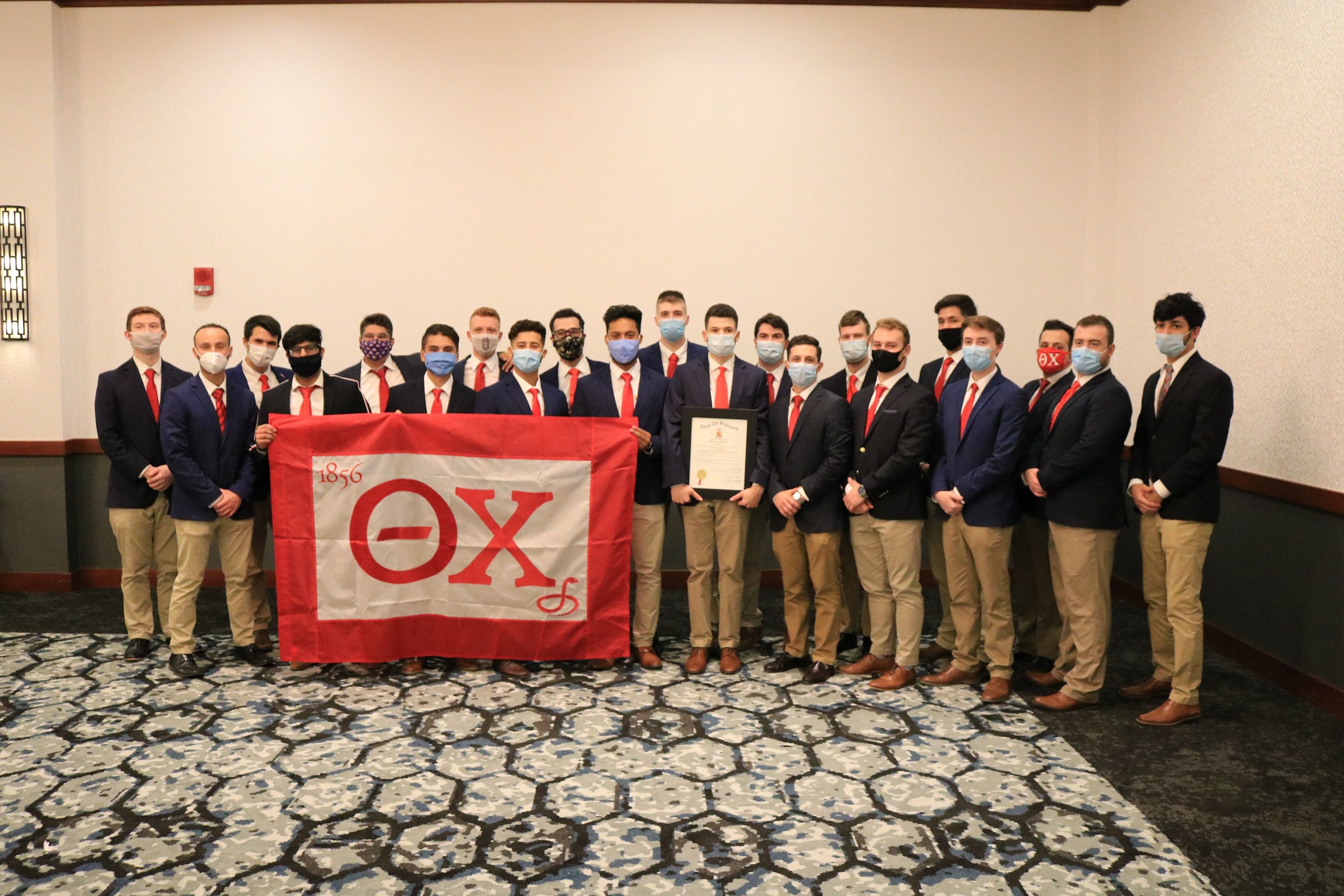 The International Headquarters quickly responded and the group planned for a visit from Chief Operating Officer Ray Vanlanot. As they told their once skeptical friends that someone from an international fraternity headquarters was coming to meet with them, interest began to grow. By the end of their meeting with Vanlanot, the first members of the group were motivated to represent Theta Chi at Albany. After additional recruitment and attendance at the 162nd Anniversary Convention, the Grand Chapter approved the group and they were colonized on September 8, 2018.
In order to grow the colony, members became involved with numerous groups on campus including the Albany State Indian Alliance, Alpha Phi Omega National Service Fraternity, Club Ultimate Frisbee, Club Volleyball, Cryptocurrency Club, Liga Filipina, NSCS, Orientation Leaders, Residential Assistants, Ski Club, Society for Human Resource Management, Stock Exchange Club, Student-Athlete Liaison Committee, and the Students for Sensible Drug Policy.
Members also participated in an Out of the Darkness Walk for the American Foundation for Suicide Prevention, the Making Strides Against Breast Cancer Walk, Take Back the Night event to end sexual violence, raised funds for the Albany Medical Center, assisted with the Pine Hills Cleanup, and were involved with the UAlbany Miracle Network Dance Marathon.
The colony was originally slated to install near the end of the spring 2020 semester. However, it was cancelled at the last minute due to the COVID-19 pandemic. As the fall 2020 semester grew closer, the members were able to find a date and location and, in the midst of the pandemic and despite a water main break that delayed traffic and threatened the closure of the installation site, they were installed as the Kappa Xi Chapter of Theta Chi on September 5, 2020.
The 21 Charter Member are students at the State University of New York at Albany and include: Connor Alfano (2023), Anthony Arocho (2023), Nicholas Collishaw (2021), Zachary Damore (2020), Ben Fish (2023), Manny Gonzalez (2021), Marty Hoff (2021), Henry Hren (2021), Gerardo Martinez (2021), Tyler McCarthy (2023), Tyler Mehm (2021), John Molloy (2020), Brett Musmacker (2023), Robert Nash (2021), John Parks (2020), John Ricupero (2023), Matthew Ricupero (2021), Kenny Sethi (2021), Chris Shariff (2021), Carlin Straney (2023), and Eric Weiser (2021). Additional members, including alumni from the colony who graduated in May 2020, were absent from the ceremonies due to work and family obligations. These men will be initiated by the Kappa Xi Chapter at a future date.
The Installation Ceremony was held at the Hilton Garden Inn in Troy, NY with International Marshal Alan Copeland serving as the Presiding Officer. Others in attendance included Chief Communications Officer Ben Hill, Field Executive Derek Hatzenbuhler, former Field Representative and Kappa Xi Chapter Adviser John Fridholm (Eta Delta/Babson 1984), and the Chapter President and local RPI alumni from Delta Chapter.
A luncheon at the hotel followed the Initiation Ceremony. Installation ceremonies resumed and after Kappa Xi was formally installed, International Marshal Al Copeland and John Fridholm congratulated the new chapter brothers on their hard work and that they are looking forward to seeing the group succeed.
Kappa Xi Chapter President Marty Hoff presented awards for the 2019/2020 school years:
Outstanding Senior Award: John Parks
Scholar of the Year: Jon Collins
Assisting Hand Award: Tyler Mehm
Outstanding Chapter Adviser Award: John Fridholm
Derek Hatzenbuhler then presented Theta Chi's Active Chapter Service award to Marty Hoff.
"I was very pleased to see the chapter installed," stated International Marshal Al Copeland. "They had been working on it for quite a while and had overcome several obstacles prior to the COVID outbreak. It was great to see the chapter persevere and meet their goal."
"This was my first installation, but I now realize just how truly special they are," said Field Executive Derek Hatzenbuhler. "It's exciting to see that even while complying with local and state policies regarding the pandemic, we're still able to come together to start a legacy and provide a new and exciting opportunity for the young men of our Kappa Xi Chapter. Starting a new chapter is no easy task, and it was refreshing to see a sense of accomplishment, pride, and optimism, especially now. Young chapters have such a unique opportunity to adapt and lay the groundwork for generations to come. I'd say any group that manages to install during this time of heightened uncertainty and restriction will be prepared for success. I'm looking forward to seeing where the chapter goes from here!"
"We have a tremendous group of motivated young men," stated Kappa Xi Chapter Adviser John Fridholm. "They've worked so diligently over these last two years, overcoming numerous challenges, to become a chapter. I'm excited to lend a hand to these brothers and help them move forward to continue building upon the solid foundation they have established."
"I couldn't be prouder of this chapter," stated Chapter President Marty Hoff. "Everybody has put in their all to get to this moment and now that it has come to fruition, the excitement and drive every member has for this chapter has not dwindled. With the continued spirit and integrity displayed by my brothers I rest easy as my term comes to end, knowing confidently that great things are going to arise from this group of men for decades to come."
Kappa Xi is the 243rd chapter installed in Theta Chi Fraternity and the 17th installed in New York.
Welcome and Congratulations to our new brothers at Albany! Though born amidst a pandemic, may Kappa Xi's future be safe, healthy, and bright!
Congratulatory notes may be sent to Chapter President Marty Hoff.
You can follow the progress of Kappa Xi Chapter via their Instagram account.
Founded in 1856, Theta Chi Fraternity is a men's collegiate fraternity with more than 196,000 initiated members and has established 243 chapters. Leadership development, personal development, and service to alma mater are fundamental to Theta Chi Fraternity's mission.