Kappa Zeta Raises Over $13K Promoting Suicide Prevention Awareness
Fayetteville, AR – Hoping to spread awareness toward suicide prevention across their campus, Kappa Zeta Chapter at the University of Arkansas raised nearly $13,500 after holding their first-ever Out of Darkness Walk in partnership with Arkansas' branch of the American Foundation for Suicide Prevention (AFSP). The symbolic walk on campus, held on Saturday, March 5, 2022, centered around Arkansas' historic "Old Main," the campus' oldest building dating back to 1875.
The co-partnered event had taken place at every institution of higher-learning in the state of Arkansas, except the University of Arkansas located in Fayetteville. Vice President of Health and Safety Dominic Armijo (2024) hoped to change that. "The organization's cause is very personal to me," Armijo explained. "I lost a very close freshman friend to suicide, yet nothing was said by the campus or local news outlets… The AFSP approached our previous VPHS and I at the conclusion of a mental health symposisum we held last year. We had numerous therapists and mental health professionals at a round-table discussion open to the whole campus, and afterwards the AFSP introduced themselves and pitched the idea to us."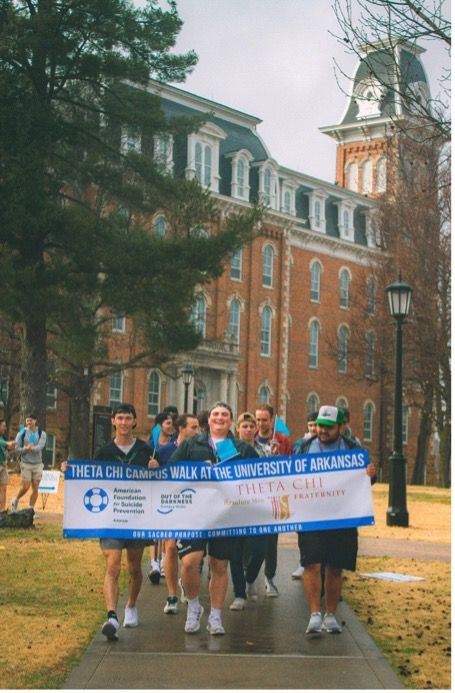 That small conversation led to the chapter's largest ever Sacred Purpose event in terms of both turnout and funds raised. The grand total, however, involved months of planning and a clear vision. "Before the walk took place, we worked for almost five months to find sponsors, build donation teams, and procure entertainment before and after the walk," described Armijo. "We ended up having almost 2/3 of our donations coming from corporate partners while the other 1/3 came from collegiate teams competing with each other to see who could donate the most money."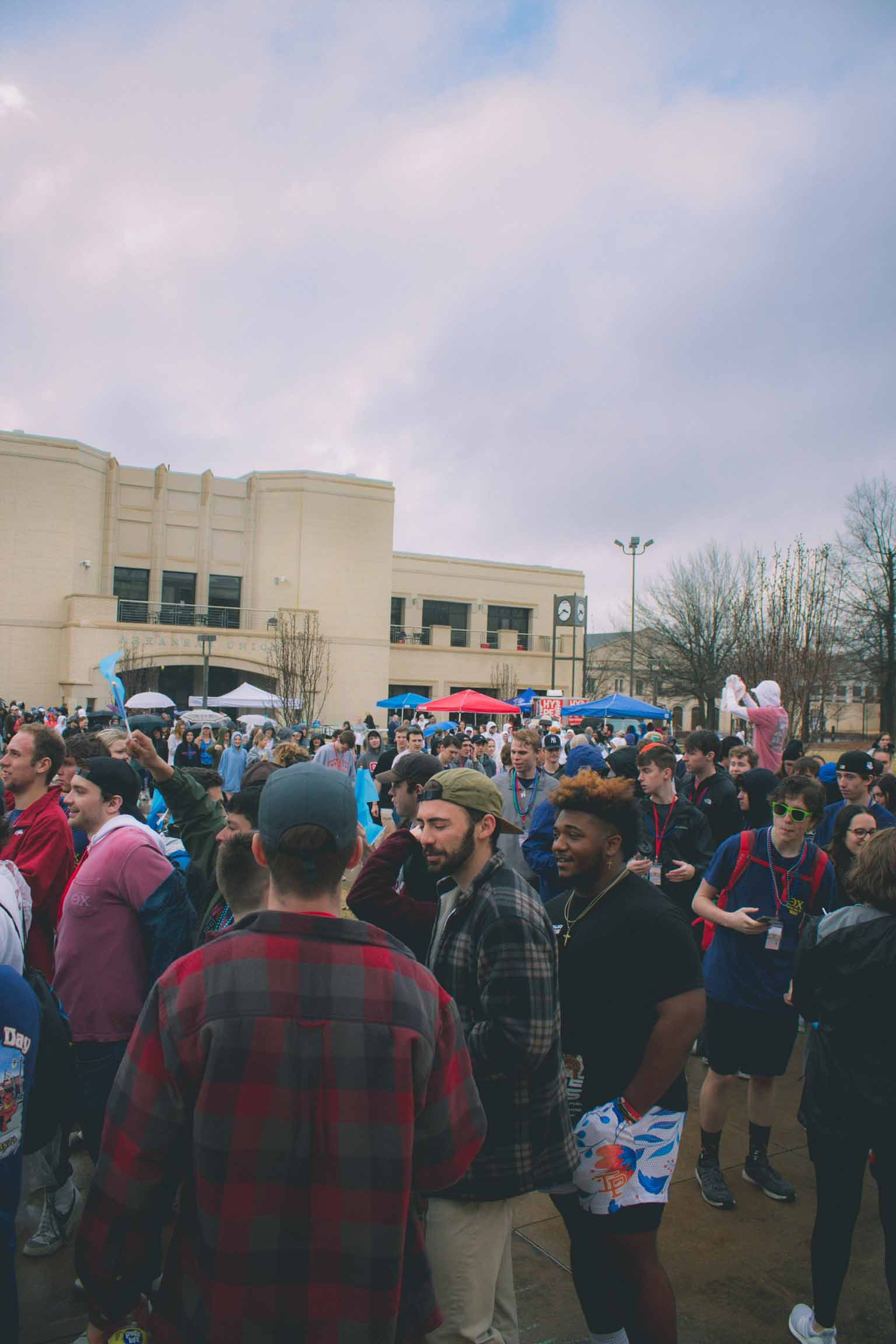 Of course, raising money for this cause was extremely important, but the focus of the event was on the walk itself. Over 50 Theta Chi collegians were a part of the walk attended by 323 people including collegiate members of Zeta Tau Alpha, Pi Beta Phi, Lambda Chi Alpha, Phi Mu, and Delta Gamma. The walk is symbolic and short, with a focus on maintaining silence out of respect for those lost to suicide. "As we walk in a straight line around 'Old Main' we all represent walking out of the darkness," said Armijo, recalling the event. "And just as important as the walk itself is having the campus community together. We used the time before and after the walk to connect with our brothers and others on campus, just to remind them they always have someone there for them and someone to talk to. Tents lined up around us that included various community outreach organizations, the university's sexual misconduct prevention unit, the local VA hospital, and even J.B. Hunt—a corporate sponsor of the event whose headquarters is located in Northwest Arkansas."
Theta Chi Director of Health and Safety Mitch Nolan expressed the importance of not only Kappa Zeta's event, but also the necessity of every chapter in Theta Chi holding their own Sacred Purpose events. "I am proud of the work being done by our Kappa Zeta Chapter to raise awareness and financial support for suicide awareness," Nolan notes. Sacred Purpose events like this exist to lift up those who need it most and our men at Arkansas are leading the charge to combat mental health issues that persist among collegians."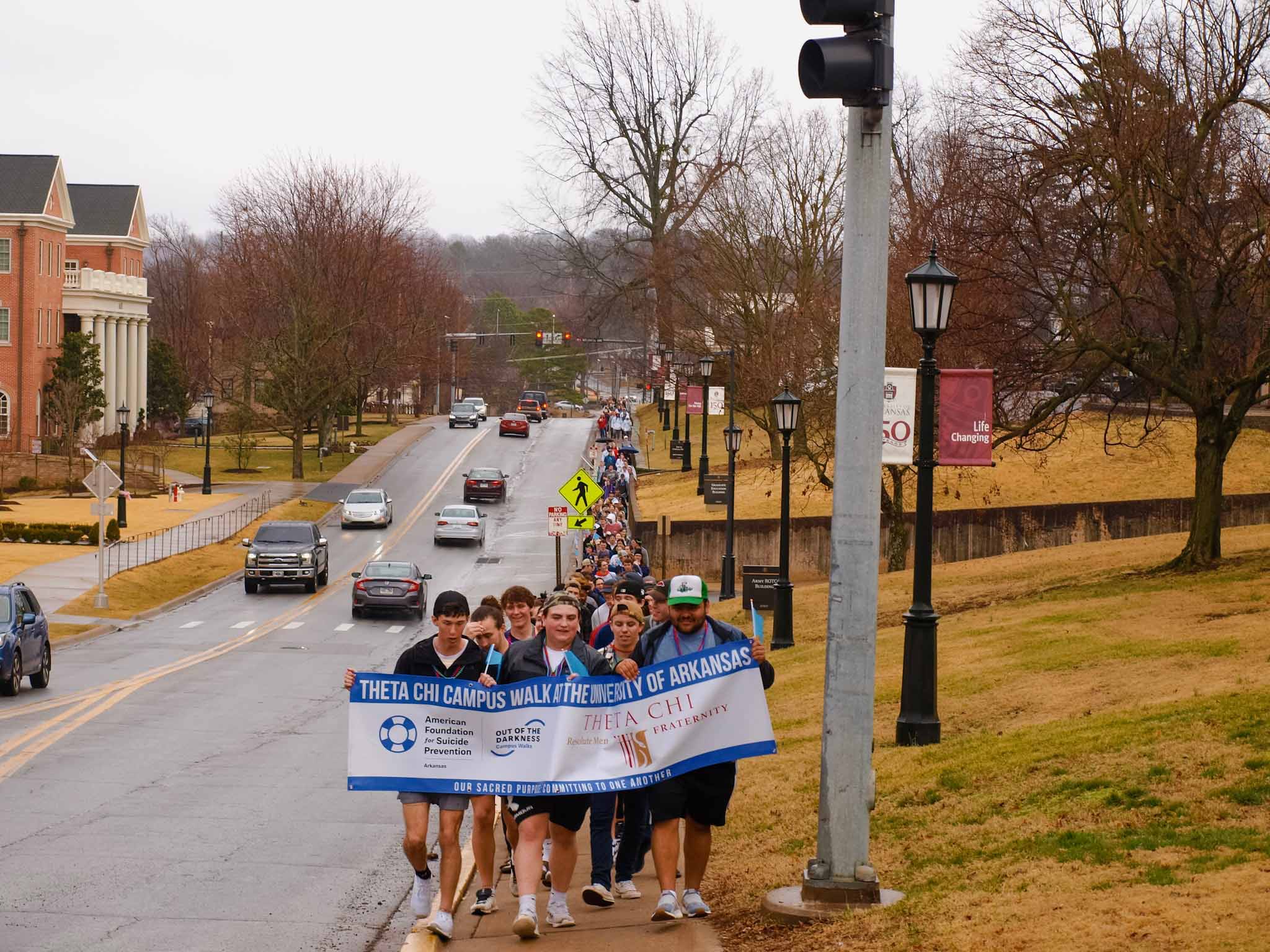 Armijo expects massive growth for this event, especially since this was just the first year for such a massive turnout. "I expect this event to only become larger over the next 3-4 years," he explains. "My hope is that, after that time has passed, this event won't just be a Theta Chi event—it will be a staple and tradition at U of A's campus."

Alpha Phi Chapter at the University of Alabama has also held an Out of the Darkness Walk on their campus over the past several years and raised over $17,000 in 2015. Read more here.