Kappa Zeta/University of Arkansas Installed
Fayetteville, AR – On November 11, 2017, Theta Chi Fraternity installed the latest chapter of the Kappa series - the Kappa Zeta Chapter - at the University of Arkansas in Fayetteville, Arkansas. In just under a year, this group was able to grow from a colony of 15 to a chapter of over 50 men.
"It all started in room 205 of Gatewood Hall, a freshman dorm on campus," explained Chapter President Jared Pinkerton. After researching numerous fraternities, Jared and several other University of Arkansas students felt that Theta Chi's ideals aligned with their own. "I pondered the idea of bringing a fraternity that aligned with my values to campus. During my childhood, I had the pleasure of growing up around two Theta Chis, from Eta Sigma/Arkansas Tech, who were both distinguished members of the community. That chapter left Arkansas in 1997 and there hasn't been a Theta Chi presence in the state since. I thought it was time to bring those values back." When Jared approached his roommate, Joel Falknor, with the idea, he was ecstatic. "Our dream was to bring a fraternity to campus that challenged the negative stereotypes the public has on Greek life." After making a few calls, they had 15 men meeting in their living room, and were colonized on December 6, 2016.
While the colony grew throughout the spring and fall semesters of 2017, the men were able to accomplish some incredible feats. Besides learning on the fly how to run a successful fraternity chapter, they established the highest grade point average (GPA) among all fraternities on campus. Along with this, they raised $1,000 in their first event hosted to benefit the USO, Theta Chi's national philanthropic partner. Working tirelessly this past year, and through successful recruitment that included men involved with ROTC, Student Government, and Resident Assistants (RAs), the colony was installed with 52 men on November 11, 2017.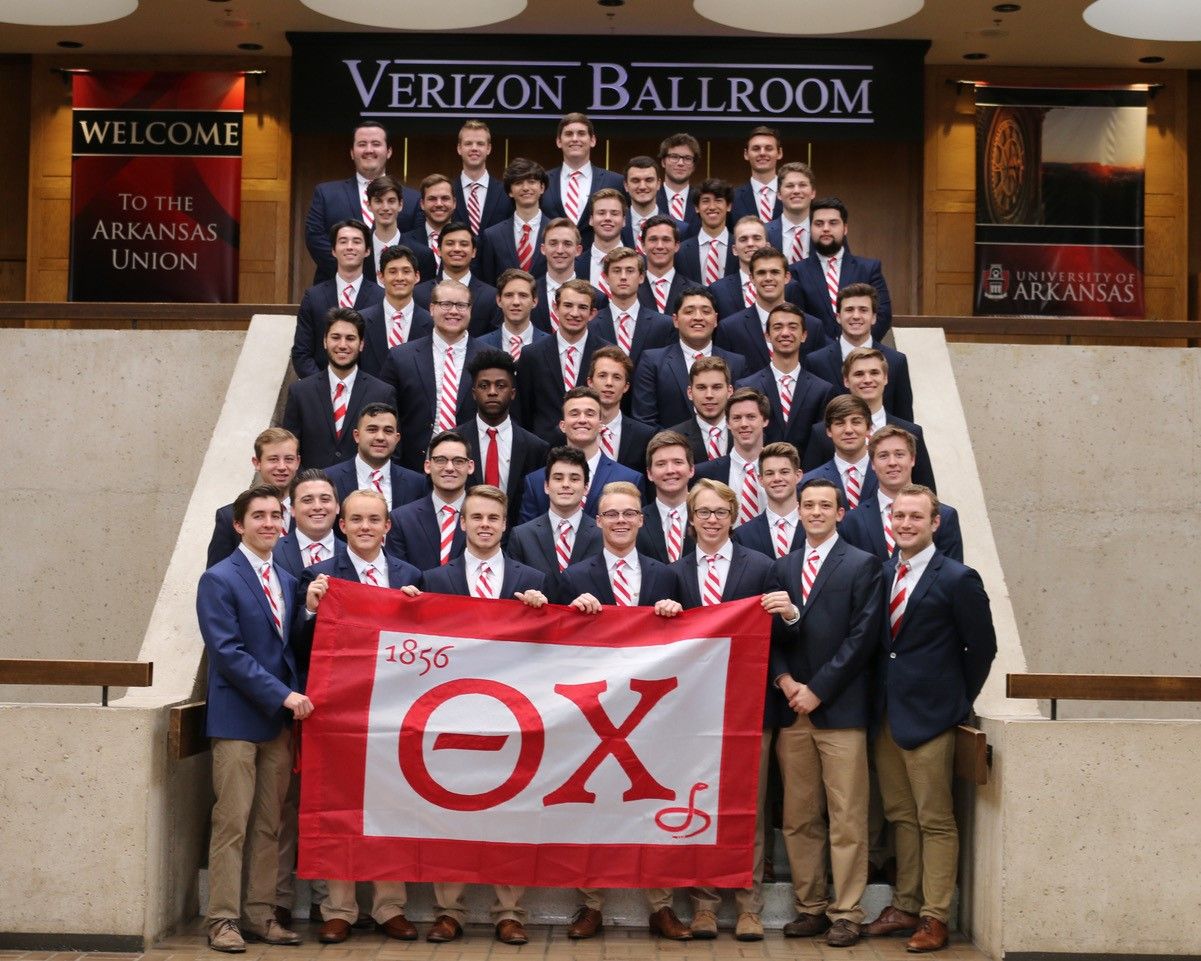 The Kappa Zeta installation was held at the University of Arkansas Student Union and was presided over by International Counselor Darick Brown. Attendees included former International Vice President Tom "Bo" Tinnin, Chief Operating Officer Ray Vanlanot, Director of Recruitment and Expansion Taylor Dahlem, Field Executive Colin Ogle, alumni from Eta Sigma/Arkansas Tech, and collegians from Iota Beta/Missouri State. The banquet that followed included the attendees from the installation ceremony along with parents and dates of the chapter brothers. Those who spoke at the banquet include Darick Brown, Ray Vanlanot, Taylor Dahlem, Colin Ogle, and Chapter Adviser Travis Warren (Eta Sigma/Arkansas Tech 1982). Chapter awards were presented to Brothers Stephen Piha (Brother of the Year), Jake Kinser (An Assisting Hand), and Thomas Silvestri (Scholar of the Year). The David E. DeVol Award was presented to Travis Warren.
"When we started this a year ago, I wouldn't have thought in my wildest dreams that this would actually happen," stated Chapter President Jared Pinkerton. "The guys in this group has surpassed my expectations, each one of them is a man that lives by our values. I am so proud of each one of these guys and I am so excited for the future"
Moving forward, the Kappa Zeta Chapter will be receiving assistance from a fully-trained chapter advisory board (CAB) consisting of Chapter Adviser Travis Warren, Wendell Bradley (Eta Sigma/Arkansas Tech 1986), Martin Jennen (Eta Sigma/Arkansas Tech 1983), Maynard Anderson (Eta Sigma/Arkansas Tech 1984), Mitchell Churchwell (Eta Sigma/Arkansas Tech 1988), Jeff Whitmer (Eta Sigma/Arkansas Tech 1981), Matt Duffy (Eta Sigma/Arkansas Tech 1984), and Juan Standridge (Eta Sigma/Arkansas Tech 1985). The goals of the chapter include gaining recognition from the IFC, to contend as the best chapter on campus, to win an Alter Award, and to have members get involved/continue involvement with the major student organizations on campus.
Founded in 1856, Theta Chi Fraternity is a men's collegiate fraternity with more than 185,000 initiated members and has established 236 chapters across North America. Leadership development, personal development, and service to alma mater are fundamental to Theta Chi Fraternity's mission.