Kirby Montgomery named as Distinguished Service Award Recipient
Carmel, IN - Kirby V. Montgomery (Alpha Phi/Alabama 1975) has been named the 2018 recipient of Theta Chi Fraternity's Distinguished Service Award. The Distinguished Service Award is the highest honor that the Fraternity may confer upon a member and publicly recognizes and properly honors Theta Chi alumni who, by reason of outstanding international service, personal effort, and unselfish interest, have made distinguished contributions to the lasting good and general welfare of Theta Chi Fraternity. At no time can the number of awards made exceed the number of years in age of the Fraternity.
Theta Chi Fraternity's 137th recipient was initiated in February 1972 by Alpha Phi Chapter at the University of Alabama. As a collegiate member, Kirby served as House Manager. Fellow Alpha Phi/Alabama alumnus Marvin L. McConaghy (1972) shared, "I remember the first time Kirby Montgomery set foot in the Theta Chi house at Alabama for a rush party and subsequently visiting with his parents in his family home to seek their approval of Kirby's pledging the Fraternity. He was a conscientious, dependable collegiate brother who you never had to ask twice to undertake a task for Theta Chi. You knew that it would be done."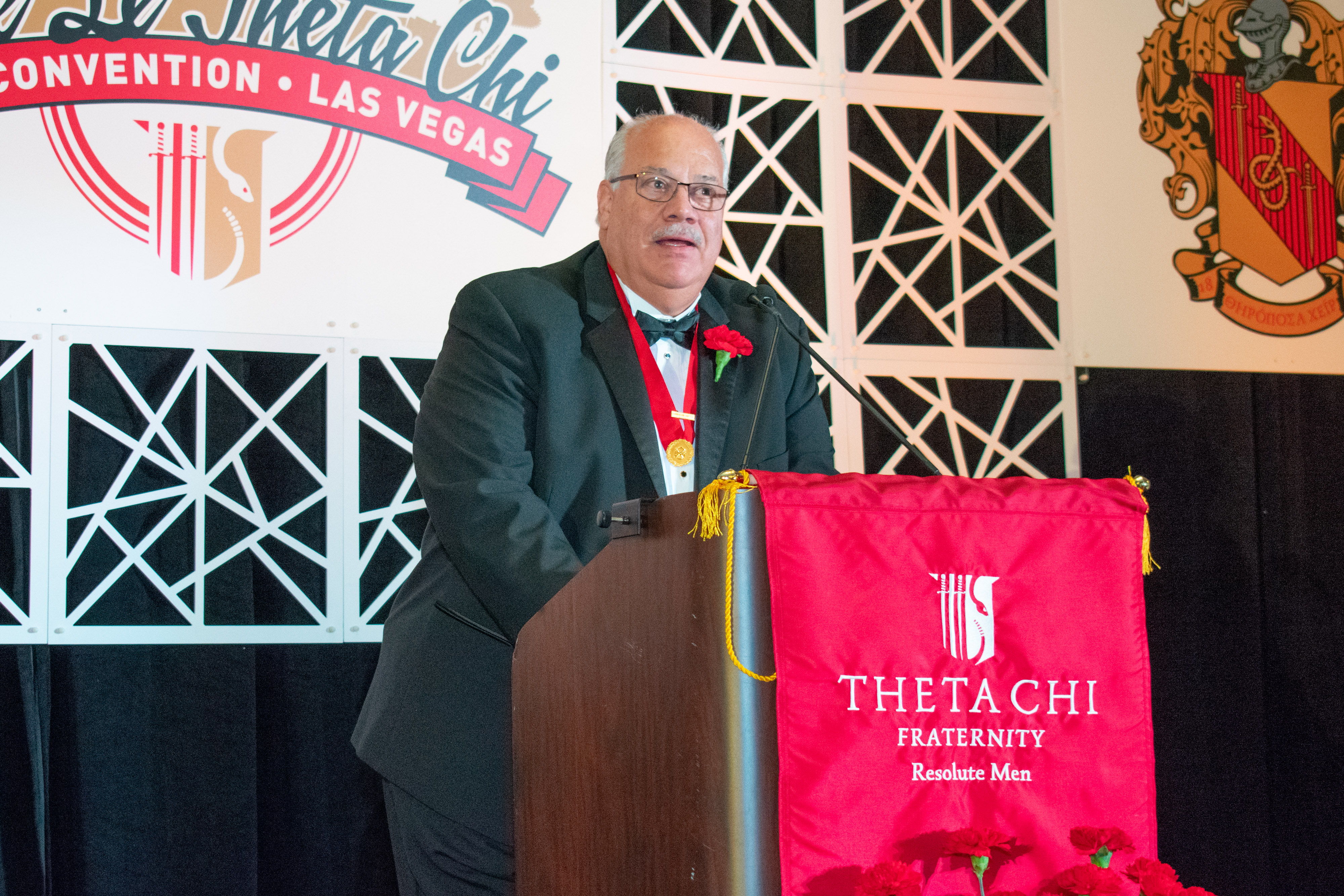 On campus, Brother Montgomery was President of the Alabama Insurance Society and a member of Gamma Iota Sigma, an international professional fraternity organized to promote, encourage, and sustain interest in insurance, risk management, and actuarial science.
Brother Montgomery's resume includes more than four decades of experience in the insurance industry including 18 years at General Reinsurance Corporation (leaving as Vice President); 11 years at Zurich Reinsurance and Converium as a Senior Vice President; and in 2004, he joined Markel Global Reinsurance in Glen Allen, VA as Managing Director and has worked as Head of Casualty Facultative Reinsurance since 2011.
He is also involved with the American Institute for Chartered Property Casualty Underwriters; earning the CPCU designation. In addition, he holds an Associate in Reinsurance Designation from the Insurance Institute of America. He later completed the Columbia University Graduate School of Business Finance and Accounting Executive Program.
Brother Montgomery has taken the knowledge and wisdom gained from his decades of professional experience to enrich Theta Chi and the greater fraternity system. From 1989 to January 1998, Brother Montgomery served on Theta Chi Fraternity's Risk Management & Standards Committee. Since June 2012, Kirby has served as President of Fraternity Risk Management Trust, Ltd. (FRMT), an insurance company that provides comprehensive liability insurance coverage for 33 college fraternities (including Theta Chi) and risk management education resources for collegiate and alumni members, fraternity volunteers, and professional staff members.
The Hon. David M. Warren said, "As the chair of FRMT, Ltd., and the Former Knight Commander (National President) of Kappa Alpha Order, I extend my most sincere congratulations to Kirby Montgomery. Kirby's contribution to FRMT, Ltd. as Theta Chi's member delegate, his service as a board member, and his leadership as the President have not only contributed to Theta Chi's "good and general welfare," but those volunteer efforts have also contributed to the benefit of all of the 33 member fraternities who are a part of this insurance company." He continued, "Upon the retirement of FRMT, Ltd.'s prior leadership, Kirby, with his extensive knowledge and experience in the insurance industry, became an integral component and filling that void, providing the company and its members with unparalleled service, knowledge and advice. In addition to Kirby's business acumen, he is, first and foremost, a true Southern gentleman. He understands and respects his interfraternal brothers. He is able to make his points and effectuate his leadership in a polite and effective way. I enjoy every minute I get to work with Brother Montgomery and am fortunate that our paths have met in this special and productive way."
In September 2013, Kirby joined The Foundation Chapter of Theta Chi Fraternity's Board of Directors and has served as Treasurer since 2016. Past International President and fellow Foundation Chapter board member Pat O'Connor declared, "Kirby Montgomery is a risk taker. He likes to ride motorcycles, he frequents casinos, and he went to Alabama. Despite these challenges, he has become a true leader in his profession and in his volunteer work for Theta Chi. If Kirby tells you he will do something, you can count on it. And he always has a smile on his face."
Brother Montgomery is a recipient of Theta Chi Fraternity's Silver Legion, Citation of Honor, the George T. Kilavos Alumni Award (presented by the Grand Chapter), and the Earl D. Rhodes Theta Chi for Life Award.
The inscription on his Distinguished Service Award reads as follows:
"For dedicated and long term service to the Fraternity, representing Theta Chi in the Fraternity Risk Management Trust, and his tenure on the Foundation Chapter Board of Directors; Brother Montgomery exemplifies the spirit of the Fraternity with his humble and loyal dedication."
Past Foundation Chapter Board President and Alpha Phi/Alabama alumnus Wes Wicker (1979) explained, "Kirby Montgomery is one of the unsung heroes among volunteers for the International Fraternity. Kirby has quietly gone about the business of serving the Fraternity as the leading expert on Risk Management and Loss Prevention, using his professional expertise in the insurance industry. He exemplifies the spirit of volunteerism as one who willingly gives his time, talent, and treasure. I am honored to call him my fraternity brother, chapter brother, and friend."
Marvin McConaghy added, "In a word, Brother Montgomery "gets" Theta Chi and always has. It came as no surprise that Kirby has been the conscientious, dependable alumnus brother answering the International Fraternity's call and giving of his professional expertise to advance both Theta Chi and the Greek System in the United States."
Brother Montgomery is a member of Saint Michael The Archangel Catholic Church in Glen Allen, VA where he is a Fourth Degree Knight of Columbus and serves as an officer of The Joseph P. Solari Council and is the Captain of the Council's Admission Degree Team. Kirby was awarded Knight of the Year by his Council in 2010.
Brother Montgomery lives in Richmond, VA with his wife Marcie and is an avid fan and collector of classic cars. He has been a member of the Corvette Club of Richmond since 2005 and served as its President from 2014-2015.
Congratulations to Brother Kirby Montgomery!
Founded in 1856, Theta Chi Fraternity is a men's collegiate fraternity with more than 191,000 initiated members and has established 239 chapters across North America. Leadership development, personal development, and service to alma mater are fundamental to Theta Chi Fraternity's mission.