Linfield football is a family affair
The following article appeared on November 19, 2019, via Pamplin Media Group. This article is posted here with the permission of Pamplin Media Group. Stories like this take time, and money. If you want to support local community journalism in Oregon, please visit savinglocalnews.com. The article features Joseph Smith (Delta Alpha/Linfield 1993) and Wyatt Smith (Delta Alpha/Linfield 2021).
---
MCMINNVILLE — "Smith" is not just a name in Linfield football. It's a brand.

Joseph Smith, 48, is in his 14th season as head coach of the Wildcats. This week, he was named Northwest Conference Coach of the Year.
Wyatt Smith, 21, is Linfield's 6-foot, 205-pound junior quarterback who leads the NCAA Division III ranks in passing yardage per game this season, having thrown for 3,121 yards and 39 touchdowns. He set a school record with eight touchdown passes in a 77-22 win over Puget Sound on Oct. 12. Wyatt was named NWC Offensive Player of the Year.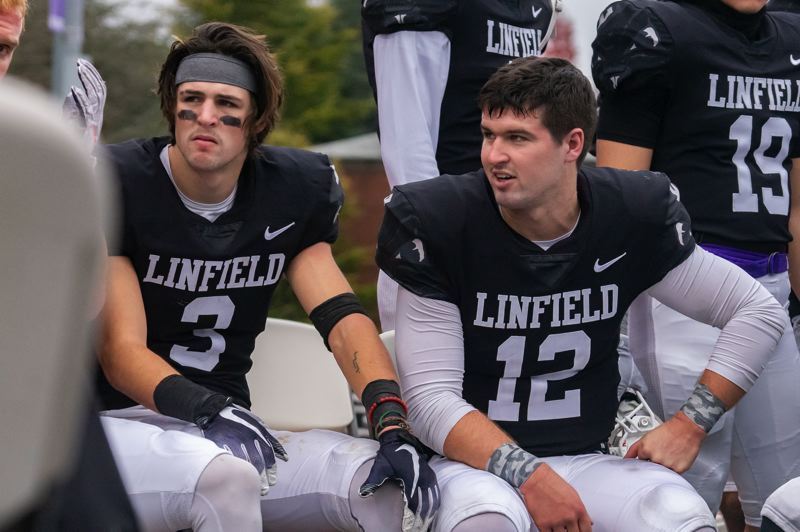 COURTESY PHOTO: LINFIELD COLLEGE/LIAM PICKHARDT - Colton Smith (left) and Wyatt Smith (right), sons of Linfield coach Joseph Smith, are top offensive players at wide receiver and quarterback, respectively, for the Northwest Conference champion Wildcats.
Colton Smith, 19, is Linfield's 6-foot, 170-pound freshman who ranked sixth in the conference in receiving yardage per game, having hauled in 47 passes for 711 yards and nine TDs. He was named NWC Freshman of the Year.

The 20th-ranked Wildcats (8-1 overall, 7-0 in NWC play) head into the first round of the national playoffs at noon Saturday against 12th-ranked Chapman (9-0) in Orange, California.
If there's a more successful football family in all of college football, that's saying something.
Linfield's only setback was a 27-19 nonconference loss to Redlands on Sept. 21, the second game of the season. Chapman, champion of the Southern California Intercollegiate Athletic Conference, beat Redlands (8-2) 21-18 on its way to the league title.
"We're a much better team than when we lost to Redlands," Joseph Smith said. "I like our chances. But then, I like our chances every game we play."
As well he should. Linfield has assembled a 127-25 win-loss record under Smith's direction, continuing the winning tradition that began with Paul Durham in 1948 and continued through the regimes of Ad Rutschman, Ed Langsdorf and Jay Locey. The Wildcats have enjoyed 64 consecutive winning seasons, most ever by a college football program at any level.
"A little pressure is always there," Joseph Smith conceded. "Nobody wants to be on the team that ends the streak. But our goals are much higher than that. Our winning percentage over that period is over 80 percent. I expect us to be in that range every year."
Smith, 48, has been a part of the success for 31 years. The Grants Pass native was a four-year starter at cornerback under Rutschman and Langsdorf, earning second-team NAIA All-America honors as a senior in 1992. The Wildcats went 12-1 and lost to Findlay in the NAIA Division II national championship game that season.
Smith served as an assistant coach at Linfield for 13 years, including seven as defensive coordinator from 1999-2005. During that time, the Wildcats went 60-6 and made five NCAA Division III playoff appearances, capturing the 2004 national championship.
As head coach, Smith has won 10 NWC titles and gone as far as the national semifinals in 2014 and 2015.
Last season, Linfield went 7-2 and earned another league crown, but was not selected to participate in the Division III playoffs.
"Nobody was very happy about that," Wyatt Smith said. "That lit a fire in our team going into this year. We've had a chip on our shoulder. Now we're having a great season."
The Smith brothers grew up around Linfield athletics. Joseph Smith coached football and, for 12 years, was an assistant in baseball under the Scotts, Carnahan and Brosius. Wyatt and Colton were ball boys for Linfield football when Brett Elliott was quarterbacking the Wildcats to the 2004 national title. Now Wyatt is challenging the school records of Elliott, Linfield's current co-offensive coordinator and quarterbacks coach.
"When we were kids, Wyatt and I would always have our mom (Darla) drop us off at Linfield after school," Colton said. "We'd go play around on the sidelines, find something to do and have a blast doing it."
Both of the boys were terrific three-sport athletes at McMinnville High. Wyatt was a three-year starter at quarterback and an outstanding baseball player. Colton led the state in receiving yardage as a senior.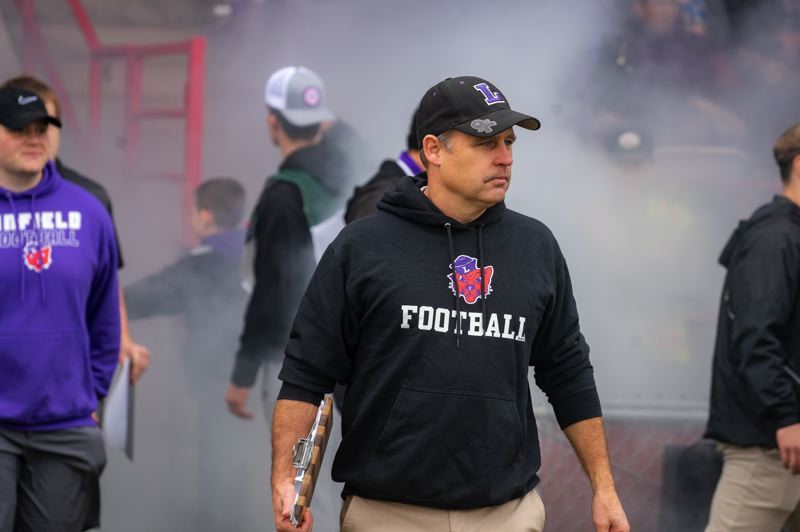 COURTESY PHOTO: LINFIELD COLLEGE/LIAM PICKHARDT - Linfield is back in the national football playoffs under coach Joseph Smith and in part due to the exploits of sons Colton and Wyatt.
Even as youngsters, they got along.
"We've always been very close," Wyatt said. "We haven't had a sibling rivalry."
"We always played together," Colton said. "I'd always play with Wyatt's friends. There were moments when I'd get on Wyatt's nerves and he'd have to let me know he's the older one. He was bigger than me, too. I could always tell when it was time to back off."
The Smith brothers thought about playing college ball elsewhere, but it seemed inevitable they'd wind up at Linfield.
"It was meant to be," Wyatt said. "I always knew I wanted to be a Wildcat — Colton and me both. We wore Linfield jerseys and played out in the back yard. I knew it was where I wanted to go."
Wyatt wanted to play two sports in college. He was a regular on the diamond for the Wildcats as a sophomore, hitting .316 while playing first base and catcher.
"It's a little tough with the time commitment," said Wyatt, a 3.6 GPA student majoring in finance. "There's no offseason, but the benefits outweigh the problems. I love baseball. I love football, too. Whatever season is in season, I go all in on."
Colton had the added incentive of getting to play with his brother for two years at Linfield.
"I was considering some other schools," he said. "I had a dream of going bigger for a bit, but as it got close to signing, I wanted to have an opportunity to play right away. I knew by coming to Linfield I had a good shot to get snaps early in my career.
"And Wyatt was here. We had played together my sophomore year in high school, and it was really fun. I realized there was no reason for me to go somewhere else."
Joseph Smith did not want the boys to feel pressure to join his program.
"As a football coach, I wanted them to come to Linfield," said Smith, who moved from coaching receivers to tight ends this season so he wouldn't be Colton's position coach. "What Darla and I wanted as parents was that they would make the kind of connections and friends that would set them up for the rest their lives. Linfield was the best place for them to accomplish that.
"Colton was the best receiver in the state of Oregon last year. He's an FCS-level player. He was a steal for us to get. I would imagine he's here because of Wyatt and me and the program and the education he can get here. There's no school that plays football on the West Coast that out-earns a Linfield grad."
The kids have enjoyed playing for their old man.
"It's special," Wyatt said. "People ask me if it's odd. It isn't — it's all I really know. He's always been great to me, but he doesn't play favorites. I know I'm going to get yelled at, just like the other guys."
"I watched my brother play for my dad, so I knew it wasn't going to be weird," Colton said. "It's been great for me, too. When Dad is in his coaching mode, I'm just another player. But he can flip the switch easy and go back to being my dad off the field."
Joseph calls coaching his sons "surreal."
"But I'm used to it," he said. "I coached them growing up in baseball along with their friends. We have seven kids off their youth baseball teams who are playing football here. That's been really fun.
"Wyatt and Colton know they're going to be held to a higher standard than everybody else. They're respectful and able to compartmentalize coach and parent. For them to achieve what they did in high school — to be good in the classroom and in three sports — makes me very proud."
In Joseph's three decades at Linfield as a player and coach, no freshman had ever started at quarterback.
In 2017, Wyatt began his freshman year as the No. 3 QB but wound up starting the final four games.
"I didn't want to start him, but we were struggling at the position," Coach Smith said. "He did really well and showed poise in decision-making. We needed a guy who could stay calm under pressure while everything was going to hell. He's really good at that."
Wyatt was second-team all-NWC last season and has developed into one of the best QBs in the country this fall. By the time he is through, he'll hold every record for a Linfield quarterback not named Brett Elliott.
"Wyatt has had a great year," Colton said. "He has an ability to make reads. He doesn't have many picks (seven), and for as often as we throw, that's something. He's also a very good leader. He's a leader by example first, but he is getting more vocal. It's been fun to see."
Colton has made an immediate impact in Linfield's passing game this season.
"He's very talented," Wyatt said. "He has a lot of assets to bring to the table. He's explosive, fast, a play-making guy. He has the ability to change the game. That's why I love throwing the ball to him."
It's going to happen for as long as the Wildcats are alive this season, and for next season, too. And on the sidelines, there will be the coach — and dad — soaking it all in.