Long Island-Brooklyn Colonized
Brooklyn, NY – On November 8, 2020, Theta Chi Fraternity colonized Long Island University-Brooklyn. This colony is looking to become the 17th chapter installed in the state of New York.
Near the end of summer 2020, Daylen Orlick, a Promise Success Coach for Long Island-Brooklyn, reached out to the International Headquarters about having Theta Chi come to campus. "Theta Chi has had a long-standing relationship with Long Island University, starting with establishing the Kappa Beta chapter at Long Island University-Post campus in 2016," stated Orlick. "Due to this long-standing relationship, it was a natural outreach for LIU-Brooklyn to want to continue this partnership. In addition to this, Theta Chi is a prestigious organization that we felt would partner incredibly well with our student population and be a great foundation for us to build off of for future fraternal organizations."
Following the September 5, 2020, installation of Kappa Xi Chapter at Albany, Field Executive Derek Hatzenbuhler arrived on campus to begin the process of building a new colony.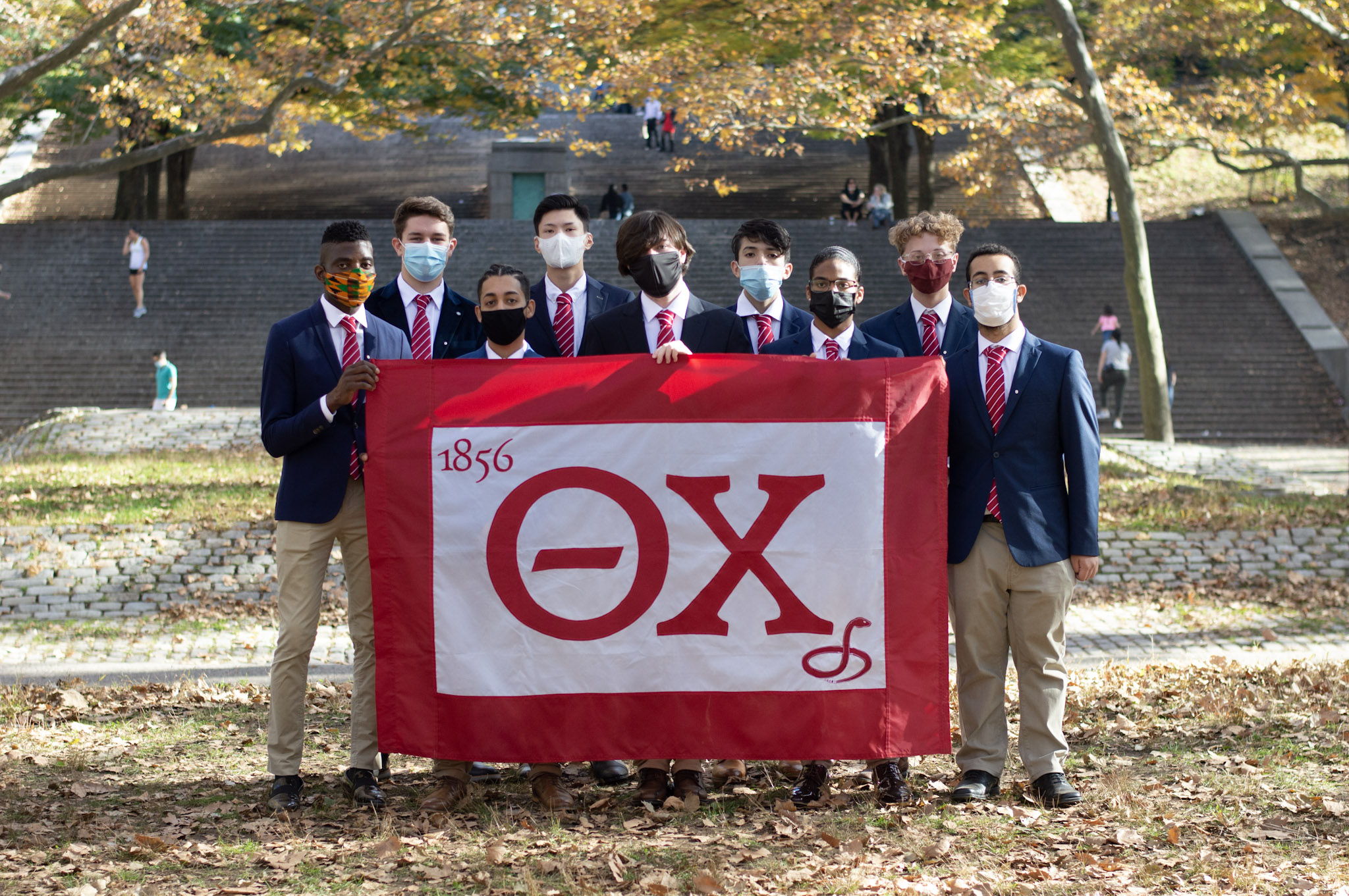 This colonization project has been unlike any other. With the COVID-19 pandemic, Hatzenbuhler had to get creative with bringing new members on board. The university is currently only allowing 50% of students on campus, with the other 50% being virtual only. Even though he could table on campus, when doing so, Hatzenbuhler had to abide by social distancing guidelines, including wearing a mask and gloves.

Daylen Orlick provided a list of men on campus who expressed interest in joining a fraternity. Derek reached out to these men and informed them that even if they were virtual, they could still join the interest group.

To help build camaraderie amongst the new members, virtual events were held on almost a weekly basis. This included playing games like Among Us and Bad Cards (a virtual version of Cards Against Humanity). Even with these hurdles, Hatzenbuhler was able to amass a strong interest group and Long Island-Brooklyn was officially colonized on November 8, 2020.
The colonization ceremony was held at Forest Greene Park with Hatzenbuhler serving as the presiding officer. Others in attendance included alumni and collegiate members of Kappa Beta/Long Island-Post.
The nine colonizing members are: Dylan Esposito, Wilson Huang, George Johnson, Jadore Mattis, Ahmed Morsi, Michel Petrillo, Michael Pollack, Christopher Sanchez, and Cameron Singh. Two men were not able to make the pledging ceremony and will be pinned at a later date.
"Our LIU-Brooklyn colony is the culmination of a great campus partnership. Long Island-Brooklyn invited Theta Chi to campus, and Theta Chi delivered," said Chief Operating Officer Ray Vanlanot. "It is foundational in bringing a new wave of fraternities to the rapidly developing LIU community, and we are very impressed by its early successes."
"I'm really looking forward to seeing our group progress at Long Island-Brooklyn," stated Derek Hatzenbuhler. "We are the only social fraternity on campus, and at a commuter-heavy university, I know that a strong Theta Chi presence will help to build a great sense of community. I also think that colonizing during a pandemic, while something difficult as far as getting guys to connect on a mostly virtual basis, will help the group succeed in the future because if they can succeed now, they will be able to succeed when restrictions are lifted."
"The colonization process has been smooth and easy for us here at LIU-Brooklyn," said Daylen Orlick. "Field Executive Derek Hatzenbuhler is one of the most dedicated professionals in Fraternity & Sorority Life I have had the pleasure to work with. We had to be creative throughout this process and think of any way possible to recruit during a pandemic. It has been fun and smooth, but it would not have been possible without the dedication from Derek."
"It's very exciting that we've started the process of becoming a chapter and I'm honored to be the President of this great group of guys," stated Colony President Michael Pollack. "It will definitely be a challenge for us to grow, as we may have to do it through virtual means, but I am sure that we will make it happen. I am glad that Greek life is going to become a bigger deal on our small campus and hopefully we'll be able to encourage everyone to get more involved."
Congratulations to our new colony members at Long Island-Brooklyn!
You may follow the progress of the Long Island-Brooklyn Colony via their Instagram account.
Founded in 1856, Theta Chi Fraternity is a men's collegiate fraternity with more than 196,000 initiated members and has established 245 chapters. Leadership development, personal development, and service to alma mater are fundamental to Theta Chi Fraternity's mission.