Major General 'got into the army and never got out'
The following article was published on May 20, 2018, via the Historical Society of Quincy & Adams County (hsqac.org). It was reprinted with permission from Rob Mellon, Executive Director of the Historical Society of Quincy & Adams County. The article highlights Maj. Gen. Kenneth Bush (Rho/Illinois 1916).
---
It was Sunday afternoon, Aug. 31, 1918, and Lt. Carl Grimmer excitingly wrote his parents that he had been "studying a French primer when who should ride up ... but Kenneth Bush." Grimmer exclaimed: "I surely was glad to see him. ..." He explained that Bush "had heard that our battalion was close to his regiment, and he made the trip over to where we were especially to see me."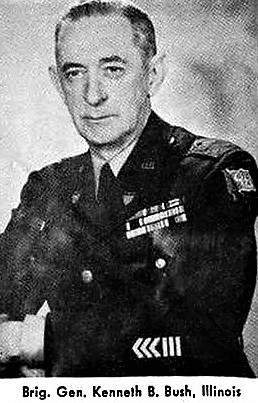 Lt. Merle Lummis passed along in a letter home that "he was just returning from the front line trenches when he met (Kenneth) Bush in an unexpected fashion." The two men had attended grade school and Quincy High together. Then they both went to the University of Illinois where they were fraternity brothers.
Bush graduated from the University of Illinois in 1916 with a bachelor's degree in civil engineering. While at the U of I he was an officer in the University Cadet Brigade, and after graduating, he received a commission in the Illinois National Guard.
With America's entry into the Great War, Bush asked for and received an appointment as a second lieutenant in the Regular Army and reported for duty Sept. 8, 1917.
Halfway around the world, in war-torn France, the three Quincy men came across each other, and for a brief time found a little bit of home.
Grimmer was in the 123rd Machine Gun Battalion, 33rd (Illinois National Guard) Division. Lummis served in the 121st Field Artillery, 32nd (Wisconsin and Michigan National Guard) Division. Bush was with a supply company in the 4th Regiment, 3rd Infantry Division.
It's an old truth that an army needs beans and bullets to fight. Daily supplies must be moved to the front. So each night, Bush's company, using horse-drawn wagons, moved food and ammunition to the front.
He described one trip. "Well, to start with, we weren't more than a mile out of town when one of the ammunition wagons got stuck and it took me three hours to get it out. I finally got up to the battalion in time to have my (wagon) train shelled, but luckily no one got hurt." During the war, Bush served in five major engagements.
With the Great War's end and the soldiers' return, both Grimmer and Lummis returned to Quincy and resumed their lives. However, The Alumni Quarterly and Fortnightly Notes of the University of Illinois for October 1919 reported that "Capt. Kenneth B. Bush got into the army and never got out----a regular for good. If you want to join the army, write to him. ... "
In September 1918, the Daily Herald reported that Bush had "recently passed his examination for captaincy, only waiting now for the commission to be ratified. He is in charge of the supplies for nearly 4,000 men and is enjoying the military life to the very fullest." For Bush, staying in the army was a logical choice. Thirty-seven years later, he would leave the service.
Bush's postwar service began as captain in the 64th Infantry regiment, but he soon became the adjutant for the 26th Infantry.
In June 1923, he was assigned to the Adjutant General's Office, where he worked on the World War Adjustment Compensation Act. Whether the veteran received land or a cash payment, military bonuses were an accepted American practice for wartime service. World War I soldiers' were no different, expecting a similar form of remuneration. Bush was involved in the "nuts and bolts" of the law enacted in 1924.
From 1925 to 1928, he saw duty in the Philippine Islands. On return he was back with the adjutant general's department.
However, the Great Depression temporarily changed Bush's career. With his civil engineering degree, Bush was a perfect fit when the Regular Army provided officers to the Civilian Conservation Corps, a New Deal public work relief program. Starting in 1933, Bush organized and administered the C.C.C. in Illinois, Michigan and Wisconsin. The C.C.C. helped in reforestation, constructed trails, roads, lodges and service buildings in state and national parks and forests, while building a network of public roads in remote areas.
In September 1941, with the country preparing for World War II, Bush was assigned to the First Armored Corps and was involved in establishing the desert training center. But because of an unexpected change in duty stations in July 1942, he came within two weeks of shipping out to North Africa. Instead, Bush, now a colonel, was selected by Gen. James A. O'Connor, commander of the newly organized Northwest Service Command, to be his chief of staff.
The Northwest Service Command was charged with building a military highway to Alaska. After Pearl Harbor it was quickly decided that a road was needed to move military supplies to soldiers fighting the Japanese in the Aleutians. Therefore, on Feb. 2, 1942, the Alaska-Canada (Alcan) Highway project was given the go-ahead by the War Department. By March 9, the Army Corps of Engineers was surveying the route. Eight months and 11 days later the project was complete. A combined 16,000 military and civilian workers built the 1,671-mile road through a wild and mountainous region.
Back in Quincy in December 1942, Bush told The Herald-Whig that "the magnitude of the undertaking, both in building and operating the highway, can scarcely be conceived. ..." He further explained: "Never before has an attempt been made to build such a highway through such country and to operate over it vehicles in weather that goes 20 to 30 degrees below zero."
In May 20 1949, Bush was promoted to brigadier general. Five months later he was appointed adjutant general of the Far East Command at Tokyo. He would serve under Gen. Douglas MacArthur until the five-star general was relieved of command April 10, 1951.
In May 1951, Brig. Gen. Bush was in Quincy visiting his mother and took questions from a Herald-Whig reporter. Regarding the Korean situation and the firing of MacArthur, "General Bush had 'no comment. ..."
For his final two years in the service, Bush was the deputy adjutant general for the U.S. Army. The position came with a second star and the rank of major general.
Bush died September 28, 1976, in Lake Worth, Fla., and is buried in Arlington National Cemetery.