Meliora: Marking Alpha Zeta/Rochester's Centennial
The Installation of Alpha Zeta Chapter at the University of Rochester was held on June 11-12, 1920. Alpha Zeta was the 29th chapter installed, became the Fraternity's fifth chapter in New York, and has been continuously active since installation. Alpha Zeta is the 14th oldest, continuously active chapter in the Fraternity. The University of Rochester's was founded in 1850, and was later largely endowed by George Eastman, President of Eastman Kodak. In 1930, the university moved from downtown to a new campus on the outskirts of Rochester.
In 1884, a small group of high-achieving students at the University of Rochester formed an organization for the purpose of discussing subjects of a literary nature called "The Independent Literary Society." Four years later the name was changed to the "Phothepian Literary Society," and a motto "Follow the Light" was adopted.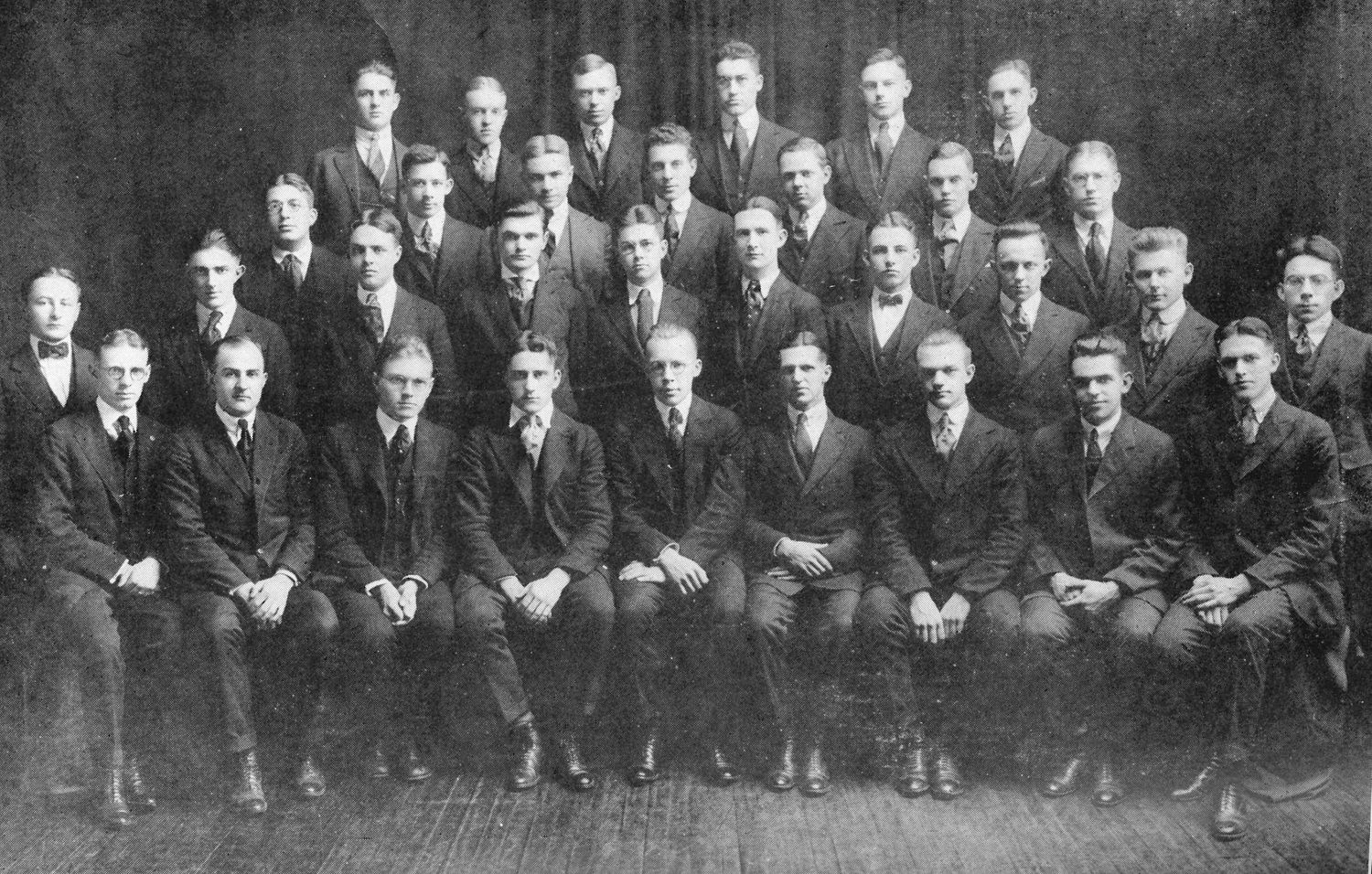 As time progressed and the influence of the organization was widened, the men began to realize that a closer bond could be created if their society took on the character of a fraternity. In 1901, the Phothepian Society changed its name to Phi Epsilon Fraternity and was officially incorporated in the state of New York in 1902.
The Phi Epsilon pin was shaped similar to Theta Chi's diamond-shaped Badge in use at that time. In the center was a raised diamond-shaped field, on which, near the top, was a star, and near the bottom a lamp. Through the middle ran a band with the Greek letters Phi Epsilon. The colors were pale blue and white.
While scholarship was the first ideal of Phi Epsilon, the genuine all-around college man was the type of individual desired for membership. At first, the meetings were held in the homes of the various members and still chiefly discussed literature. As the fraternity grew, it realized a need for its own house and purchased a home at 13 Upton Park, two blocks from campus, in 1911.
The fraternity progressed rapidly and soon became influential in the life of the student body at Rochester.
Following World War I, Phi Epsilon desired to affiliate with a national Fraternity and found shared, identical ideals when they examined Theta Chi Fraternity. In March, 1920, Phi Epsilon formally petitioned Theta Chi for a charter, which was granted in May of the same year, and installed one month later, June 11, 1920. The members of Phi Epsilon instrumental in securing the affiliation with Theta Chi were: Gordon M. Ridenour (1920), Joseph H. Williams (1920), Herbert S. Wedel (1920), and John Young (1921).
Alpha Zeta's Installation Committee included National Treasurer and Rattle Editor Percy R. Seamon (Gamma/Maine 1908); Two past Grand Chapter officers from Epsilon/WPI: Frederick V. Hugo (1912) and Joel W. MacGregor (1913), who served as Committee Chairman; future Grand Chapter officer Maxwell E. McDowell (Iota/Colgate 1916) and his chapter brother E. Richard Searing (1913); and two brothers from Delta Chapter who came from RPI: Elmer M. Hoefle (1921) and George H. Wilson (1918).
The installation banquet was held on Saturday evening, June 12, at the Hotel Rochester. A good feast and a good list of speakers had been provided for by Gordon M. Ridenour (1920). Edward W. Spry (1911) was toastmaster, and introduced Mr. Raymond Ball, executive secretary of the University Alumni, who praised the efforts of Phi Epsilon in college affairs, and pointed out the need for more good fraternities at Rochester. National Treasurer Percy Seamon gave the welcome and congratulatory address, followed by Walter Allen (1911), who spoke for the alumni body. H. S. Wedel, (1920), retiring President of Phi Epsilon, briefly urged more co-operation between the fraternities at Rochester. Max McDowell delivered a well-received speech, followed by Dr. L. A. Pechstein, professor of Psychology, who on behalf of the faculty congratulated Alpha Zeta Chapter, and praised its admirable scholarship record as compared with the other groups. Other short talks were given by Alpha Zeta's Charles A. Hamilton (1889), William P. Cross (1901), and Gordon Ridenour.
The charter members of Alpha Zeta were: Elmer Ayer (1922) (who transferred to Lambda/Cornell), Osborne W. Baker (1923), Harold H. Barnsdale (1920), William E. Brown (1920), L. William Burleigh (1922), William Halbert Campbell (1920), Ralph D. Cole (1923), George S. Curtice (1923), William G. Easton (1921), Warren H. Ganiard (1921), Hilarion Gastonguay (1922), Edwin A. Gordon (1922), Clarence S. Justice (1922), Thomas Richard Long (1920), H. Leroy Miller (1923), David W. Moody (1919), Walter Orthner (1923), Carl D. Ott (1923), Gordon M. Ridenour (1920), John M. Rowe (1922), Walter L. Schneck (1922), Clarence A. Shepard (1923), Neil C. Stone (1919), Raymond J. Walter (1923), George Weber, Jr. (1922), Herbert S. Wedel (1920), Arthur B. Wignall (1923), Joseph H. Williams (1920), William J. Youden, Jr. (1921), and John Young (1921).
Following Installation, the chapter maintained its house at 13 Upton Park and rented a house at 27 Prince Street.
In 1930, the University built a new campus and moved beside the Genessee River. The Alpha Zeta Alumni Association secured enough money to build a house on the new campus. In 1931, Alpha Zeta built their new home on the northwest corner of the new fraternity quadrangle on the river campus, joining six other well-established fraternities.
In the 1950s, funds were raised to construct a new wing of the house which was dedicated on June 11, 1954, in memory to the five Alpha Zeta brothers who died during WWII.
In 1982, a $250,000 gift pledged by the late C. Grandison Hoyt (1924) supported a full renovation of the kitchen and a variety of other repairs and furnishings. Another major renovation was completed in 2010, and after nearly 90 years of occupancy, the chapter house currently houses 17 brothers in 12 bedrooms.
Alpha Zeta has maintained a solid reputation on campus, particularly with outstanding scholarship. The chapter has also had successes in drama, spirit, athletics, community service and philanthropy, and in alumni support of and service to their alma mater.
Visitors to Alpha Zeta Chapter are often impressed with the brotherhood and unique traditions maintained within the house. Newcomers are expected to learn the rules of the "Tube Room" and leave impressed by the caricatures of members displayed in the basement dining room.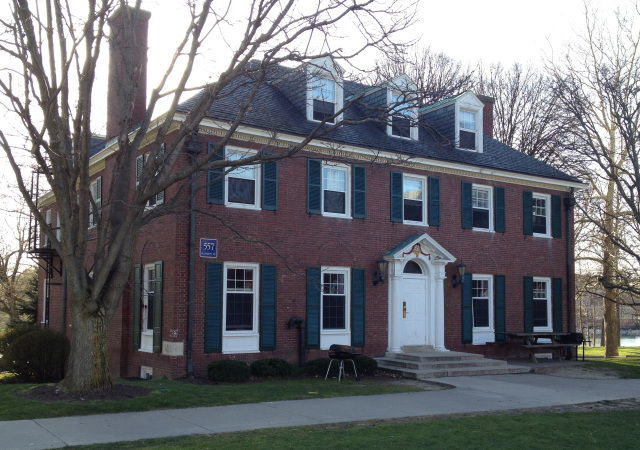 Current Alpha Zeta/Rochester Chapter House
To date, Alpha Zeta has initiated more than 1,500 brothers.
Some of their notable alumni include:
Hon. William G. Easton (1921), a Justice on the New York Supreme Court; C. Grandison Hoyt (1924), who served as a director at Canadian Vickers; another New York Supreme Court Justice, Hon. G. Robert Witmer (1926); Lt. H. Robert Bird (1943) fought in the battle of Iwo Jima; Edmund A. Hajim (1958) served as chairman of the University of Rochester board of trustees for eight years, made the largest single gift commitment in the institution's history, and is the namesake of the University's Hajim School of Engineering and Applied Sciences; NASA astronaut Dr. Edward G. Gibson (1959), former NASA astronaut who spent 84 days in space as a science officer on Skylab 4; Robert N. Williams (1959), who served as a trusted chapter adviser and leader on the Alpha Zeta Alumni Corporation for decades; Bob Witmer, Jr. (1959), grandson of Robert Witmer, was also a Chairman of the board of trustees and a President of the New York State Bar Association; Dr. David C. Sweet (1961), who served as president Youngstown State University; and NBA Player David M. Deutsch (1966).
One Alpha Zeta served on the Fraternity's Field Staff: Duncan M. Cruickshanks (1979). Brother Cruickshanks joined Roger J. Snell (1963) as an Alpha Zeta who volunteered as a Regional Counselor.
Hon. William G. Easton (1921) posthumously received the Fraternity's Distinguished Achievement Award. Joseph E. Morrissey (1932) was the fourth brother in the history of Theta Chi to be named the top collegiate member in the Fraternity and receive the Reginald E.F. Colley Award.
Alpha Zeta was the very first chapter to be named the "Most Improved" in 1931/1932, then known as the Sidney Ann Gilpin Lewis Award. Alpha Zeta also received the Grand Chapter Scholarship Award in 1949/1950 for their top performance in academics, and the Henry B. Hersey Award for the greatest percentage increase in membership in 2009/2010.
Congratulations to the alumni and collegiate brothers of Alpha Zeta Chapter on 100 years at Rochester!
You can send personal notes of congratulations to Alpha Zeta Chapter President Luke O'Connor by clicking here.
In honor of their Centennial Celebration, we are re-printing early Alpha Zeta's Installation article from the December 1920 issue of The Rattle.
The Rattle – December 1920
Alpha Zeta Installation.
June 11, 12, 1920.
There's a big consolation in writing up an installation report because the writer knows that if the busy Theta hasn't time for another thing in "The Rattle" he is sure to read the news of the fraternity's expansion and look over the dope on the new chapters. Well, here we are again with more installation stuff and it's hot material, too, because we're announcing the first pair of twin baby chapters.
It's a shame that the reporters of the arrivals of said twins can't get together in a double-barrelled article, but considering the healthy rivalry that exists between the brothers to the north and to the south of the Kappa-Alpha Beta line, my fellow scribe will undoubtedly try to make a coup on his North Carolina twin and we hope he had as much to brag about as we did at Rochester because we're going to say some nice things about our twin.
First for a word about the committee in charge at Rochester. As a general tip on the side, if you want a real rejuvenation of ΘX spirit in essence-even more concentrated and closer to the good old ritual than you get it at the National Convention-attend the next installation in your vicinity and watch the committee at work. And if you want a list of live Thetas in any neighborhood, look over those who serve on the installation committees and you'll get it. We're slipping this paragraph over on the committee at North Carolina who probably will include but a modest list of themselves, but you can bank on it that the high spots of the southern chapters were over seeing that Alpha Eta got started properly.
The Rochester committee was a repetition of that happy blending of tried alumni and peppy actives from nearby chapters that has been found to be ideal for such ceremonies. Grand Councilor MacGregor was in charge. When we drove into town, we found that frugal Scotsman at the Post Office filling his fountain pen, which operation being completed, the installation got under way. As his aides, he had Grand Treasurer Seamon and an appointed coterie composed of Culver and Wilson of Delta, McDowell and Searing of Iota, and Powell and Whitehead of Kappa. Delta sent three actives from Troy-Baldwin, Hoefle and Larson. Iota sent four from Hamilton-Hogan, Maynard, Murphy and Walrad; and Lambda sent four from Ithaca-Coulter, Matthews, Smith and Young-making an entire committee of nineteen.
Realizing Phi Epsilon's existence as a local since 1884 and therefore anticipating the return of many of her alumni to assume her new bonds with the actives, the committee was none too large. The precaution proved to be a wise one for during the two days 29 alumni, 32 actives and 3 pledgees were taken in to form Alpha Zeta Chapter of ΘX.
The installation ceremonies occupied the afternoon and evening of Friday, June 11th, and recommencing at nine on Saturday morning, were drawn to a close when the charter was delivered at noon to T. R. Long of the locals by Chairman MacGregor. Saturday afternoon was devoted to the exemplification work with Alpha Zeta's three neophytes as the targets and the visiting active brothers as the degree team under the very efficient leadership of "Al" Hoefle of Delta. Even the most bloodthirsty spectator present was entirely satisfied with the impressiveness and vigorous dispatch with which the entering brothers were duly received.
A fine bit of fraternal succession came to light when one of the committee, Dr. "Dick" Searing, formerly a member of the old local and later of ΘX at Colgate, was able to help receive his younger brother as the first initiate to Alpha Zeta. Needless to say, there was considerable joy in the Searing tribe.
The ceremonies of the two days, because Alpha Zeta's house was much too small to accommodate the crowd of 82, were held in the exceptionally convenient rooms of the Ad Club in the Hotel Rochester and it was here also that 100 covers were laid for the installation banquet on Saturday evening. The confidence shown by ΘX in locating in Rochester was rewarded in a most startling manner for as we gathered for the banquet, the evening papers appeared with a two-inch headline announcing the Eastman-Rockefeller gift to the University of ten million dollars for a medical college which on top of the five million given last year is bound to shortly make Rochester one of the greatest research institutions of the east.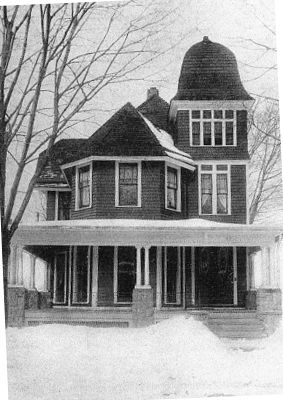 Original Alpha Zeta/Rochester Chapter House
If some of the visiting brothers were a bit misled by the conservative spirit of the Rochester boys during the early part of the installation, their doubts were completely dispelled by Alpha Zeta's enthusiasm at the banquet. They had as their guests besides the faculty representatives, a student member of every other fraternity and other representatives from the campus.
The "pep" laurel for the visitors without question went to Colgate for Iota's six early decided that the welkin should be kept ringing and it was only when the Rochester crowd in their might of numbers figured that the banquet was more for them than it was for these new brothers from their old rival college, that the cheerers from Hamilton were drowned out with local noise. There were few deserving men or matters from the Grand Chapter to the Eastman endowment that failed to get a rousing burst of appreciation during the evening.
Before and between the speeches, Brother Powell (who by the way is one of the livest wires that the N. Y. City Alumni Ass'n possesses) kept ploughing thru the host of congratulatory telegrams that had been received. There was the usual tersely worded message of good sense from Grand President Catuna. Then the response to the word from Grand Secretary Ladue showed that he had a host of friends up-state. "Doc" Irish's wire brought a thunderous demonstration for the old "Rock of Ages" of ΘX. Other messages that made especial impressions were, the one from the fellow twin which was just then also at its nuptial feast in North Carolina and the one from the Leland Stanford Chapter which hoped that Alpha Zeta as one of "Mother Alpha's" first twins would thrive.
Prof. Edward W. Spry, who is the kind of alumnus we like to see our new chapters have, acted as a pleasingly reserved toastmaster. President Rush Rhees, who was unable to be present, sent us, thru his personal representative, his assurance of the University's friendliness towards fraternities in the words, "we believe in them and rely on them." Brief talks indicative of the remarkable similarity of the old fraternal ideals of Phi Epsilon to those of ΘX were given by Walter Allen for the alumni and by Herbert Wedel, the retiring leader of the active chapter. Brother Seamon adequately expressed to Alpha Zeta the welcome of the other chapters and of the fraternity at large, while the pleasurable task of recounting Theta Chi's history and proud lineage was left to Brother McDowell whose intimate touch with the fraternity's growth and his typical Iota loquacity gave him no excuse for poor work on such a subject.
The climax of the toast list was reached when Dr. Louis A. Pechstein, Professor of Psychology at Rochester, was introduced. Dr. Pechstein is one of those men who are unquenchably young regardless of age and whose vigorous candor and simplicity of expression gets down so-to-speak to the warp and woof of the matter without wasting time on the frills. What he had to say of the good qualities of Alpha Zeta's men sent their pride tingling to the ear tips and made us all glad that they had such supporters on the faculty. Our advice to Alpha Zeta is to make Dr. Pechstein a permanent fixture at their future banquets.
But when the formal toast list was exhausted there was still too much enthusiasm evident to make adjournment safe without uncorking it, so the affair was fittingly concluded with several calls for extemps. Noteworthy among these were the talks by C. A. Hamilton, '89, Alpha Zeta's oldest alumnus present, and by Gordon M. Ritenour, to whose untiring efforts the new chapter was largely due.
June 11th and 12th at Rochester were days of inspiration for every Theta there. Some of the committee stayed over Sunday to go sight seeing in the city and on the campus and report royal entertainment by the chapter. All of us left with the feeling that the new chapter was decidedly up to the standard in local prestige, calibre of men, alumni support and all the other essentials and that the chain had grown stronger by the addition of this new link.
The following is the membership list of Alpha Zeta, the first ten names on the active list being the officers in order, for the coming year:-
ACTIVES
T. R. Long, Rochester; E. A. Gordon, Rochester; Walter Orthner, Portland, Ore.; R. J. Walter, Rochester; W. H. Campbell, Pavillion; C. D. Ott, Rochester; C. A. Shephard, LeRoy; Wm. J. Youden, Cobourg, Ont.; Leroy Miller, Rochester; John Young, Norwalk, Conn.
H. H. Barnesdale, Rochester; Wm. E. Brown, Rochester; Wm. L. Burleigh, Rochester; D. W. Moody, Rochester; G. M. Ridenour, Canandaigua; N. C. Stone, Warsaw; H. S. Wedel, Denhof, N. D.; J. H. Williams, Rochester; J. W. Baybutt, Rochester; M. H. Beilby, Rochester; Wm. G. Easton, Barnard; W. H. Ganiard, LeRoy; E. W. Ayer, Rochester; H. Gastonguay, LeRoy; C. S. Justice, Barnard; J. N. Rowe, Rochester; W. L. Schneck, Chicago, Ill.; George Weber, Rochester; Osborne Baker, Lincoln; R. D. Cole, Rochester; G. S. Curtice, Webster; A. B. Wignall, Barnard.
ALUMNI.
C. A. Hamilton, '89, Batavia; C. A. Higbie, '01, Rochester; W. E. Cross, '02, Rochester; Geo. L. Barrus, '06, Washington, D. C.; H. L. Horton, '09, Rochester; Dr. W. C. Allen, '11, Rochester; O. M. Otis, '11, Rochester; E. W. Spry, '11, Webster; Rev. E. E. Davis, '12, Rochester; K. F. Larkin, '12, Rochester; C. F. Starr, '12, Rochester; J. L. Ernst, '13, Rochester; B. C. Leet, '13, Piffard; V. S. Moore, '13, Rochester; Geo. E. Palmer, '13, Rochester; B. H. Root, '13, Savannah; J. B. Tretton, ' 13, Rochester; R. B. Westbrook, ' 13, Rochester; J. C. Shultz, '15, Rochester; D. L. Hint, '17, Batavia; W. J. Conley, '18, Rochester; Geo. Lawson, '18, Rochester; H. J. Peet, '18, Rochester; J. M. Schnitzer, '18, Penfield; E. B. Milliman, '19, Cambridge, Mass.; Roger Wall, '19, Webster; R. J. Richards, ex '20, Akron; E. H. Veigel, ex '20, Buffalo; W. T. Roe, ex '21, Rochester.
About the University of Rochester
The University of Rochester is one of the nation's leading private universities, enrolling approximately 6,800 undergraduates and 5,000 graduate students. Located in Rochester, NY, the University gives students exceptional opportunities for interdisciplinary study and close collaboration with faculty through its unique cluster-based curriculum. Its College, School of Arts and Sciences, and Hajim School of Engineering and Applied Sciences are complemented by its Eastman School of Music, Simon School of Business, Warner School of Education, Laboratory for Laser Energetics, School of Medicine and Dentistry, School of Nursing, Eastman Institute for Oral Health, and the Memorial Art Gallery.
The university's Latin motto "Meliora" (translated as "better") was adopted with the aspiration to be "ever better."