Michigan State Recolonized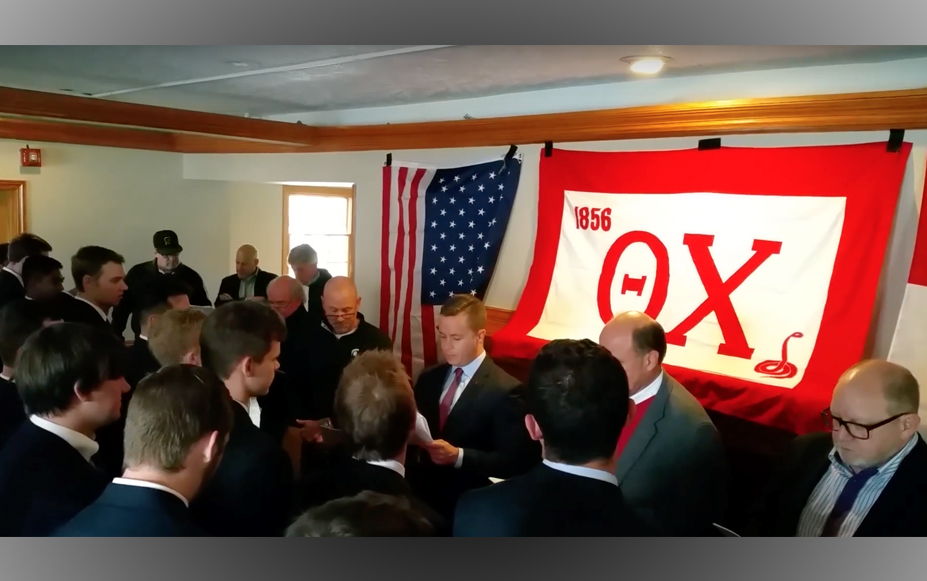 Carmel, IN - On the morning of November 19, 43 men recolonized Beta Zeta/Michigan State in East Lansing, MI. Chief Operating Officer Ray Vanlanot and Field Executive Nick Hoke were in attendance representing the International Headquarters. Several legacies were in attendance as well, including the son and nephew of Tim Conroy (1990) and the son of Brian Case (1989), both of which were Beta Zeta Chapter brothers. "The Beta Zeta recolonization ceremony marked the beginning of a new day for a long established chapter," said Vanlanot. "Collegiate men pledged to become shining examples of Theta Chi's values, Beta Zeta alumni from many generations gathered to support these renewed efforts, and IHQ staff was honored to facilitate the great day. Now the collegians begin their journeys to becoming full-fledged brothers of Theta Chi, to leave an honorable footprint on the Michigan State University campus."
After a four-year absence, the men came together, recognizing the proud Theta Chi legacy that has existed on campus since 1939. "Many of the current colony members are Theta Chi legacies," read the group's colony petition. "With this support, as well as the enthusiastic involvement of our advisory board, we have been able to grow quickly, while maintaining quality." The current Colony Advisory Board members include Brian Case (1989), Andy Draheim (1992), Rob Klein (1989), Charlie Krupka (1984), Scott Reinholt (1985), Dan Shine (1986), and Chris Suydam (1990).
"I would say that re-colonizing the Beta Zeta Colony of Theta Chi was the proudest accomplishment since attending Michigan State University," says colony member Michael Conroy (2018). "We have worked hard for the past year to prepare for this moment, and we could not be more excited to begin working to reinstall."
The new colony plans to not only grow to 80 members, but charter by the end of the spring 2017 semester. With an extremely strong foundation and proud history, the group is aligned to hit this ambitious goal. The colony is also planning to work alongside alumni to fundraise for a complete renovation of the house. On top of this, they hope to raise $5,000 for the USO through G.I. Theta Chi and have every member complete at least six community service hours per semester.
"Seeing the excitement from the group when they were able to put the Theta Chi letters back up on the house was really gratifying," explained Field Executive Nick Hoke. "Having worked with them over the past month, there's no doubt in my mind that these men possess the ability to build Theta Chi into one of the best fraternities at Michigan State."
"We understand that it is just a step in the process, but the 41 men showed great leadership in re-establishing a positive relationship with national and energizing our alumni base," reflected Tim Conroy. "The ceremony was special for me getting to see my son and nephew take the oath and receive their pledge pins. Watching the letters go back up at 453 Abbott road was the end to a wonderful day, but the start of new era of Theta Chi brotherhood in East Lansing and Michigan State University."
---
---
Founded in 1856, Theta Chi Fraternity is a men's collegiate fraternity with more than 180,000 initiated members and has established 235 chapters. Leadership development, personal development, and service to alma mater are fundamental to Theta Chi Fraternity's mission.