Ohio University Army ROTC cadets excel at summer training
The following article was published on September 10, 2021, via Ohio University News (ohio.edu/news). It was reprinted with permission from Jalyn Bolyard, Media Relations Coordinator for Ohio University. The article features Gerron Elam (Alpha Tau/Ohio 2021) and Bhavan Patel (Alpha Tau/Ohio 2023).
---
Ohio University Army ROTC cadets performed well at Basic and Advanced Camp during their summer training at locations in Kentucky and New York.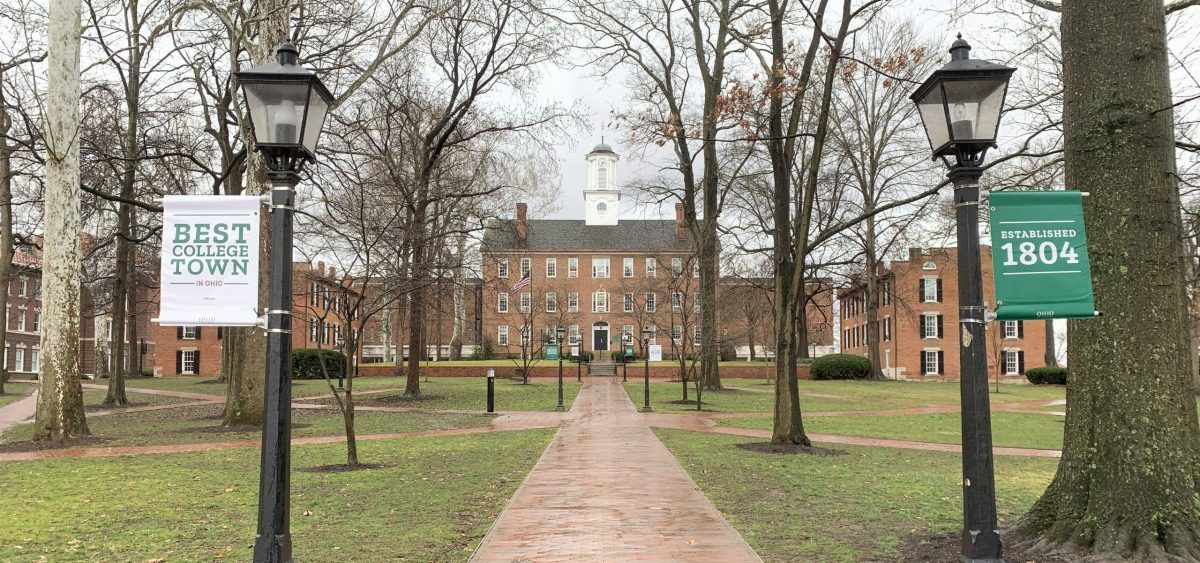 Cadet Basic Camp, conducted each summer at Fort Knox, Ky., is an accelerated and fast-paced 28-day training focusing on critical military and leadership skills taught during the first two years of Army ROTC. The Cadet Basic Course is based on a leadership development curriculum and situational training exercises. Cadets who complete Basic Camp are qualified to enroll in the Army ROTC Advanced Course.
The ROTC Cadet Advanced Camp is the most important training event for an Army ROTC cadet. This summer training is usually conducted after the junior year of the ROTC curriculum and is considered the capstone training event. The 38-day training event incorporates a wide range of subjects designed to develop and evaluate leadership ability, physical fitness, and academic achievement. The challenges are rigorous and demanding, both mentally and physically. Challenges provide perspective on the cadets' ability to perform exacting tasks and to make difficult decisions in demanding situations.
Eight Bobcat Battalion cadets earned outstanding rankings and 12 earned excellent rankings. Out of OHIO's cadets, 25% earned the outstanding rankings while only 15% of cadets earn that ranking nationally.
Noah Kiger from Sugar Grove, Ohio; Zach Kuminkoski, of Chardon, Ohio; and Brendan Cullura, of New Hope, Pa., ranked No. 1 in their platoons. Cadets Jacob Cole of Thurston, Ohio, and Fred Kaufman of Cincinnati, Ohio, ranked No. 2 in their platoons. Cadets Cody Ridge, of Delaware, Ohio, and Brendan Daeschner, of Pittsburgh, Pa., ranked at No. 4 in their platoons, while Tommy Rosselot ranked at No. 5 for his platoon.
Eleven Bobcat Battalion cadets earned the RECONDO badge, which is awarded to cadets who display superior skills at Advanced Camp. Cadets must exceed the standards in the fitness test, confidence courses, land navigation, marksmanship, first aid and a six-mile foot march to earn their RECONDO Badge.
Additionally, cadets Alec Guay, from Avon Lake, Ohio; Chance King, from Thornville, Ohio; Zach Kuminkoski, from Chardon, Ohio; and Bhavan Patel, from Hanover Park, Ill., graduated from Air Assault School. Guay and Kuminkoski attended Air Assault at Fort Campbell, Ky., while King and Patel attended the course at West Point, N.Y. These cadets participated in training from completing an obstacle course, rappelling from towers and hovering helicopters, rigging equipment for sling loading, landing and pick-up zone operations. Training culminates in a 12-mile road march completed in less than three hours while wearing full combat gear.
Maj. Darrell Fawley, professor of military science, is the commander for the Bobcat Battalion.
"Last year was quite a challenge as we worked to provide our cadets the training they needed while keeping them safe," Fawley said. "I'm proud of what these cadets accomplished under the most trying of circumstances. They have represented this program and Ohio University well on a national stage and continue the tradition of our program achieving outsized results."
Fawley also noted his appreciation for the efforts of Ohio University to support continued training throughout the past year.
"I'm very thankful for everyone at OHIO who helped us continue to train safely last year," he said. "Our recently commissioned lieutenants had a huge hand in developing our cadets ahead of camp, so they share credit for these results."
The Army ROTC Bobcat Battalion was established at OHIO in 1935 and prepares students to be active-duty officers in the United States Army. At Ohio University, ROTC programs are housed in University College. For more information about Army ROTC at Ohio University, visit the Ohio University Army ROTC website.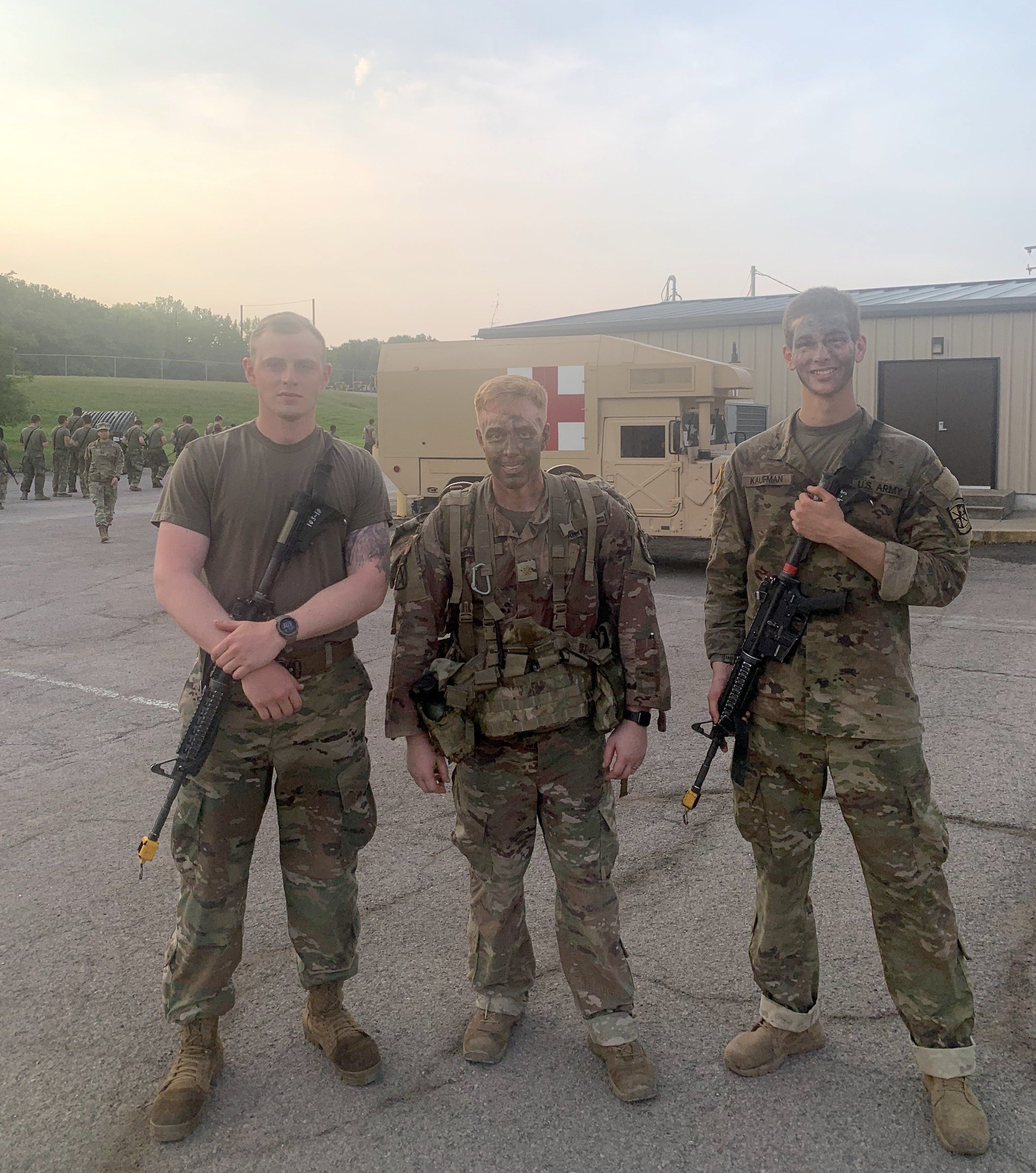 Gerron Elam (L) celebrates the conclusion of ROTC Advanced Camp training following the 12-mile foot march culminating event at Fort Knox, KY.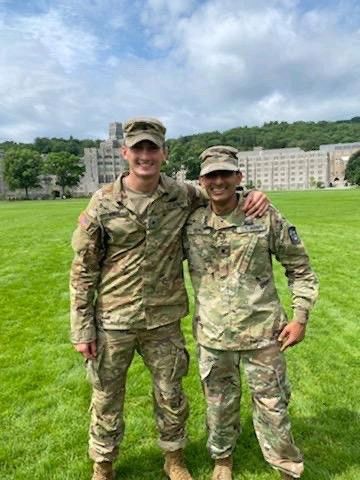 Bhavan Patel (R) at Air Assault Graduation at West Point, NY