Remembering the Spirit of Theta Chi
Celebrating the Life of Ross Nash

Special thanks to Jim McMahon (Zeta Epsilon/Long Beach State 1979) who was this article's primary author.
We are saddened to inform you that Brother Ross Nash (Zeta Epsilon/Long Beach State 1980) has entered the Chapter Eternal. Many of us knew Ross very well through his involvement with Zeta Epsilon Chapter, chapters in Southern California, and at our Conventions.
Ross Allen Nash was born in January of 1955, and grew up in the Huntington Beach area of Southern California.
Ross entered Long Beach State in the fall of 1976, and pledged Zeta Epsilon Chapter on September 14, 1976. As a member of his pledge class, he was an early and enthusiastic participant in all things Theta Chi. He parlayed his penchant for photography and skill as a scuba diving instructor with an outgoing sunny personality that brought everyone up whenever he was around. He was initiated in November 1976, and immediately began contributing to the chapter.
His most significant contributions were in recruitment efforts that continue to this day, 40 years later. He was a tireless planner, worker, and recruiter. He sought out potential new members in every class, at every school event, and during every social and sporting event where students were present. In addition, he was the very epitome of brotherhood. He went out of his way to mediate disputes, and to smooth over bad feelings after elections or conflicts. He could always be depended on for a sane and measured opinion. He did this in spite of a noticeable speech impediment. In fact, his forthrightness in dealing with his communication challenges endears him to us even more. When it would be so much easier to find a quiet comfort zone and avoid being noticed, Ross took the high road and worked with what he had.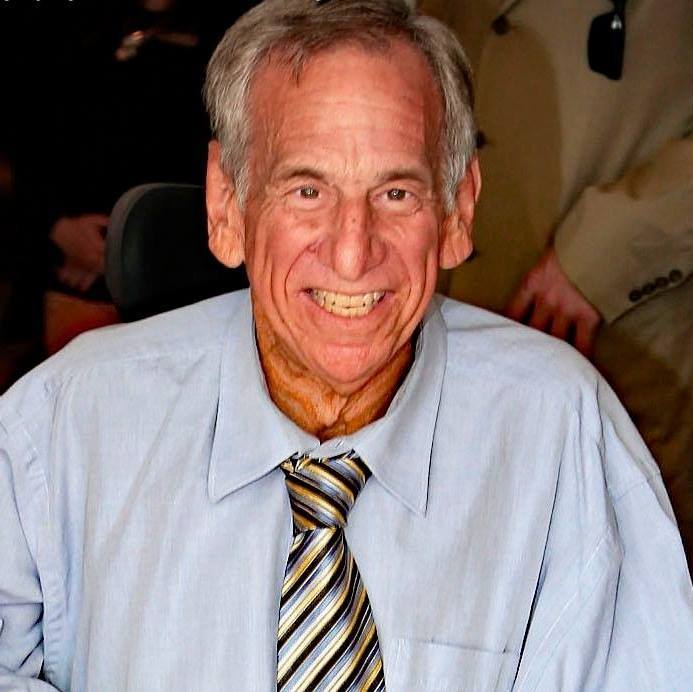 After graduation and change to alumnus status is where Ross truly rose above the rest. Every meeting. Every event. Every newsletter. Every regional conference. Ever Founder's Day. Every Convention. Events at other chapters. Rush. Road Trips. Installations. Colonizations. You name it, Ross made it. He supported any and all events having to do with Theta Chi.
In the early 1980s, he was diagnosed with adult-onset Tay-Sachs disease, a genetic, degenerative neuromuscular disease. There is no cure or even much in the way of treatment. The best treatment, in fact, is to keep moving as much and as long as possible, and to have a positive mental attitude. Though he went on full disability, it was only a technical definition, because a disabled Ross still got 5 times as much done as most able-bodied people do.
So despite every reason to relax, stay home, stay away, and feel sorry for himself, Ross would have none of it. What did he do? He followed up via phone & email. Everybody that has ever known Ross knows that his motto is "Keep in Touch." While most of us were finding it hard to spend all the time we wanted to with Theta Chi, he took it upon himself to make it easier for us. Starting with the 20th anniversary of Zeta Epsilon's installation, and continuing to the 25th, 30th, and most recently, 40th, Ross took the lead to challenge the alumni and collegians to put together events worth attending. He made sure as many brothers, wives, family and friends that could attend knew about it and got the opportunity.
Not content to limit himself to Theta Chi events, Ross took the time to know the brothers and their families. Presents and cards for kids, attending family events as a friend and brother, keeping in touch with everyone he can find. He took special care to remember the families of brothers who have left us, checking in with their widows and families, keeping them in touch with the Fraternity that meant so much to their men. Ross also took the time and effort to make it to regional and international events. In 2006, he made the difficult and lengthy trip from Southern California to the 150th Anniversary Convention in Norwich. Inspiring hundreds of brothers with his dedication, effort, and true brotherhood, Ross epitomized "Theta Chi for Life."
Inspired by his efforts, the Grand Chapter created the Ross A. Nash Spirit of Theta Chi Award, presented to brothers who support Theta Chi despite adversity. Ross was the first recipient on Founders Day in 2007.
Sadly, shortly after receiving this award, he suffered a fall and fractured his hip, after which he was confined to a wheelchair and could no longer drive. So he moved into an assisted-care facility, signed up for every physical therapy and swimming class he could find, and worked hard to rehab and stay in shape.
Despite increasing difficulty swallowing, he worked with his doctors to find ways to get nutrition and build strength. Thanks to various local transportation programs, and with the help of his multitudes of friends and fraternity brothers, Ross spent more time outside of the facility than in it. He attended the International Convention in Palm Springs in 2012, and was even able to walk up to the stage with the assistance of a standing rig.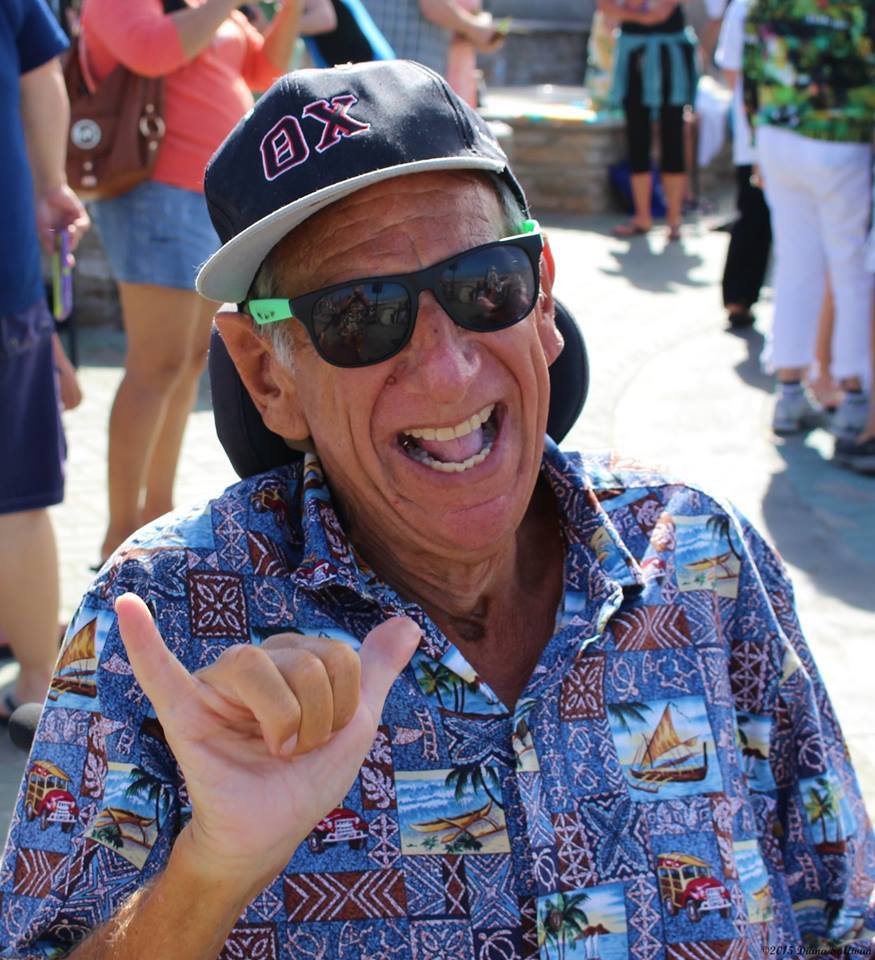 In recent years, Ross was a fixture on the Huntington Beach Pier, and a regular at events sponsored by the Muscular Dystrophy Association of America. His activities included wheelchair surfing, Fill the Boot fundraisers with the Fireman's Association, and charity and community events of all kinds.
Alumni of Zeta Epsilon Chapter from Ross' era met annually in January to celebrate his birthday and mark another year of his extraordinary life. Over 20 gathered this year, and Ross was as feisty and full of life as ever. He was planning to attend the Convention in Las Vegas in July.
In the last few weeks, his continuing deterioration put him back in the hospital, and finally he was unable to rally. He spent his last day as he had spent his life: greeting friends and taking selfies, smiling and hugging.
Ross passed away Thursday, April 26, 2018, in Orange, CA. His life was celebrated on June 3 at the Huntington Beach Pier by over 150 people, including 40 brothers from Zeta Epsilon Chapter. Visit #celebraterossnash on Facebook for photos and video.