Ring the Victory Bell:
Gamma Nu Reinstalled at New Mexico State
After a 26-year absence, Theta Chi officially returned to New Mexico State University with the Reinstallation of Gamma Nu Chapter.
On December 4, 2021, 29 men were initiated during the Reinstallation of the Gamma Nu Chapter at New Mexico State. Held at the Las Cruces, NM, home of Carlton Hinkle (Gamma Nu/New Mexico State 1988) the following men became Rechartering Members: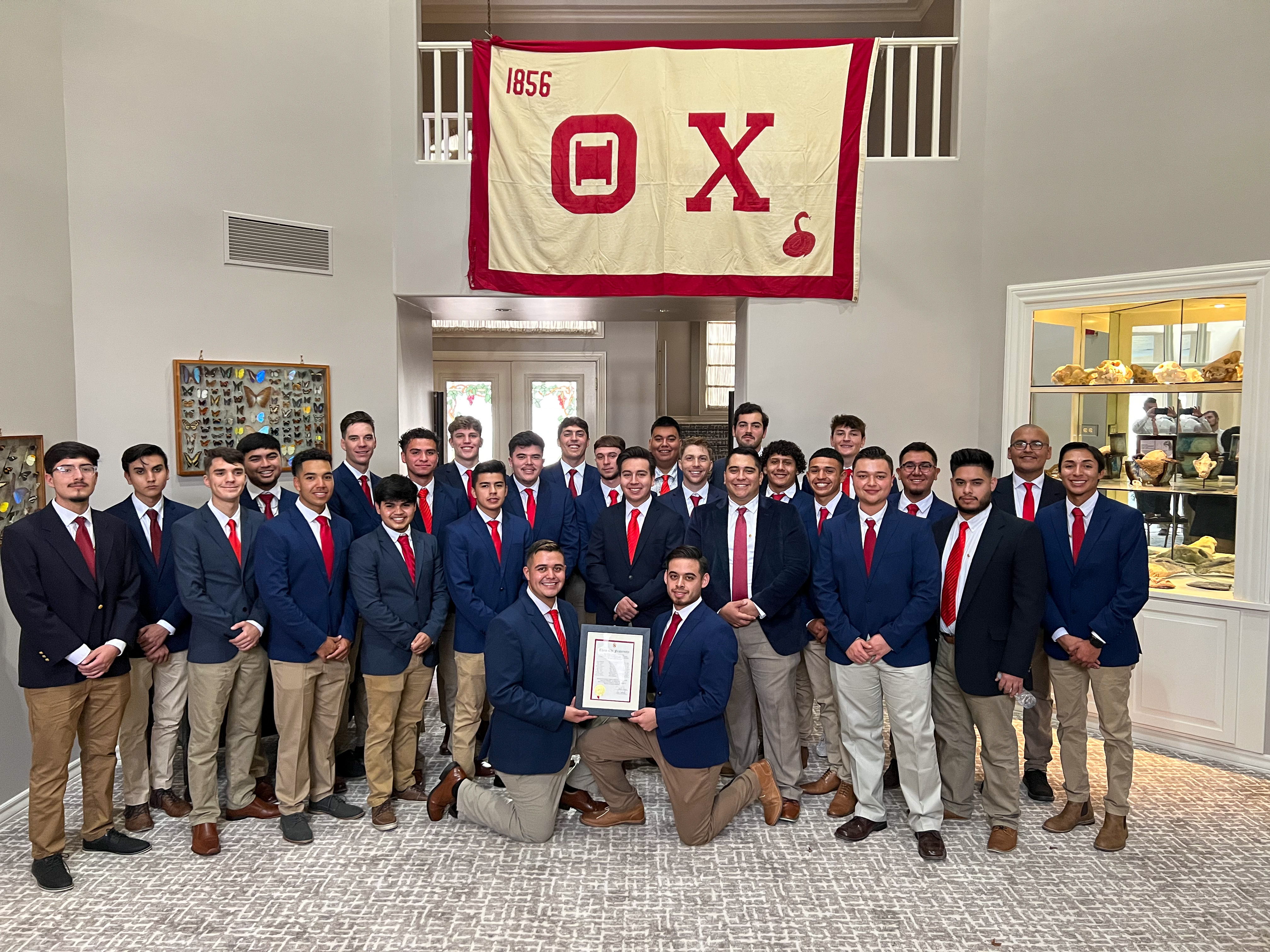 • Adrian Aguilar (2022)
• Rey Aguirre (2023)
• Alejandro Alvarado (2023)
• David Anaya (2024)
• Miguel Arenas (2024)
• Jorgie Avitia (2024)
• D'andre Calvillo (2024)
• Jacob Creighton (2024)
• Andrew De la Cueva (2025)
• Marcos De la Cueva (2022)

• Xavier Dominguez (2024)
• Charlie Enriquez (2025)
• Christian Flores (2023)
• Tyler Garthwaite (2024)
• Fabien Hacker (2023)
• Chaney Hardt (2022)
• Alex Larsson (2024)
• Tevin Martinez (2023)
• Manny Montalvo (2024)
• Kevin Montes (2023)

• Mario Montiel (2025)
• Jake Nelson (2024)
• Luke Nelson (2024)
• Andrew Pantoja (2024)
• Isaiah Salazar (2025)
• Joseph Settle (2024)
• Jesus Valdez Jr. (2022)
• Garrett Wojcik (2024)
• Richard Yanez (2024)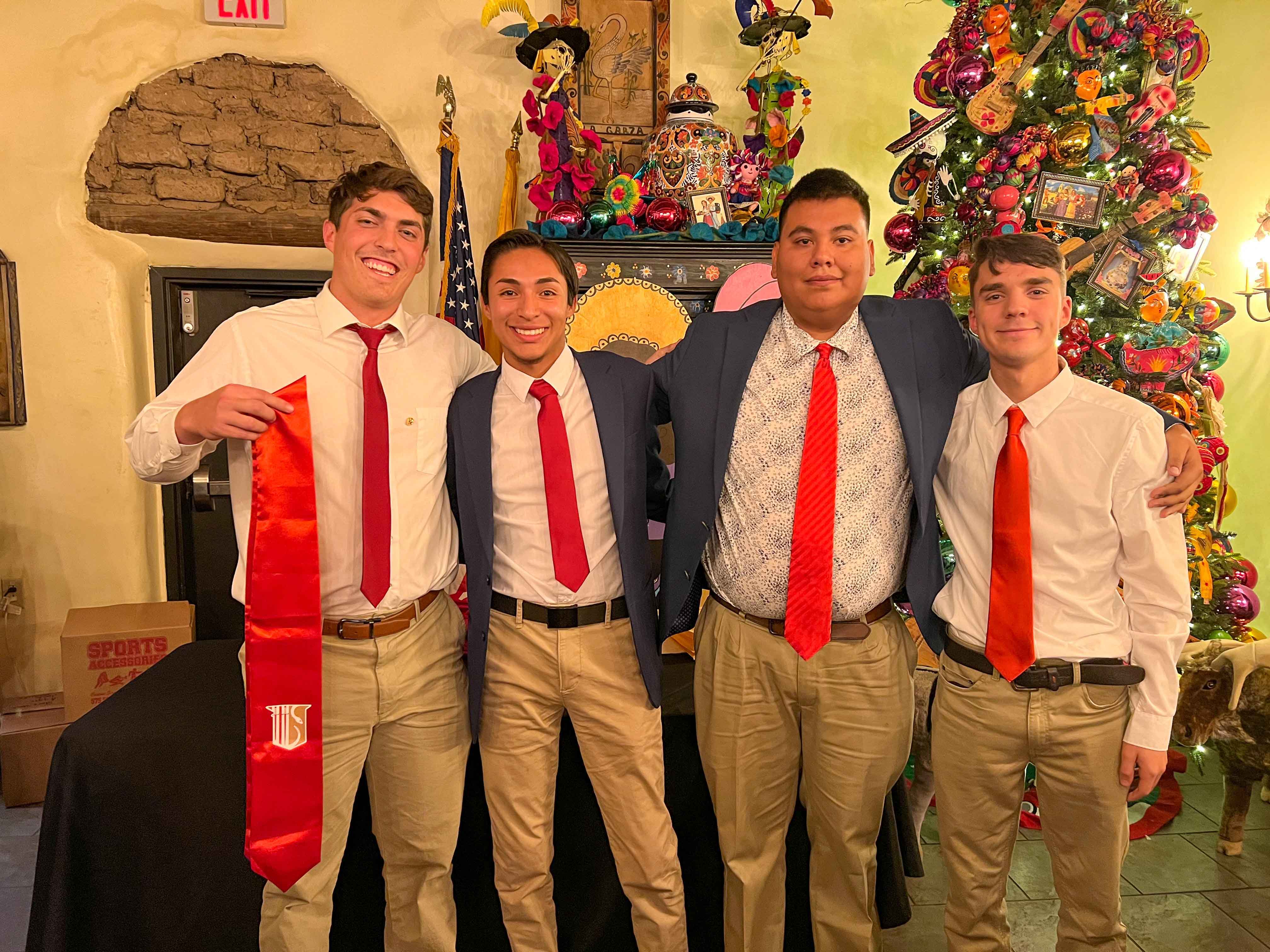 During the path to recolonization, and ultimately reinstallation, members were recruited from a variety of places on campus including the Student Government Association and R.O.T.C. During this period, former Field Executive Jacob Barker (Theta Kappa/Texas Tech 2017) recounts the activities of the interest group on their way to becoming a chapter. "It was so important for this group to attend various events on campus and to just be present," Barker said. "Once the group became the Gamma Nu Colony, I remember how exciting it was to see their names on a homecoming float with Zeta Tau Alpha. Seeing that and being a part of that experience was monumental in steering this group towards becoming a chapter of the Fraternity."
The colony hosted regular public study hours on campus and invited students from their classes to attend to show Theta Chi cares about academics. They also held tabling events for Sacred Purpose and were active in intramural sports. The colony successfully documented their activities via their social media accounts.
As the colony continued to recruit and promote the Fraternity, they were met with many obstacles, chief among them, a global pandemic. Despite a campus shutdown and adapting to the realities of life with COVID-19, the men of Gamma Nu Colony remained resolute and ultimately submitted a petition to the Grand Chapter for reinstallation.
The Reinstallation Ceremony began at 2 p.m. with International President Darick Brown serving as the Presiding Officer. International Historian Jim McMahon was also on hand to welcome the return of Gamma Nu . Additionally, Senior Director of Growth Zack Brown and Growth Specialist Jacob Moore represented the International Headquarters. Chapter Adviser Craig Wilson (1978) and CAB members David Chavez (1978) and Jonathon D. Worst (Delta Upsilon/Arizona State 2010) were in attendance, along with Steven Ramirez (1979), Edwin Martinez (1988), Michael Perkins (1981), Ruben Salazar (1989), Ronald Martinez (1976), Garrick Snider (1988), Pete McKenzie (1984), Jay Olson (1982), Ky Kugler (1978), Tim Thompson (1978), Steven Patterson (1978), and Carlton Hinkle (1988). In all, 14 alumni from the original Gamma Nu Chapter were present to initiate and welcome their new collegiate brothers.
The Gamma Nu Chapter later welcomed Abby Howard, NMSU's Coordinator of Fraternity and Sorority Life, to the post-ceremony reception at La Posta De Mesilla Restaurant in nearby Mesilla, NM.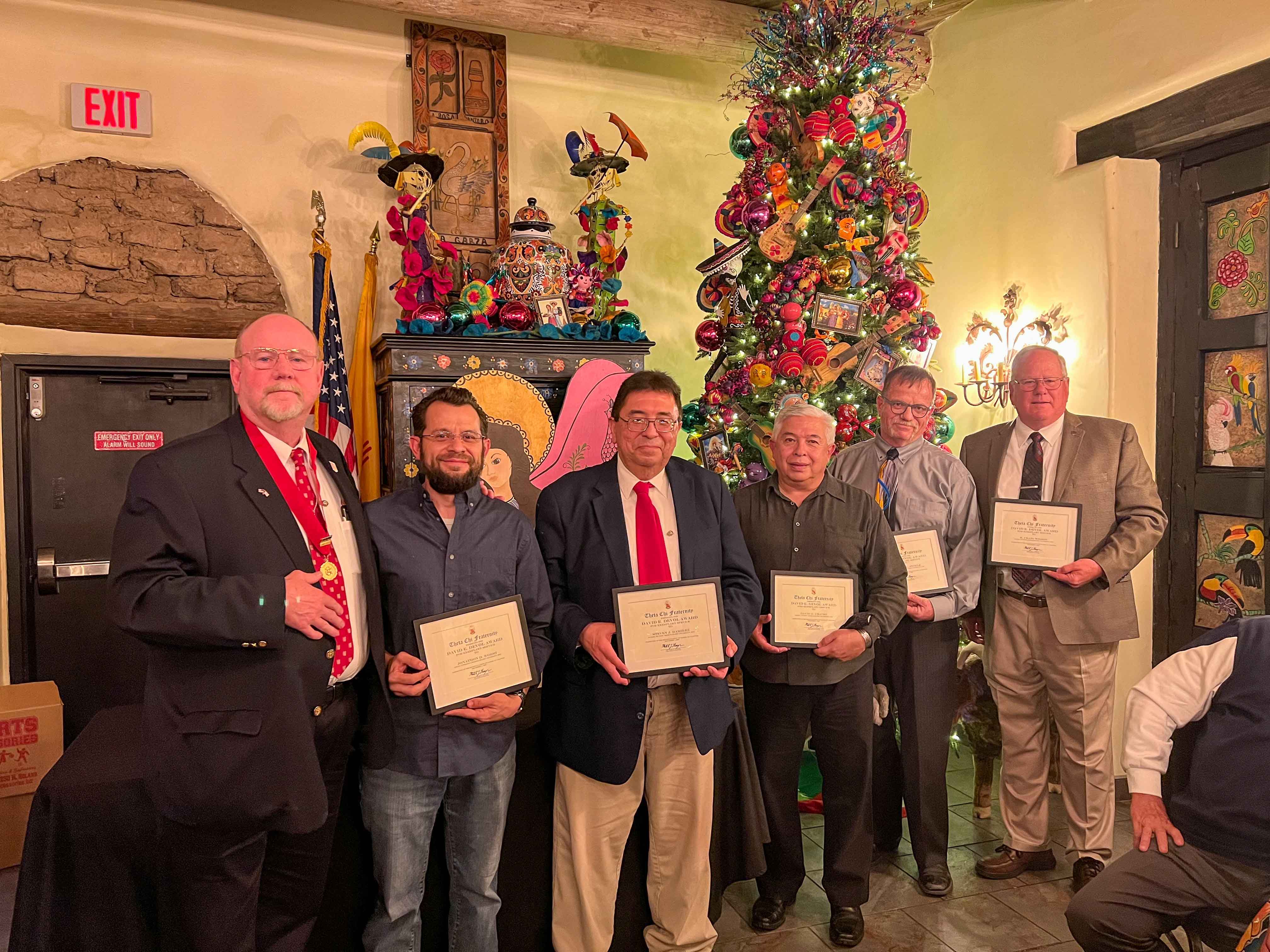 At the reception, International President Darick Brown talked about continuing the success of Theta Chi; Chapter President Jesus Valdez provided a recollection of the chapter's efforts as a colony and his vision for the future growth of the chapter; CAB member Steven Ramirez dove into the chapter's rich history and alumni who helped recolonize the chapter; and incoming President Andrew Pantoja spoke on their successes during their time as a colony.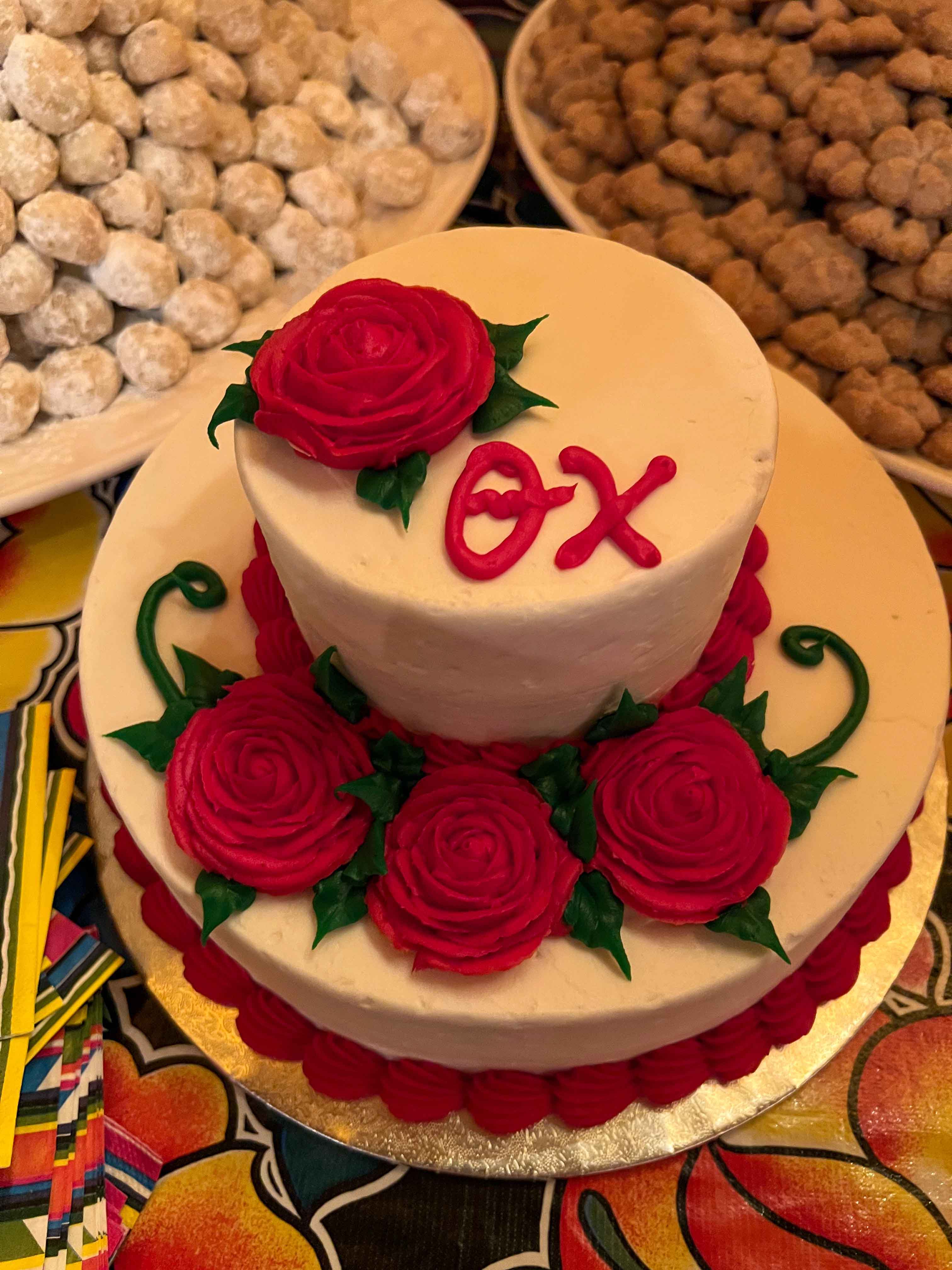 International Historian Jim McMahon then presented the David E. Devol Award—recognizing volunteers who provide outstanding service to the Fraternity—to David Chavez, Carlton Hinkle, Steven Ramirez, Craig Wilson, and J.D. Worst.
As a token of appreciation for his service to Gamma Nu during its time as a colony, the chapter pitched in funds to gift Tyler Garthwaite (the chapter's only graduating senior) his very own Theta Chi stole for his imminent December 2021 graduation. Concurrently, alumni presented the new brothers with their first set of Theta Chi letters.
President Jesus Valdez, Jr. said the path to Reinstallation was a bit of a whirlwind. "The process was honestly a bit surreal," Valdez said. "We have been working toward this for three years total with the COVID-19 pandemic making the process longer, but I am very thankful to have IHQ allow our time as a colony to be extended. Through the pandemic, we didn't have a single member drop their membership, and that's a huge accomplishment for us."

Valdez feels Gamma Nu is on a forward and upward trajectory and he couldn't be more pleased with the progress they have made thus far. "This fall [2021], we had nine guys rush and then become initiated into our reinstalled chapter," he noted. "For us, at a school like ours, that's huge."
Speaking on Gamma Nu's commitment to recruiting future Resolute Men, Senior Director of Growth Zack Brown shared, "This chapter takes pride in '365 Recruitment' and is diverse and involved throughout the entire campus. I know Theta Chi Fraternity is stronger with a chapter like Gamma Nu that is full of hard working and passionate brothers."
Director of Growth Jermaine Merritt had worked with colony and pushed them toward Reinstallation. "I was most proud of those men for setting a goal and actually obtaining the results and feeling accomplished," Merritt explained. "To me, the Reinstallation was more of a reward for hitting the goal they set out to accomplish."

Concerning the future, the chapter plans to grow their membership with a goal of becoming the largest fraternity at NMSU. You can follow and support Gamma Nu on their social media channels including Facebook, Twitter, and Instagram.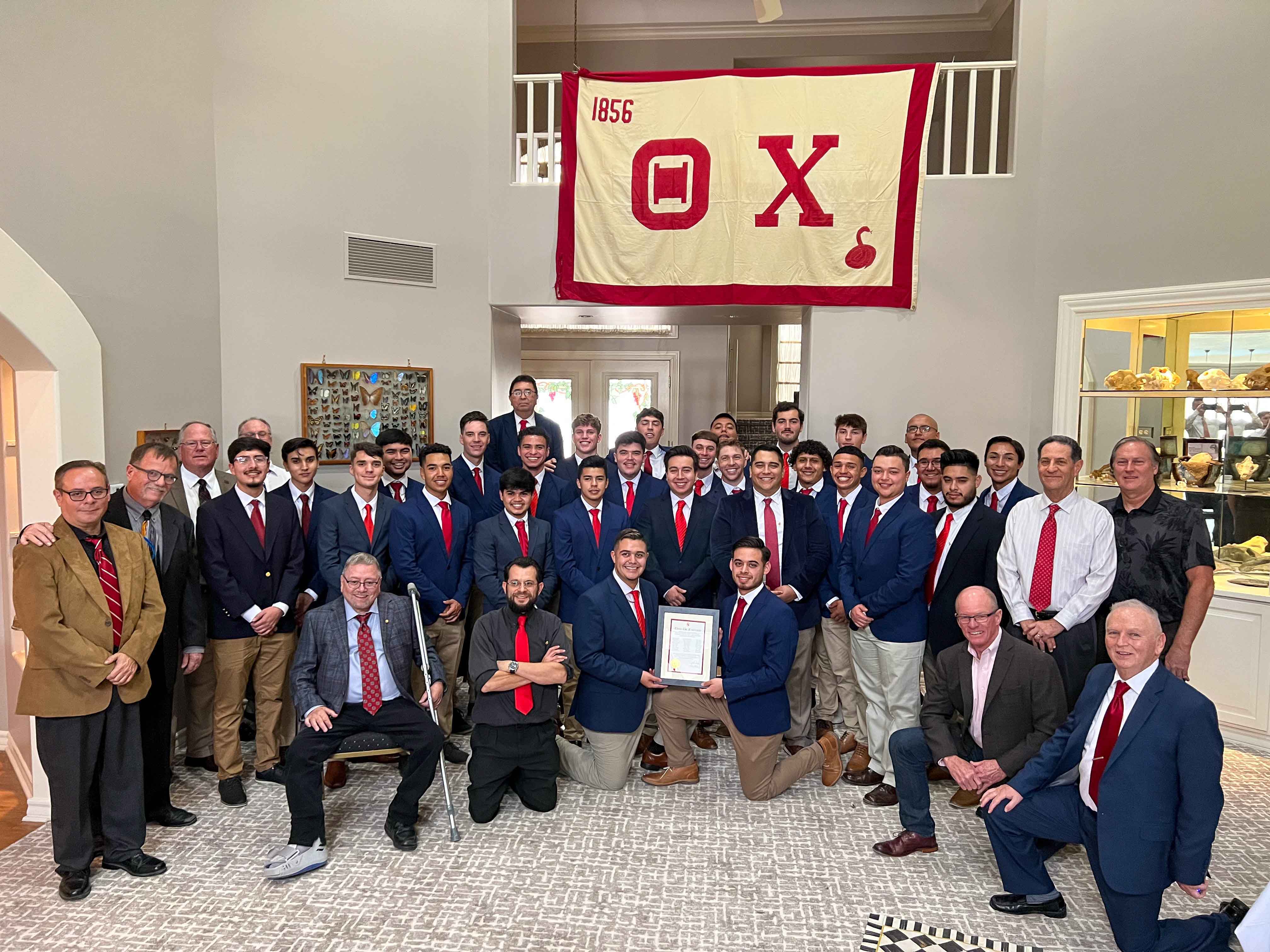 Gamma Nu Chapter was originally installed on April 9, 1948, at what was then called the New Mexico College of Agriculture and Mechanic Arts and had been an integral part of NMSU's campus life until closing in 1995. Among its original 590 initiates include former NMSU president Dr. John Branson (1950); Brig. Gen. Stanley Johnston (1951); NFL quarterback Charley Johnson (1961); and current Institute for Justice Vice President for Communications, John Kramer (1987).
Frank Mesa (1981) served Theta Chi as a Field Representative and Regional Counselor. Three additional Gamma Nu brothers served as Regional Counselors: William Nix (1950), Thomas Toney (1951), and John Vestal (1986).
Gamma Nu Chapter was the 1948/1949 recipient of the Grand Chapter Scholarship Award.
------------------------------------------------------------------
Founded in 1888 as Las Cruces College, New Mexico State University sits on a 900-acre campus and enrolls more than 14,000 students from 49 states and 89 foreign countries. NMSU is a comprehensive research land-grant and NASA space-grant university and is home to the very first Honors College in New Mexico. A Hispanic-Serving Institution, NMSU serves a multi-cultural population of students and community members across the state at five campuses, a satellite learning center in Albuquerque, cooperative extension offices located in each of New Mexico's 33 counties, and 12 agriculture research and science centers. Excelling in teaching, research, and public service, NMSU is truly a reflection of the region's vibrant communities – an exciting place to tackle challenges, find answers to important issues, and prepare for the future.