Student Spotlight: Trey Burns
The following article was published on July 9, 2019, via Inside NKU (inside.nku.edu). It was reprinted with permission from J. Atley Smedley, Public Relations Coordinator for Northern Kentucky. The article highlights Trey Burns (Iota Tau/Northern Kentucky 2021).
---
HOMETOWN: Taylor Mill, Kentucky
MAJOR: Biology
MINOR: Chemistry
YEAR IN COLLEGE: Sophomore
Tell me about life pre-NKU. Where did you grow up?
I grew up in Taylor Mill, Kentucky, where I went to Scott High School. I was a soccer player and member of the swim team, a member of the Kenton County Biomedical Academy and a trombonist in the band.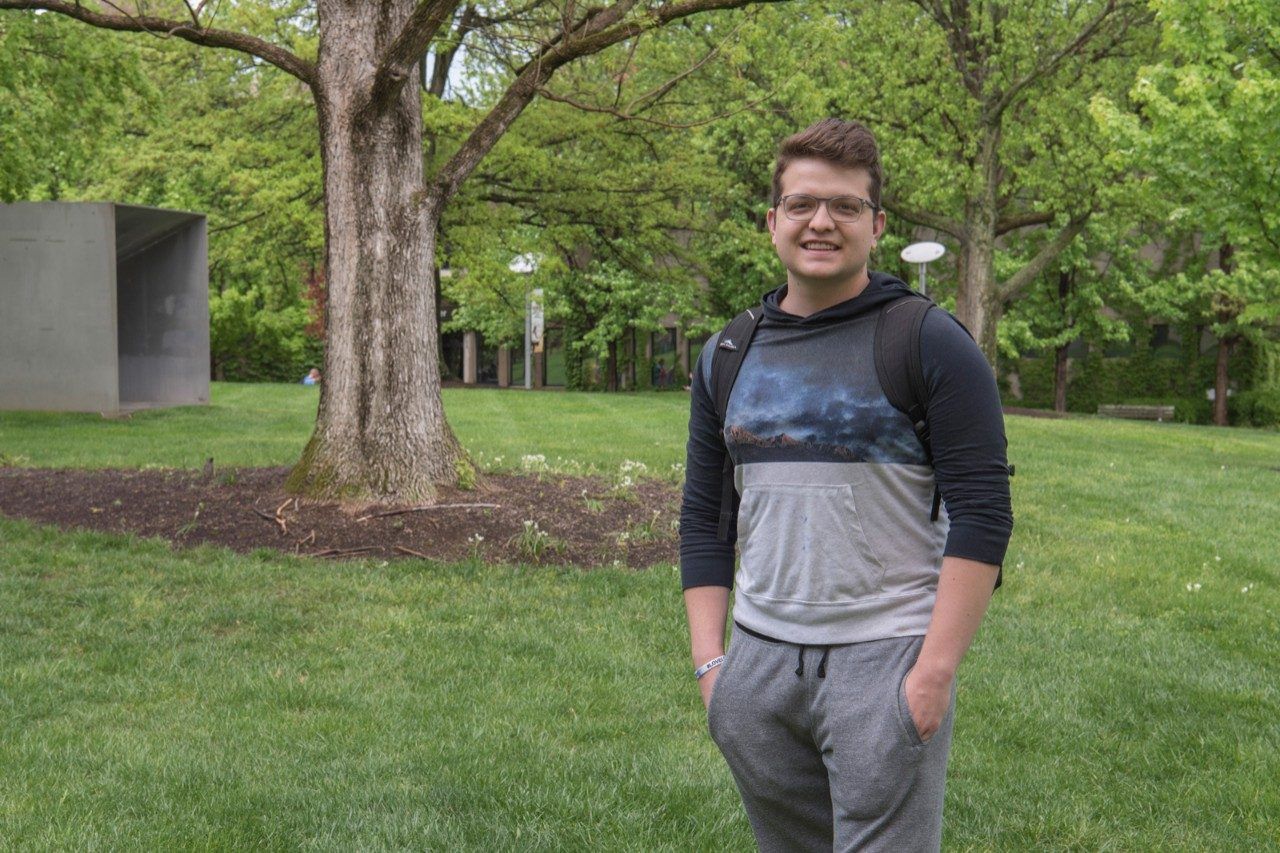 Why did you choose NKU? What kept you here?

I chose NKU because of the opportunities available to undergraduate majors in the STEM field. The idea of conducting undergraduate research was extremely appealing to me. I also enjoyed the small class sizes because this meant I would be able to form close relationships with my professors. Finally, I loved the atmosphere of campus. The amount of student involvement on this campus is incredible. Students looked like they were proud to represent this campus.

Can you tell me a little about what you're studying?
I'm studying to become an oncology geneticist. My classes fall under the cell molecular biology track within the biology degree. Most of classes are focused on the understanding of biology at the molecular level and how changes in things such as DNA and other biological mechanisms affect human health.
What's the first word that comes to mind when you think about NKU?
The first word that comes to mind is electric. I feel the atmosphere on campus is full of energy and very contagious.
What is the best thing about NKU?
The best thing about NKU is the university's commitment to its students. I always feel my university puts the needs of students before anything else.
What advice would you give a first-year student?
Learn how to get involved with campus life and never stop.
What's your favorite class? Why?
My favorite class is genetics because it's what I want to study for the rest of my life. We learn about real life applications of the class and how this section of biology is the next booming field. Many of the skills I learn in my lab are what professionals use every day. Whether this is using sequencing programs for proteins or using tools and practices found within many labs, I feel very prepared for my future.
What has been your most challenging academic experience so far? Why?
My most challenging academic experience is learning to balance everything. I am very happy to be involved with campus life, but I've had to learn how to balance this with my classes and time for myself. My biggest help in this respect has been from the Office of Health, Counseling and Student Wellness. The counseling program here really works to improve the student and leave them with ways to combat the stress college brings.
What's a favorite NKU memory you'll never forget?
Though I've made many lasting memories here, the one that sticks out to me the most will be my summer as an Orientation Leader. Representing our campus with pride and bringing in the next class of students was both an honor and privilege. I had an incredible time making connections with staff, my fellow Orientation Leaders and with the incoming freshman. I have had multiple students come up to me and say that I was the reason they became involved with campus life. That has been the most moving experience for me.
What is your favorite way to decompress?
My favorite way to decompress is by hanging out with friends or by going to the Campus Recreation Center to work out. The facility is incredible and one of my absolute favorite places to be.
Where's your favorite spot on campus? What makes that spot so special?
My favorite spot on campus would have to be the Student Union because this is the epicenter for all student life. There is always something going on, and I love how I never see the same thing or people twice.
Who's your favorite professor (or staff member)? Why?
My favorite professor would have to be Dr. Cooper. He has been almost a mentor for me in biology and has helped me to land awesome research opportunities. He is always happy to talk to me about my life and is excited to see me succeed. My favorite thing about him is how real he is with me. He is always giving me advice on how to seem more appealing to graduate schools, how to succeed better in class, addressing areas where I can improve and allowing me to learn from his own mistakes.
Where's the best place to study?
The best place to study is within the Health Innovation Center. There are many study rooms with access to plenty of white board space and a computer to display homework assignments onto the screen. It makes a perfect place to study for exam with friends.
What is your favorite way to spend your free time?
My favorite way to spend my free time is working out, playing video games or spending time with friends.
How do you stay focused?
I stay focused by listening to music and remembering why I am here. Whenever I get burnt out on studying, tried of homework or just want to sleep the day away, I remember that I have to become a great geneticist one day. I'm not going to be doing much good to my research team if I'm always napping.
What is your greatest passion?
My greatest passion is the preservation and exploration of the ocean. I was originally born in Florida, and my early life was spent on the beach and in the water. I've always felt extremely connected to the ocean and all the creatures within it. I hope to make a lot of money at my job so I can donate to oceanic wildlife funds. My one life goal is to open a marine reserve in my name.
What are you most looking forward to after graduation?
I'm looking forward to using my knowledge to make a difference. I am really looking forward to finally working a job where I get to use my information.
What kind of job would you like to have after you graduate?
I would like to work as a genetic oncologist at Children's Hospital.
What does get your degree mean to you?
It means that I get to accomplish a dream I've had all my life—becoming a biologist. Many role models throughout my life have done amazing things in biology, and I want to be a part of it.
What are a few things every NKU student should do here before he or she graduates?
Students should get involved in at least one organization. They should complete Leadership University, go to as many home games as possible and find some way to give back.
Tell me anything else about yourself and/or NKU that you want folks to know.
I'm proud member of Norse Nation and really do love my school.