Success is seldom permanent. Neither is failure: Remembering Jack DeBoer
Theta Chi Fraternity is saddened to report the passing of Jack P. DeBoer (Beta Zeta/Michigan State 1952). Brother DeBoer was responsible for the creation of five extended stay/all-suites hotel brands: Residence Inn, Summerfield Suites, Candlewood Suites, Value Place and WaterWalk hotels and apartments.
DeBoer also loved aviation, flying around the world with his wife in a Gulfstream II, and setting speed records in a Learjet 24. He currently holds the 3-kilometer world speed record for jet aircraft under 18,000 pounds.
In 2001, the Michigan State University Alumni Association presented Brother DeBoer with the Distinguished Alumni Award, one of four categories presented to individuals for their service and support of the university.
Brother DeBoer was a longtime supporter of the fraternity experience, Theta Chi, and Beta Zeta Chapter. In 1990, he funded the renovation of Beta Zeta's chapter house. Brother DeBoer also served as a keynote speaker at a Theta Chi University event held at the University of Kansas in 2018.
Most recently, Brother DeBoer supported Beta Zeta's current capital campaign by making a lead gift and offering a challenge match. In all, his contributions for the current campaign total $318,000.
Brother DeBoer was a recipient of Theta Chi Fraternity's George T. Kilavos Alumni Award from Beta Zeta Chapter in 1997, and the Citation of Honor from the Grand Chapter in 1999.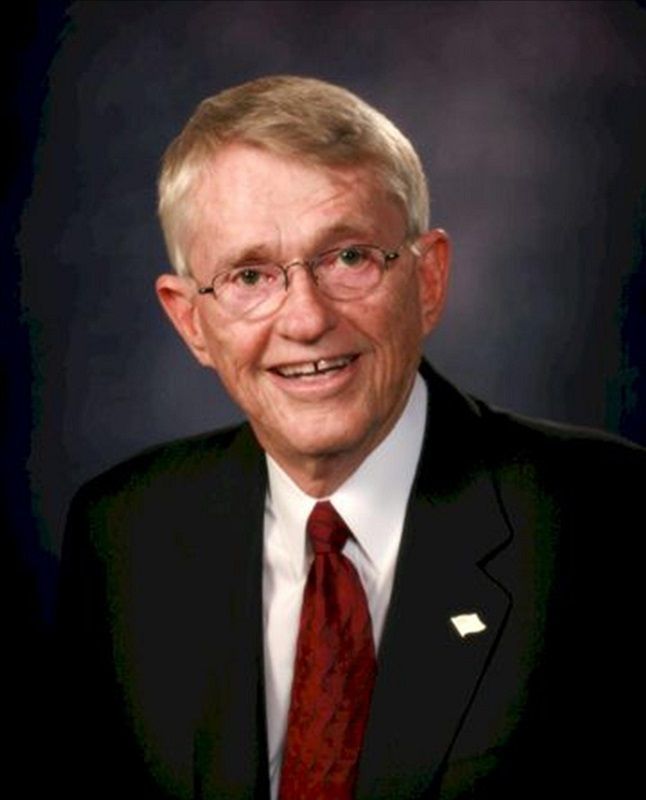 Many news outlets are sharing profiles of Brother DeBoer where you will be able to learn more about his life and his experiences as a businessman, aviator, and author. You can read his obituary here.

Today, in his memory, we share this profile of Brother DeBoer from the Fall 1992 issue of The Rattle:

Excellence in Business Development
by Wesley K. Wicker, Editor
"Running a fraternity is exactly like running a business," states Jack P. DeBoer, the founder of Residence Inns. "Where else could you get such valuable experience: budgets, sales, marketing, food and beverage, teamwork? It's all there, and I urge brothers to get involved!"
Brother Jack DeBoer began his career by selling real estate during the summer breaks in high school. Arter graduating from Michigan State in 1952, he began building homes in the southern part of the state with his father. He began constructing apartment complexes in 1966. National Real Estate Investor recognized DeBoer as "the second largest multi-family housing developer in the United States" by 1973. His company constructed more than 16,000 apartments in 30 cities across 25 states during that seven-year time period.
"I have a plaque in my office which reads: 'Success is seldom permanent. Neither is failure,' " Brother DeBoer proclaimed. Perhaps his philosophy explains the rapid progression of his career. He began building The Residence Inns in 1975, an all suite hotel chain founded in Wichita, KS. Twelve years later he sold all 100 of The Residence Inns to the Marriott Corporation. Now, DeBoer busily serves as Chairman or Summerfield Hotel Corporation, developing Summerfield Suites in the United States (14 hotels are currently open in 12 cities across seven states and in Washington, D.C.)

Brother DeBoer also serves as Chairman of Maroon Creek Development Corporation, which includes an I8-hole golf course (Grand Champions Golf Club), single family homes and townhouses, and a world class health and tennis facility In Aspen, CO.

"It is amazing how fast time goes by," DeBoer stated. "When you look ahead, it seems like an eternity. But when you look back, it seems like a minute. I remember my fraternity brother, Bob Girardin (Beta Zeta/Michigan State 1951), who served as a steadying influence on me. We were roommates and he set goals for me and made me follow up on them."
"I remember making a 'D' in sophomore Air Force ROTC," DeBoer continued. "Bob couldn't stand that. He took me under his wing and introduced me to Col. Thering, who headed the Military Police Division in ROTC. Bob saw to it that I got involved. In my junior and senior years it was all 'As' In ROTC, and at graduation I received the Outstanding Military Police Graduate Award. Bob Girardin died of cancer a few years ago, but he left the world a better place."
Jack DeBoer seems to follow Brother Girardin's lead in that respect. He serves on numerous civic boards in his hometown of Wichita, as well as past president of the Chamber of Commerce, and trustee of Y.F.U., the world's largest student exchange organization. He didn't forget Beta Zeta Chapter, either, in his service efforts. Brother DeBoer recently contributed the money to remodel our chapter house at Michigan State.

"Being in the hotel business," Brother DeBoer remarked, "I have learned that physical surroundings have an impact on attitude. If you work at keeping the physical things in top condition, everybody will feel better and treat the hotel with respect. After years of wear and tear, the fraternity house needed remodeling, not for ego, but for attitude."
"The actives had proven themselves Number One on campus in many areas: scholastics, athletics, etc. Not only did they earn the total remodeling of the house, but I am convinced it brings new respect for the surroundings. The brothers claim it made a difference in pledging, in attitude, in brotherhood, in respect and pride. I'm glad that I could play a role in making this contribution."
"Listen. Don't reinvent the wheel,'' Jack DeBoer advises his undergraduate brothers, and perhaps, referring to his own success in an extremely competitive industry: "There is nothing new out there. It has been done before. Ask for help. You will get it. Remember what is important in life. Personal relationships are always there for you, if you do more than your share to nurture them. Money and business success are fleeting. Build your foundation with people."
We think it's safe to say that Brother DeBoer's Theta Chi experience certainly impacted his thoughts on business and forming relationships.
A sign in Brother DeBoer's office stated, "Success is seldom permanent. Neither is failure." In a 2010 interview with Business Jet Traveler, Jack shared, "Everybody fails, but you've got to pick yourself up and you've got to build certain things into your life to help you when you do fail. Like, you have to be honest. If you're honest, it's pretty easy to face the world to rebuild. If you fail because of dishonesty, you got what's coming to you. And rebuilding out of that is basically impossible."
Later in the same interview, when asked about interviewing people for executive positions within his company, he related, "I don't talk much about their ability to do the job. I talk a lot about who they are and how they think. "Do you have many friends? Will you keep track of them when you move to this town?" If they say, 'Well, I can always get new friends,' I shut down. I can teach a person how to run the business. I can't teach him to be a good human being."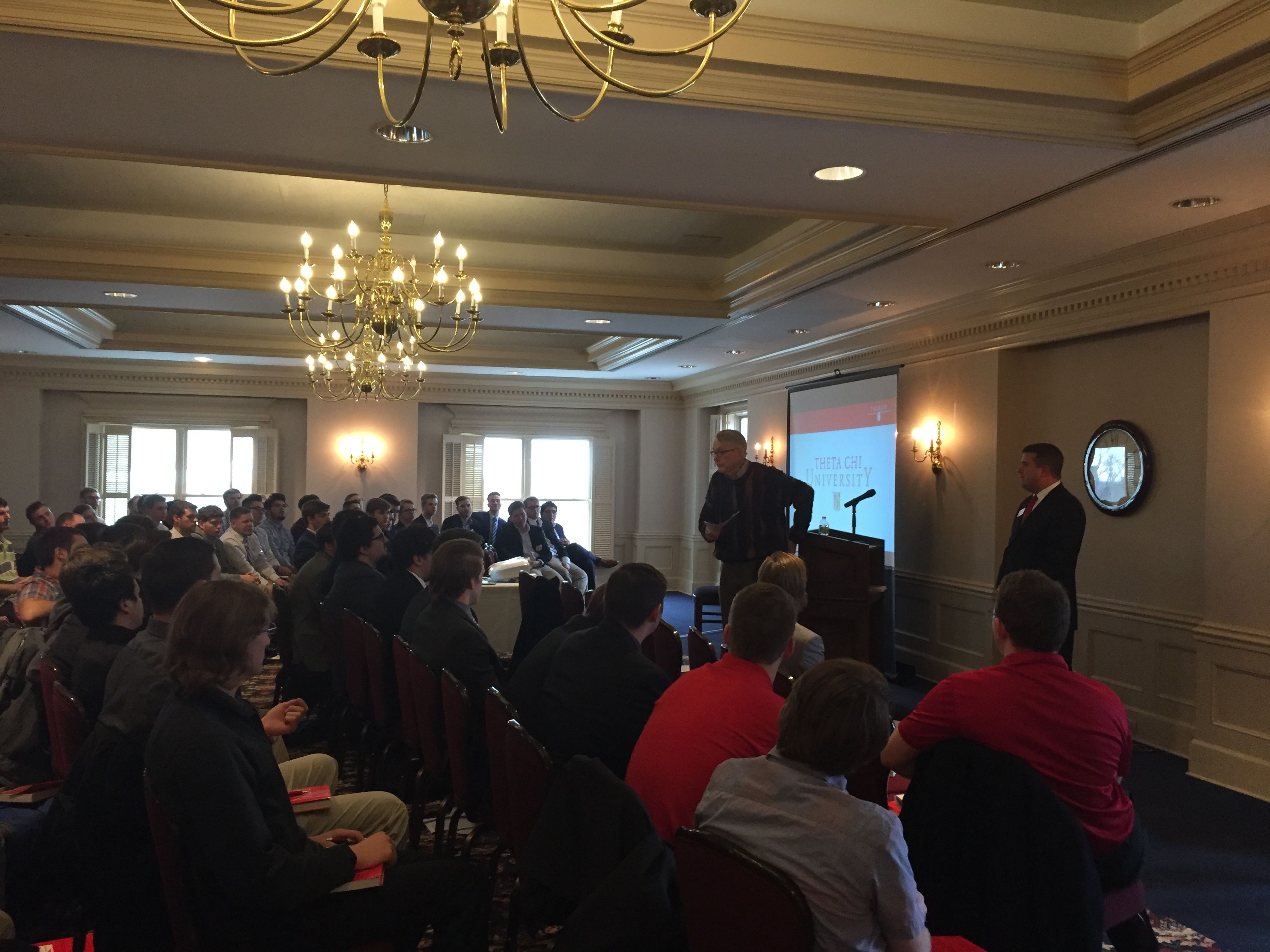 Brother DeBoer speaking to brothers and colony members attending Theta Chi University in 2018.
We extend our sympathy to the family, friends, and Beta Zeta Chapter brothers whose lives were forever impacted for the better because of Brother DeBoer. We salute Brother DeBoer's success as a business entrepreneur and in aviation. We applaud his support of Beta Zeta Chapter, the Foundation Chapter of Theta Chi, and his numerous philanthropic efforts which include the DeBoer Foundation, World Vision, and his dedicated support for the people of Myanmar through many avenues including the DeBoer Fellowship which trains citizen leaders in Myanmar.
We will miss the lessons in leadership. We will miss your zest for life. We will miss your love for Theta Chi. Most of all, though, we will miss you.
Rest in Peace, Brother DeBoer.
You can read more about Jack DeBoer in this tribute, including memories from Beta Zeta Chapter brother Jim Korroch (1989), in The Wichita Eagle here.
The 2010 interview with Business Jet Traveler can be found here.

Jack's book, Risk Only Money: Success in Business Without Risking Family, Friends and Reputation is available on amazon.com.