'Such a proud moment': New U.S. citizens take oath
This article appeared on September 19, 2018, courtesy of Seacoast Media Group N.H. (www.seacoastonline.com) . It was reprinted with permission from John Doyle, the author of the article. The article highlights Brother Srigana Padamati (Zeta/New Hampshire 2019).

---
DURHAM, NH — For Srigana Padamati of Stratham, Wednesday morning's naturalization ceremony held extra significance.
Not only did Padamati officially become a U.S. citizen, he did so alongside his parents Sri and Rava, who did the same. And he took the oath of citizenship on the college campus where he has studied the past four years.
"I was glad it was at UNH," said Srigana, a graduate of Exeter High School. "I'm a senior now, I'm going to be graduating in May. I decided to give UNH a shot because they have a pretty reputable chemical engineering school as well."
In all, 70 people from 36 countries took the citizenship oath Wednesday morning before a packed house at the University of New Hampshire's Memorial Union Building, a crowd that included Sen. Maggie Hassan, D-N.H., and Rep. Carol Shea-Porter, D-N.H.

All of the Padamati family was in attendance, except their younger daughter, who was already a U.S. citizen and was in school on Wednesday.
"It was really incredible to be coming as a family here, taking the oath," Sri Padamati said. "It was such a proud moment. I was having happy tears.
"It's honor to be a citizen," Sri continued. "That's how I see. Even though we hate to lose our Indian citizenship — but I have to give it up, they don't have dual citizenship — still, I'm more happy to take the U.S. citizenship courses."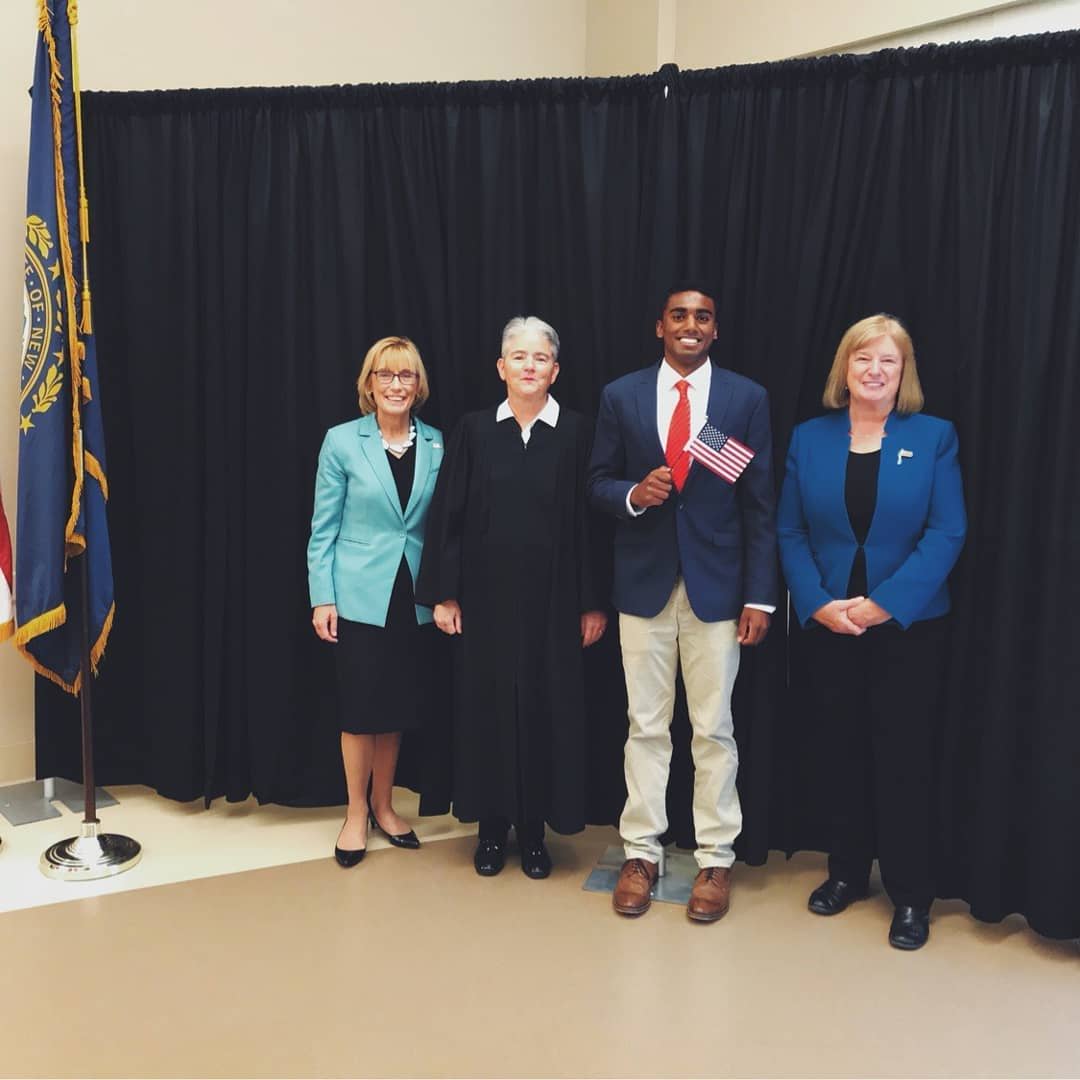 Ravi Padamati said becoming a U.S. citizen was a privilege.
"It was my dream," he said. "It was really good because we all went through the same process every year. It took a long time to get here. (Now) we are all a family together."
Allison Buttle of Londonderry said she was happy to join her husband and two sons as U.S. citizens.
"It feels wonderful," said Buttle, who immigrated from Australia. "I have two boys and now I'm an American citizen just like them. (I) didn't feel emotional until today — I think you realize the responsibility and the privilege and the opportunity you're being given. I'm very proud of where I come from, but I'm very proud to be an American citizen today."
Noriko Yoshida-Travers, from Japan, said she's proud to have the right to vote after living in the U.S. for more than three decades.
"It made my decision really special," said Yoshida-Travers, who resides in Atkinson. "I was very excited. Actually I'll be able to vote. I've been in this country 32 years and I've been watching all the elections and all that stuff and I just couldn't vote. It's very exciting."
Isaac Appiah lives in Manchester and immigrated from Ghana. His 31st birthday on Saturday will be his first as a U.S. citizen.
"It's a very great feeling," Appiah said. "Being a United States citizen is a good step and I'm glad I made it today. It's a good feeling and I like it."