Take Me Home, Country Roads:
Celebrating the Centennial of Alpha Kappa Chapter
The history of Alpha Kappa Chapter began outside the old Strand Theatre the evening of May 2, 1918, when sophomores G. Burton McIntire (1922) and Ray J. Frame (1921) had a discussion on the various fraternities and fraternity life at West Virginia University. The two men decided that there was room for additional social fraternities at WVU, and conceived of the idea of establishing a local fraternity, with the goal of petitioning a national fraternity for a charter.
The two men consulted other fraternity men on campus, the faculty, and WVU President Trotter and all endorsed their plans as an excellent means to serve the university as well as the individual members of the proposed organization.
On September 22, 1919, McIntire and Frame decided to carry out their plans and recruited the following members: James H. French (1922), William C. Fisher (1920), Oley F. Hedrick (1920), John P. Lilly (1923), Thomas F. Lowry (1920), Dana T. Moore (1920), and Fonzo Prather (1921). Scholarship was the first qualification, followed by a good, clean reputation, and campus involvement. The formed the local fraternity known as Sigma Alpha with the principles of Christianity, scholarship, democracy, and fraternal spirit.
On October 14, 1918, Sigma Alpha formally petitioned the University Council of Administration for recognition as a fraternity, and this was granted a short time later.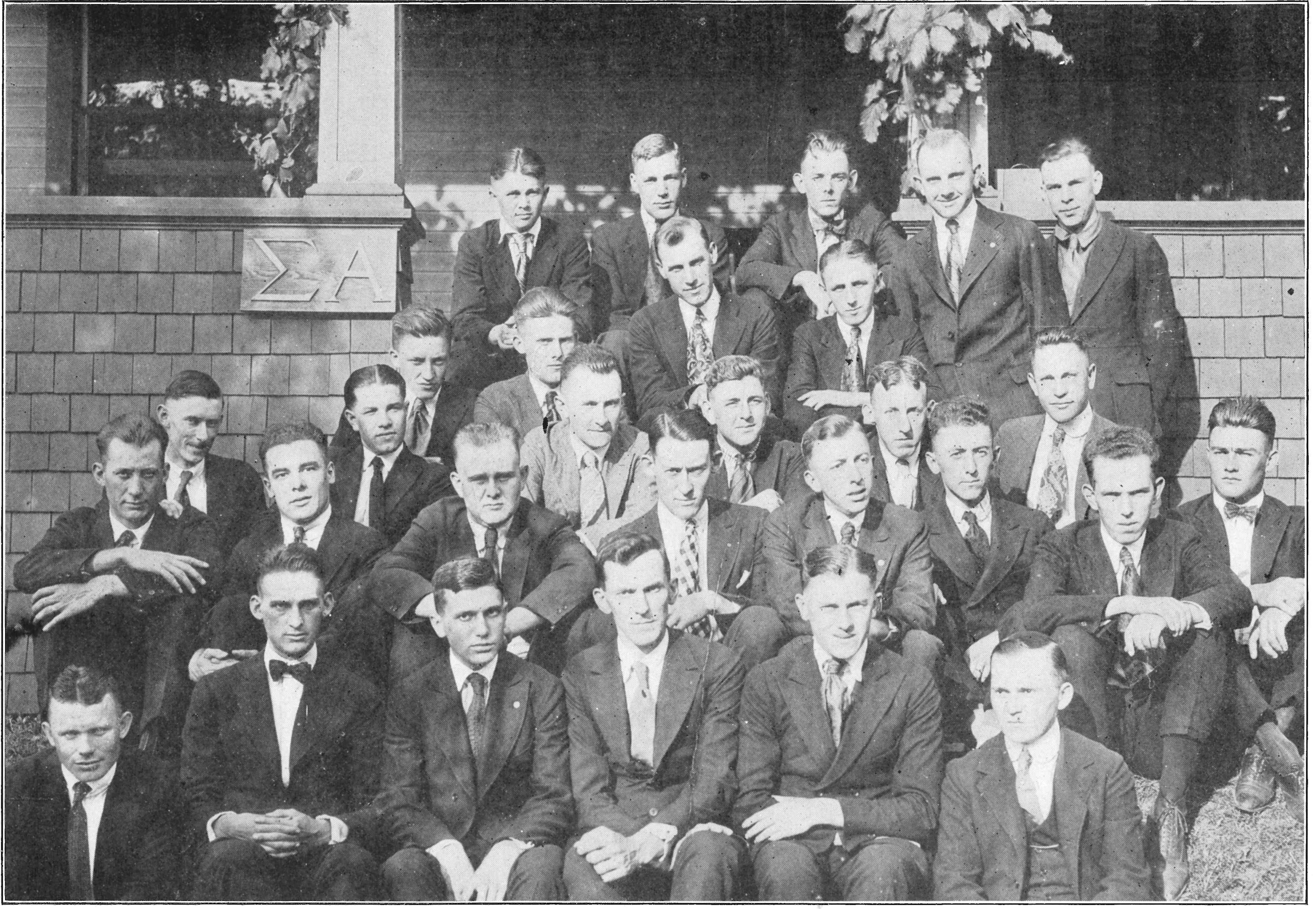 The petitioners from Sigma Alpha local fraternity selected Theta Chi after some convincing from a transfer from Nu/Hampden-Sydney and a WVU professor from Theta/Massachusetts.
After Sigma Alpha made several unsuccessful attempts to rent a house in Morgantown, the fraternity decided to purchase its own home. Sigma Alpha moved into their home and became one of five fraternities at the university who owned their own house.
Sigma Alpha's membership came from every department in the university, had strong campus involvement, and had unquestioned academic standing. In the fall of 1919, Sigma Alpha had the highest grade point average among all fraternities on campus.
On June 19, 1920, Sigma Alpha petitioned the Grand Chapter of Theta Chi for a charter. Those most instrumental in suggesting and bringing about the affiliation of Theta Chi were WVU Professor Roland H. Patch (Theta/Massachusetts 1911), a transfer from Nu/Hampden Sydney, James L. Thornton (Alpha Kappa/West Virginia 1922), and National Chaplain Bernard A. McIlhany (Nu/Hampden-Sydney 1918).
The charter was subsequently granted and on March 18-19, 1921, Alpha Kappa Chapter of Theta Chi was officially installed. The Installation Committee formed by the Grand Chapter included: National Vice President Frank H. Schrenk (Kappa/Pennsylvania 1915), National Chaplain Bernard A. McIlhany, Willard S. Ashburne (Xi/Virginia 1921), James H. Hennelly (Xi/Virginia 1920), Bernard W. Mahon (Omicron/Richmond 1920), Maj. J. Henry Beazley (Kappa/Pennsylvania 1915), and Prof. Roland H. Patch. This committee was assisted by James L. Thornton and WVU Professor Kyle C. Westover (Zeta/New Hampshire 1917).
Theta Chi became the 11th fraternity established at WVU due to the persistence, leadership, and vision of the following men who were initiated as the Charter Members of Alpha Kappa Chapter: Raymond E. Bailey (1924), Carl R. Bibbee (1921), P. Cecil Bibbee (1921), Earl C. Blake (1922), T. Joseph Cahill (1923), Chesney M. Carney (1922), Dale G. Casto (1923), Clifford H. Cotts (1922), Norvel R. Davis (1921), Homer L. Deem (1923), M. Welch England (1923), George R. Farmer (1922), Glenn A. Fowler (1923), Ray I. Frame (1921), James H. French (1922), H. Claude Goff (1922), Ralph H. Hall (1924), Victor H. Hardman (1923), H. Nickell Kramer (1924), Dennis I. Law (1921), Harry McGraw (1920), G. Burton McIntire (1922), Dana T. Moore (1920), Fonzo Prather (1921), Vernon E. Rankin (1923), Benjamin G. Reeder (1921), Lacy I. Rice (1924), Melvin C. Snyder (1923), Karl F. Sommer (1924), Walter Spelsberg (1923), H. Gail Sturm (1921), Ray S. Thornton (1921), Rinard U. Thornton (1924), Howard Wadsworth (1922), and Louis F. Warrick (1921). [***Note that Charter Member Melvin C. Snyder would go on to become a U.S. Representative for West Virginia's 2nd congressional district!]
Congratulations to the alumni and collegiate brothers of Alpha Kappa Chapter on 100 years in Morgantown!
In honor of their centennial, we are reprinting the article about Alpha Kappa's Installation and their first submission of chapter news from the May 1921 issue of The Rattle.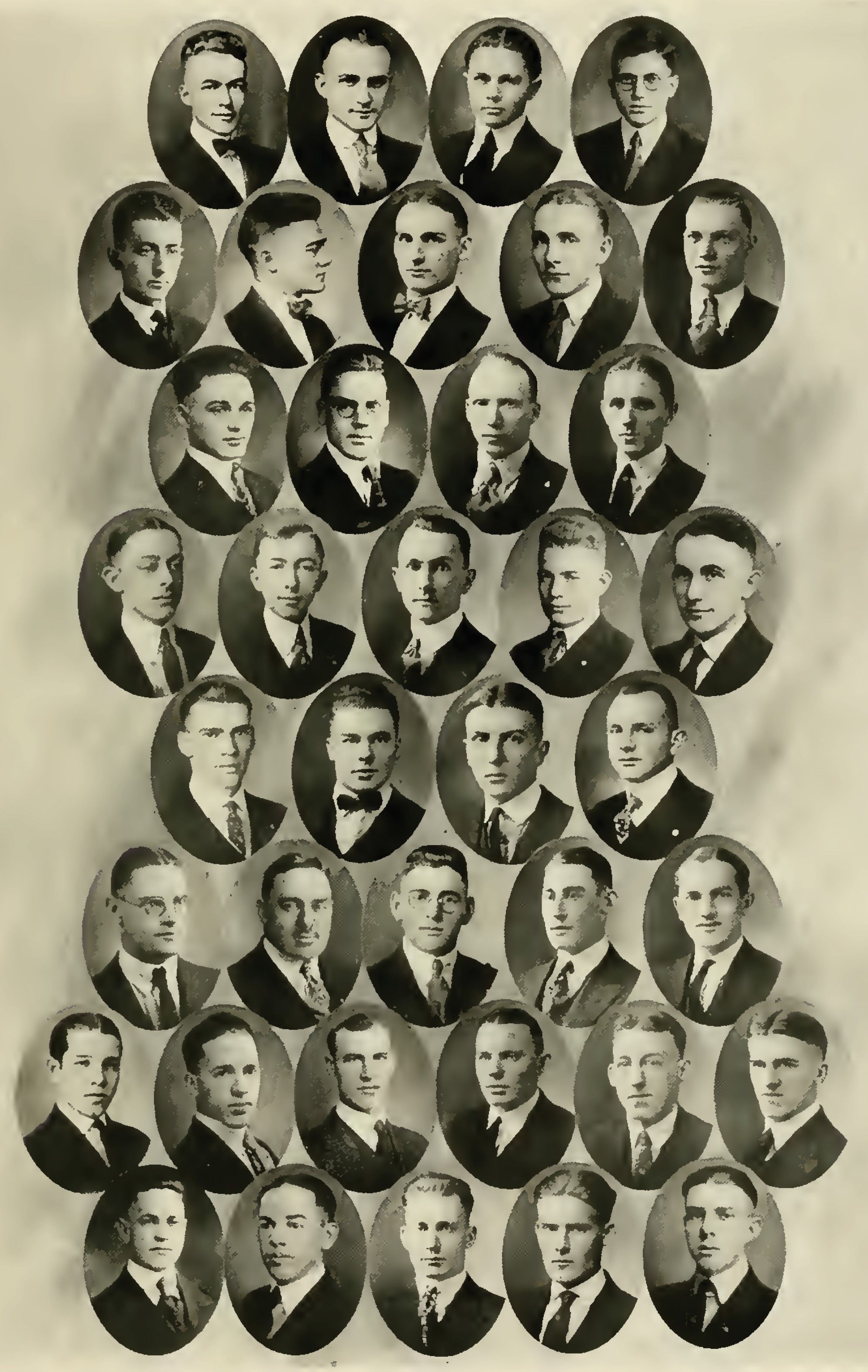 Alpha Kappa Charter Members
Alpha Kappa Installation.
By J. H. French, Alpha Kappa.
From the Baby Chapter of Theta Chi to All Brothers,
Greetings.

Know ye that the Baby Chapter, that first saw light in ѲX on March 18, is lively and thriving and gives evidence of becoming a strong, robust, healthy child, capable, we hope, of upholding and raising the standards of ѲX.
The installation started in the afternoon of March 18, and was followed after dinner by an informal smoker in the chapter house (located at 5 South Street, Morgantown, W. Va.) Members of the Installation Committee said the density of the smoke would have done credit to an old chapter. Grape juice and song flowed freely.
Members of the committee gave short talks on various subjects. Following these addresses were many cheers such as only husky "Mountaineers" can give. The echoes of "Mountain, Mountain, Mountaineers" and "Oskey Wow Wow, Whiskey Wee Wee" filled the halls and resounded from the valleys. To this was added the wit of Brother Spelsberg, and the humor and grandiloquence of Brother Carney, a member of one of the University debating teams.
Under cover of the thick smoke screen Brother Mahon, Omicron, and Brother Hennelly, Xi, accompanied by Brothers Frame and "Pat" Rankin, Alpha Kappa, made their escape and joined the "expectant members of the fairer sex", with whom they co-operated in the demonstrating of such intricate steps as are seldom seen on our campus, even by our most expert artists of the light fantastic. The affair was staged in the Armory under the auspices of the Pan Hellenic Society.
Installation was continued the next morning, according to Hoyle, despite the fact that the night revelers found it difficult t0 arise before breakfast. At the completion of the ceremonies the Installation Committee were treated to an auto trip around the city and the University Grounds. Brother French even arranged to have a blow-out so as to make the trip more realistic.
At seven o'clock a formal banquet was held in the Masonic Temple. Brother Schrenk, National Vice President, presided as toast-master. Guests included Frank Butler Trotter, President of West Virginia University; Dr. S. J. Morris, Professor of Anatomy; John Harrington Cox, Professor of English Philology, E. H. Vickers, Professor of Economics; C. R. Jones, Dean of the College of Engineering; Brother K. C. Westover, Zeta, Professor of Vegetable Gardening; Brother J. L. Thornton, Nu, representatives from each national and local fraternity on the campus, and the Installation Committee as follows: Frank H. Schrenk, Kappa, B. A. McIlhany, Nu, Roland H. Patch, Theta, J. H. Hennelly, Xi, and B. W. Mahon, Omicron.
After satisfying our ravenous physical longings, Brother Cliff Cotts, Assistant Varsity Cheer Leader, led us in a few yells and songs which helped put those present in a frame of mind consistent with the events of the evening.
The pleasant pungent odor of Nicotiana Tabacum began to fill the air, and Brother Schrenk, Master of Ceremonies, started things. Many of our guests gave apt and commendable talks and words of greeting; these were punctuated by appropriate stories by the Toast-Master and others.
The banquet hall was appropriately decorated with the fraternity colors. A part of the decorations exceptionally noticeable was a large electrically lighted replica of our pin that was suspended at one end of the hall. This was the handiwork of Brother Cecil Bibbee for which he received many compliments.
All the members of the Installation Committee, except Brother Patch, who fortunately is a member of our faculty, had to leave us early Sunday morning. We regretted very much to part company with such fine men, but their other duties called. They had been with us in our hour of gladness and left us with many hearty wishes for a bright future.
Alpha Kappa Chapter has begun a new period, the first of its existence; it has taken a new lease on life and we are going strong.
Our men are taking an active part in many of the school activities; as yet we are weak on the athletic side so far as the varsity teams are concerned. We are entering the Fraternity baseball league and hope to show some of the other teams how to handle the old pill.
The following men were initiated at the Installation: Harry McGraw, Dana T. Moore, H. Gail Sturm, Carl R. Bibbee, P. Cecil Bibbee, Norvel R. Davis, Dennis I. Law, Fonzo Prather, B. G. Reeder, Ray S. Thornton, Louis F. Warwick, Clifford H. Cotts, James H. French, George R. Farmer, H. Claude Goff, G. Burton McIntire, Howard Wadsworth, Joseph Cahill, Glenn A. Fowler, Victor H. Hardman, Vernon E. Rankin, Melvin C. Snyder, Walter Spelsberg, Dale G. Casto, Chesney M. Carney, Homer L. Deem, Welch England, Lacy I. Rice, Rinard U. Thornton, Karl F. Sommer, Ralph H. Hall, Raymond E. Bailey, Nickell Kramer, Ray I. Frame, Earl C. Blake.
Alpha Kappa wishes to announce the pledging of Kenneth Swan Kurtz, of Weston, W. Va., and Joseph Freeman Burt, of Williamstown, W. Va.
Children should be seen and not heard, so thanking all for their many greetings and congratulations at our recent installation, we close, extending best wishes to all Brothers in ѲX.
Chapter news as reported from the same issue, May 1921:
Alpha Kappa takes this opportunity of getting in closer touch with the other 32 active chapters of Theta Chi by telling them a few things about ourselves.
We'll start with a few brief notes on our recent installation as the baby chapter of the fraternity. The installation committee headed by Brother Frank H. Schrenk, gave us a good start in Theta Chi and we believe we've been going strong since then. Three alumni of the local installed as Alpha Kappa were here for the installation, and were initiated with the rest of us. They were Dana T. Moore, who is teaching school at Paw Paw, W. Va.; Harry McGraw, who is assistant county road engineer of one of the western panhandle counties of the state, and H. Gail
Sturm who is agricultural agent of Upshur county. We have 32 actives in the chapter, and two pledges. Because the proportion of fraternities to the number of students here is so small, the chapters have to be correspondingly large–many of the other fraternities on the campus have as many as 50 and 60 actives. Our aim is to keep the chapter actives around 35.
On April 8th Brother J. Preston Lilly, who is taking medicine at the Medical College of Virginia in Richmond, "blew" into town and wanted to be initiated, so, for our mutual benefit, we held an initiation Saturday afternoon, April 9th, and admitted him to the secrets of the fraternity. He returned to Richmond the next day, but we are glad to say that he left his charming wife in Morgantown with her people. She will remain here for the balance of the school year. They have a very dear little girl about six months old. Alpha Kappa also has two married actives. They are Brothers Claude Goff and George Farmer. Both of these men are Juniors and will be in school another year.
Alpha Kappa were hosts at a very charming (so it was reported) dance on April 9th. We rented the Elks' Club House for the occasion. the chapter house being too small to accommodate 40 couples. The hall was decorated in the fraternity colors, and a special feature of the decorations was a large replica (about four by two feet) of the Theta Chi pin, electrically lighted to represent the jewels, suspended at one end of the hall. This was hand-carved by Brother Cecil Bibbee. The girls received as favors Eversharp pencils with the fraternity seal and ribbon guards attached.
We have two brothers on the faculty: Roland H. Patch, Theta, and K. C. Westover, Zeta. They have certainly been guiding stars for Alpha Kappa, and we wish to express to them our thanks for the great help they have been to us in many ways.
Brothers Reeder and Goff returned from the convention the other day with unbounded enthusiasm and pep. The tales they tell are great so we know the convention must have been great. Alpha Kappa wishes to announce the engagement of Brother Dennis Law to Miss Margaret Maust. The wedding will take place in Morgantown on June 14th–the day Dennis graduates from the Ag. School. It's to be a real commencement for Dennis!
Alpha Kappa wishes to announce the pledging of Kenneth Swan Kurtz of Weston, W. Va., and of Joseph Freeman Burt of Williamstown, W. Va.
Best wishes and greetings to all!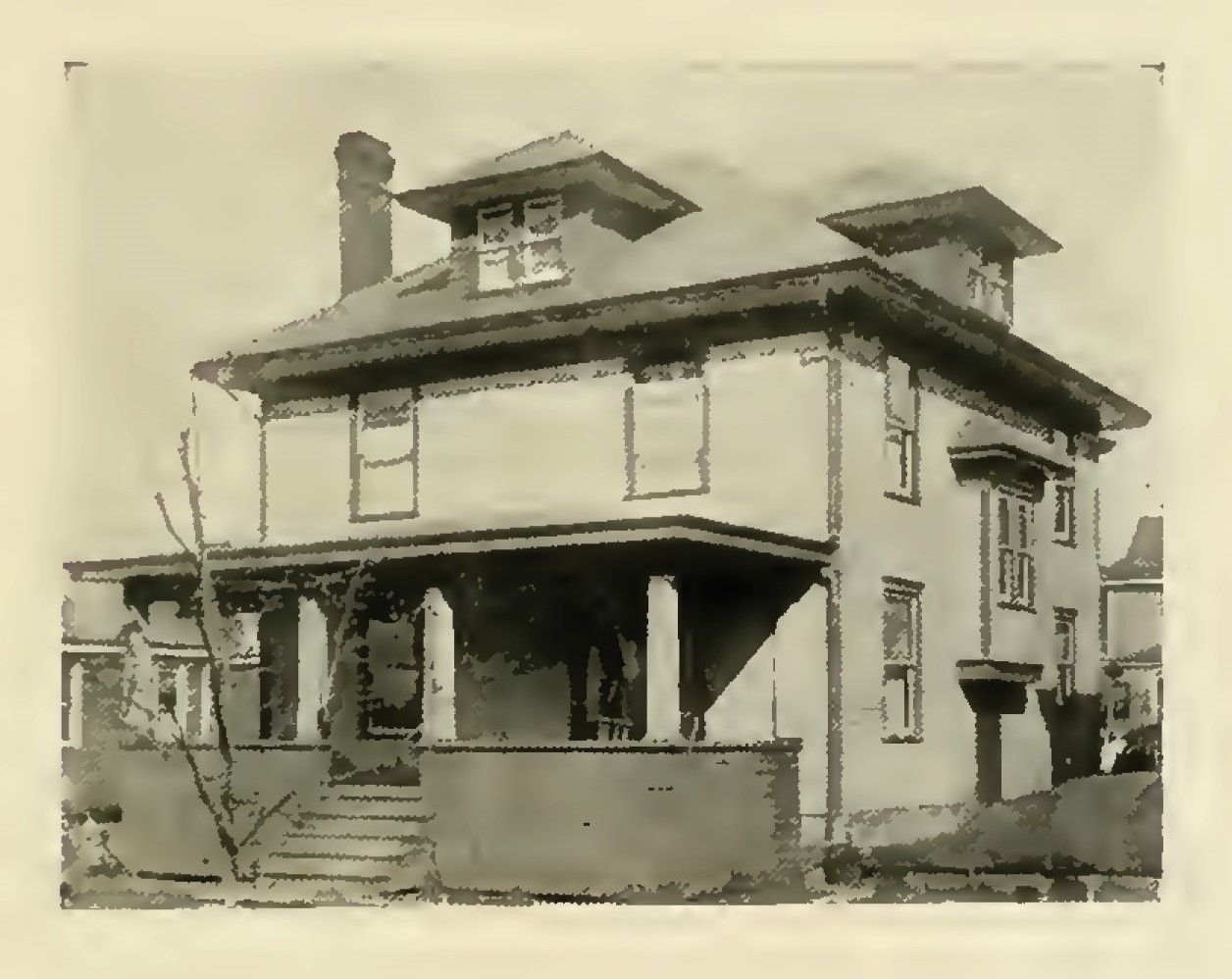 The old Sigma Alpha House at 5 South Street in Morgantown officially became the Alpha Kappa Chapter House on March 19, 1921.