Tau Brothers lend an Assisting Hand to former House Cook
The following article was published on January 6, 2021, via WCJB TV20 (wcjb.com). It was reprinted with permission from Jon Levy, News Director of WCJB TV20. The article highlights the efforts of brothers from Tau/Florida.
---
Gainesville community donates to help with Suzette Riggins' medical expenses
GAINESVILLE, Fla. (WCJB) - A community in north central Florida is donating money to help a woman that has fed hundreds of people throughout the years.
Gainesville Police Department's Public Information Officer Graham Glover created a GoFundMe page to help cover the medical expenses for Suzette Riggins.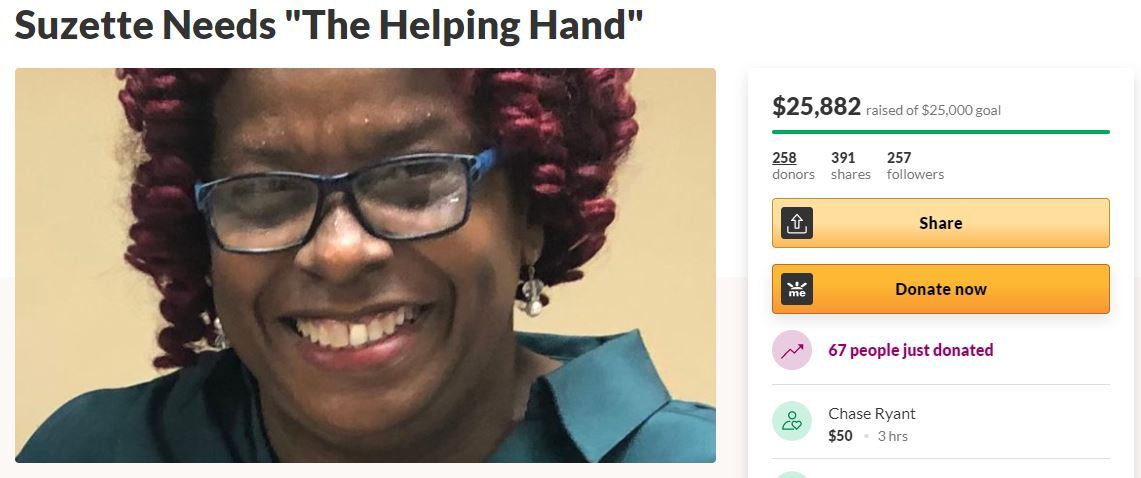 Riggins, 66, was recently diagnosed and hospitalized with COVID-19 and is in the ICU.

Riggins has worked at the Reichert House Youth Academy as a cook for the past 15 years.
Glover said he met Riggins in the fall of 1992 as a freshman at UF and she served as a cook for the Theta Chi fraternity for decades at the University of Florida serving hundreds of young men and families every year.
"The brothers of Theta Chi Fraternity Tau Chapter wanted to reach out and to help a woman who did so much for so many of us when we were undergraduates here at UF," Glover said.
The goal was initially set at $20,000 and has grown to $25,000.
Glover said he wants the opportunity for anyone to donate to remain open.
"We're just going to keep this open as long as we can and hopefully be able to get her as much support as we can," Glover said. "It's just a small token of our love and appreciation for this mom who's taken care of college students and also the youth here in Gainesville."
Gainesville Police Department's Program Coordinator and former teacher at the Reichert House Youth Academy, Sharla Head-Jones, shared the times she spent with Riggins.
Head-Jones said her relationship with Riggins was a mother-daughter relationship for 10 years.
Head-Jones met Riggins in 2010 when she was hired as a family liaison specialist for the Reichert House Youth Academy.
"I've gotten to know her really closely these last few years," Head-Jones said. "She is more than deserving for every dollar that is being raised right now."
Head-Jones said family and friends were planning a birthday for Riggins Dec. 13 but were not able to do so.
She said the GoFundMe has exceeded what they had hoped to do and thanked those who donated.
"Having served hundreds of young men from Theta Chi to the Reichert House Youth Academy and their families," Head-Jones said. "It is just really amazing how everyone has come together for this such deserving jewel and angel in our community."
Head-Jones also mentioned that the fraternity's house kitchen and dining hall are named after Riggins in honor for her service.
The GoFundMe has received over $20,000 to help Riggins.
To donate, click here.
"Let's keep extending a helping hand to her, keep helping her," Glover said. "Thank you all for doing so much to help a woman that we love and it means so very much to us."