Knoxville, TN – Theta Chi Fraternity is proud to announce its newest colony has been established in Knoxville, TN by students from the University of Tennessee. This colony is working to become the third chapter installed in the state of Tennessee.
Upon the conclusion of the fall 2018 formal recruitment process, Chase Coyle and Luke Blackmon found themselves in similar situations – they had received bids from multiple fraternities but didn't have the excitement they'd been looking for. "We wanted to join a fraternity that would make the university better, one that could do as much as possible for the community," stated Coyle. "Luke and I felt we weren't able to find that during fall recruitment."
The idea of starting a new fraternity came up while evaluating their options for the spring semester. When Hayden Roberts began doing research on fraternities not at Tennessee, Theta Chi was one of the first ones to pop up. The men saw how the values of the Fraternity aligned with what they were looking for and were impressed with facets such as Sacred Purpose and Resolute Man.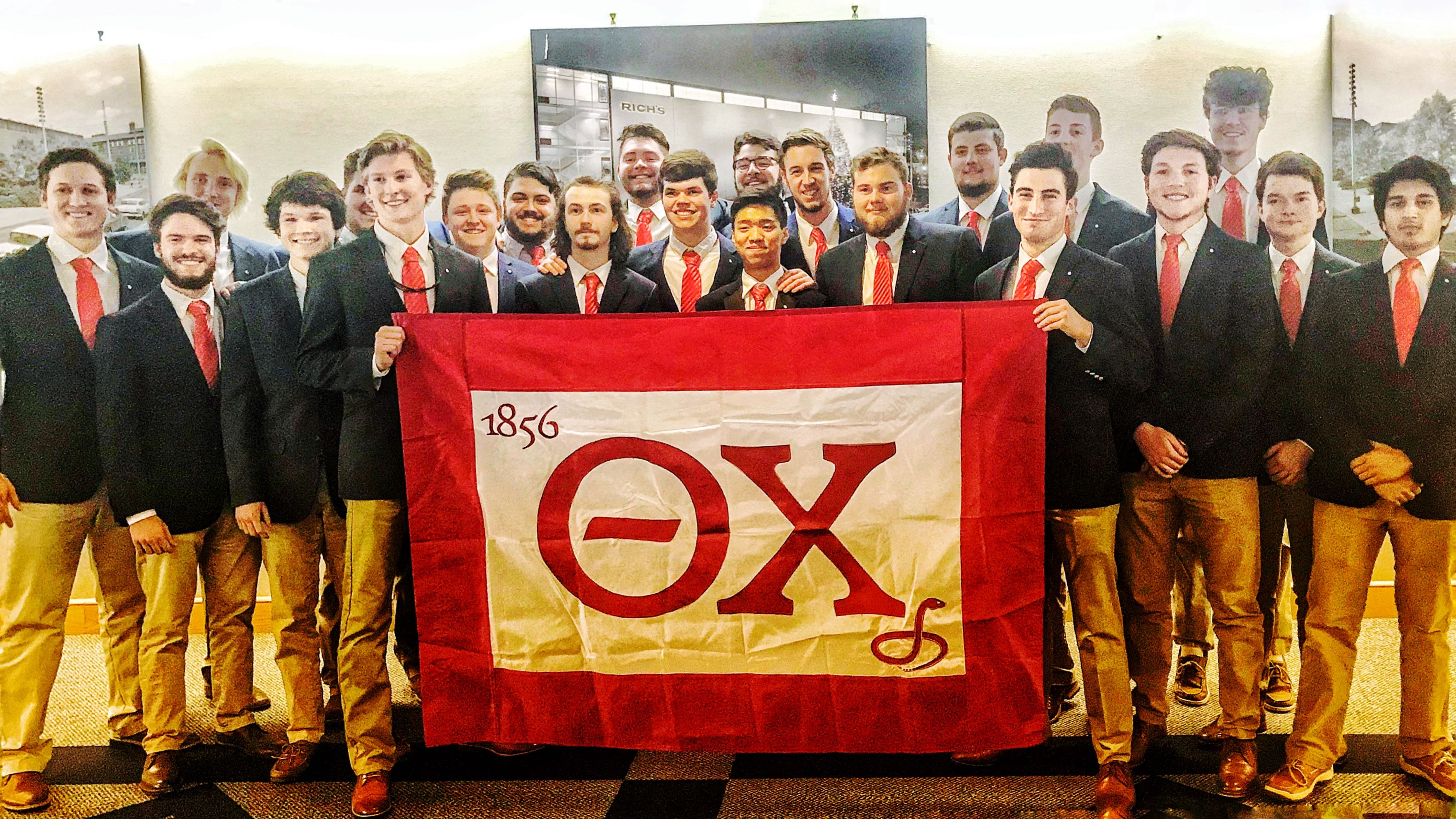 When they reached out to the International Headquarters, they received a quick response of interest from Director of Recruitment and Expansion Taylor Dahlem, who challenged them to get 20 men before colonizing. Upon beating that goal by two, Tennessee was officially colonized on March 27, 2019.
The Colonization Ceremony was held at the UT Conference Center with International Vice President Darick Brown presiding. International Headquarters staff in attendance included Chief Operating Officer Ray Vanlanot, Director of Recruitment and Expansion Taylor Dahlem, and Field Executive Daniel Connor. Others in attendance included brothers from Alpha Kappa/West Virginia and Gamma Rho/Florida State.
The 22 colony members of Tennessee are: Neil Alay, Philip Andrews, Noah Bell, Luke Blackmon, Michael Caron, Chase Coyle, Evan Davis, Grayson Fleshman, Blaise Hargett, Warren Hanson, Andrew Hoffman, Blade Jackson, Webster Littleton, William Kolbrener, Preston Kolesar, Jacob Porter, Hayden Roberts, William Shearer, Kyle Steele, Ben Tran, Brendan Veit, Thomas Wahl, and Jacob Wiggs.
Colony members are involved in numerous areas on campus including: 1794 Honors Program, Bass Fishing Club, Biomedical Engineering Society, Chancellors Honors Program, Club Lacrosse, College Republicans, Ice Hockey, International Business Club, Intramural Sports, Management Program, Rocky Top Rowdies, Student Government, The Tennessee Journalist, UT Lead, Venture LLC, and Volleyball Club.
"The University of Tennessee is a great place with a strong Greek presence on campus," stated Colony President Luke Blackmon. "I could not be prouder to be bringing Theta Chi and all it offers to this campus to support the community and build a legacy here. It's a long road ahead, but I couldn't be more excited for it."
Congratulations to our new colony members at Tennessee!
Congratulatory notes may be sent via email to Colony President Luke Blackmon.
Follow the progress of the Tennessee Colony on Facebook and Instagram.
Founded in 1856, Theta Chi Fraternity is a men's collegiate fraternity with more than 191,000 initiated members and has established 240 chapters. Leadership development, personal development, and service to alma mater are fundamental to Theta Chi Fraternity's mission.