The following was published via in the September/October 2021 issue of the PennStater, he magazine of the Penn State Alumni Association (pennstatermag.com). It was reprinted with permission from Robyn Passante, Managing Editor of the Penn Stater. The article highlights Todd Pontius (Omega/Penn State 2007).
---
For Todd Pontius, everything has an innate aesthetic, a combination of form, color, and structure that lends itself perfectly to artistic expression—even a molecule.
"I think molecules are just beautiful," Pontius '07 Sci, a lecturer in chemistry, says.
He finds such great inspiration in molecules that he is constantly drawing them in colorful ways, often giving them faces and making them interact as though they were people. His unique and quirky artistic renderings, designed to simplify complex concepts and make chemistry more relatable, are a huge hit with his students—as are the original theatrical and musical renditions of theorems that he's performed on occasion inside the classroom. (You can find a few by searching his name on YouTube.)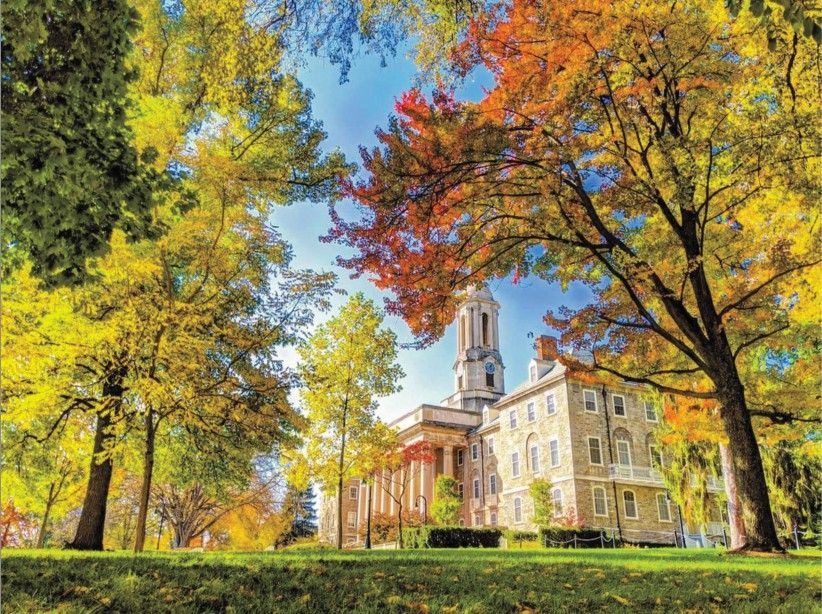 "Chemistry lends itself well to art," says Pontius, who's been "doodling and drawing forever," and whose architect father taught him to appreciate depth, structure, setting, blending, and color in the world around him. "While much of chemistry involves microscopic structures and seemingly intangible interactions, it still offers opportunities to do some really cool visual stuff."
When he's not drawing molecules or rapping chemical concepts, Pontius loves to wander around University Park with his Google Pixel 3 phone, which he likes for its powerful camera and processing software, clicking photos of some of his favorite spots on campus: The Pugh Street gate that leads to Todd PontiusOld Main, the Hintz Alumni Garden with its duck pond, the Pattee Library mall. "I will sometimes take 30 or 40 pictures of the same place, from different angles," Pontius says. "I can be really obnoxious to walk with on a nice day because I'll just stop off at a place and stay there if the sky looks cool or if the light's coming in at an interesting angle—or until something seems to be framed just right."
He likes editing his photos to enhance saturation and color vibrancy and using Instagram's Lux filter, which, he says, "makes certain parts pop more." You can check out his work on Instagram at @freshtoddyp.