The Foundation Chapter Announces 2018/2019 Scholarship Recipients
The Foundation Chapter is thrilled to announce the 2018/2019 scholarship recipients. More than $260,000 has been awarded to 173 Theta Chi collegiate members thanks to the generous support from our donors. Award amounts ranged between $500 and $5,000 to assist with academic expenses for the 2018/2019 school year. Over 260 applications were submitted this year, proving our collegiate brothers are in great need of financial support.
We encourage you to view this year's recipients.
The Foundation Chapter proudly awards brothers who exhibit outstanding academic performance; service to the Fraternity, school, and community, as well as, leadership activities, financial need, clear personal and career goals and objectives. In turn, providing scholarships to our fellow brothers promises each recipient the opportunity to continue their education, ensure a brighter future, and find peace with the great financial burden many take on while pursuing an education.
The proof and appreciation of this promise rings true in the testimonies of our 2018/2019 recipients. One of their many memorable stories is excerpted here:
"I applied for this scholarship because of the financial hardship caused by my father's prostate cancer diagnosis in 2016. I want to extend my sincerest gratitude to the alumni of Theta Chi who gifted me the scholarship. I'll never forget the instrumental support and kindness that I've received from my fraternity brothers through these tough times. I hope to be in your shoes soon, supporting the academics of the future generations of Theta Chi brothers in the years to come."
John Grimes (Delta Beta/University of Georgia 2018)
Congratulations to this year's recipients and our thanks to the members of The Foundation Chapter's Scholarship Committee!
Click here to learn more about The Foundation Chapter, or extend a Helping Hand to next year's scholarship hopefuls by making a gift to The Foundation Chapter today!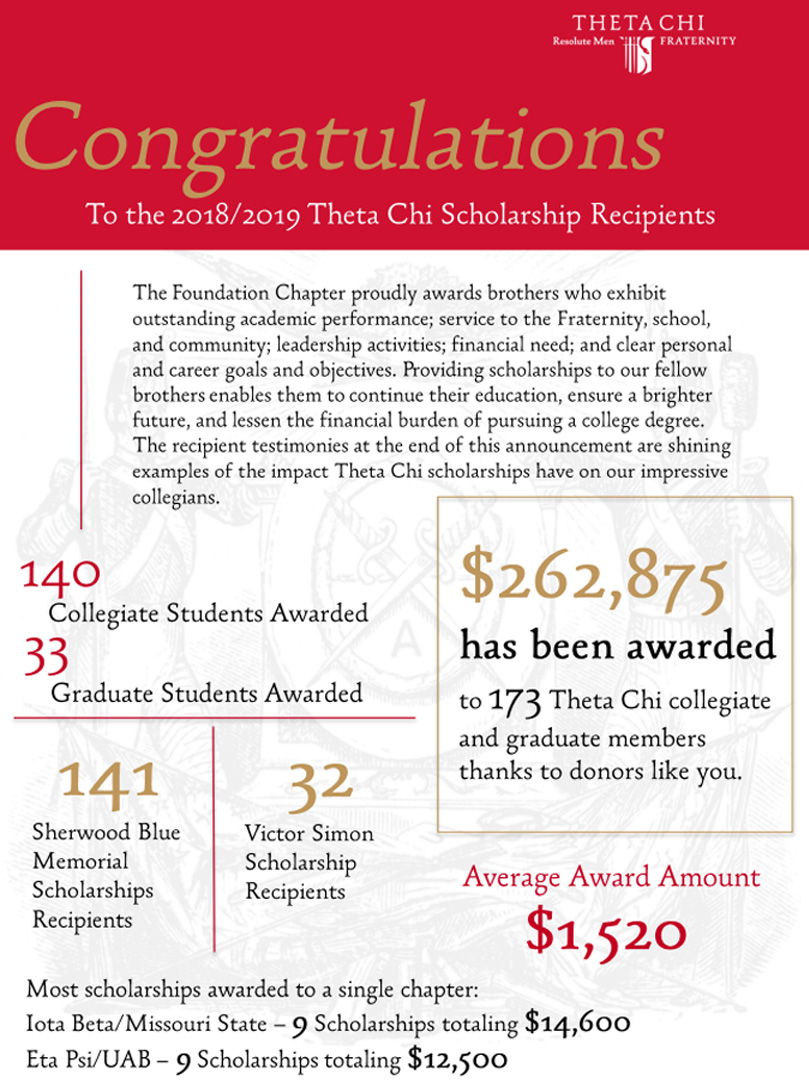 Founded in 1856, Theta Chi Fraternity is a men's collegiate fraternity with more than 191,000 initiated members and has established 239 chapters. Leadership development, personal development, and service to alma mater are fundamental to Theta Chi Fraternity's mission.