Theta Chi Fraternity mourns the sudden passing of International Headquarters Administrative Assistant Amber L. Ray
Over her past 31 years of service, generations of staff members, volunteers, alumni, and collegians have come to know Amber. Her attention to detail combined with her institutional knowledge of Theta Chi Fraternity made her stand out as one of our most outstanding employees. Amber received the Mabel M. Oswaldt Appreciation Award in August 1996 for her support of the Fraternity.
Amber loved Theta Chi and we all loved her.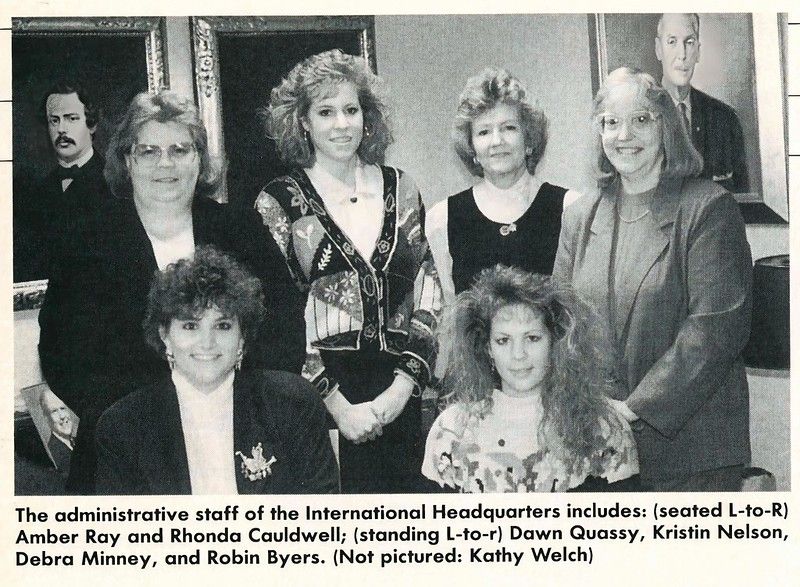 Following the relocation of the Fraternity's Executive Office from Trenton, NJ, to Indianapolis, IN, a new International Headquarters was established on the third floor in Suite 300 of the newly built office park at 875 Allison Pointe Trail on the northeast side of the city.
Three moving vans departed Trenton on the evening of June 13. Staff members moved into the new headquarters on Saturday, June 16, 1990 and opened for business on Monday, June 18. One week later on June 25, 1990, a member of the entirely new support staff reported for her very first day of work: Amber L. Ray.
Amber's first duty (and one that she maintained for nearly 25 years) was to serve as the primary support member for the Fraternity's Field Staff – then known as Leadership and Education Consultants. Amber helped generations of LECs maintain their road files and correspondence while the men traveled on the road for Theta Chi. Beyond proofreading their chapter reports and correspondence, Amber served as a support system and a friendly ear to young men who had just started their first post-college job, often hundreds or thousands of miles from family and friends. Care packages often provided a pick-me-up to consultants who were having 'one of those days' on the road.

Amber later supported the work of numerous volunteer committees and Regional Counselors who served on the Fraternity's regional staff by following up on reports that had been submitted and providing updates and correspondence as needed.
Amber provided support during the Fraternity's leadership events – whether an International Convention, Deranian/Sasser Presidents Conference, or a Chapter Leadership Conference on a college campus. Amber always greeted attendees with a friendly smile and gave a warm hug to friends made amongst alumni volunteers at previous events and made time to catch up on how they were doing since their last phone call.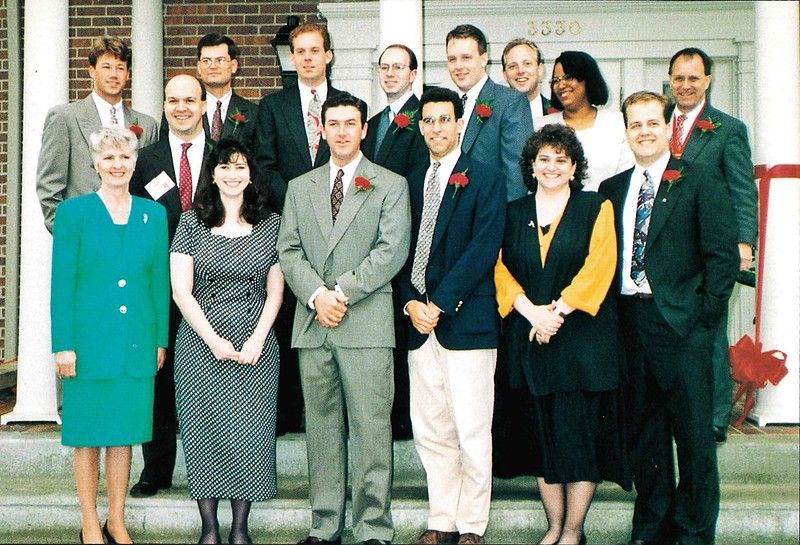 Amber also did extraordinary work to manage the Fraternity's International awards and recognition program and took great care in ordering and framing and matting various awards.
Over the past several years, Amber worked closely in support of the Foundation Chapter and managed their scholarship and stewardship programs. Amber was also a supporter of the Foundation Chapter, encouraging alumni to make gifts on Founders Day and #GivingTuesday each year after making her own gift.
Amber's fingerprints were all over the International Headquarters buildings in which she served and throughout the Fraternity as well. If there was a task or a question, Amber was usually the first person to go to for background or guidance.
Decorations and displays in the office were often curated by her and given a classy touch. Even in 2021, new items and pictures were obtained on eBay and sent to Amber, who dutifully framed and hung them to enhance the International Headquarters and its history.
She helped with the storage of archival and operational items and organized and curated items that arrived from the chapters that left the roll of active chapters over the years while gathering the items needed to ship for (re)installations and (re)colonizations.
She had a knack for editing (likely gained from years proofing LEC reports) and was given various documents over the years – both public and private – to quickly flip through and find mistakes. She provided content for the Style Guide of Theta Chi Fraternity, and scanned and skimmed items ranging from The Rattle to The Manual of Theta Chi Fraternity, and all points in between.
Amber helped lead the International Headquarters staff's annual Christmas/Holiday party and gift exchange and was a stickler for the rules as we swapped wanted/unwanted gifts during the festivities. She always happily participated in the staff chili cook-offs, pumpkin carving, egg dyeing, etc.
International President Darick Brown spoke on behalf of the Fraternity saying, "I find myself fortunate that I had the opportunity to know Amber for about as long as she has worked for Theta Chi – I believe she started around the same time as I started volunteering. For us volunteers, she was always a comforting and reliable voice when calling the office. Amber was a tremendous asset to Theta Chi and a beautiful person. We will miss her dearly."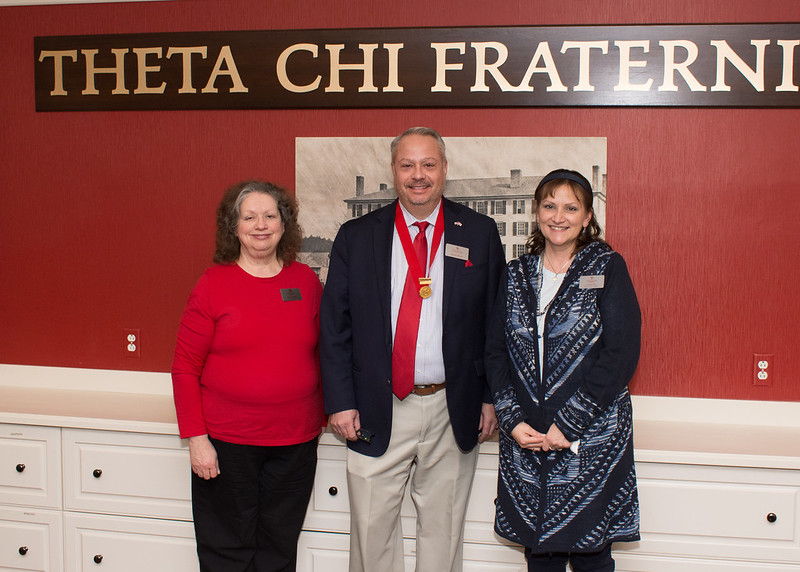 Chief Executive Officer Mike Mayer said, "I've known Amber for 17 years and she always came through for me and for Theta Chi. She never let us down. During this time of sorrow, I encourage us all to be like Amber and to come through for her and her family and to carry on her legacy and love for Theta Chi."
Past International President Doug Allen recalled, "Amber started on the Theta Chi staff the same time that I did – within only a few days, I believe. Not only was she always my 'go-to' person on staff she was my friend. Amber was just such a wonderful, faith-filled person."
Past International Vice President Brian Hall shared, "I had the honor of seeing her great smile (behind the mask) just this past April while in Indy! She gave me the usual "big ole hug" and I'm so grateful I told you then how much you meant to me and my Theta Chi experience. She was ALWAYS there for me when I needed a new directory, or to reach another alumnus, or get info on a chapter. And boy did Amber and I have some great conversations from time to time. She was just as much a fabric of our fraternal brotherhood as anyone - She understood us. She stood with us. She lifted us. She supported us in every way. Rest In Peace in heaven, knowing that Theta Chi Fraternity will be forever indebted to you for you long standing commitment to our brotherhood. Amber, I hope you know how very much you meant to all of us. Eternal Love, Gracious Respect!"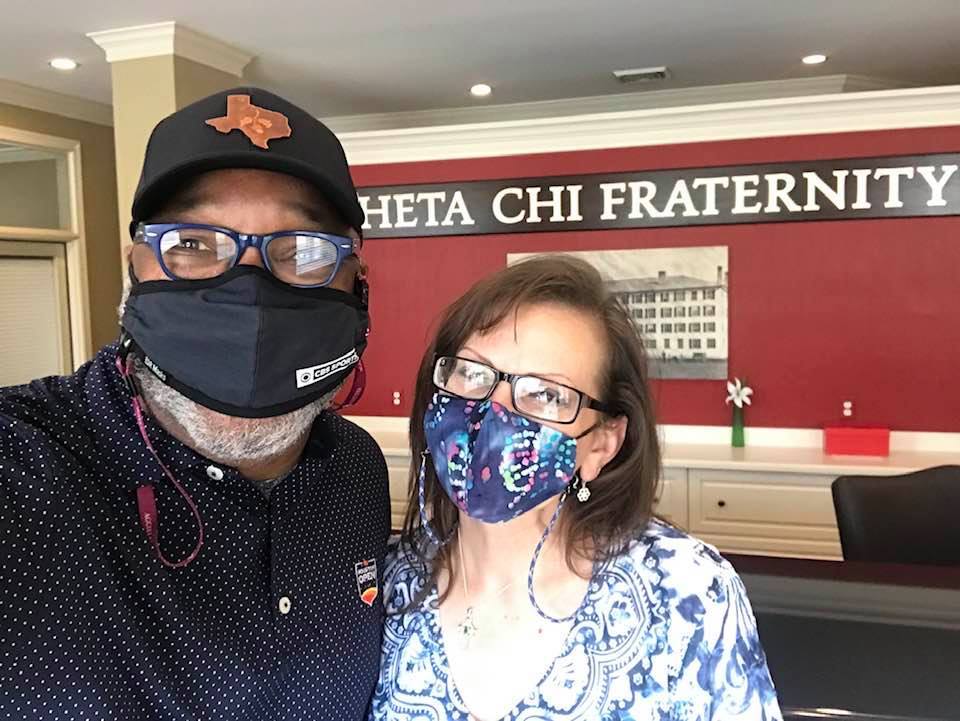 Former CEO/Executive Director Dave Westol originally hired Amber and stated, "The Fraternity is much the better for her service; we are the lesser for her passing. She was in the vanguard of our new staff when we moved to Indianapolis in June of 1990, and who would have thought that she would become our Mabel Oswaldt--someone who devoted decades to Theta Chi. She brightened our lives, lightened our loads, and made us better. How blessed we were to have Amber as a colleague."
Former Director of Chapter Services Joe Wachs worked with Amber for a number of years and recalled, "Amber was the primary and constant support for those of us who traveled for the Fraternity – the kind, caring, and familiar voice at the other end of the line when we were just starting our professional careers hundreds or 1000+ miles away from our homes and families on the road when we just needed someone to talk to; and the always smiling and laughing friend when we were all together in the office. Amber truly loved and cared for us all."
Former Regional Counselor Sean DonCarlos recalled, "Anyone who worked with Amber in the past would universally acclaim her IHQ's ray of sunshine; perpetually willing to help any member, collegian or alumnus, with whatever they might need. Tonight, that ray of sunshine no longer strikes our faces; we are in shadow. Theta Chi is diminished now that Amber is no longer with us. She was truly one of us in spirit, even if she couldn't be one of us formally."
Former Office Manager Cindy (Meeks) Billman started on the International Headquarters staff in 2000 and became friends with Amber – both in the office and out. "What a terrible shock to us all. I walk through my house and in every room there is something that she made for me or gave to me. She was such a good friend, my closest friend. I am praying for the family and our Theta Chi family as well."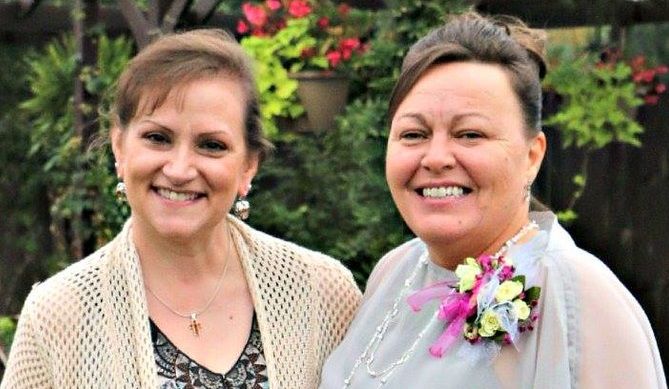 Membership and Database Coordinator Alicia Ikerd started on the International Headquarters staff in 2018 and became close friends with Amber. "There will never be enough thank yous to encompass everything she gave the world but this is a start: To the woman who trained me, brought snacks to share with me in our hotel room during a work event, the woman I shared so many Fazolis lunches with, the woman that always came prepared and also prepared to share the shirt off her back, the woman who baked amazing treats, had such festive outfits, saved turtles in the parking lot, refused to let us cheat at the Christmas office parties, and always let her faith be unabashedly clear – thank you. More of the world deserved to know her and I'll always be honored to have had the time with her. Our work motto is to always lend a Helping Hand and she embodied it to the fullest."
Chief Housing Officer Bill Russo reflected, "Amber can be best described as every Theta Chi employee's big sister. For years, young men graduated college and took their first "real" job traveling the country, living out of their cars. Amber adopted all of them, sent them care packages, proofread their reports, and ensured they were safe. While I did not travel for the Fraternity, I moved to Indianapolis with no family to keep an eye on me, and Amber again fulfilled that role. Below are some examples:
In 2003 I came down with a nasty bout of spinal meningitis. I tried to drive myself to the hospital but became violently ill in my car and had to pull over. Amber came and got me, took me to the hospital, and waited for me to be admitted. She even got my car and cleaned it. She also went and picked up my pain medication when I was suffering alone at my apartment. I never forgot that.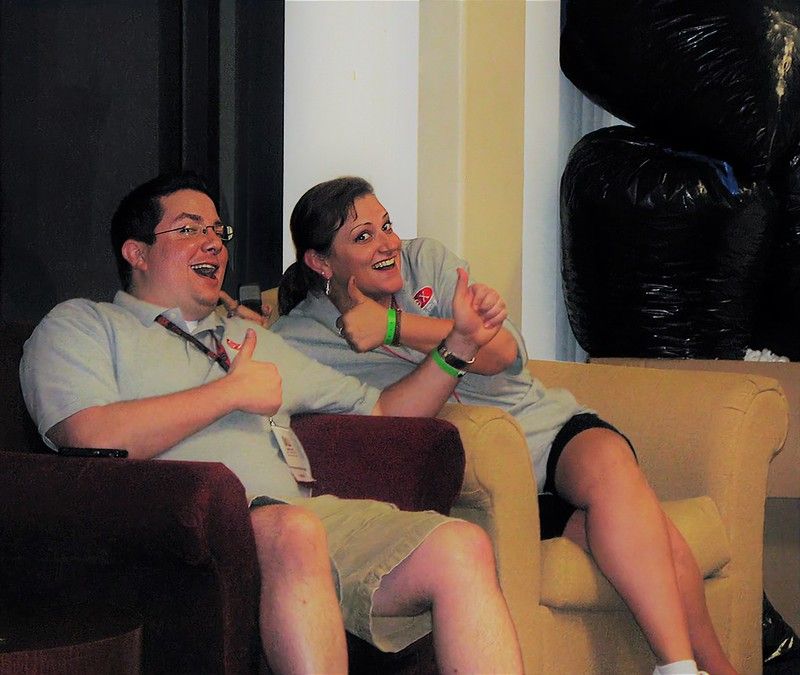 Every year my wife, an elementary school art teacher, puts together a wish list of items she needs for her class. For the last several years, Amber asked for that list after my wife's budget was depleted. If there was anything left on the list, she bought with her own money.
When COVID hit, Amber handmade masks for everyone in the office. When I mentioned that I was having trouble finding masks that fit my two-year-old daughter, she remembered. The next day there were two masks, extra small, sitting on my office chair. My daughter wore those masks throughout the entire pandemic.
I owe a great deal of my professional success to her and her kindness. I could go on forever about the woman she was. It is strange that someone I said good morning to every workday for 18 years is just gone. Theta Chi, and I, mourn the loss of our big sister."
Amber loved her family and enjoyed spending time with them; she was a proud Auntie to one niece and two nephews. She loved her church and her church family. She was an avid follower of many forms of auto racing and continued to support the Kenny Irwin, Jr. Foundation, in memory of her friend. Her other hobbies included trying to get plants to grow, reading, music, and a variety of crafts. She loved to travel – whether by plane or by car.
Amber was a graduate of Lawrence North High School and had taken classes at IUPUI. Prior to joining the Fraternity's staff, Amber had been employed by ATEC Environmental Consultants.
When explaining her job to new friends and acquaintances, she would often say, "Yes, I work at a fraternity. It's the headquarters -- not a house."
Maybe so, but thanks, Amber, for helping to make our staff a family and our headquarters a home.
You reported for your last day of duty - just as you always had - on Friday, June 11, 2021, just two weeks shy of your 31st anniversary with us. Those 31 years went by too quickly.
We hope that you knew this – know this – we love you and are grateful for your love, support, and Helping Hand. Well done, good and faithful servant! You have fought the good fight, you have finished the race, you have kept the faith.
We are better men because of Amber Ray; we are a better Fraternity because of Amber Ray.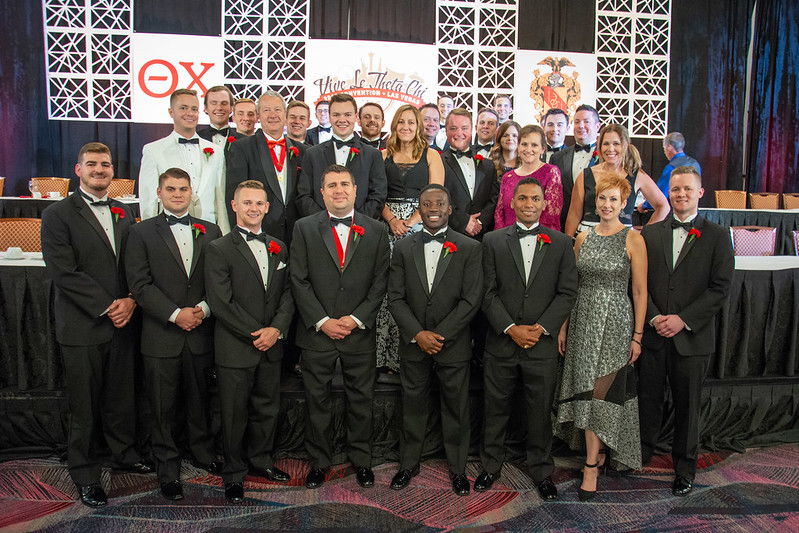 Theta Chi plans to memorialize Amber in an appropriate manner at the right time.
Please keep Amber's family, friends, and colleagues - past and present - in your prayers. Theta Chi Fraternity is so very grateful for her life and contributions to our brotherhood. She will be greatly missed by us all.
If you would like to send condolences to Amber's family, please use the following address:
Amber L. Ray
c/o Mike Mayer
Theta Chi Fraternity
International Headquarters
P.O. Box 503
Carmel, IN 46082