Theta Chi Remembers D-Day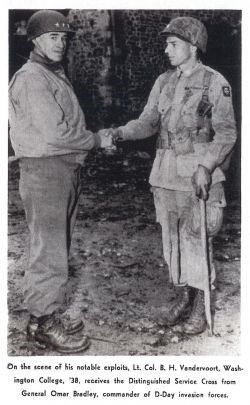 This article was originally published on June 6, 2019.
--
Today marks the 75th anniversary of the Allied invasion of Normandy on June 6, 1944. During D-Day, the more than 160,000 American, British and Canadian troops landed on five beaches along a 50-mile stretch of coastline of France's Normandy region. The invasion was one of the largest amphibious assaults in history. The battle continued through late August 1944 with the liberation of northern France.
What was Theta Chi's involvement on D-Day? Fortunately, through research using The Rattle, we are able to share the stories of the following brothers, these heroes, that all participated in the D-Day Invasion. While The Rattle provides our best history of Theta Chi members and events, Fraternity records are incomplete. There are many more members that likely participated in the preparation, actual invasion, and aftermath of D-Day. In the future, with additional research, we hope to discover and identify their names and stories and provide due recognition.
Photo: The Fall 1944 Cover of The Rattle featured Lt. Col. Benjamin Vandervoort (Beta Eta/Washington (MD) 1938) receiving the Distinguished Service Cross from General Omar Bradley, commander of D-Day invasion forces.

---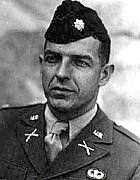 One of the first to land at the scene was Lt. Col. Benjamin H. 'Vandy' Vandervoort (Beta Eta/Washington (MD) 1938). Vandervoort led the 2nd Battalion, 505th Parachute Infantry Regiment in D-Day's Allied airborne assault.
Despite having broken his ankle when he parachuted into the drop zone in Sainte-Mere-Eglise, Vandervoort continued to lead his men. He refused to go to the hospital but consented to having a plaster cast put on his foot, and, with the aid of a crutch, he continued his command. The plaster cast had washed away several times due to the rain in foxholes where Vandervoort stayed with his men when they were not advancing. He eventually resorted to putting his foot into his waterproof, gas-mask case to protect the plaster from the elements.
Throughout the war, Vandervoort became known as the commander who could take on any job and do it well. He also became known as the commander who could accomplish combat tasks with minimum casualties. He was officially recognized for his courage and leadership during D-Day on July 10 when Lt. Gen. Omar S. Bradley, commanding officer of the invasion troops, pinned on the Distinguished Service Cross, the third highest Army decoration. The Distinguished Service Cross is presented to those who distinguish themselves by individual acts of extraordinary heroism in connection with military operations against an armed enemy.
Vandervoort's actions were featured in the Fall 1944 issue of The Rattle. You can read the original story here.
In September 1944, during Operation Market Garden, Vandervoort led the assault on the Waal Bridge at Nijmegan while the 3rd Battalion, 504th Parachute Infantry Regiment, made the assault crossing. Gen. Matthew B. Ridgway described Vandervoort as "one of the bravest and toughest battle commanders I ever knew".
Wounds from mortar fire at Goronne prevented Vandervoort from joining his division's advance into Germany.
Following the war, Vandervoort was promoted to Colonel on July 7, 1946 and retired from the Army on August 31. He served as an Executive Officer in the Department of the Army, as a military attaché at the U.S. Embassy in Portugal, and then served in the Executive Office of the Central Intelligence Agency.
Lt. Col. Vandervoort's role in the Normandy invasion was represented in the 1962 film, "The Longest Day", based on the novel by Cornelius Ryan. Lt. Col. Vandervoort's character was portrayed by a Sigma Chi member, legendary actor John Wayne. To read more about Col. Vandervoort click here.
---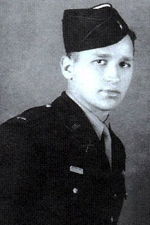 Another paratrooper that jumped into France was Ed D. Shames (Zeta Pi/Old Dominion 2014), a member of I Company, 3rd Battalion, 506th Parachute Infantry Regiment in the 101st Airborne Division, United States Army. At the age of 19, Shames entered the training camp at Toccoa, GA in September 1942 and endured the grueling training process and ran up the Currahee Mountain numerous times. After Toccoa, he completed additional training and earned his jump wings and shipped out to England in September 1943. He was promoted to Staff Sergeant and was responsible to learn and brief the 3rd Battalion on every detail of the invasion. He constructed sand tables that were used in planning the Normandy invasion.
Shames jumped into Normandy on June 5, 1944 and landed amidst the cattle on a farm having no idea where he landed. After finding some other paratroopers, he opted to knock on the door of a local farmer to help identify their location. He knew from training that the last place that he wanted to be was in Carentan – where the German armor was headquartered.
Shames and the others made a quick exit after the farmer was able to explain that they were in Carentan...(See video at around 2:40 mark).
Due to his leadership and actions on D-Day assisting in securing vital bridges and during the Battle of Bloody Gully, Shames was promoted to Lieutenant by Col. Sink. He was the first NCO in the 3rd Battalion to receive a battlefield commission in Normandy. After returning to England, he was later reassigned as a platoon leader for the 506th's 2nd Battalion's Easy Company. Easy Company is best known as the subject of the book and HBO series Band of Brothers.
A brief description of his additional actions in World War II: Shames participated in Operation Market Garden, jumping into the Netherlands. He later participated (as a volunteer) in Operation Pegasus, which evacuated more than 130 British paratroopers. He was assigned to serve as the Lieutenant for Easy Company's 3rd Platoon. He defended Bastogne during the Battle of the Bulge and led assaults in Foy and Noville. In Foy, he helped to disable a German tank with a bazooka.
Shames was known to be a rough and tough officer with a no-nonsense attitude. Shames explained that he knew he had to be serious as men's lives were in his hands. Under his leadership, his platoon experienced the least amount of losses.
Following the Battle of the Bulge, Easy Company stumbled upon a concentration camp in Landsberg and Shames was sent out to investigate rumors of another, larger camp. He became the first U.S. officer to visit the Dachau concentration camp.
Easy Company was later sent to Berchtesgaden, where Shames visited Hitler's Eagles Nest and claimed a bottle of Hitler's cognac (which he used years later during his son's bar mitzvah). He accepted the surrender of a German officer and relieved him of his side-arm, discovering later that the German was Luftwaffe Generalfeldmarschall Albert Kesselring, a top German commander.
Following the war, Shames served in the Army Reserves and retired as a Colonel.
Brother Shames is the cousin of Harold Winer (Zeta Pi/Old Dominion 1971) and was initiated as an alumnus in November 2014. You can read our interview with Brother Shames in the spring 2015 issue of The Rattle.
---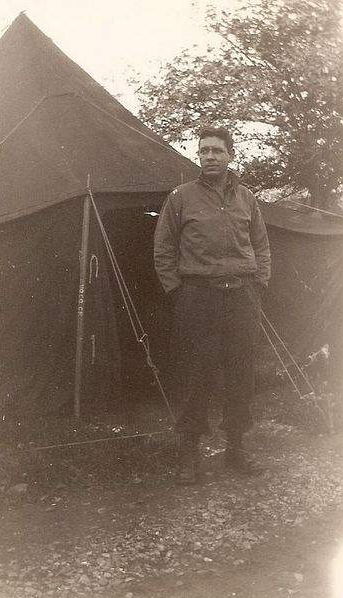 Capt. James Ralph "Shug" Jordan (Chi/Auburn 1932) was a combat engineer who had previously served and participated in invasions in North Africa and Sicily. His unit's mission was to help destroy and remove defensive obstacles set up on Utah Beach. Their explosives would help penetrate the German seawall and aid in the Allied advance, allowing American tanks to push into France.
Capt. Jordan's unit landed on Utah Beach shortly after the initial waves began the assault. Fifteen minutes after hitting the beach and after his unit began destroying obstructions and obstacles, a German 88 mortar artillery shell landed in the middle of their position, killing several and wounding many others, including Captain Jordan.
Though wounded and bleeding from shrapnel in his left arm, Jordan stayed with his men, refusing evacuation to a hospital ship. Jordan put his men and the mission ahead of his own personal regard. During the battle at a point when Jordan was missing, his troops conducted a frantic search. They found him propped up against a seawall, smoking a cigarette
Through the pain the mission continued. As Jordan smoked that cigarette, undoubtedly the scene was marked in his mind forever. He later described his shock in seeing bodies "stacked like cord wood."
Capt. Henry McHarg, an officer in Jordan's engineer brigade, wrote then Auburn University President Hanley Funderburk, "He basically asked to be stitched up so he could stay with his troops during the initial phase of the invasion," McHarg wrote. "It hurt him like hell, but he knew he wasn't going to die." McHarg said Jordan lost the use of his arm but still refused evacuation, and "it was a fine thing to have done to stay on the beach."
Capt. Jordan would later attribute his survival to football.
It is also noted that Capt. Jordan carried a copy of the "Auburn University Creed" during the invasion. You can read more on that story by clicking here.
After receiving a local anesthetic, an Army doctor tried to remove the shrapnel from Capt. Jordan's arm with little success. The pain was so intense that Capt. Jordan was sent to a hospital ship.
After recovering from his wounds, Capt. Jordan did not return to civilian life. He led his unit to the other side of the world – and participated in the invasion of the island of Okinawa.
Capt. Jordan was recognized with a Bronze Star and a Purple Heart among other decorations. Few are familiar with Capt. Jordan's war record; the vast majority of people know Capt. Jordan as Coach "Shug" Jordan of Auburn University. He served his Alma Mater as head coach of the Auburn Tigers football team from 1951 to 1975, winning a National Championship in 1957 with his undefeated team. He had also served as a basketball coach at Auburn and as an assistant coach at the University of Georgia, where he assisted with the establishment of Theta Chi's Delta Beta Chapter in 1949. In 1973, Auburn's Hare Stadium was renamed Jordan-Hare Stadium in his honor.
To read more about Shug Jordan click here.
---
Other Theta Chi members currently known to have participated in the D-Day invasion include:
Maj. Elish O. Peckham (Eta/Rhode Island 1934) suffered slight wounds during the D-Day invasion. He was commander of the 3rd Battalion, 18th Infantry. The 18th Infantry was part of the initial onset of the invasion on Omaha Beach.
---
Pvt. Beverly Kone Winston, Jr. (Omicron/Richmond 1943) participated in the D-Day invasion as a member of an Army chemical warfare battalion. He was Killed In Action in France on August 1, 1944. He received a Presidential Citation for meritorious conduct, skill and courage in the performance of duty.
---
Lt. Walter Dessey Ludwig Jr. (Pi/Dickinson 1937) a member of the U.S. Naval Reserve, landed on Omaha Beach on D-Day with the 6th Naval Beach Battalion. Currently, little is known of his specific landing area or his actions on that day. The 6th Naval Beach Battalion, along with the 2nd and 7th Naval Beach Battalions, were attached to the U.S. Army Engineer Special Brigades, and shared mission of signaling landing craft ashore and getting casualties off the beach. By the end of June 1944, 452,460 troops, 70,910 vehicles and 289,827 tons of supplies were in northern France. As a result of expert Army and Navy aid on the beachhead and medical care during the Channel crossing, a majority of the 41,035 wounded Americans reaching England were in excellent condition. The mortality rate was 3/10 of 1%.
Col. William D. Bridges of the 5th Engineer Special Brigade reported, "The outstanding action of the 6th Naval Beach Battalion under heavy enemy fire contributed materially to the successful establishment of the Omaha beachhead. This battalion not only performed all of its own missions, but aided many other units in the accomplishment of theirs. But for this aid, the precarious situation of the units on the beach might have been turned into disaster."
The 6th Naval Beach Battalion was awarded the Bronze Service Arrowhead, the Croix de Guerre with Palm by the Provisional Government of France and the Presidential Unit Citation. To learn more about the 6th Naval Beach Battalion, click here.
It is interesting to note that The Rattle does share a bit more about Walter Ludwig's biological brother, fellow Pi Chapter member William Alexander Ludwig (1939), though it is unclear if he also took part in the D-Day invasion with the Army. The Rattle reports that William Ludwig was awarded the Bronze Star with oak leaf clusters and the Distinguished Unit Citation. The Bronze Star medal is the fifth highest combat decoration of the United States Armed Forces. The medal may be awarded for acts of heroism, acts of merit or meritorious service in a combat zone. The Oak Leaf cluster is a miniature metal device worn on medals to denote subsequent decorations or awards.
---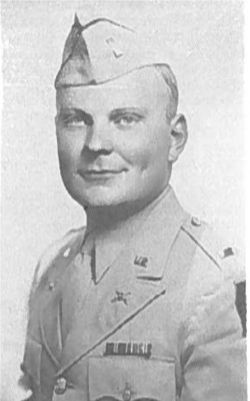 Lt. Thomas H. Cloke Jr. (Rho/Illinois 1943) was also involved in the D-Day invasion. He landed on the beach June 6, 1944 with one other soldier. Their mission was to locate a position for a gun battery that was due to land later. Cloke and the other soldier later formed part of the anti-aircraft defense of the Normandy beachhead.
Cloke served with his battalion in the campaigns of Normandy, Northern France, Rhineland, Ardennes, and Central Europe. After that, he was transferred to the 15th Army to teach the use of radar for locating enemy mortars. He was later attached to the Field Artillery School at Ft. Sill, Oklahoma, as a radar counter-mortar instructor.
Lt. Cloke is also known for developing a semi-automatic anti-aircraft plotting board, for which Lt. General J. Lawton Collin of VII Corps awarded him the Bronze Star medal, an individual military award of the US Armed Forces. The medal may be awarded for acts of heroism, acts of merit, or meritorious service in a combat zone.
---
Frank D. Garland, Jr. (Rho/Illinois 1942) was part of an assault signal company and arrived in France with the first invasion troops. He was the son of Frank D. Garland, Sr. (Rho/Illinois 1910) a founder of the local fraternity that would become Rho Chapter. Garland, Sr. was elected to the Grand Chapter in 1939 and served as National Chaplain until his death in 1941.
---
Lt. William O. Sabom (Alpha Gamma/Michigan 1934) participated on D-Day and his foot was badly smashed by an artillery shell fragment. He was evacuated to England and later to McCloskey General Hospital in Temple, TX. He later settled in Houston.
---
Lt. George Eddy, Jr. (Alpha Gamma/Michigan 1943) was evacuated to England after having his ship sunk under him and being bombed, strafed, and finally wounded by mortar fire. He recovered and returned to active service. Following the war, now-Col. Eddy made the Army his career, following in the footsteps of his father, Brig. Gen. George G. Eddy, Sr., who, before transferring to West Point, joined Theta Chi's Iota Chapter at Colgate University in 1913, one year after their installation.
---
Staff Sgt. John J. Hast (Alpha Delta/Purdue 1938) was wounded on D-Day when he went ashore in Normandy with ammunition. He was awarded the Purple Heart and later returned to active service following his recovery.
---
Lt. Robert Freeman (Alpha Tau/Ohio 1935) served as a commanding officer of a landing ship tank (LST) which was used in major invasions to carry men and supplies. His ship was one of the first LSTs to land troops and vehicles on the beach on D-Day.
---
Lt. Charles Hornby (Alpha Tau/Ohio 1943) was severely wounded in the Normandy invasion, receiving shrapnel in his leg. He later returned to duty. Following the war, he served as well-regarded traveling Baha'i teacher throughout Columbia and Ecuador.
---
Lt. Kingston Mote (Alpha Tau/Ohio 1943) of the 331st Infantry Regiment, participated in the invasion and was wounded by an enemy grenade. After three weeks recovery in England, he returned to France as second in command of an Infantry Rifle company. Lt. Mote was awarded the Silver Star, in his own words, for "making a damn fool of myself. The kind of foolishness that wins wars, I suspect."
After returning to service, Lt. Mote was Killed In Action at Hohenlepte, Germany on April 15, 1945. In addition to his Silver Star, he had been awarded the Soldier's Medal and a Purple Heart with two Oak Leaf Clusters. He is interred at the Netherlands American Cemetery in Margraten.
---
Lt. Francis H. Mead (Beta Eta/Washington (MD) 1942) a member of the Coast Guard Reserve, participated in the Normandy invasion and was serving as a communications officer aboard U.S.S. LCI #94. It was in the first wave of the Normandy invasion and struck a section of the beach where the opposition was strongest. The boat came under direct fire at point blank range of a German battery, and three explosive armor piercing shells struck right at the pilot house. Two of the shells exploded directly in the small area, killing three out of four of the officers standing there. Lt. Mead was cut up by shrapnel and suffered from a very bad concussion and spinal injuries. Despite his injuries, Lt. Mead skillfully directed repairs to communications between the bridge and the remainder of the vessel although the vessel was under server fire.
Lt. Mead was awarded the Purple Heart by Rear Adm. J.L. Hall, Jr. Commander of the Amphibious Forces, on behalf of the commanding admiral of the U.S. Navy in Europe. Lt. Mead later served as a flotilla training officer in the Amphibious Forces.
Francis H. Mead was a Charter Member of Beta Eta Chapter at Washington College, installed March 1, 1940. He was initiated with his two brothers, John C. Mead (1928) and Gilbert W. Mead, Jr. (1939). The three brothers were the sons of then-Washington College President, Dr. Gilbert W. Mead, Sr.
---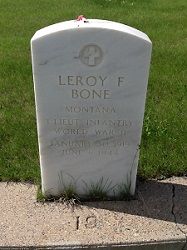 Lt. Leroy F. Bone (Beta Epsilon/Montana 1940) parachuted into Normandy on D-Day with the 101st Airborne Division's 502nd Parachute Infantry Regiment and was Killed in Action. His remains were returned to his home state and he was interred in Dawson County Cemetery in Glendive, MT.
---
We salute these brothers, these heroes, and all the men and women involved with D-Day, for what they did in service to their God, Country, and Fellow-man. We hope future research will uncover more D-Day stories of bravery and heroism – of those brothers that demonstrated leadership and extended An Assisting Hand.
Founded in 1856, Theta Chi Fraternity is a men's collegiate fraternity with more than 191,000 initiated members and has established 240 chapters. Leadership development, personal development, and service to alma mater are fundamental to Theta Chi Fraternity's mission.