Theta Nu Reinstalled at Rowan University
Glassboro, NJ – On June 26, 2021, the Theta Nu Chapter was officially reinstalled at Rowan University in Glassboro, NJ. Inactive since 2008, the reinstallation of Theta Nu brings the number of active chapters in New Jersey to four.
Theta Chi's return to Rowan originally started in 2012 when Nick Del Bono (Theta Nu/Rowan 2003) established a Theta Chi Rowan Alumni Facebook group. As more and more alumni were added to the page, they began to relive their positive experiences in the chapter which sparked an interest in bringing Theta Chi back to Rowan. The group began fundraising and reaching out to Rowan to gauge the potential of recolonizing. More than six years later, a group of students at Rowan reached out to the university about restarting Theta Chi and Brother Del Bono and the Theta Nu alumni stepped up to make their dreams and plans a reality.
In the fall of 2018, Matthew Samilow reached out to some of the original interest group members about starting a chapter of Theta Chi at Rowan University. Samilow had heard about Theta Chi from some friends who had joined the Alpha Lambda Chapter at Ohio State, so the group began to do further research into Theta Chi and its ideals.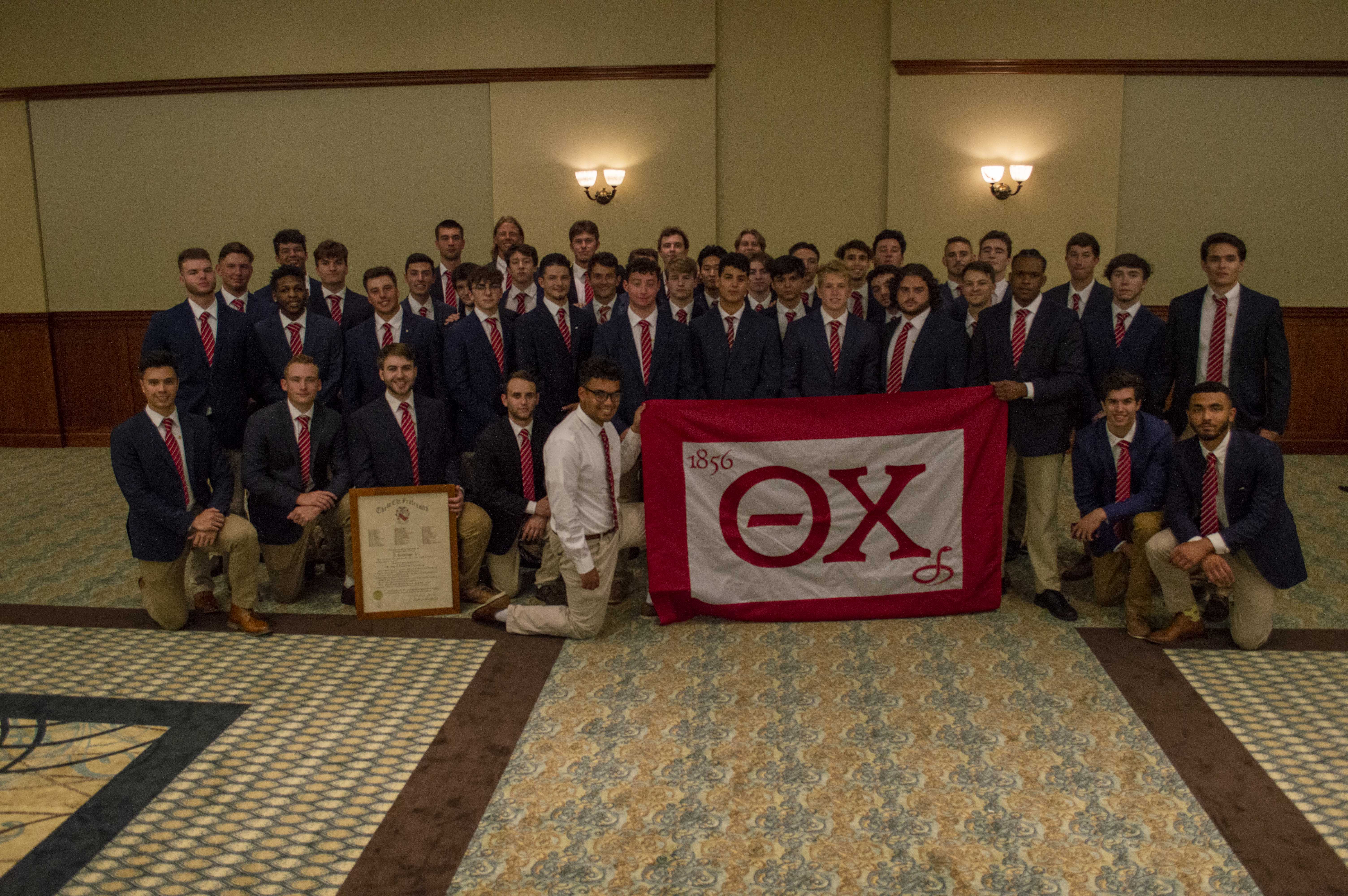 Around this time, the university connected Samilow with Del Bono, who became a strong guide in leading the group on the right path. He frequently communicated with the group and visited them at their meeting spot, the Holly Pointe Dorms, to give the group insight into their next steps.
During the fall 2019 semester, Rowan University announced it would open an opportunity for a new group to expand to campus. The group sent an application to the Rowan University Greek Affairs Office to become a recognized interest group on campus. The University denied recognition and said they would reconsider the group in the summer of 2020, which made many members question whether the group would succeed. This led to a few members leaving and membership dropped from 36 to 32.
When the spring 2020 semester started, membership began to grow again. Despite the challenges caused by the outbreak of COVID-19 and an early end to on-campus activities, the group had gained the full-fledged support of Theta Nu alumni as well as continued guidance from then-Field Executive Daniel Conner and Theta Chi's Chief Operating Officer Ray Vanlanot, who maintained a relationship with the university in hope of a summer 2020 opportunity for recognition.
During the summer of 2020, the group worked with Vanlanot to update its recognition application for the university, which was finally approved. The Grand Chapter then approved the group's updated petition for recolonization, allowing the group to work with Vanlanot and Field Executive Derek Hatzenbuhler to finalize a recolonization date. Hatzenbuhler arrived on campus to help conduct the ceremony, and even with COVID guidelines in place, these entrepreneurial Rowan students were formally pledged to Theta Chi and Theta Nu was recolonized on August 22, 2020
After recolonizing, the colony was given the goal of reaching 50 men before reinstallation. While they worked towards that goal, they became involved with numerous clubs at Rowan including: Active Minds, Advertising Club, American Society of Mechanical Engineers, Arabic Culture Club, ASCE, Club MMA, Cybersecurity Club, E-league, Exercise Medicine Club, Intramural Basketball, Intramural Football, Ice Hockey Club, ITE, Knee-Hockey Club, Men of Color Association, Rowan ACS, Rowan Fishing Team, Rowan Student Investment Group, Rowan Travel Flag Football Team, School Newspaper, Rugby, Ski Club, Ultimate Frisbee, and Wrestling Club.
They worked with the JED Foundation to help bring awareness to mental health and suicide prevention for teens and young adults and participated in Alpha Epsilon Pi's virtual big/little competition to raise funds for the Elizabeth Glasser Pediatric AIDS Foundation.
As they progressed through the 2020/2021 school year, the colony, despite challenges caused by COVID, kept recruiting and reached their goal of 50 members. Theta Nu Colony formally petitioned the Grand Chapter for reinstallation and were approved, with plans to hold the reinstallation following the end of Rowan's academic year.
Theta Nu Chapter was officially reinstalled on Saturday, July 26, 2021. The Reinstallation Ceremony was held at the Chamberlain Student Center with International President Darick Brown serving as the Presiding Officer. Others in attendance included past International Vice President Joe D'Amore, Senior Director of Growth Zack Brown, Assistant Director of Chapter Development Derek Hatzenbuhler, Beta Delta/Rutgers Chapter Adviser Alex Ruiz (Epsilon Psi/NJIT 1998), alumni from Epsilon Psi/NJIT and Theta Nu/Rowan, and collegians from Epsilon Rho/Rider.
Out of the 50 colony members, 45 were available to attend and were initiated during the Reinstallation Ceremony: Jack Amon (2022), Christian Bechamps (2022), Hunter Bello (2022), Antonio Bene (2023), Joseph Bene (2022), Isaac Bleicher (2022), Ishmael Brown (2022), Matthew Candiotti (2022), Cameron Conrad (2023), Jason Conviser (2022), Kyle Davey (2024), Evan DeVito (2022), Nicholas DiNapoli (2023), Nicholas Donnelly (2023), Sean Dudgeon (2022), Kevin Duffy (2024), Zackary Faust (2022), Matthew Fitzsimmons (2022), Brent Gaber (2023), Tyler Garrity (2023), Brandon Guerra (2022), Joe Harper (2022), Mo Hassanin (2021), Joseph Hector (2022), Jason Hill (2024), Dylan Kios (2022), Matthew Kopyta (2022), Jack Lehberger (2024), Andrew Lenhardt (2022), Amir Lopez (2023), Andrew Magee (2024), John Mattaliano (2032), Nicholas Mennie (2022), Ethan Miller (2024), Zach Myrtetus (2022), Michael Neale (2023), Christopher Parisi (2022), Cole Quimson (2022), Thomas Reid (2021), Matthew Samilow (2022), Alan Schmidt (2024), Patrick Skurat (2022), Jared Such (2022), Jack Susser (2024), and Jake Woody (2023). The following five men could not make the reinstallation ceremony and will be initiated at the beginning of the 2021/2022 school year: Alexander Acres, Kerri Aponte, Connor Cassidy, Jordan Metz, and Matthew Santi.
Following the Reinstallation Ceremony, a banquet was held at the Chamberlain Student Center. International President Darick Brown, Zack Brown, and Derek Hatzenbuhler all spoke about the excitement and happiness they had in seeing Theta Nu complete their journey to reinstallation. During the banquet, Nick Del Bono was presented the David E. DeVol Award, which recognizes volunteers at the local, regional, or international level who have provided outstanding volunteer service to Theta Chi.
"These are an incredible group of brothers," stated International President Darick Brown. "They never let COVID be an excuse, they found a way to grow. They aren't going to be held back by anything. Congrats to Theta Nu!"
"I am beyond excited for the men of our Theta Nu Chapter at Rowan University," said Senior Director of Growth Zack Brown. "This chapter is already performing at a high level and is engaging with their campus. The Theta Nu Chapter will be very successful for years to come because of their leadership and alumni involvement. These men understand the concept of giving their members a great experience. I look forward to seeing these men live the Ritual and become a top chapter of Theta Chi Fraternity."
Nick Del Bono remarked, "When I met the interest group in spring 2019, I saw an eager, motivated group of freshmen with a desire to make an impact on the Rowan University campus. I remember telling them that day, that they will have the support of over 250 alumni. I also recall telling them that the alumni would consider them legends, if they actually pulled this off. On June 26, 2021, more than two years later…these young men became LEGENDS!"
"I can truly say that Theta Chi coming back on campus has been one of the greatest successes of our college careers," said Chapter President Matthew Samilow. "As President, I am proud to call these men my brothers and finally be reinstalled. Our hard work for the last three years has paid off. I can't thank Theta Chi enough for giving us this opportunity. Theta Nu Chapter is back and is here to stay."
Congratulations to our new brothers and welcome back Theta Nu Chapter! Congratulatory notes may be sent to Chapter President Matthew Samilow.
You may follow the progress of Theta Nu Colony via their Twitter and Instagram accounts.
Founded in 1856, Theta Chi Fraternity is a men's collegiate fraternity with more than 196,000 initiated members and has established 245 chapters. Leadership development, personal development, and service to alma mater are fundamental to Theta Chi Fraternity's mission.