Theta Nu/Rowan Recolonized
Glassboro, NJ – Theta Chi Fraternity is proud to announce that it has recolonized Theta Nu at Rowan University. The colony is working to become the fourth active chapter in the state of New Jersey.
Traction for the recolonization of Theta Chi at Rowan originally started in 2012 when Nick Del Bono (Theta Nu/Rowan 2003) established a Theta Chi Rowan Alumni Facebook group. As more and more alumni were added to the page, they began to relive their positive experiences in the chapter which sparked an interest in bringing Theta Chi back to Rowan. The group began fundraising and reaching out to Rowan to gauge the potential of recolonizing. More than six years later, a group of students at Rowan reached out to the university about restarting Theta Chi and Brother Del Bono and the Theta Nu alumni stepped up to make their dreams and plans a reality.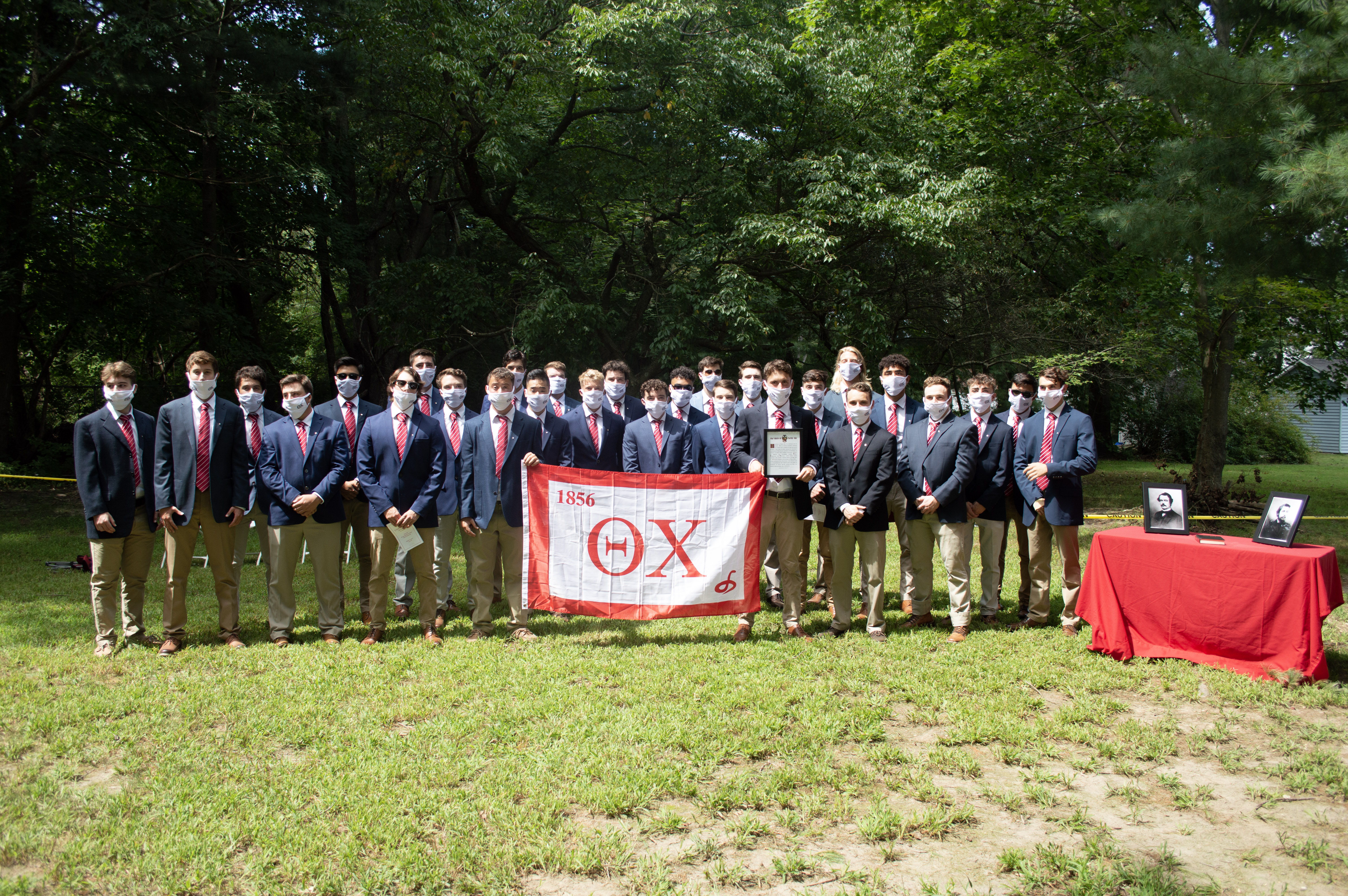 In the fall of 2018, Mathew Samilow (now Colony Vice President), approached Andrew DeCoste (now Colony President) and Michael Neale (now the Brotherhood Chairman) with the idea of starting a chapter of Theta Chi at Rowan University. Samilow had heard about Theta Chi from some friends who had joined the Alpha Lambda Chapter at Ohio State, so the group began to do further research into Theta Chi and its ideals.
DeCoste said, "I personally took a liking to the 'Assisting Hand' and thought this fraternity could be a great way for my friends and I to make an actual difference in the community. Theta Chi wants each chapter/colony to emulate high moral values and I thought we could change a lot of kids' lives for the better with this organization."
Around this time, the university connected Samilow with Del Bono, who became a strong guide in leading the group on the right path. He frequently communicated with the group and visited them at their meeting spot, the Holly Pointe Dorms, to give the group insight into their next steps.
During the fall 2019 semester, Rowan University announced it would open an opportunity for a new group to expand to campus. The group sent an application to the Rowan University Greek Affairs Office to become a recognized interest group on campus. The University denied recognition and said they would reconsider the group in the summer of 2020, which made many members question whether the group would succeed. This led to a few members leaving and membership dropping from 36 to 32.
When the spring 2020 semester came around, membership began to grow again. The group had the full-fledged support of alumni as well as support from Field Executive Daniel Conner and Theta Chi's Chief Operating Officer Ray Vanlanot, who maintained a relationship with the university in hope of a summer 2020 opportunity for recognition.
During the summer of 2020, the group worked with Vanlanot to update its recognition application for the university, which was finally approved. The Grand Chapter then approved the group's updated colonization petition, allowing the group to work with Vanlanot and Field Executive Derek Hatzenbuhler to finalize a recolonization date. Hatzenbuhler arrived on campus to help conduct the ceremony, and even with COVID guidelines in place, the recolonization was a success.
Theta Nu was officially recolonized on August 22, 2020, with 28 men formally taking their pledge: Jack Amon, Christian Bechamps, Hunter Bello, Joseph Bene, Matt Candiotti, Connor Cassidy, Cameron Conrad, Jack Conrad, Andrew DeCoste, Evan Devito, Nick Dinapoli, Nick Donelly, Sean Dudgeon, Brent Gaber, Tyler Garrity, Brandon Guerra, Joseph Harper, Mohammed Hassanin, Jordan Hector, Dylan Kois, Johnny Mattaliano, Michael Neale, Christopher Parisi, Cole Quimson, Thomas Reid, Matthew Samilow, Patrick Skurat, and Jake Woody.
The Recolonization Ceremony took place at the house of Colony President, Andrew DeCoste. Past International Vice President Joe D'Amore served as the presiding officer. Others in attendance included Field Executive Derek Hatzenbuhler, Beta Delta/Rutgers' Chapter Adviser/Health & Safety Adviser Alex Ruiz (Epsilon Psi/NJIT 1998), 17 Theta Nu/Rowan alumni, and friends and family of the new colony members.
A reception was held following the ceremony where Nick Del Bono talked about the history behind this recolonized effort and his excitement about seeing progress finally take off. New colony members Andrew DeCoste, Chris Parisi, and Mathew Samilow talked about how far the group has come and their anticipation of becoming brothers soon.
"Watching Theta Nu recolonize brought back a familiar feeling I thought was gone forever," stated Nick Del Bono. "It's that feeling you have when you're around your brothers. A feeling you can't quite explain, but it definitely stays with you forever.
I speak on behalf of all the alumni of the Theta Nu Chapter of Theta Chi Fraternity, in saying that we could not be more proud of these enthusiastic and driven young men! Welcome to the family!"
"Theta Nu Colony is a shining example of collegiate innovation, patience, and perseverance," said Ray Vanlanot. "The colony members navigated university obstacles, adapted to a global pandemic, and maintained communication with many entities to achieve their first success towards becoming a chapter. To-date, theirs is a story of unbridled dedication to an idea—the idea of restarting a chapter to serve as a much-needed leader on its campus, in its community, and in the lives of young men for years to come."
Congratulations to our new colony members at Theta Nu/Rowan!
You may follow the progress of Theta Nu Colony via their Twitter and Instagram accounts.
Founded in 1856, Theta Chi Fraternity is a men's collegiate fraternity with more than 196,000 initiated members and has established 241 chapters. Leadership development, personal development, and service to alma mater are fundamental to Theta Chi Fraternity's mission.