Throughout the pandemic, ZipKord has kept a core concept at forefront:

remain nimble.
The following article was published via the Business Observer (businessobserverfl.com). It was reprinted with permission from Mark Gordon, Deputy Managing Editor of the Business Observer. The article features Jeff Rudd (Tau/Florida 1993).
---
For most business leaders, 2020 wasn't the year they thought it would be.
"We were really excited for the beginning of 2020, but 2020 didn't turn out like anyone expected," says ZipKord Solutions Founder, President and Owner Jeffrey Rudd. "Ironically, it has been the best year in years."
Getting there has been a whirlwind of shifts and tweaks, where Rudd and his team leaned on some integral business practices they have honed over the years. The list includes finding and sticking with trusted suppliers and vendors; hyper-focusing on core skills and outsourcing the rest; and, notably, always being open to unusual opportunities from unforeseen places.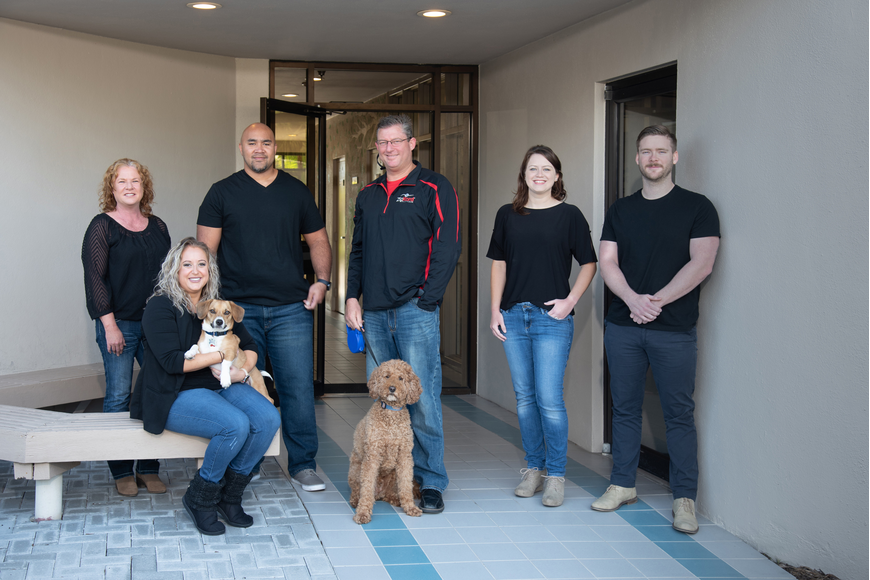 Jeff Rudd (Center) with the ZipKord Solutions Team
Rudd has also guided Sarasota-based ZipKord Solutions through the challenges of the pandemic, shifting from providing wall chargers and travel adaptors for the hospitality industry to providing masks for clients in need in Sarasota and other parts of the U.S. Now, the company has high hopes for another opportunity: a line of Popular Mechanics-licensed products. "We are still maintaining relationships with the ZipKord product line, but a big part of the focus now is bringing to market new products with Popular Mechanics," says Rudd.
The company, founded in 2002, has gone through several evolutions and is now poised for growth. As one indication of that promise, ZipKord was one of 50 companies named to a list of 2020 GrowFL Florida Companies to Watch honorees. Rudd declines to disclose specific revenue figures.
Chance meets opportunity
ZipKord started by focusing on products with retractable cords. Prior to founding the company, Rudd was a software project manager for about 12 years. At a wireless industry convention in Orlando, he walked by a table showcasing retractable headsets. It intrigued him, and he thought the concept could be a winner. "That was the birth of the company," he says. "I worked for two years for the software company while growing this business."
That moment was the perfect example of what Rudd calls his definition of luck: "Chance Meets Opportunity." That's why he named his company, which does business as ZipKord, CMO America.
As he expanded the retractable cord-focused company, Rudd had some big wins. "Eventually we got a private label agreement with Philips accessories," he says. He worked with the company to manufacture products and take them to market for about seven years.
During that time, he built the ZipKord brand into one with a variety of products, from retractable cables to car power adaptors. "Accessories have always been the cornerstone of our business, but the real maturing of our business is becoming a solutions provider — working with our customers to see where the opportunities are," says Rudd.
The company began to work with major players in the hospitality and travel industry, providing items for car rental firms, such as Avis and Enterprise, and major hotel chains. ZipKord makes wall chargers, travel adaptors, cables for iPhones, power banks, headsets and other items for hospitality clients that are branded with the ZipKord name. "Between the car rental industry and the hotel industry, we've had a lot of success," says Rudd. "Up until the pandemic, we were anticipating a very strong year."
When the pandemic gained traction in March, the travel industry — and those who supply it — took a big hit. "I give the government credit for the PPP program because that really enabled us to not let everyone go right away," says Rudd.
Beyond help from the government, ZipKord got to work determining how to stay afloat amid the crisis. "Pretty much overnight, our normal streams of revenue went to zero," says ZipKord Solutions COO Hallie Visaggio. "Jeff and I looked at each other and said, 'What do we do?'"
The company had to find a new kind of demand to fill. The answer came in the form of masks.
Mask moment
Early in the pandemic, the need for more masks became clear, with health care organizations at the front of a long line.
So Rudd and Visaggio discussed using the company's supply chain and manufacturing connections in China to get trusted masks to the U.S. "We had really good partners in China that we knew for a long time," says Rudd. "We were able to connect the dots really quickly before most people got into it."
ZipKord started supplying the much-talked-about N95 masks along with other types of masks. "In the middle of March, we pivoted the entire business," says Rudd. "For the next 90 days, we worked all day, every day. Weekends didn't exist."
Rudd focused on sales and relationships with factories while Visaggio took on a logistics role. "We had a tremendous amount of challenges with respect to masks," says Rudd. "It was perseverance and a lot of luck. We managed to get everything we ordered delivered."
The company first secured masks for Rudd's niece, a dentist, and a friend's wife. "It all started with Jeff trying to help out a few friends, and we saw it go from there," says Visaggio. "It really became this spider web, and the reason it worked was at the center was trust."
ZipKord provided masks for organizations throughout Sarasota, other parts of Florida and beyond, including Palm Beach County, a national hospital distribution company in Atlanta and cleaning supply companies in New York. Sarasota Memorial Health Care System, an 839-bed public health system with a staff of 7,000, was another key mask client.
"By partnering with a local alternative vendor, a non-traditional vendor who had his connections in China, to get us product that we weren't getting from our traditional sources, it was mutually beneficial," says SMH Executive Director of Supply Chain Robert Milano. "He was able to get some large quantities in for us."
Working with ZipKord was crucial for the health care system, especially early on. "He kind of saved the day in the beginning when I couldn't get it," says Milano. "We did N95 purchases with him and two very large quantities of just the basic procedure mask that you see on the street now. That was very critical because it was extremely scarce. We went from using a couple boxes a day to hundreds of boxes overnight."
Partly because of ZipKord, SMH never ran out of masks. The price was above pre-pandemic rates, but it was better than the going rate, says Milano. "Other people were really taking advantage of the situation," he says. By June and July, the system's normal supply chain caught up, and SMH returned to using those vendors.
ZipKord, meanwhile, is still working with some mask customers, but the experience of shifting to masks was primarily temporary, Rudd says, "We definitely don't have any sales energy with the masks, but our operations team can still deliver when our customers who trust us come back to us."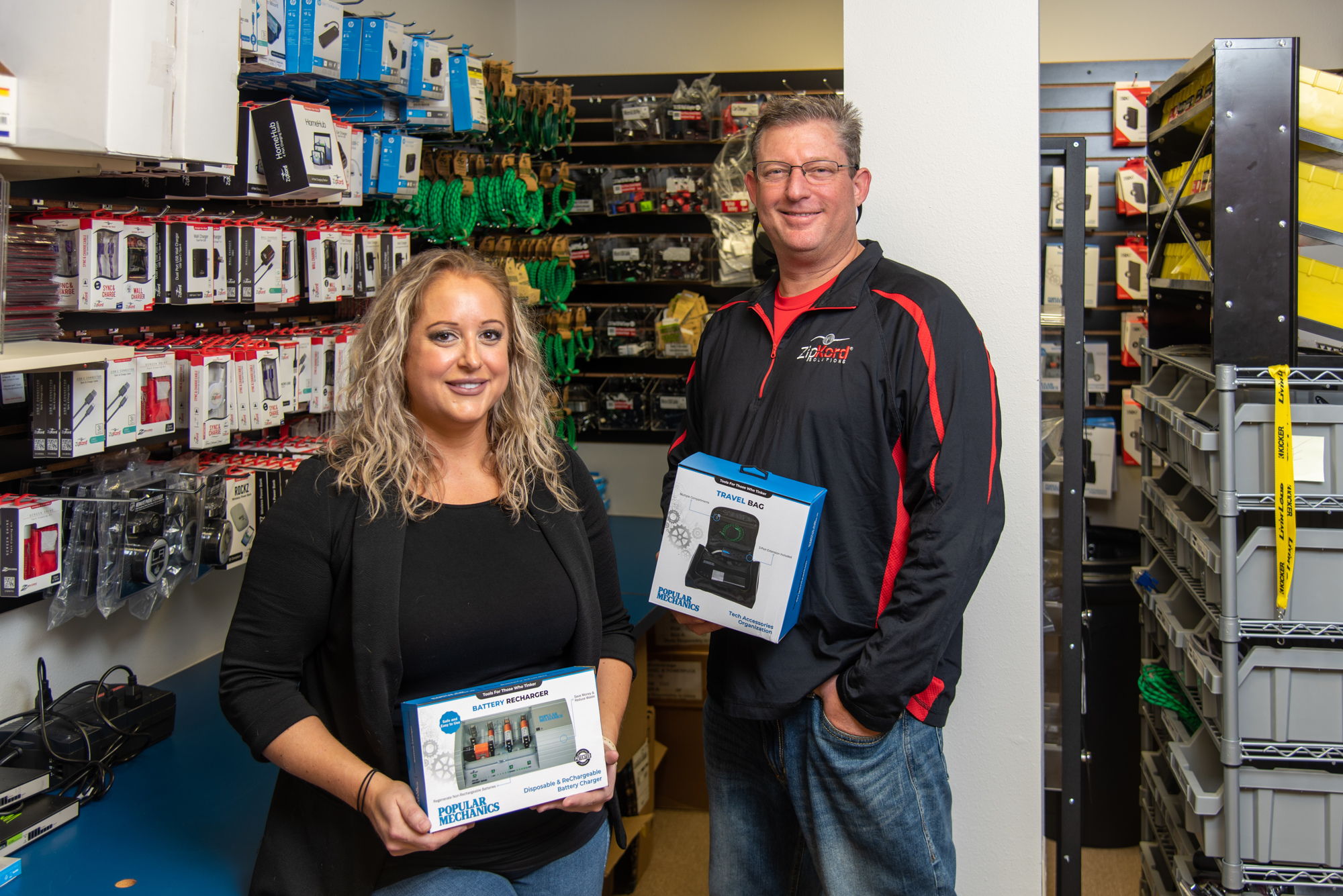 ZipKord Solutions Founder, President and Owner Jeffrey Rudd and COO Hallie Visaggio have led the Sarasota-based company through business shifts and new opportunities amid the pandemic.
Popular products
The company, while still managing and maintaining its ZipKord product line, is also reinventing itself in another way.
About a year ago, ZipKord started a relationship with New York-based media giant Hearst. The partnership came about through a connection in Rudd's network. The opportunity? Bring products to market through a licensing agreement with Popular Mechanics that capitalizes on the magazine's brand recognition.
Visaggio thinks Hearst wanted to work with ZipKord because of the firm's over-and-above mentality. "I think that's what will really set this apart — taking our experience in the retail industry and product development," she says. "We make it easy for them. We try to make it easy for everyone we come into contact with."
As a starting point, ZipKord partnered with Hearst to create a group of eight products. Hearst will promote the Popular Mechanics products across its media properties digitally and in print. "That's what makes this whole program really exciting," says Rudd. "The Popular Mechanics team will do an article about a product, and if it makes sense in a sister property like Good Housekeeping, the sister publication will run it and share knowledge of the product."
The products aren't geared toward a strictly male or female audience. Instead they've been dubbed "tools for those who tinker," and the first product is a device that recharges non-rechargeable batteries, that are normally disposed of. "We have an exclusive agreement with the inventor for North America and potentially Europe," he says. "We had to make some adjustments in the language and look of the product and the packaging. We get it ready for the U.S. market, and we essentially work with them and have the products made in a factory in China."
ZipKord has a team and long-time manufacturing partners in China, plus it has U.S. warehouses. Its Sarasota headquarters handles sales, product development, supply chain, marketing and customer support.
With a license on the product and brand sides, ZipKord is promoting the items on the website PM-Gear.com. Purchasing traffic is directed to Amazon. ZipKord is working on additional sales channels, too, such as Bed Bath & Beyond and The Home Depot. Rudd also envisions endcap displays of Popular Mechanics products in stores like Target. He expects to introduce two or three additional products every quarter.
ZipKord is also working on a related initiative to connect children inventors with military veterans who are also inventors. A sponsored contest could be in the works to bring some of their ideas to market. "We're using our inventor expertise, product development expertise and importing expertise to try to make something really cool happen," says Visaggio, who is heading up the program.
ZipKord has been able to accomplish all this with a team of eight employees — six in Sarasota and two in China. It outsources manufacturing and warehousing. "We lean on partners who are already doing that and are excellent at doing it so we can be excellent at what we do," says Rudd.
In the coming months, he anticipates the size of his team growing as the business expands. "We do big things with a small amount of people right now," he says. "It's absolutely an inverted pyramid. I'm the CEO, but I work for everyone else. The team works really hard together."