Theta Chi's Visual Identity
Since our founding in 1856, morethan 175,000 Theta Chi Fraternity brothers have participated in and grown our traditions. They know our symbols well—the rattlesnake and the swords, the Coat of Arms and the Badge—and what these symbols represent.
Although we've had many symbols that we've come to know and love over the years, we've never made a concerted effort to create a sophisticated visual identity for ourselves. Until now.
Our visual identity, as represented in this manual, effectively demonstrates the Theta Chi experience. The design elements—including our logomark, color palette, and tagline—work together to embody the spirit of Theta Chi, and to communicate that spirit to a wide range of audience.
Below, you can download some of our primary logos to use. Simply click the logo you wish to download.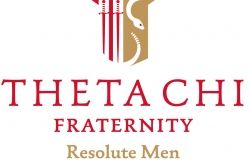 Theta Chi's Visual Standards
Theta Chi's Coherence Manifest