Omega Chapter at Penn State University was installed on March 14, 1919. The installation brought Theta Chi's third chapter located in the Commonwealth of Pennsylvania. Penn State, located in State College, began in 1855 as The Farmers' High School. In 1862 it became the Agricultural College of Pennsylvania and finally in 1874 the Pennsylvania State College. The college was established in accord with the Morrill Act making military training mandatory for practically all male students. State College, a town of 2500 people, is located almost in the geographical center of the State of Pennsylvania.
In the Spring of 1915, a group of young men who were members of the Philadelphia Northeast High School Club of The Pennsylvania State College met with the purpose of forming an organization that would perpetuate certain ideals and standards in which these students believed.
At the opening of the college year in 1915, the Northeast Club was established on a local fraternity basis. New members were selected with the greatest care and were of the highest type. By the Fall of 1917 the Club was well established and strong bonds of friendship existed among its members. Fully realizing that greater advantages could be gained by closer association with the fraternities of State College, action was taken to change the character of the organization to that of a local fraternity.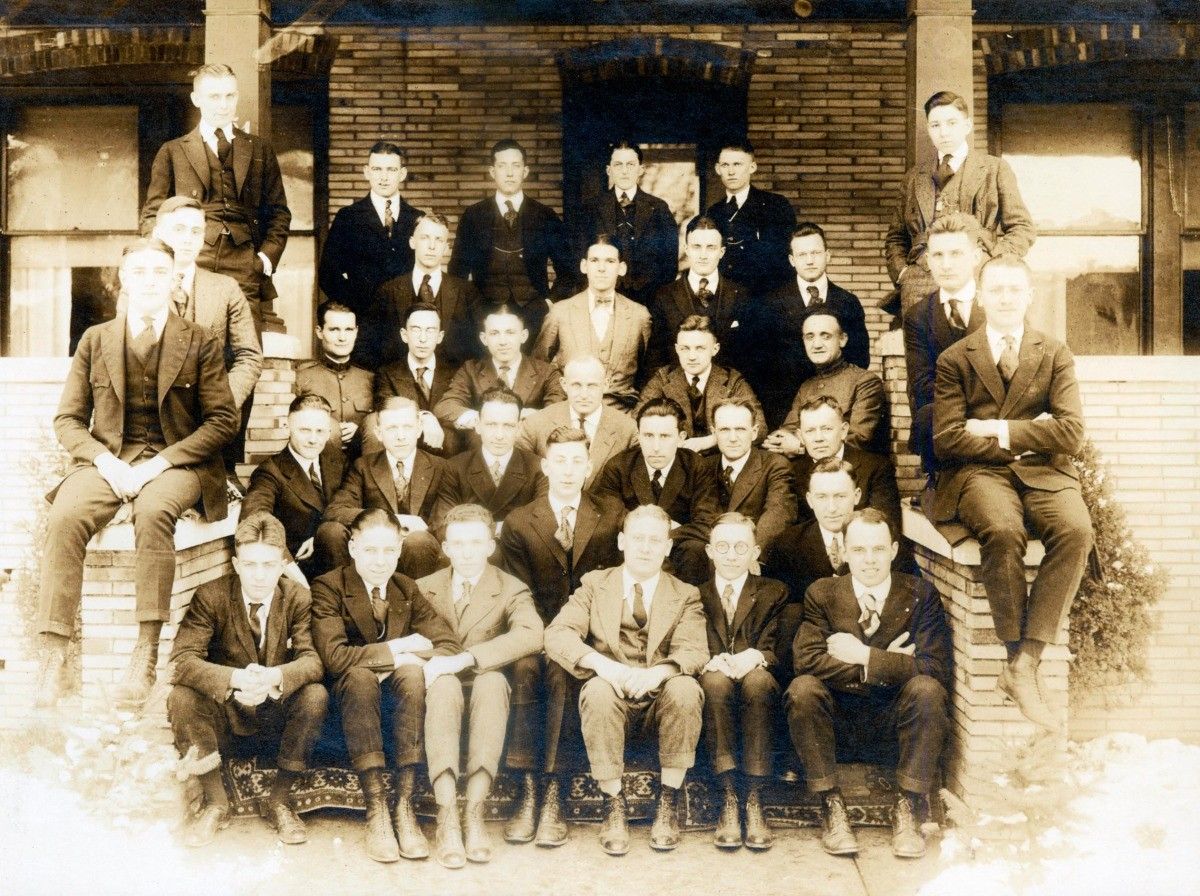 On February 23, 1918, permission was granted by the fraternity committee of the General Faculty, and the Northeast Club became the Phi Tau Alpha Fraternity. On April 6, 1918, the change was formally announced to the other fraternities by a smoker and reception at the chapter house. Shortly afterwards Phi Tau Alpha was admitted to the Intra-Mural Council, this marking the final step in the official recognition by the fraternities of the Pennsylvania State College.
The ambition of Phi Tau Alpha was to perfect a fraternity in which all of the members would "practice kindness and toleration toward one another, and attain, as nearly as possible, that brotherly feeling which exists between brothers of the same parentage. In doing this each should ever aspire to be considerate of the rights and opinions of others and never let any act go undone which would bring happiness and joy to another."
Members of Phi Tau Alpha researched different national fraternities and Theta Chi rose to the top of their lists of finalists as it was the oldest and had the best record and reputation. Phi Tau Alpha members Raymond Poeppel and William Thompson had a friend who was a Theta Chi at Kappa Chapter at the University of Pennsylvania and they were convinced that Theta Chi was the best choice.
Phi Tau Alpha reached out to the Grand Chapter of Theta Chi Fraternity expressing interest in affiliation and were subsequently visited by National Secretary Frederick W. Ladue and representatives from Kappa/Pennsylvania, Lambda/Cornell, and Pi/Dickinson. Following the visit, Theta Chi advised Phi Tau Alpha to submit a formal petition for installation.
On December 2, 1918, Phi Tau Alpha President George W. Chapman submitted a petition and wrote, "Believing that affiliation with a well established and well reputed national fraternity would be most desirous, and believing the Theta Chi Fraternity to possess these qualities, we, the members of the Phi Tau Alpha Fraternity of the Pennsylvania State College, do hereby respectfully petition for consideration as a chapter of the Theta Chi Fraternity."
On February 25, 1919, National Secretary Frederick W. Ladue informed Phi Tau Alpha that their petition had been approved and that plans would be made to install the chapter in the weeks ahead. It is interesting to note that another local fraternity at Penn State was petitioning Theta Chi at the same time as Phi Tau Alpha.
Phi Tau Alpha became the Omega Chapter of Theta Chi on March 14, 1919. The Installation Committee was chaired by National Secretary Fred W. Ladue (Iota/Colgate 1912) and was composed of Earl R. Scrafford (Delta/RPI 1909), Herbert D. Leary (Gamma/Maine 1910), W. Howard Gottlieb (Kappa/Pennsylvania 1919), and Clarence R. Anderson (Pi/Dickinson 1909).
The installation began at 7:30 p.m. Friday, March 14, 1919 and was completed around midnight. Winfield E. Smith was elected and installed as Omega's first Chapter President. After adjourning for the night, all remaining ritual work was completed by 5:00 p.m. on Saturday prior to the installation banquet.
The installation banquet was held in the chapter house on the evening of March 15 and served the following menu: Penn State Cocktail, Center County Consomme, Baked Shingletown Trout, Roast MacHall Chicken, S. A. T. C. Potatoes, Nittany Valley Filling, Green Navy Peas, Co-ed Sauce, Old Main Salad, Ice Cream a la Phi Tau Alpha, Lemont Bits, Bonbons au Gorgo, Danville Nuts, State College Demi Tasse, and Bellefonte Central Smokes. According to records, such a menu had never been seen before or since, but was evidently greatly enjoyed by those present.
The Charter Members of Omega Chapter are: Fred F. Bastian (1922), Clifford E. Beaven (1921), Ellwood B. Cassel (1919), George W. Chapman (1920), Charles A. Frederickson, Jr. (1920), Frederick J. Fuchs (1921), Maurice E. Kressly (1915), Donald E. Magill (1922), Murrell D. McKinstry (1920), Russell B. Nesbitt (1914), Robert E. Ockford (1922), Emil A. Petzold (1924), Anthony V. Pickard (1921), Raymond B. Poeppel (1920), Ellwood J. Rittenhouse (1920), Joseph E. Rowe (1910), Albert F. Schoeppe (1920), Walter E. Segl (1921), William W. Seltzer (1921), Walter B. Shaw (1921), William J. Shaw, Jr. (1921), John R. Skeen (1921), Winfield F. Smith (1919), William L. Sowden, Jr. (1922), Ralph D. Stauffer (1921), William C. Thompson (1919), Frederick T. Vansant (1920), and Hugo E. Zetterlof (1922).
Two of Omega's Charter Members made notable achievements: Dr. Joesph E. Rowe (1910) would become President of Clarkson University in Potsdam, NY (home of Delta Sigma Chapter) and George W. Chapman (1920) notably served Theta Chi Fraternity in a number of capacities: as the first Regional Counselor, the key developer of the School of Fraternity Practices, for nine years on the Grand Chapter as National Marshal and National Treasurer, and as Executive Director from 1948-1967. During Chapman's tenure as Executive Director, Theta Chi experienced a period of unprecedented growth, with 75 chapter (re)installed. He also authored and edited the first edition The Manual of Theta Chi Fraternity in 1947. George Chapman also chaired the inaugural meeting of The Order of The Arrow, the national honor society of the Boy Scouts of America.
In the decades to come, Omega would produce additional notable alumni, including, Robert E. Eberly (1939), Former Chairman of Eberly Natural Gas Co. and namesake of the Eberly School of Science at Penn State and the Eberly School of Business at IUP; and Past Theta Chi Fraternity Inter/National President and former Executive Director, Howard R. Alter, Jr. (1941).
Congratulations to the alumni and collegiate brothers of Omega Chapter on 100 years at Penn State!
You can send personal notes of congratulations to Omega Chapter President Carson Schulz by clicking here. Omega alumni are planning to host a formal Centennial Celebration during this fall's Homecoming at Penn State, October 4-5, 2019. For more information, on Omega's Centennial Celebration, click here.

In honor of their Centennial Celebration, we are re-printing the original article on Omega Chapter's Installation from the April 1919 issue of The Rattle.
---
Installation of Omega Chapter.
The Installation Committee arrived at State College about noon on March 14th, and was met at the station by a delegation from Phi Tau Alpha.
After the introductions and a visit to the chapter house, a sight-seeing party was organized for a short trip around the beautiful campus and the nearby town.
Upon returning to the house, which is very pleasantly and conveniently situated about two blocks from the main entrance to the campus, the Committee got down to business. The necessary paraphernalia was checked over and the remainder of the afternoon spent in preliminary arrangements.
Shortly after dinner, the hall was prepared and the ceremonies started at 7:30, with Fred Ladue, Iota, chairman, assisted by the following committee: Earle Scrafford, Delta; Herbert D. Leary, Gamma; W. Howard Gottlieb, Kappa; Dr. Anderson, Pi.
After the opening exercises the ritual for installation was followed and in due course the ceremony performed. New officers were then elected and installed and a short meeting held. The meeting closed in the regular form shortly after midnight.
Saturday morning, the committee instructed the officers of the chapter in the minute details of their various duties. After lunch, the committee put the brothers through the initiative degrees for new members and the chapter installation was complete by five o'clock, in time for the initiatory banquet.
The following brothers were initiated and now compose our Omega Chapter: –
Alumni–Winfield F. Smith, of Philadelphia; Maurice E. Kressly, of State College; Joseph E. Rowe, of State College; Russell B. Nesbitt, of State College.
Albert F. Schoeppe, of Philadelphia; Ellwood B. Cassel, of Philadelphia; Ellwood B. Rittenhouse, of Philadelphia; William C. Thompson, of Philadelphia; George W. F. Chapman, of Philadelphia; Charles Frederickson, Jr., of Philadelphia; Murrell D. McKinstry, of Hatiboro, Pa.; Raymond B. Poeppel, of Philadelphia; Frederick T. Vansant, of Philadelphia; Clifford E. Beavan, of Philadelphia; Frederick J. Fuchs, of Philadelphia; Emil A. Petzold, of Philadelphia; Anthony V. Pickard, of Philadelphia; Walter E. Segl, of Philadelphia; William W. Seltzer, of Coatesville, Pa.; Wnlter B. Shaw, of Philadelphia; William J. Shaw, 3rd, of Philadelphia; John R. Skeen, of Philadelphia; Ralph D. Stauffer, of Reading, Pa.; Theodore G. Smith, of Philadelphia; Fred F. Bastian, of Berlin, Pa.; Donald E. Magill, New Hope, Pa.; Robert E. Ockford, Philadelphia; William L. Sowden, Jr., of Philadelphia; Hugo E. Zetterlof, of Philadelphia.
The banquet table was set for 5:30 and by this time several more visiting brothers had arrived, among them being Capt. James Beazly, Kappa, and Brother Harris, Pi. The banquet hour passed very pleasantly, the college and fraternity songs being giveen with great enthusiasm and spirit.
The post-prandial exercises immediately followed with Albert Schoeppe of Omega acting as toastmaster. The members of the initiatory committee were called on for a few remarks, followed by visiting brothers, alumni and active members. The banquet closed with the singing of the Omega Chapter song: –
COME OMEGA!
Words - G. W.F. C.
Music - W. B. S.

Come Omega let us all join
In the highest praise
Singing of thy wond'rous fame
And of the joy of college days.
Ever to thee we'll be loyal
Honor we thy name
Every faithful loving brother
Helps to swell thy fame.
Loyal brothers of Omega,
Whereso'er we be
Whether home or on the campus
Let us think in joy of thee
We shall ever be as brothers
Steadfast to the core
One for all and all for one
Now and evermore.
When life's brightness, fair Omega,
Turns to shadows deep
We shall cherish all thy teachings
We shall then thy glories reap
Ever hon'ring ever praising
Till Life's span is past
Keeping foremost Theta Chi's
Teachings to the last.
Following the custom of the institution, a smoker was held at the Chapter House, after the banquet. All the fraternities on the campus were invited to attend and become acquainted with the new chapter, its alumni and visiting brothers. The smoker was a great social success and lasted until the wee sma' hours.
In concluding the report of the installation, the committee wishes to say for the benefit of the fraternity at large that Omega Chapter enters upon her career as a member of ΘX with as brilliant prospects for the future as any chapter ever installed. They have the college, the location, the house, the members and the spirit, and should make one of the best chapters of the best fraternity in the country, and we assure the members that ΘX is as proud of them as they are of ΘX.
---
To learn more about the history and origins of Omega Chapter, visit Omega's website at www.thetachiomega.com/start-of-omega-chapter.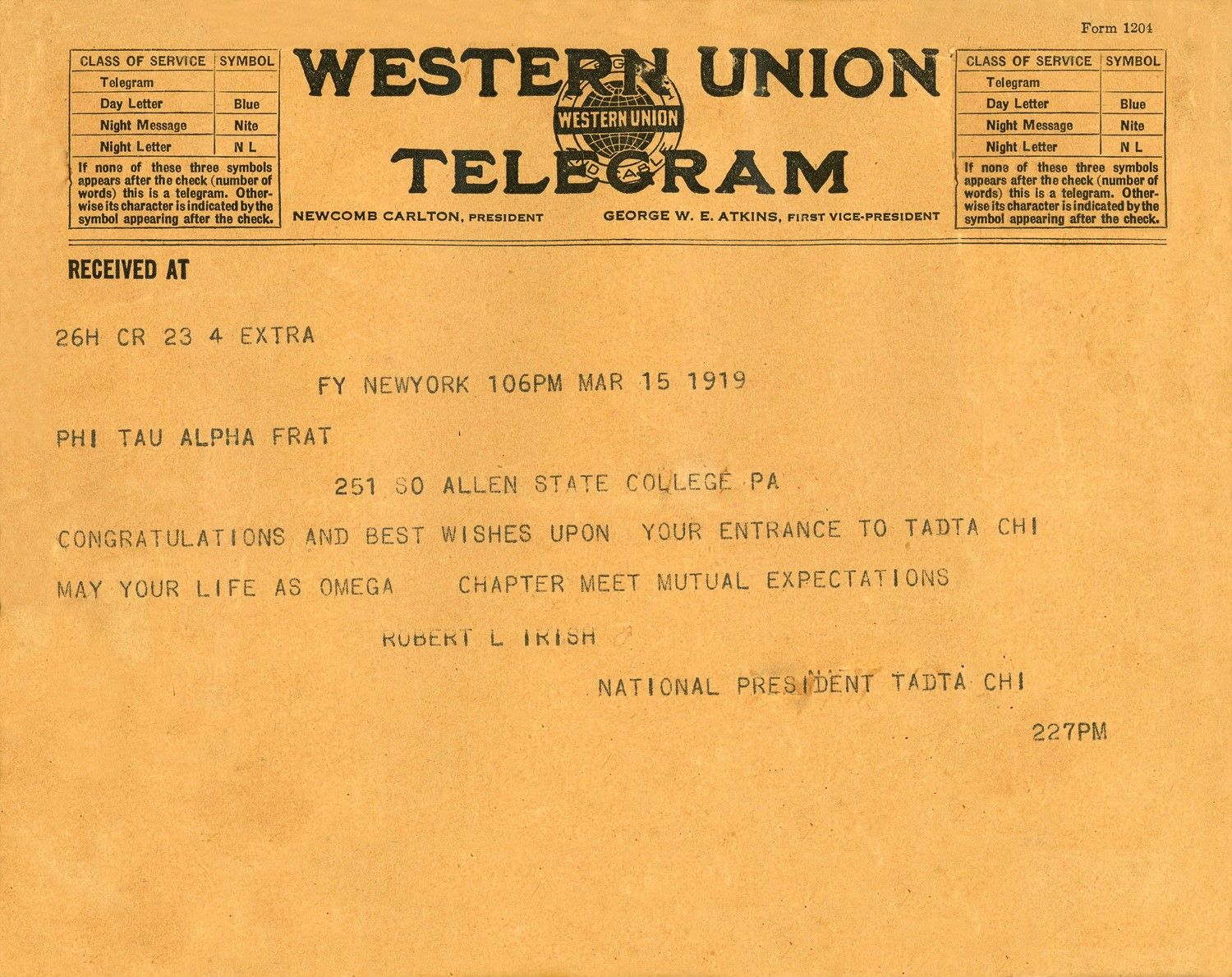 Founded in 1856, Theta Chi Fraternity is a men's collegiate fraternity with more than 191,000 initiated members and has established 240 chapters. Leadership development, personal development, and service to alma mater are fundamental to Theta Chi Fraternity's mission.