William R. Schuetze Named the 142nd Distinguished Service Award Recipient
William R. Schuetze (Psi/Wisconsin 1969) was named the 142nd recipient of Theta Chi Fraternity's Distinguished Service Award. The Distinguished Service Award is the highest honor that the Fraternity may confer upon a member and publicly recognizes and properly honors Theta Chi alumni who, by reason of outstanding international service, personal effort, and unselfish interest, have made distinguished contributions to the lasting good and general welfare of Theta Chi Fraternity. At no time can the number of awards made exceed the number of years in age of the Fraternity.
Bill was born in Monroe, WI, the Swiss Cheese Capital of the USA, a reflection of his Swiss heritage. Bill summarized Monroe High School, home of the Cheesemakers, "The cafeteria was great. Algebra wasn't." Despite his prognosis on academia, he was heavily involved in high school and was elected senior class president.
Spurred into politics by the Kennedy administration, Bill began his college career at American University in Washington, D.C. While there, he was able to work for U.S. Senator Gaylord Nelson during his freshman year. After attending summer school at the College of William and Mary, he transferred to the University of Wisconsin where he pledged Psi Chapter.
At Wisconsin, he was a member of Student Senate, Greek Week Committee Chairman, and Men's Fashion Editor of GreekSpeak, the fraternity magazine. He was also the Government Relations Chairman of the Wisconsin Student Association. He traveled extensively throughout Western Europe and ultimately earned his B.S. in American Institutions in 1969.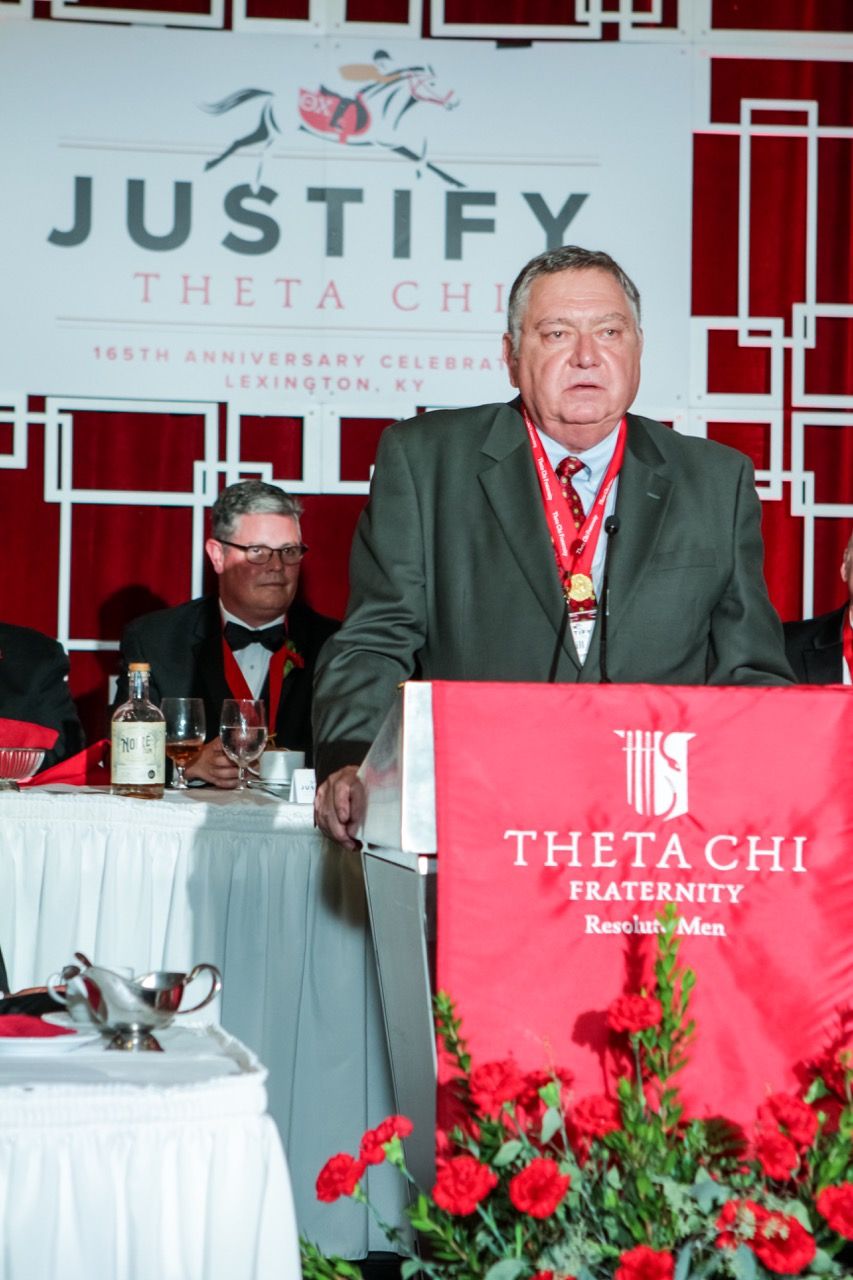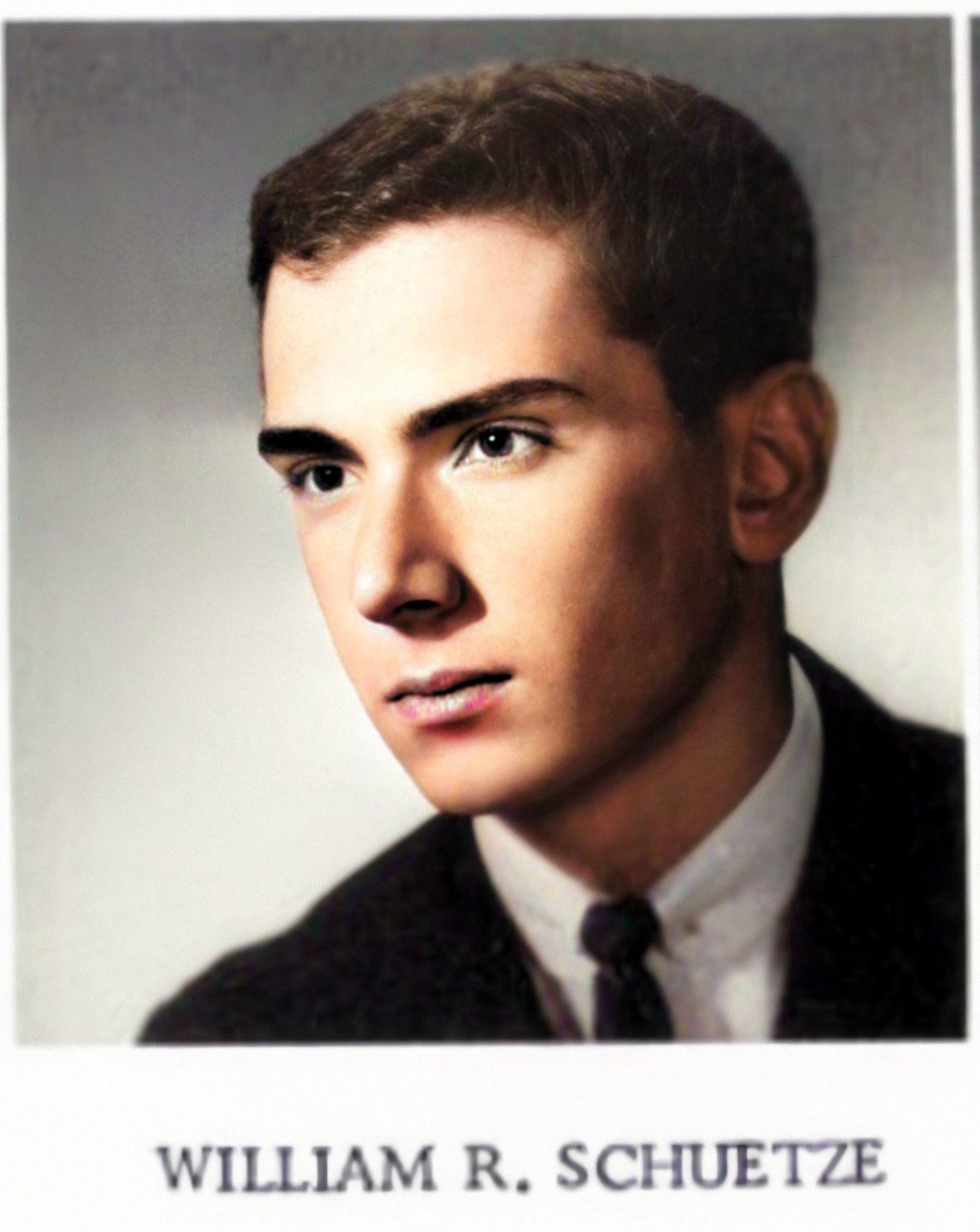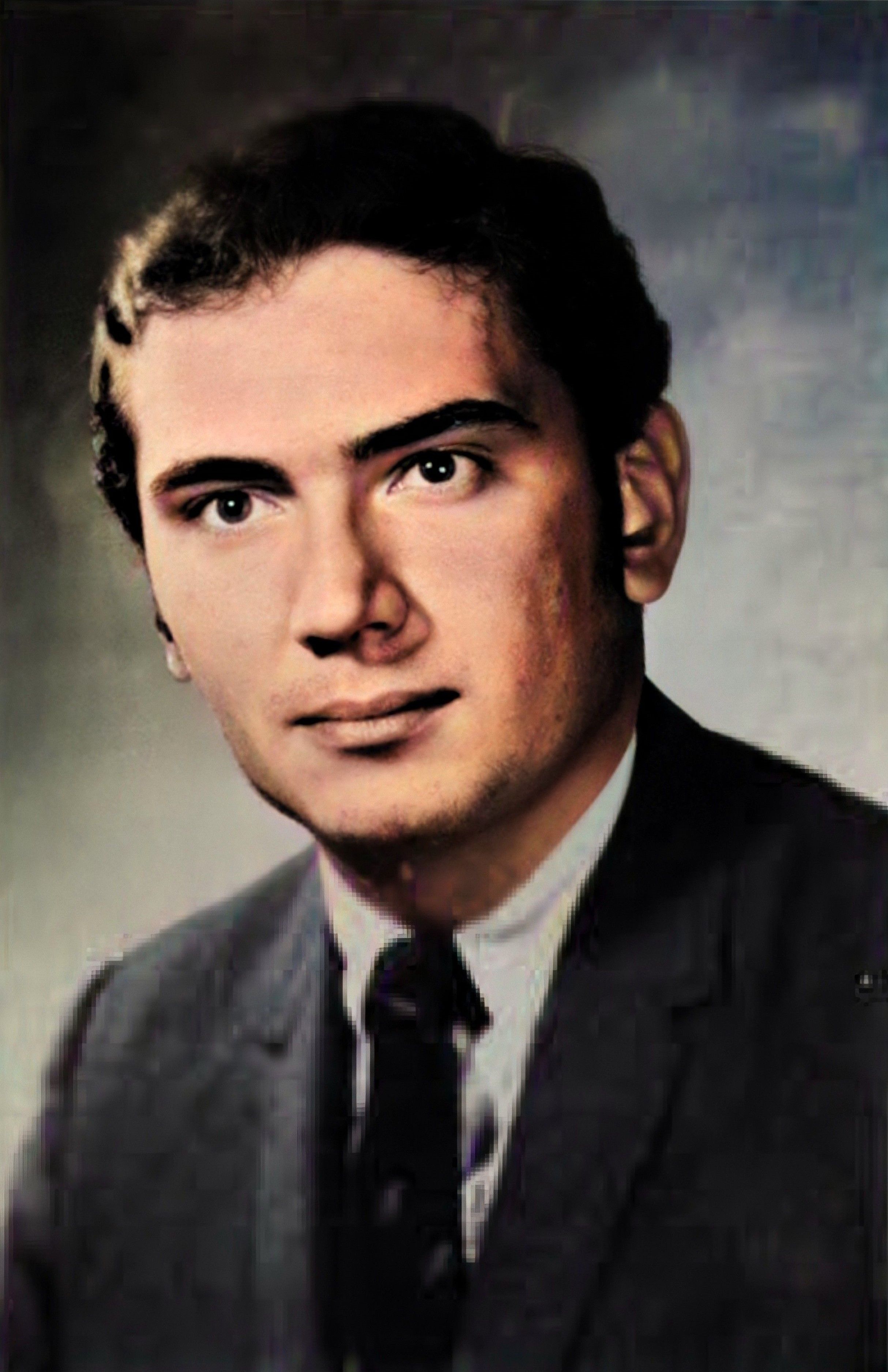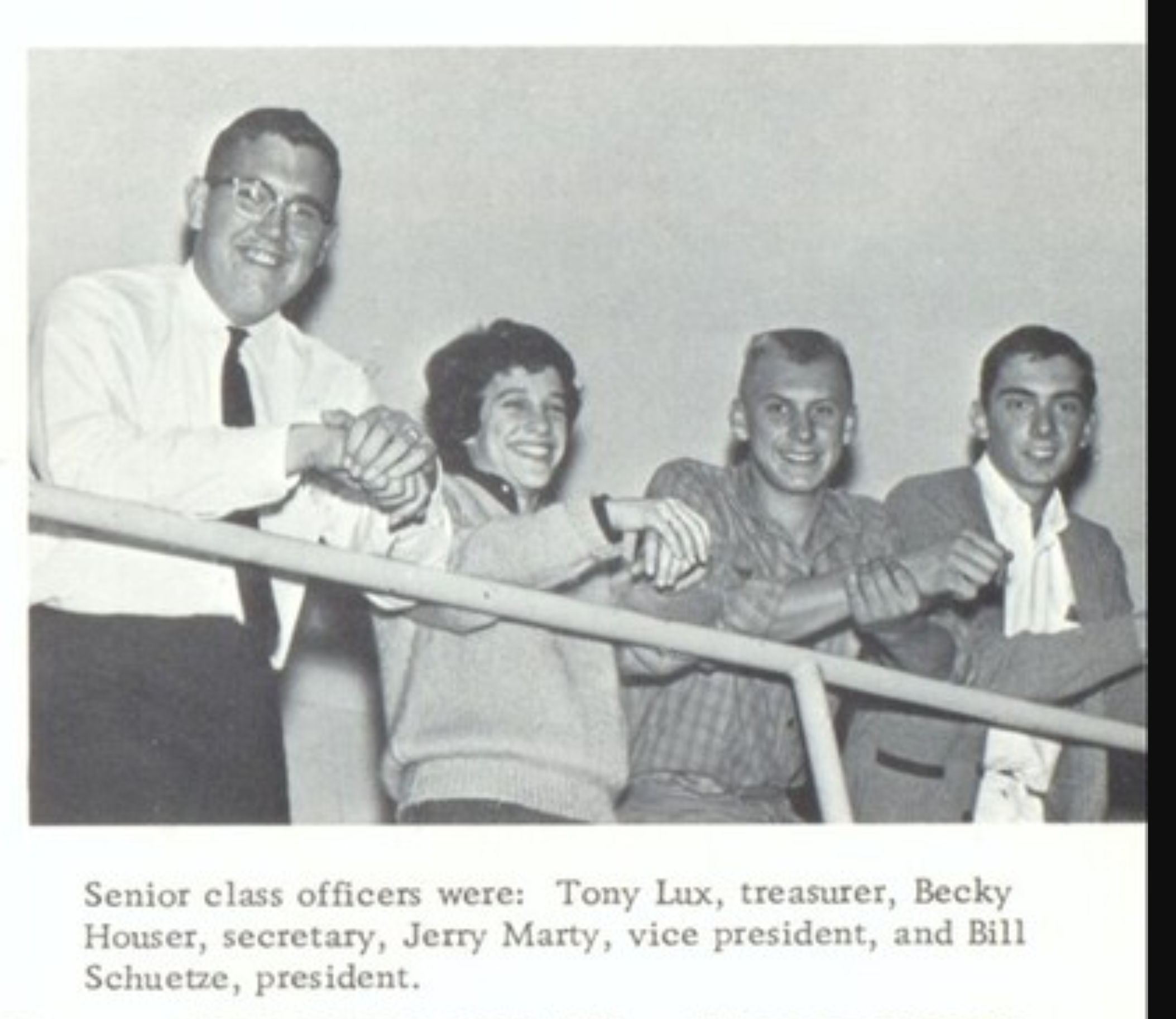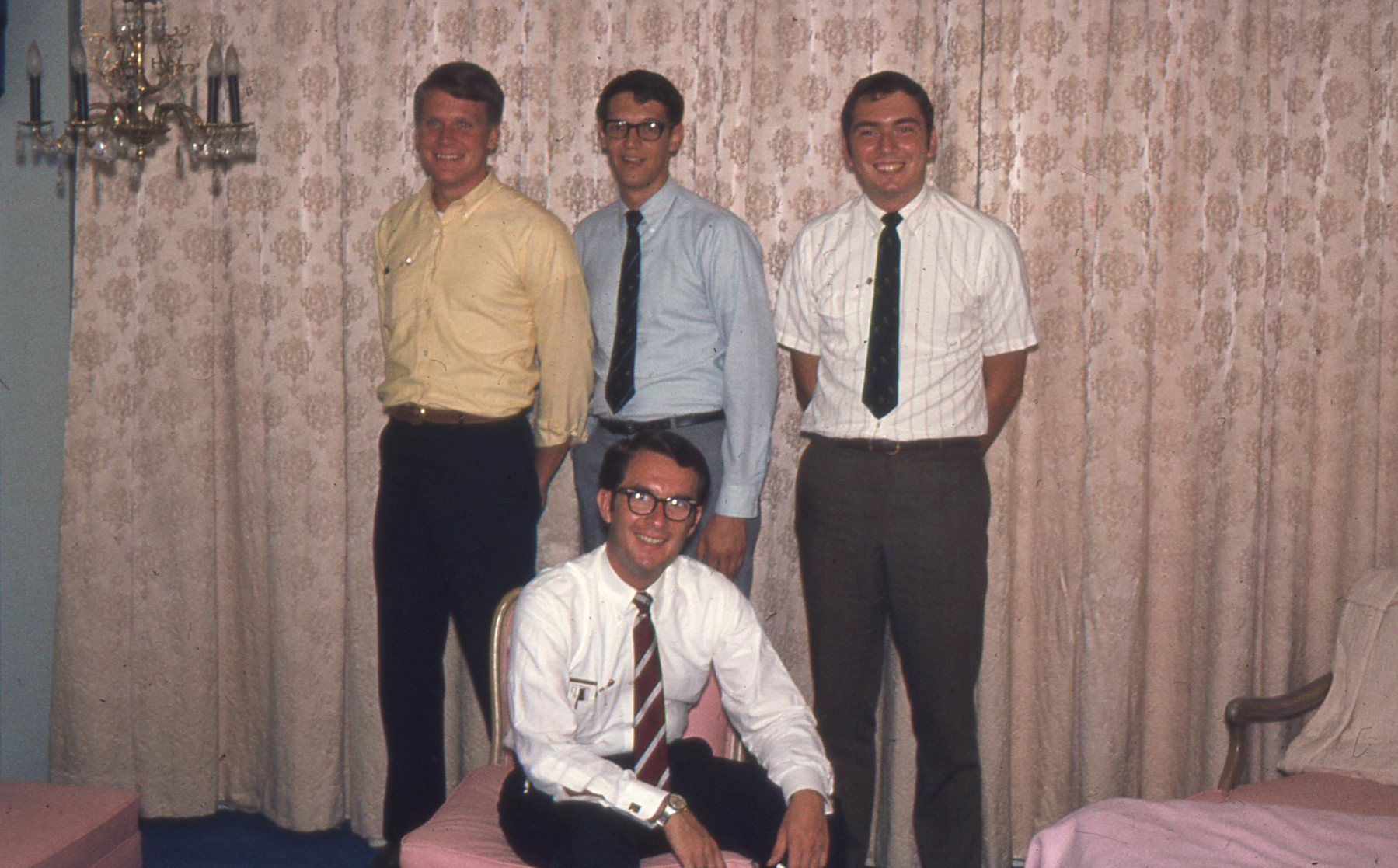 As he was finalizing his degree, Bill decided to interview for a Field Representative position with Theta Chi and traveled to Chicago where he met outgoing Executive Director George Chapman and incoming Executive Director Howard Alter. Hitting a home run during his interview, Bill agreed to accept the position and travel before going into teaching or law school.
Thinking his last name would be too complicated as he traveled, he took on the family name of 'Hawley' before hitting the road. Bill's service to the International Fraternity began in the summer of 1968, at the 112th Anniversary Convention in Miami Beach, FL, just prior to the start of the fall semester. Before the event began, he saw and "was greeted by an incredibly good-looking and articulate member, who drove the same kind of car – just a cooler model." Schuetze groused to himself, "Holy cow – how am I ever going to compete with that?," but soon became fast and lifelong friends with the new Field Man from New Jersey and Duke University – by the name of Dale Slivinske.
Following his service on the Field Staff, Bill attended law school at the University of Kentucky and earned his J.D. in 1972. He also volunteered as a Regional Counselor from 1970-1976, his service starting while he was in law school and continuing through the Installation of Eta Beta/Eastern Kentucky and Eta Gamma/Morehead. Though he had been displaced from Wisconsin, the Kentucky bluegrass and the genteel surroundings were quite hospitable, and Bill ended up establishing his own old Kentucky home. He became co-owner of Hawley-Cooke Booksellers in Louisville and would later serve as the President of the University of Kentucky Alumni Association from 2008-2009.
After recruitment efforts from Wes Wicker, Bill joined the board of directors for Theta Chi Funds for Leadership and Education, Inc., the Fraternity's then-public foundation, and ultimately served as President from 1991 to 1996, providing leadership and encouragement for the Fraternity's very first successful. capital campaign.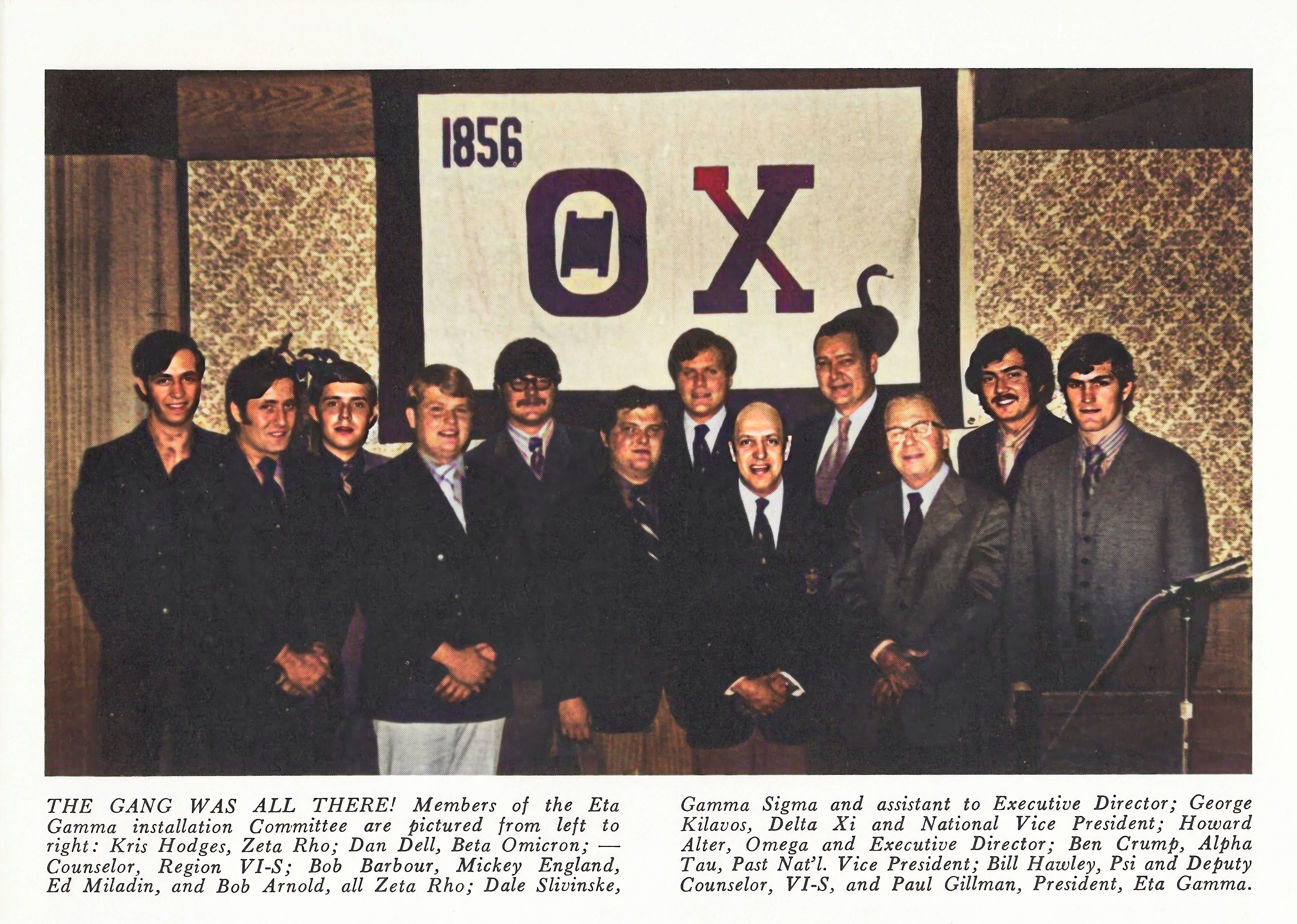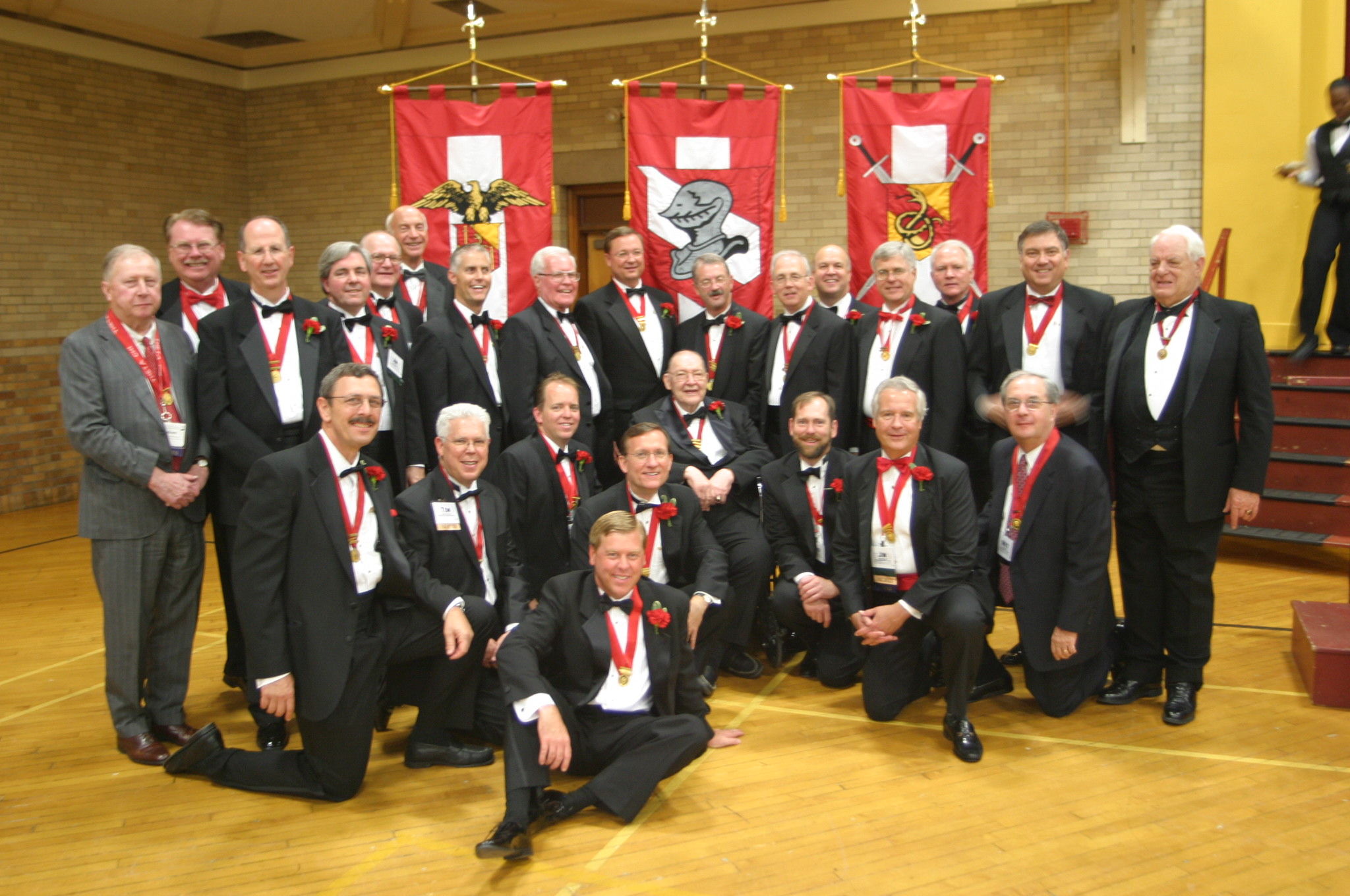 Despite his love for Kentucky, Bill relocated to Augusta, GA, to assist his son with his burgeoning real estate business. While he went about selling properties, he remained in touch with the Fraternity and proudly returned to Madison for the reinstallation of Psi Chapter in 2011, the grand opening of its chapter house in 2016, and the chapter's centennial in 2019.
Bill continued to place calls to the International Headquarters to proclaim the Fraternity's need to grow and extend the opportunity of the Theta Chi experiences to new campuses – and to continue to revive fallen chapters along the way. It is still unknown if Brother Schuetze would rather see an active Theta Chi chapter in the Fraternity's home state of Vermont or a bag of Grandma Utz potato chips for sale in Georgia. As a Midwesterner fond of salty snacks and ice cream, both rank high on his list.
When it was discovered there may be an opportunity for Theta Chi to expand to the University of South Carolina in Columbia, Brother Schuetze traveled from Augusta to share the Theta Chi gospel with university administrators, IFC officers, collegiate students, Theta Chi alumni, and nearly anyone who would stop and listen. He would ultimately meet with and support and encourage alumni volunteers and colony members and continued to give advice, counsel, wisdom and praise as they earned their charter to become Iota Phi Chapter – and beyond.
Theta Chi could never find a gruffer, curmudgeonly champion. One who will point out areas where we can improve all while extending a Helping Hand to help the staff or other volunteers get to the finish line. We are proud to say Schuetze is our gruff curmudgeon. And he will remain our champion for as long as he remains with us.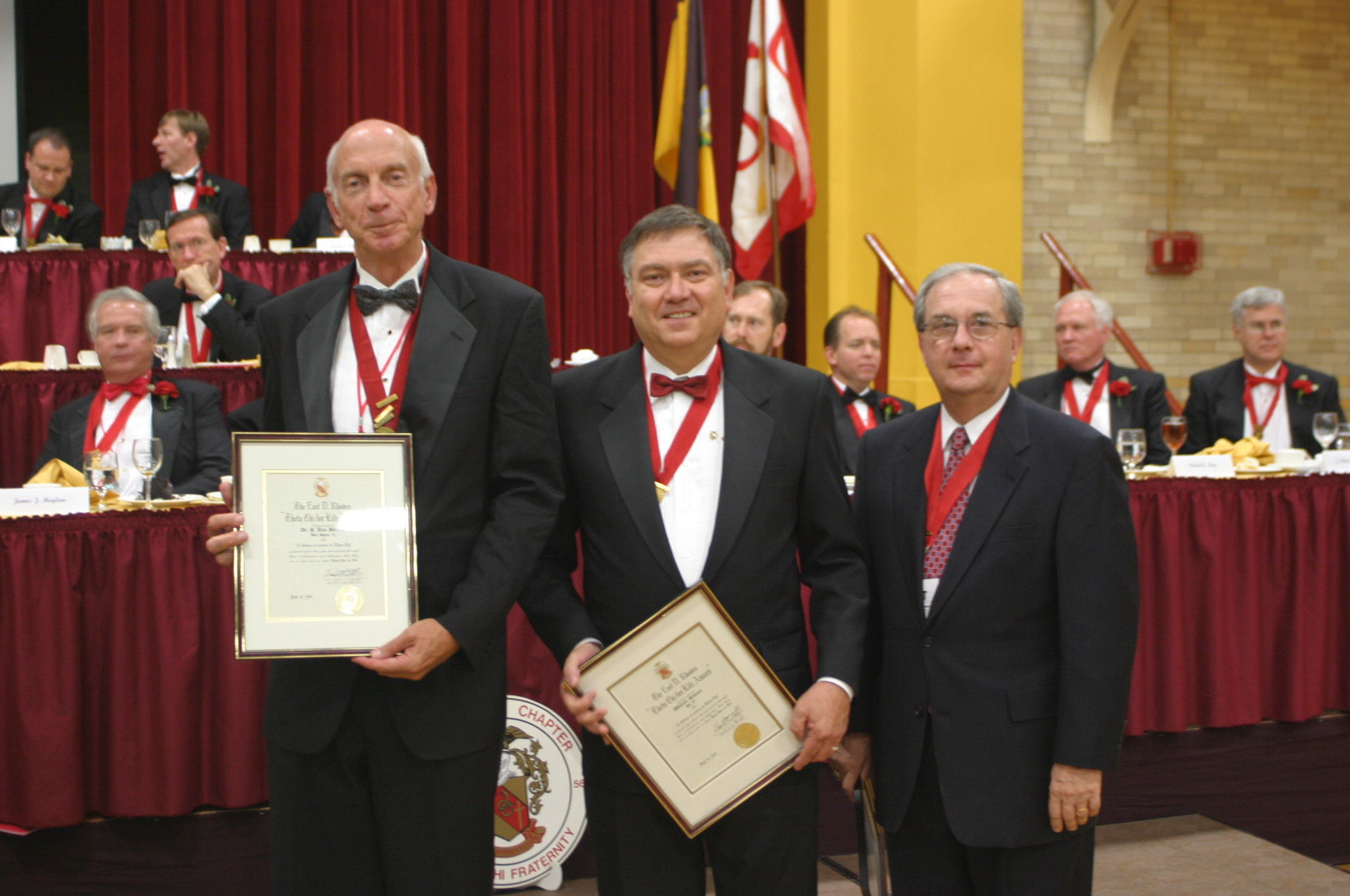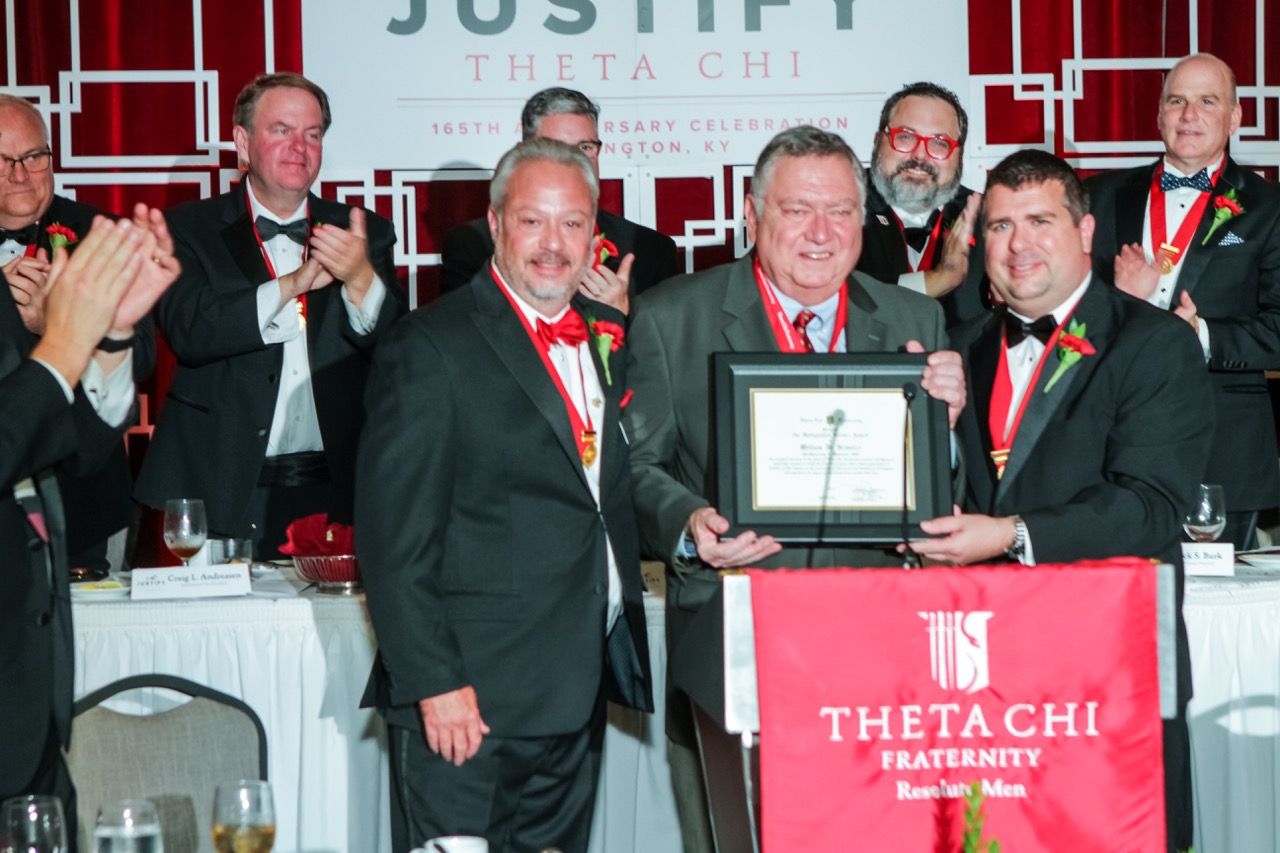 Brother Schuetze's award was presented (to his complete and utter surprise) during the awards and recognition banquet during the Fraternity's 165th Anniversary Celebration held in his beloved Lexington, KY, on July 31, 2021.
The citation covering his award reads as follows:
As a Field Representative who traveled with the late Dale A. Slivinske, Brother Schuetze made his mark visiting chapters in cooler climates while graciously debating Executive Director Howard R. Alter, Jr. His leadership as President of Theta Chi Funds for Leadership and Education, Inc. along with his steadfast devotion to the ideals of Theta Chi, his generous service, and legacy of brotherhood built the foundation upon which future generations of brothers of Psi Chapter at the University of Wisconsin and brothers of all chapters will experience the impact of our Fraternity within their lives.
Walt Davis had the distinction of serving as Brother Schuetze's supervisor at the Executive Office in Trenton, NJ. Walt recalls, "Bill was hired as a Field Secretary when Theta Chi's office was located at 436 Broad Street Bank Building in downtown Trenton. He had difficulty locating it as that building as it was on State Street…" Walt continued, "As we got to know each other, I quickly learned Bill had a hard-working ethic and he was always respected by all for his incredible intelligence. Supervising Bill was not easy as he was usually one step ahead of me. As the years went on, we again served Theta Chi when Bill was the key person for Theta Chi Funds. We are good friends and have remained on contact for over 50 years always finding time to meet up at many Conventions." He concluded, "As an alumnus, when asked if he could do something for Theta Chi, he always said 'yes' – I do not think that the word 'no' is in his vocabulary. He is a strong man who has faced incredible challenges with grace."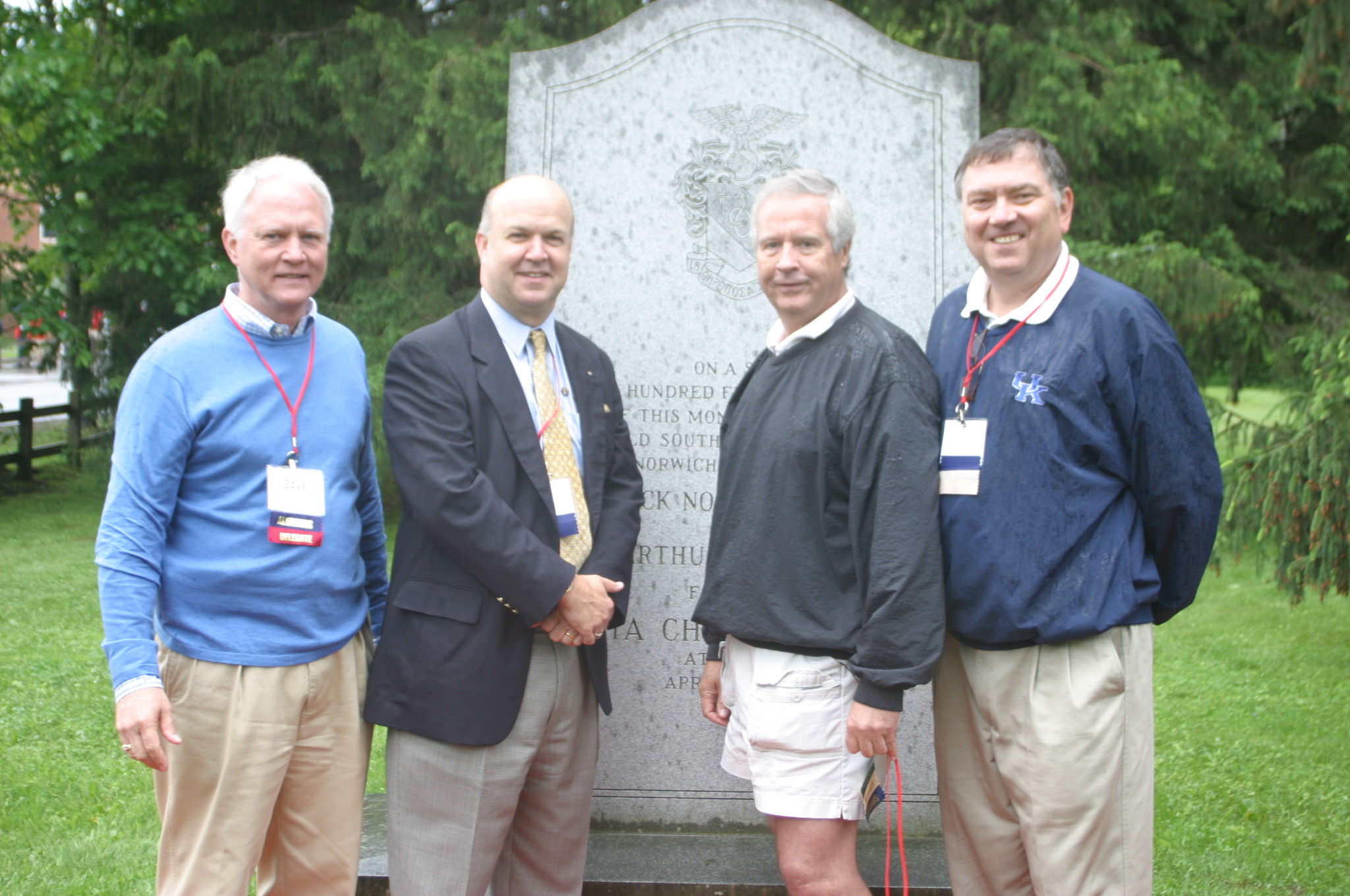 "Brother Schuetze is nothing short of an eternal compass for Theta Chi…From frigid winters in Edmonton, AB, to the coastal haven of Trenton, NJ—collegiate beginnings in Madison, WI, and graduation in Lexington, KY…His sights and experiences create perspective, and his perspective serves as a constant—a constant for his friends, family, and brothers. Bill's support of and value to our Fraternity are invaluable, as a most deserving DSA recipient. We're all better for knowing him—congratulations Brother Schuetze!" – Chief Operating Officer Ray Vanlanot
"I was thrilled to hear Brother Schuetze was a recipient of the DSA because he is the last person who would ever "expect" to receive it. Hard working, a true Theta Chi for life, volunteer board member, Regional Counselor, staff member, and chapter adviser, Bill has helped at every level of fraternity life. Congratulations!!!" – Al Calarco
"As Chairman of Theta Chi Funds, Brother Schuetze led the first capital campaign that laid the foundation for significant scholarship support for Theta Chi Fraternity. In the 30 years since, he still remains active and has added his counsel and enthusiasm to several members and chapters of Theta Chi." – Warren Hoffman
Former Theta Chi Funds Chairman Neil Volant said, "Bill Schuetze exemplifies the truth in 'Theta Chi for Life'. His leadership of Theta Chi Funds in its infancy laid the Foundation (pun intended) for its growth and having it become an integral part of what makes our International Fraternity the gold standard among its peers. I am grateful for the time I had serving with him on Theta Chi Funds and for the ability to call him my brother."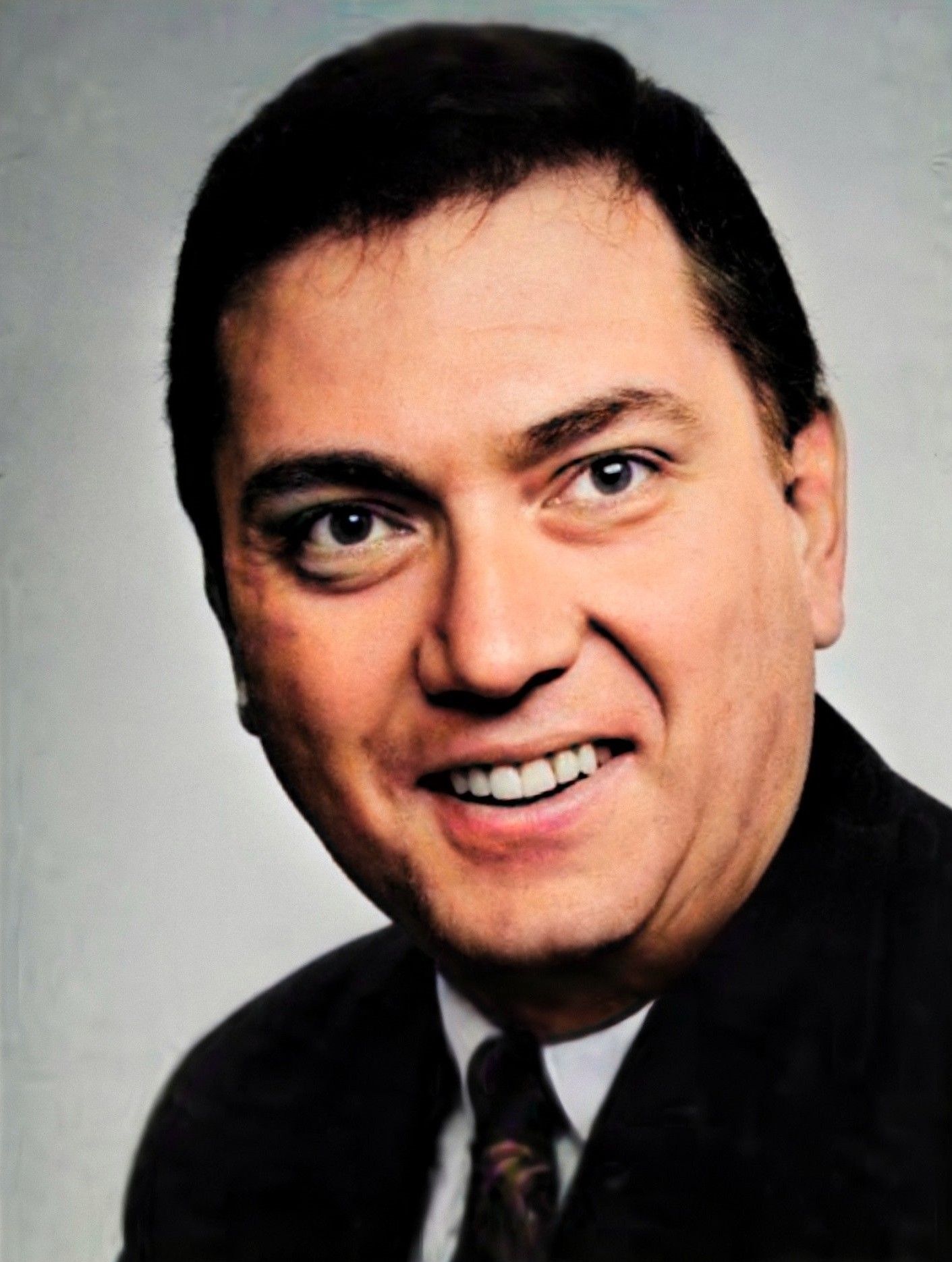 Past International Vice President and former Executive Director Dave Westol shared, "William Schuetze has been that rarest of individuals--a brother for all reasons and through all seasons. His service to Theta Chi has been consistent and spans decades. I don't ever recall him saying, "No, I don't have time for that." His wisdom has been displayed in a variety of ways including, Priorities for Progress -- a monogram for Theta Chi co-authored by Bill, Dale Slivinske and Ed Jacobson after their service as Field Representatives that still resonates today."
Past International President (and past Foundation Chapter President) Pat O'Connor said, "Brother Schuetze sets the standard for passion about Theta Chi – no one loves our Fraternity any more than does Bill. The Distinguished Service Award was meant for him."
Past Norwich Housing Corporation President (and Past Foundation Chapter President) Wes Wicker stated, "Bill Schuetze first served the Fraternity as a Field Secretary, under then-Executive Director Howard Alter. He reported to then-Assistant to the Executive Walt Davis, also a recipient of the Distinguished Service Award and later, a fellow Foundation Chapter board member. Twenty years after Brother Schuetze traveled for the Fraternity, I recruited him to serve as Chairman of Theta Chi Funds for Leadership and Education, Inc. It was a critical time in the history of the Fraternity, as we had two foundations, one public and one private, both 501(c)(3) organizations. Brother Schuetze chaired the board for two terms for a total of six years. He worked in concert with the Foundation Chapter of Theta Chi, and the two foundations were eventually merged in 2003." Wicker continued, "Brother Schuetze's deft leadership of the foundation came at a time of much change in the International Fraternity. We had just transitioned our headquarters from Trenton, NJ, where we'd been officed for more than 50 years, to Indianapolis. I was the first employee of either foundation, and I relied heavily of Bill's experience as both an attorney and a businessman. He was a family man, raising three children, and managing two big-box bookstores at the time. He had plenty on his plate, as he was heavily involved in the community in his adopted hometown of Louisville, KY. But he didn't hesitate when asked to take a leadership role with Theta Chi, and we are a better International Fraternity for it."
Past International President Carlton Bennett:
"Bill and I served on Theta Chi Funds board, the predecessor to the current Foundation Chapter. He did an excellent video for our alumni, and I still have a copy. He was great in talking to our alumni about his positive experiences in the Fraternity, including serving as a Field Rep under Howard Alter. He has some great "Howard " stories. Bill is one of our outstanding Theta Chi brothers and a true gentleman. He deserves this honor."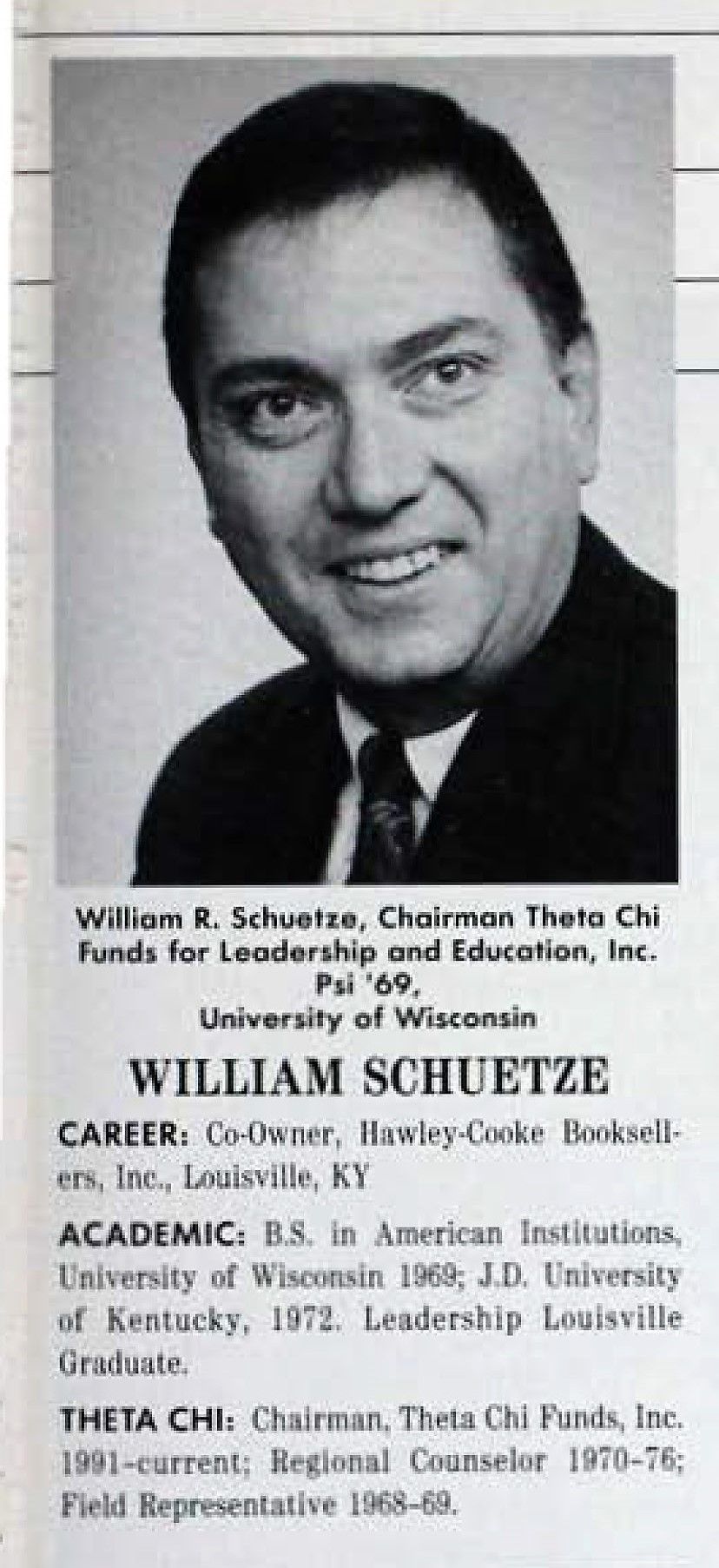 Former Regional Counselor and Psi Chapter Brother Dave Bunzel (1977) said, "I first met Bill at the 116th Anniversary Convention in 1972. He was a Psi Chapter alumnus brother and active in the International Fraternity. Bill was part of the "Monroe Mafia" a group of Psi brothers from this small Wisconsin town, Swiss in heritage and famous for cheese. Upon graduation, he became a Theta Chi Field Secretary, and, after transitioning to his career, he remained an advocate for Psi Chapter in regard to the International Fraternity. Bill was involved in the chapter through many challenges and high points. He was a collegiate brother during the Vietnam War years when Psi nearly closed because of low membership; saw the early years of Ski for Cancer (now the University of Wisconsin's largest student-run philanthropy); saw the chapter's decline in the late 1990s; and proudly witnessed its return to campus in 2012. Through it all, Bill provided wise counsel and perspective and is one of the brothers that has formed the backbone of what is now one of the strongest fraternities at the University of Wisconsin."
Iota Phi/South Carolina Chapter Adviser & CAB President Shick Sabbagha (Beta Psi/Presbyterian 1989) wrote,
"It has been an honor and a privilege to get to know Brother Bill Schuetze over the last eight years in my role as Chapter Adviser at Iota Phi/South Carolina. I first met Brother Schuetze through Brother Warren Hoffman and the IHQ interest group at the University of South Carolina in 2014. Brother Schuetze had an impressive and singular skill at understanding the needs our collegiate members. So often as we were getting the colony started and later as the chapter launched, Schuetze was there to provide support, encouragement, and wisdom along with his keen insights on what works best for our collegiate brothers. Iota Phi is a better chapter for his involvement so early in the process. Simply put, Brother Schuetze's involvement exemplified the heart of Theta Chi and what it really means to be a caring brother in the service of our Fraternity by living a dedicated life as our Founders intended."
We use Brother Sabbagha final paragraph as the segue to our conclusion:
"While most addresses to the attendees at the 165th Anniversary Celebration in Lexington, KY, were inspiring, Schuetze's acceptance speech as the 142nd recipient of the Distinguished Service Award motivated us all to aspire to live a life in service to family, community, and the Fraternity. We justify Theta Chi by holding up Brother Bill Schuetze as a recipient of our Distinguished Service Award."
---
Brother Schuetze's acceptance remarks in Lexington
This is a long overdue attempt to reconstruct this speech I presented in Lexington upon the receipt of my award. It obviously isn't word-for-word, but hopefully at least covers my main points. (At least I hope I have my memory straight…)
1. Advertisement: My senior year at the University of Wisconsin was a year unlike any other. During my spring semester in 1968, the Tet Offensive took place in Vietnam which signaled that the war was not going to be over soon and had only intensified. Then both Bobby Kennedy and Martin Luther King were assassinated. The world and my world were in turmoil. I guess I was looking for a safe harbor and found it when I was accepted for the position of Field Secretary with Theta Chi Fraternity. It turned out to be one of the most memorable years of my life. So, in looking back, I find that I can almost reconstruct that year in my memory on a daily basis. Traveling around the United States, then to the Province of Alberta, Canada, was exciting and rewarding at the same time. It is my understanding that Theta Chi is presently looking for young members of the fraternity to fill the position. I simply cannot urge enough that recent graduates consider spending a year or two working for the Fraternity. It will be a decision that they will always value as a correct one.
2. Gratitude: In the fall of 1965, I pledged Theta Chi at the University of Wisconsin. One of the reasons I pledged was they verbally stated they had the mildest hazing program on the campus. I had always instinctively hated the concept of hazing, regarding it as nothing short of bullying. It is hard to believe in 2021 that the statement given to me could be viewed as a positive. I am so grateful that the leadership of Theta Chi Fraternity has been at the absolute forefront of the movement to eradicate the horrendous practice of hazing from the collegiate fraternal world. The men who led this effort need to be honored and congratulated. I am personally grateful to them.
3. Welcoming of Diversity: As I look out on this room this evening, it is evident that this fraternity does not resemble the fraternity that I gazed upon at my first Convention at Miami Beach in 1968. Clearly, Theta Chi has become much more diverse, much more inclusive, and much more welcoming. Again, this is such a positive step forward, and again, Theta Chi's leadership must be commended for their efforts in this area. We are a far better fraternity today because of this vision. My own experience was greatly enhanced because the chapter I joined was, for its time, one of the most diverse on the Madison campus. I made lifelong friends with men who came from completely different backgrounds than I did. Theta Chi will move forward and prosper in the 21st Century because we are no longer a closed society.
4. Challenge: I am obviously one of the very oldest members of Theta Chi in attendance at this Celebration. The fraternity I joined in 1965 was an old and proud organization, built on strong and good values and traditions. It also, in the last 50 years, has grown and evolved into a much better fraternity and a much stronger fraternity. It has become a major contributor to the growth of men on a large number of campuses. Because it chose to grow and evolve over the last 50 years, we are assembled tonight as representatives of a positive organization in American higher education. My challenge to you, the collegiate brothers in attendance this week, is to commit yourselves to the next 50 years of contributing to and working for an even better Theta Chi. It cannot happen without the leadership of dedicated alumni such as the ones who are represented in this room this evening. These are the men, among many others, who have brought Theta Chi forward. You, the brothers of today, will be the ones who shape its destiny in the next 50 years. I wish you well.
Thank you from the bottom of my heart for this fabulous award. I am not sure I deserve it, but, I surely am not going to give it back.
Vive Le Theta Chi.
- Bill