York Colony Established as Theta Chi's Second Canadian Group
One of Theta Chi's newest colonies—and second-ever group to organize in Canada—was officially established on September 25, 2022, at 2 p.m. in Toronto, Ontario. The York Colony consists of the following young men who pledged their desire to become members and a chapter of Theta Chi:
Davae Adams (2024)
Kian Afrah (2024)
Krish Agarwalla (2026)
Joshua Cambranes (2025)
Ethan Grossi (2024)
Kiarash Javdani (2024)
Nick Konstantakopoulos (2025)
Mihir Tandon (2024)
Rene Toth (2025)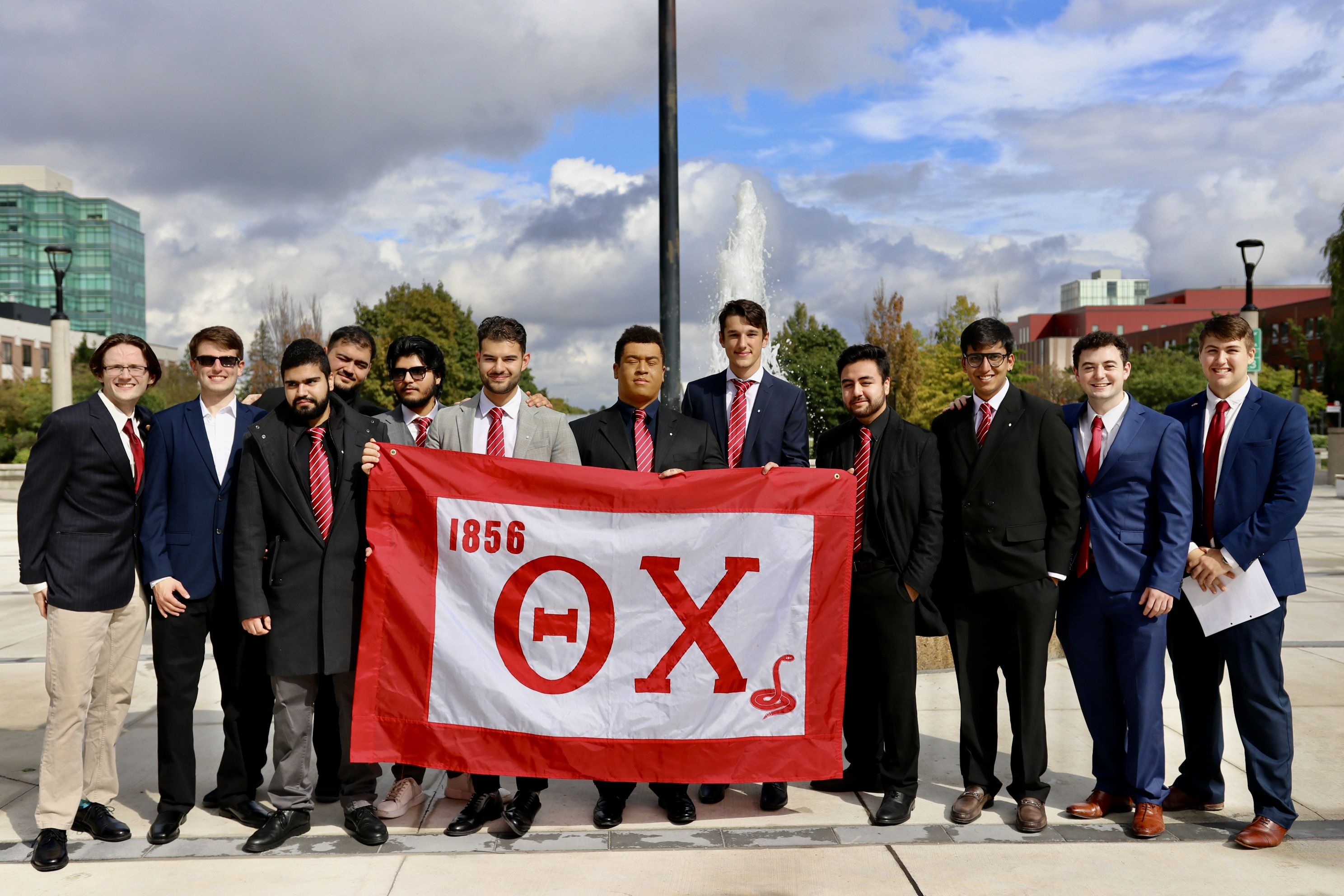 Aziz Osmani (2024), Jacob Plozaj (2024), Joomin Youn (2026), and Tony Zidan (2026) pledged at a separate ceremony at a later date.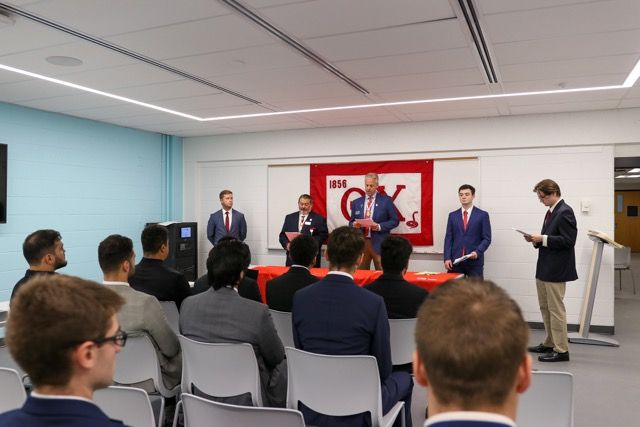 International Treasurer Tom Thompson served as the Presiding Officer for the ceremony and was assisted by International Counselor Rich Santoriello. Collegiate members from Gamma Pi Chapter at Buffalo were also in attendance and assisted with the Colonization Ceremony, including Alex DeAgnelis (2025), Matt Gangloff (2024), Aidan Murphy (2024), and Ben Paveljack (2024). Chief Operating Officer Ray Vanlanot and Director of Communications Dalton Fischer represented the International Headquarters.
Adams, the current Vice President of the colony, laid the foundation for the original York Interest Group. He and the other recruits were brought together from shared interests of culture and values—ones they were not able to find in other fraternities on their campus at York University. Thus, the idea to start their own fraternity was born.

Colony President Mihir Tandon explains this desire further. "Fraternities across North America have a notorious stereotype," he begins. "We have never seen a fraternity show the values we want to see in the people we surround ourselves with. Something felt missing from our college experience—we want to be more than a group of guys who do the same things as other fraternities."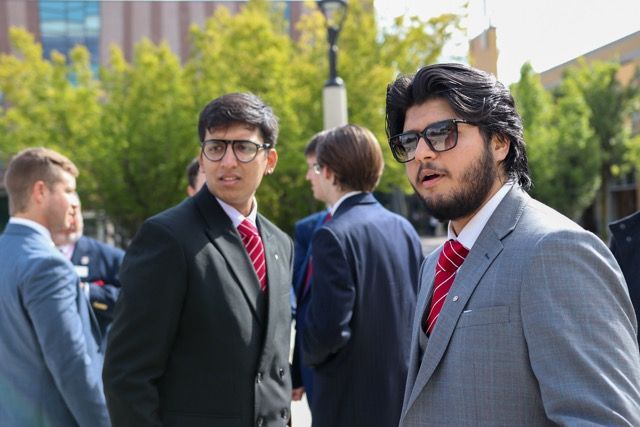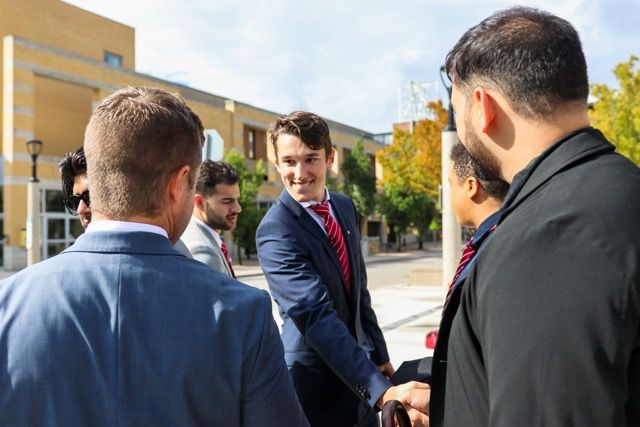 Senior Director of Growth Zack Brown details the first conversations he had with the group, noting a clear path to a successful installation and future. "The group approached Theta Chi in late December 2021," describes Brown. "We began having conversations with a small group of individuals as they continued to recruit throughout the 2022 school year. Since many in the group are international students, they all wanted to wait until school was back in session in the fall of 2022 to conduct their Colonization Ceremony. The colony has a bright future and huge opportunity at a commuter-based school to keep students engaged on their campus.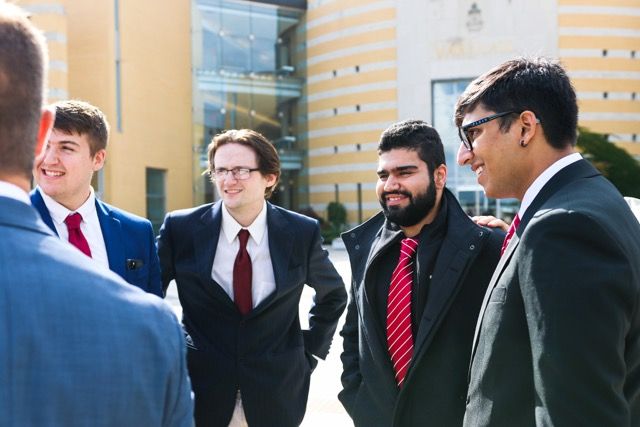 When comparing Theta Chi to other fraternities the group could have petitioned, the Fraternity's ideals of Truth, Temperance, and Tolerance were regarded highest by the group. Further, the group has familiarized themselves with the Fraternity's motto, creed, and ideals, which they not only wholeheartedly accept, but pride themselves in. Further appealing to the group is the Fraternity's presence internationally, with alumni located all across the world and the history of the already-established Zeta Gamma Chapter in Edmonton, Alberta.
With no assistance from their university, the interest group relied on each other to grow and spread the word. Through this challenging process, the group identified the strengths of its members, preparing themselves for becoming a colony, all during a pandemic.

"Devoting time to the Fraternity was certainly a challenge," said Tandon. "Finding a balance at a time when the rest of the world seemed to recover at a faster rate than Canada and the group losing members affected our morale. In the end, we persevered and found the courage to keep going. Yes, we thought about quitting, but could never do it—we came too far to stop."

During the colonization, Tandon describes the ceremony as being surreal, with collegians from Gamma Pi Chapter in attendance, along with members of the Grand Chapter and the Headquarters staff coming from different parts of the United States. "Imagine multiple Theta Chi brothers moving in unison across a room shuffling furniture and applying everything this Fraternity claims in practice," Tandon explains. "The feeling of belonging and support from the Grand Chapter, IHQ staff, and [Gamma Pi Chapter] was overwhelming. Throughout now, we've had to figure things out by ourselves—this was not the case anymore. We had other Resolute Men assisting us. After all our trials and tribulations, here we were…"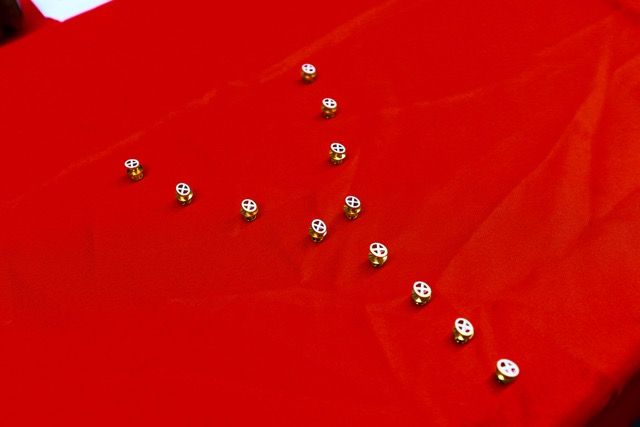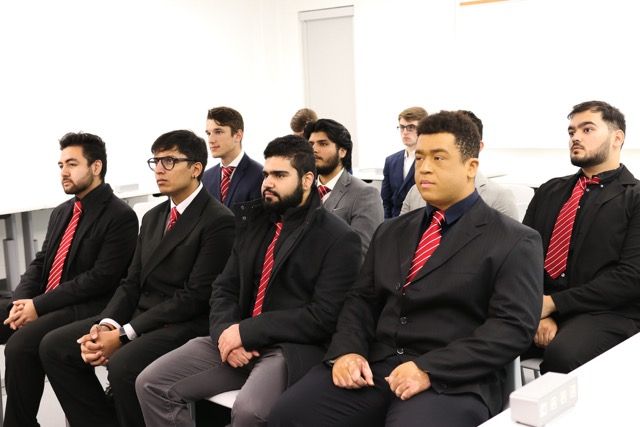 Now a colony, the group's next step is further growth and installation. Growth to Tandon, however, is more than just numbers. "The purpose of this organization has always been to give back. Before installation, we want to significantly increase our influence and size, become part of more organizations at our university, and prove that fraternity culture can thrive in Canada with the right intentions and discipline."
"This will hopefully open doors for other opportunities to grow the Fraternity internationally," exclaimed Brown. "The York Colony has a big challenge ahead of them, but if they work hard and become our second chapter in Canada, they will prove how successful chapters can be in the country. There are numerous higher education institutions in Canada—this may be the catalyst for Theta Chi to expand to these campuses."
Notes of Congratulations may be sent to York Colony President Mihir Tandon here.
Be sure to follow York Colony's Instagram to keep up with all of their accomplishments, milestones, and hopeful installation as a chapter of Theta Chi Fraternity.