Zeta Omicron/Shippensburg Reinstalled
Shippensburg, PA – On November 17, 2019, Theta Chi reinstalled the Zeta Omicron Chapter at Shippensburg University after a 30-year absence. The Fraternity now boasts a total of 11 active chapters in the Commonwealth of Pennsylvania.
Zeta Omicron alumnus Joseph Carothers (1976) was serving on Shippensburg's Alumni Association board and believed in the usefulness of fraternities and wanted to bring Theta Chi back to the University. Through conversations with school board members, Carothers was able to secure an invitation for Zeta Omicron to return. Following initial recruitment efforts by a brother who had recently transferred to Shippensburg University, the International Headquarters staff provided further guidance and assistance to the emerging interest group. When the group reached a total of 16, they were officially recolonized as the Zeta Omicron Colony on February 4, 2017.
After colonization, despite challenges within the school and the Greek community, the members successfully built upon their foundation. They became involved with the community by helping to restore a greenhouse at a local elementary school, held a clothing drive to benefit the Salvation Army, and helped the Chesapeake Bay Foundation in planting trees to raise awareness about environmental health.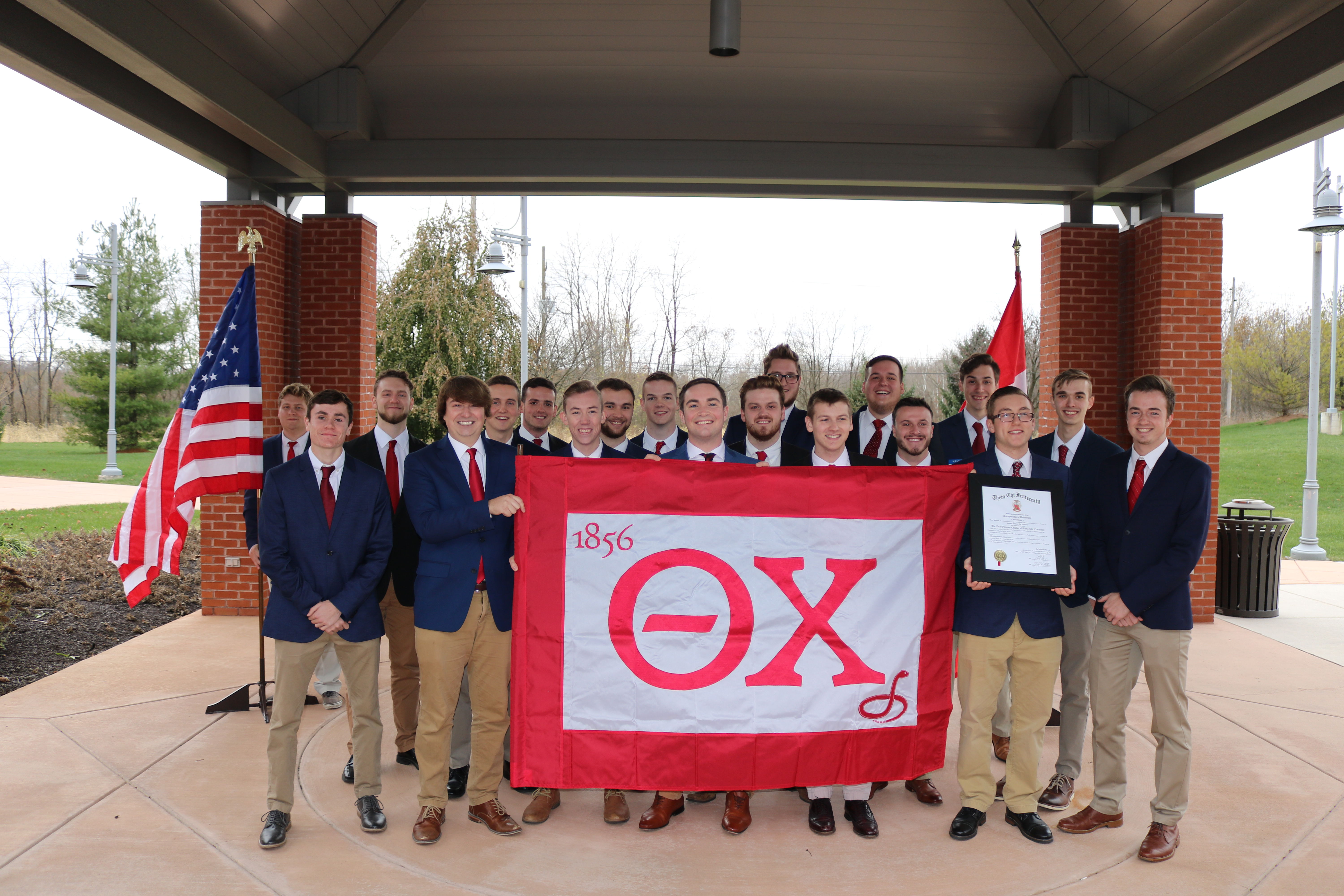 The men supported Chapter Adviser Bob McCurdy, a first-grade teacher at a local elementary school. Several brothers in ROTC put 550 students through boot camp for a Veterans Day program. Each brother came to his school to read with first graders during Read Across America Week to celebrate Dr. Seuss' birthday. Several of McCurdy's colleagues complimented the brothers and said that their interactions with the students were more mature and professional than some of the student teachers who they had worked with. They supported McCurdy with other projects and even helped an alumnus move into his new home.
Colony members had group meals in the on-campus dining hall at least once a week and held brotherhood bonding events following colony meetings each Sunday.
In the spring 2019, the colony held their first G.I. Theta Chi event and hosted a chili cookout. Many people came out to support and some even donated without wanting any food.
Members of the colony attended different Theta Chi events and learned about recruitment, scholarship, and leadership in the Fraternity to improve their operations.
The brothers became involved in numerous areas on campus, including: Accounting Club, Adventure Club, Alpha Kappa Psi Business Fraternity, Book Club, Chemistry Club, Club Boxing, Club Hockey, Club Soccer, College of Arts and Science Student Advisory Board, College Republicans Club, Disc Golf Club, Exercise Science Club, German Club, International Studies Club, Intramurals, Management Information Systems Club, National Society of Leadership and Success, Networking Club, Psychology Club, and Ski and Snowboard Club.
The men continued to focus on improving their academics and recruiting men who would be a benefit to Theta Chi. All their efforts culminated with the Zeta Omicron Chapter being approved by the Grand Chapter for reinstallation.
The Reinstallation Ceremony was held at the Conference Center at Shippensburg University, with past International Vice President Joe D'Amore serving as the Presiding Officer. Present and past Headquarters staff in attendance included Chief Communications Officer Ben Hill, Chief Operating Officer Ray Vanlanot, Director of Chapter Development Mitch Nolan, Field Executives James Jackson and Daniel Mendoza, former Director of Business Services Bob Moses, and former Field Executives Matt Lynch and Colin Ogle. CAB Ambassadors Al Copeland and Kevin Krepinevich were also in attendance as were four collegiate brothers from Epsilon Rho/Rider.
Zeta Omicron alumni in attendance included original Charter Member Scott Johnston (1969) as well as Leonard McNabb (1970), John Appleby, III (1970), Stephen Miller (1972), Steven Clauser (1974), Michael Dymkowski (1974), Joe Carothers (1976), Richard Weber (1987), and Bob McCurdy (1988).
In all, 31 brothers representing 15 different chapters came to reinstall Zeta Omicron. The 15 different chapters represented include Omega/Penn State, Alpha Iota/Indiana, Alpha Chi/Syracuse, Delta Psi/Kansas, Epsilon Delta/Youngstown State, Epsilon Rho/Rider, Zeta Alpha/Slippery Rock, Zeta Beta/Adrian, Zeta Omicron/Shippensburg, Zeta Pi/Old Dominion, Zeta Rho/Kentucky, Eta Kappa/James Madison, Eta Pi/East Stroudsburg, Eta Psi/UAB, and Theta Epsilon/Kennesaw State. Each brother who attended became an Honorary Member of Zeta Omicron Chapter.
Twenty-four of the 30 Rechartering Members were present for initiation: Andrew Aumen (2020), Brett Blackburn (2020), Drew Breuning (2022), Nicholas Desmond (2020), Jacob Dietz, Steven Dorsey (2020), Brandon Ekstrom (2022), Nicholas Engle (2020), Matthew Hinkley, Logan Kane (2022), Tyler Learn (2020), Bryce Marquard (2020), Alexander Mayer (2019), Trent McPherson (2021), Jacob Neil (2020), Cody Nelson (2020), Seth Orndorff (2021), Lance O'Rourke (2022), Hunter Perrin (2022), Patrick Reed (2022), Chase Runyan (2022), Thomas Smith (2020), John Statham (2020), Jackson VanHorne (2021), Cameron Vuono (2020), and Jason Wigfall (2020). One member is a Theta Chi legacy – Jake Neil is the son of John Neil (Zeta Omicron/Shippensburg 1988). The remaining members who were absent were committed to other obligations such as ROTC or work. Those members will be initiated at a later date by their Zeta Omicron brothers.
A reception was held following the reinstallation at the same site. Attendees included those listed along with family and friends of the new brothers. A key feature of the reception was an historical display of composites, photos, memorabilia, and other items from the original Zeta Omicron Chapter.
During the reception program, Mitch Nolan served as emcee and invited brothers to present remarks. Joe Carothers gave a brief history of the group and challenges that they had overcome; Chapter Adviser Bob McCurdy discussed the members' efforts in volunteering and their personal growth; Chapter President Bryce Marquard and President-Elect Logan Kane celebrated their achievements and accomplishments as a colony and announced goals for the future; Army veteran Richard Weber recognized Zeta Omicron alumni in attendance and discussed Theta Chi for Life; Field Executive Daniel Mendoza reviewed initiation week and challenged the members to remain involved; Rattle Editor Ben Hill presented a special gift: a vintage Theta Chi Shippensburg license plate that had been stored at the International Headquarters and requested that each new Chapter President sign it and pass it on to their successor; and Past International Vice President Joe D'Amore congratulated the brothers of Zeta Omicron and encouraged them to remain true to each other and to Theta Chi.
The chapter also presented local awards to the following brothers:
Brother of the Year – Bryce Marquard
Scholar of the Year – Andrew Aumen
Assisting Hand Award – Jake Neil
Most Involved Award – Seth Orndorff
Bryce Marquard stated, "I'm very proud of the brothers of Zeta Omicron Chapter and I look forward to see the future impact we make on the Shippensburg campus and community."

"The men of Zeta Omicron worked hard throughout their Initiation Week and learned more not just about each other but themselves as well," said Field Executive Daniel Mendoza. "It was such a pleasure to watch them grow over the week and see true joy on their faces on Sunday after the ceremonies; more so holds true on the alumni that were in attendance in the ceremony, including those from the original Zeta Omicron chapter."

Logan Kane reflected on the day and shared, "It was amazing to finally hold our charter. It certainly was a group effort to get to this goal - it wasn't just one man. When I came up to speak, I didn't use my notes because a great Theta Chi who spoke before me, Bob Mccurdy, said to always speak from the heart, so that's what I did. I was so very proud to look around the room and see Theta Chi brothers from 30 years ago and everywhere in between, all united with me and the newly initiated members of Zeta Omicron Chapter."

Congratulations to our new brothers of Zeta Omicron/Shippensburg!
Congratulatory notes may be sent to via email to Bryce Marquard.
You can follow the progress of Zeta Omicron Chapter via their Facebook, Twitter, or Instagram accounts.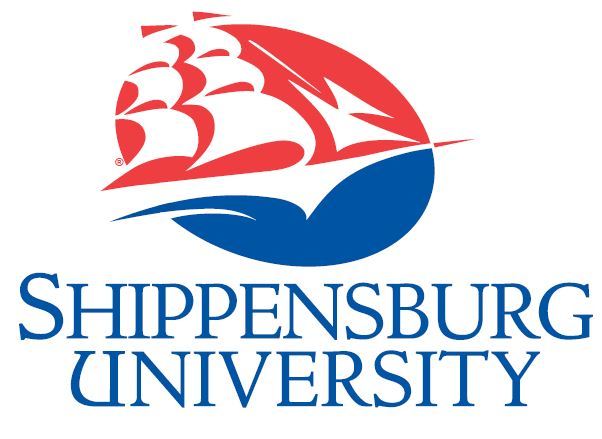 Located in southern Pennsylvania in Shippensburg, PA, Shippensburg University is one of the 14 state universities a part of the Pennsylvania State System for Higher Education (PASSHE). Originally founded in 1871 as the Cumberland Valley State Normal school it is home to more than 7,000 collegians. Shippensburg has been rated by U.S. News & World Report multiple times as one of the best public schools in the northern region. Known as the Raiders, Shippensburg is an NCAA Division II school that competes in the Pennsylvania State Athletic Conference (PSAC).

Founded in 1856, Theta Chi Fraternity is a men's collegiate fraternity with more than 191,000 initiated members and has established 241 chapters. Leadership development, personal development, and service to alma mater are fundamental to Theta Chi Fraternity's mission.