A Zeta Psi OC's 8 Tips for Young Coaches
Currently in his third year as the offensive coordinator at Kansas Wesleyan University, Zeta Psi/Western Illinois Rechartering Member Mike Famiglietti (2015) recently spoke with AFCA Insider and provided eight tips for young coaches who wish to develop to be the best they can be. The following tips originally appeared in AFCA Insider and can be found here.
The early years in coaching, no matter the level, feature a steep learning curve with a lot of trial and error. In the years leading up to the first opportunity to be a coordinator, there were many stressful moments where I either made a mistake or was unprepared for the situation at hand. Every moment of success or failure allowed me to grow as a coach because of the help from the more experienced coaches around me. Learning from others who had the experience I lacked has been the main thing that has helped me grow as a coach. Helping others, both players and coaches, is what this profession is about. That is exactly why I want to share eight of the tips my coaching mentors gave me to grow through my journey as a quality control assistant, graduate assistant, assistant coach, and coordinator. I work to apply these eight things to my everyday coaching philosophy.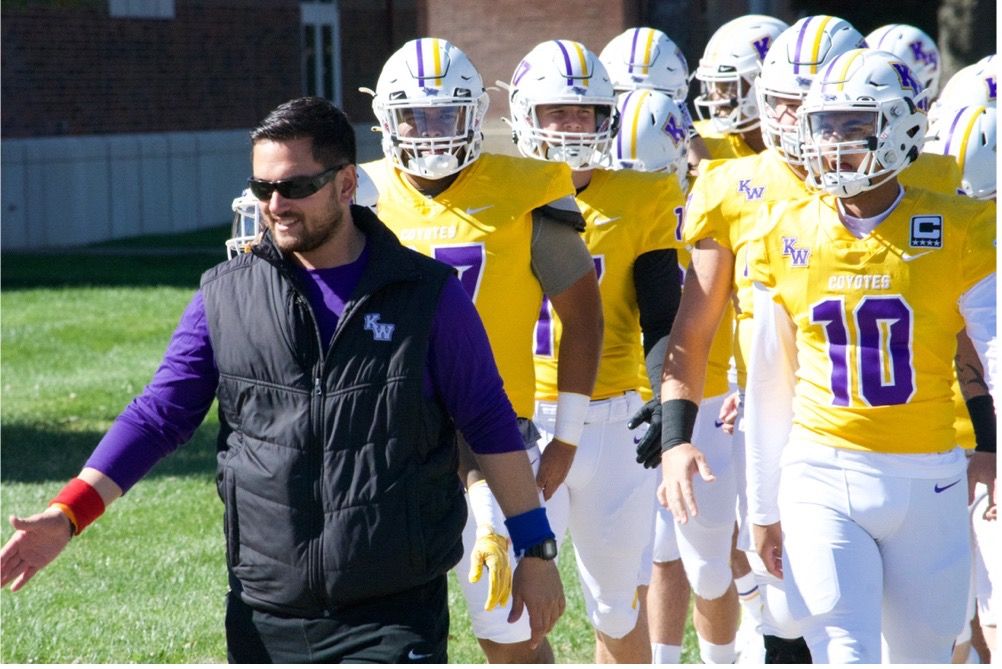 1. LISTEN
We have two ears and one mouth. What we hear is far more important than what we say. Coaching is a constant conversation, not monologues. Not just what is said, but how things are said with body language and tone tells us as much or more than the actual words do, so be observant. It is important to take in everything said by those we work with to be as prepared as possible for the time when we lead a room. If we do look to you for an answer, you better be ready to contribute rather than asking what they are talking about, so pay attention
2. TAKE NOTES
We never know when that one nugget of knowledge we picked up during a meeting, a clinic, or while watching film will be needed. Writing things down helps us keep our thoughts organized and even helps our brain remember them. Coaches who have been in the profession longer than I have been alive, still tell me they take notes every time they watch film. Writing notes also works to keep us engaged with the conversation rather than just simply hearing the words.
3. BECOME A TECHNOLOGY EXPERT
The nightmare scenario of every young coach is when the film remotely "decides" to detach itself right before a meeting, or even worse, during the meeting. Be the one who the rest of the staff can turn to when we need help fixing these problems and be ready to explain how to use any form of technology to the rest of the coaches in a simple manner. Believe it or not, there are still people out there who don't know how to connect their phone to Wi-Fi. Learn how to type fast, know the secrets to spreadsheets, filming, and any other technology your program uses, especially the benefits, dangers, and rules of social media. Technology is there to help your program run better and chances are, the young coaches on staff are the ones who get assigned many of the tasks related to it, such as video coordinator. Also, Photoshop or other editing skills can help out the brand of your program and earn some instant recognition with the guys on the team.
4. CREATE SOLUTIONS, NOT PROBLEMS
As a young coach, we never want to create issues on our staff or in our program. We are there to help make everyone else's already difficult work simpler and more efficient. We are never "just" a [insert coaching title]. The job we have is important otherwise the program wouldn't have it. The program will give us opportunities to earn other coaches' trust when we help with compliance knowledge, film breakdown, have gum or soda available, or become the guy the head coach can always depend on for a laugh. Listen and execute directions rather than blindly making your own decisions. I have been around head coaches who help carry the equipment out to practice, so no job is ever too small to leave our mark or demonstrate the ownership we have in a program with the best quality of work we are capable of.
5. ALWAYS WORK TO IMPROVE
As a young coach there is so much experience that we are lacking, so take the time to learn from those who do have a variety of experience. We will never get to meet everyone in this profession, and the wealth of knowledge surrounding this game is too great for any one person to know everything. As football coaches, we are competitive people, who always look for the next challenge and opportunity to become the best at what we do. Always work to find the time to read, teach other coaches, seek professional development, and study the game. Football moves too fast for any of us to stand still and rely only upon what we have previously done. Challenge yourself to find a coaching mentor or someone who is already where we want to be in 3-5 years and learn from them. As a young coach, our best coaching days are ahead of us and every day is preparation for it.
6. NETWORK
Coaching is all about relationships, and not just inside our own program, but outside of it as well. How we represent our program is everything, and a first impression at a team meeting, clinic, or out on the recruiting trail can go a long way towards making a lifelong friend. We never know what moments will make a strong impact in someone's life, and we never know who that person will be. As important as meeting a high quantity of coaches is, making quality connections is even more important. Not every relationship needs to come from looking for a job, but many of them can arise from wanting to learn and develop. In a total role reversal, the guy we are teaching and helping one year, may get a position and look to hire us someday. The people who we start our coaching journey with, will also hold a special place, so keep in touch with them after your time together as young grinders. Work on getting a quality handshake and get out of our comfort zone, because ultimately if we work hard and genuinely treat people right, good things will happen.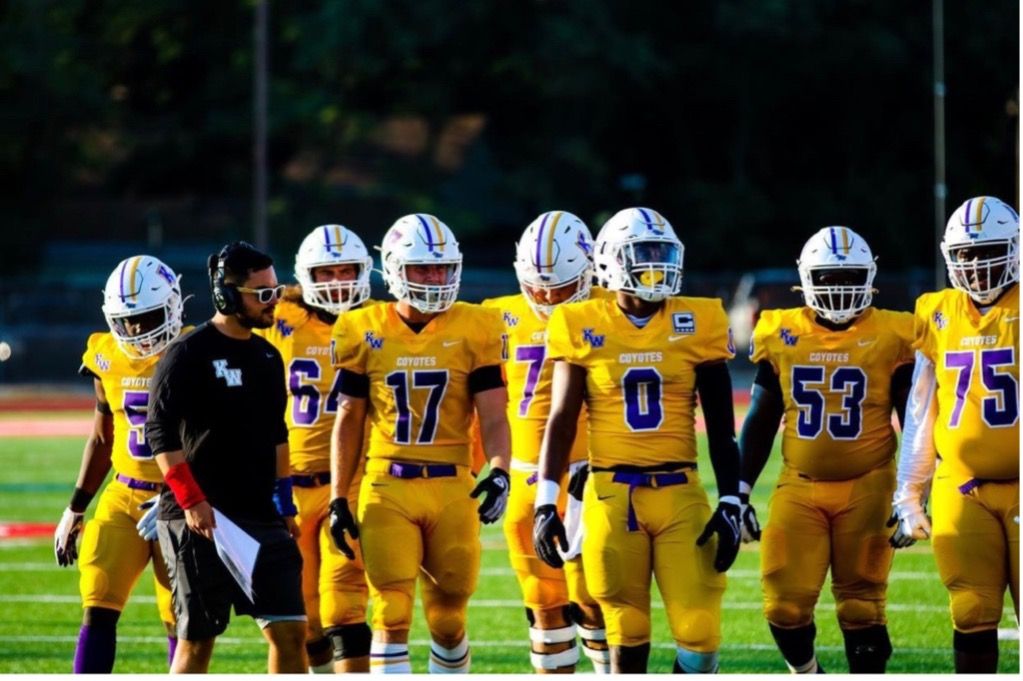 7. MAKE WHERE WE ARE THE BIG TIME
This is a people-first business and those people around us, coaches and players, all depend on us being "all-in" all the time. Coaching is teaching and helping others no matter where we are. Everyone has similar problems and elite coaches can be found at every level. While we can catch ourselves looking forward to what's next or idolizing a "bigger" job, that won't come to fruition if we don't care about what we are doing right now. No matter what job we have, there are literally hundreds of people out there who want the job we have. So own it, celebrate it and do today's work for yourself and those around you.
8. HAVE FUN AND BE YOURSELF
We have to enjoy coaching even while not being outside or on the field every day. Finding a way for us to have fun with the everyday pieces of coaching, such as: helping others grow in life, academics, athletics, and forming incredible lifelong bonds. For every bad moment that can weigh us down, there are thousands of positive moments that reaffirm what we love about coaching and why we got into it in the first place.
Our job is one that functionally operates 365 days a year, all hours of the day. Sometimes, however, coaching requires us to be human and show our guys how to balance life's many demands by getting out of the office, spending time with the family, and most importantly, being yourself. We may want to copy everything a certain influential coach does, but we can't just fake who we are. The coaches and players we are around every day will smell the phoniness from a mile away. So if we are loud, be loud, if we are a coach who participates in the drills with the players, do so, if we tweet about movies or wrestling, do that. Whatever it is that makes us ourselves, do THAT. Ultimately, give those around you the best version of yourself and have fun doing it!
Mike Famiglietti is currently in his third year as the offensive coordinator at Kansas Wesleyan University. Prior to KWU, Famiglietti had a two-year stint at Northern State University as the running backs coach and assistant recruiting coordinator. Famiglietti joined the Wolves after two seasons at Wisconsin Lutheran College.
In his two seasons at WLC, Famiglietti worked primarily as the special teams and running backs coach. He began his coaching career at the University of North Dakota as an offense, video and recruiting assistant for the program.
Famiglietti played collegiately at Western Illinois and Western Michigan Universities and was a 2-year member of the Missouri Valley Conference academic honor roll.