Brandon M. McCoy Named 2018 Reginald E.F. Colley Award Recipient
CARMEL, IN - Theta Chi Fraternity is proud to announce Brandon McCoy of Iota Beta Chapter at Missouri State University as the recipient of the 2018 Reginald E.F. Colley Award. The award is Theta Chi's most prestigious collegiate honor and annually recognizes distinguished service to alma mater, Fraternity, and community.
Brandon's leadership, influence, and passion for service are a living testament to Theta Chi's values and ideals and distinguished him during his time as a collegiate member. Brandon's extensive accomplishments and dedication have drastically helped improve his chapter, University, and local community.
Brother McCoy joined the Iota Beta Chapter during his freshman year in the fall of 2014 and was named New Member of the Semester. The brothers of Iota Beta had recruited well and members were anxious to see the growth and development of Brandon as a leader. He would not disappoint.
Brandon first served his chapter as Fundraising Chairman and planned and facilitated an annual family banquet that raised $2,400. After serving for one year as Assistant Marshal, Brandon was elected Marshal and would lead 57 pledges in their initial journey into Theta Chi. His pledge class ultimately achieved the highest grade point average out of all 34 new member groups on campus. He also implemented many of the requirements of The Resolute Man initiative into the pledging process including an etiquette dinner.
Outside of Iota Beta's executive board, Brandon served on the planning committee for Bears at Bat: Iota Beta's Guinness world record baseball game with Missouri State's FIJI chapter, which raised more than $20,000 for the USO, with $800 being raised personally by Brandon. He coordinated with local media to get press coverage for the event and played for Theta Chi at various points throughout the 80-hour game.
Brandon's favorite Missouri State event was homecoming. Every year, he competed in events throughout the week with his chapter and spent hours working on the float. Every year, it bothered him that the chapter was spending countless hours and thousands of dollars on supplies and wondered if there was a better way to make a bigger impact on Missouri State and Springfield, MO. He presented a new idea to the chapter and was able to get buy-in for his vision. He found more efficient means of spending the homecoming budget without sacrificing the integrity of traditional homecoming events. He secured enough funds to create the 'Greeks Give Back' grant which sponsored a local YMCA renovation project and utilized volunteers from Theta Chi and another sorority to impact the community in the weeks leading up to homecoming. 'Greeks Give Back' created meaningful service experiences along with opportunities for relevant, hands-on professional development. During its second year, 'Greeks Give Back', Brandon served as project manager for a grant awarded to the Diaper Bank of the Ozarks and provided leadership to student volunteers working on marketing and branding.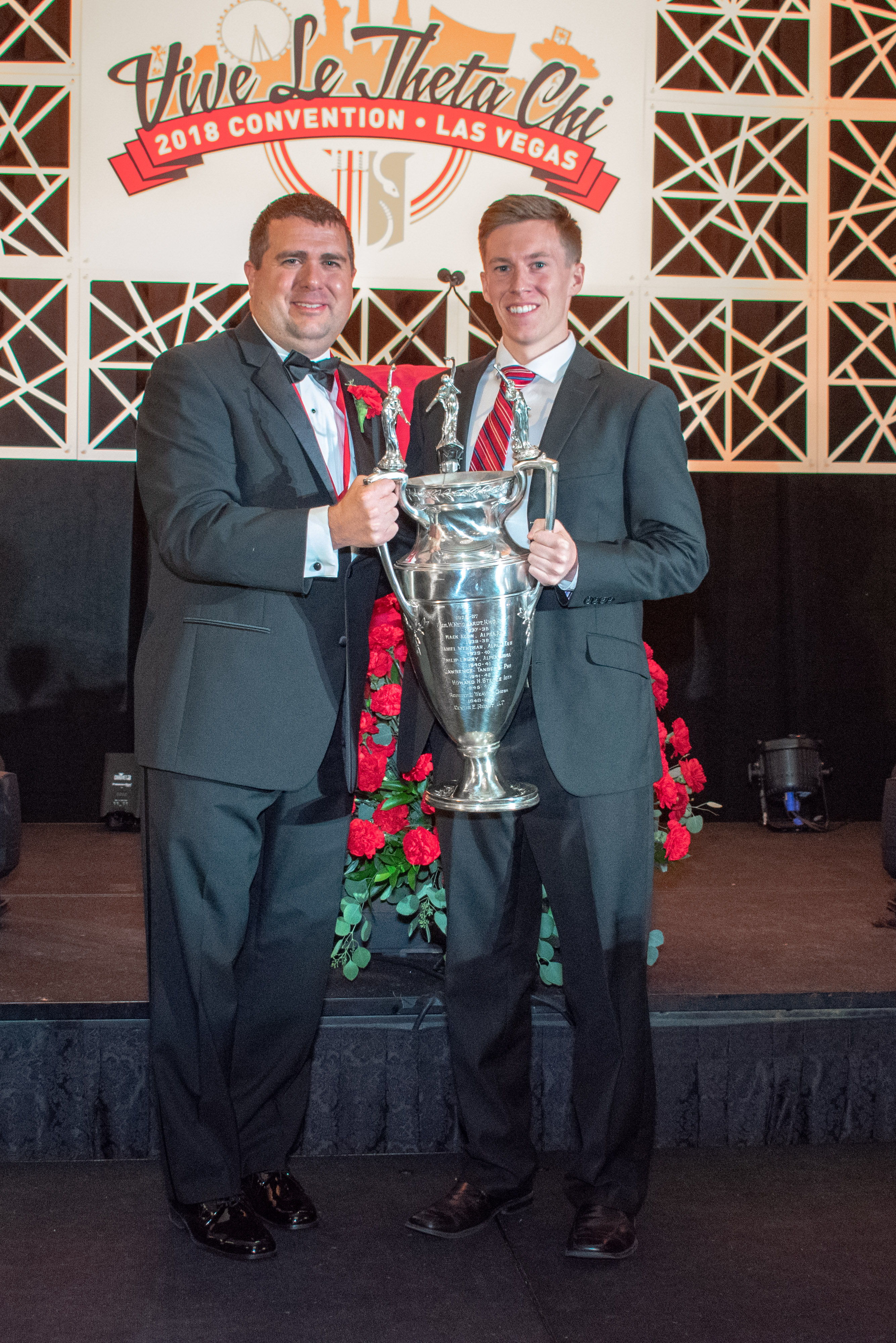 Brandon McCoy being presented with the Reginald E.F. Colley Memorial Trophy by Executive Director Mike Mayer
During the time that Brandon was a collegiate member at Iota Beta, the chapter was recognized with the Howard R. Alter, Jr. Award for Chapter Excellence in 2014/2015 and 2016/2017. In addition, Iota Beta was recognized by the North-American Interfraternity Conference with the 2016 Chapter Award of Distinction as one of the most outstanding chapters among all national/international fraternities. Members and non-members point to Brandon's involvement and influence as key components to Iota Beta's chapter-wide accolades: Brother McCoy was recognized by his chapter brothers as Man of the Year on two occasions. He completed the requirements of The Resolute Man and received the distinction at the 162nd Anniversary Convention.

Brandon's Theta Chi involvement was not limited to Missouri State. In February 2016, he attended Theta Chi's Mid-Year Leadership Conference in Austin, TX at the University of Texas. In November 2017, he organized a group of 9 brothers from Iota Beta Chapter to travel from Springfield, MO to Fayetteville, AR to attend Kappa Zeta Chapter's installation at the University of Arkansas. In February 2018, he attended Theta Chi University hosted by Delta Psi Chapter at the University of Kansas.
He is a three-time recipient of the Sherwood and Janet Roberts Blue Memorial Scholarship from The Foundation Chapter of Theta Chi Fraternity and demonstrated a commitment to pay it forward by making a gift during the Foundation Chapter's November 2017 #GivingTuesday campaign.
Brandon also showed a commitment to the greater fraternity community. He attended Missouri State's New Member Day in Fall 2014 to focus on membership development and returned the favor in Spring 2018 as a main speaker and shared the benefits and challenges of Greek Life and encouraged attendees to make the most of their experience. In June 2017, he was a participant in the North-American Interfraternity Conference's Undergraduate Interfraternity Institute (UIFI). In April 2018, he went to Washington, D.C. as a student lobbyist for the Fraternal Government Relations Coalition to discuss priorities affecting the national landscape of Greek life.
Even though he was heavily involved with Theta Chi, Brandon was also actively engaged in clubs and organizations on campus. His first leadership role was for a newly formed business organization called Phi Beta Lambda. It was their first year on campus and active membership was small. Brandon served as Vice President and helped to grow the group by 75%. The group later performed well at state competition and Brandon placed first in the state of Missouri for Parliamentary Procedure.
While pledging Theta Chi and building up Phi Beta Lambda, Brother McCoy joined the Student Government Association as a Senator during his freshman year. He was recognized as Senator of the Month, and later as the 2014/2015 Senator of the Year. As a sophomore, he served as the Director of Administrative Services and completed a $69,000 campus security camera upgrade, a $40,000 LED lighting upgrade in Missouri State's parking lots, and developed improvements to the campus shuttle system's consistency in accommodations for people with disabilities.
He later served as the campaign manager for a pair of student body president and vice president candidates. After securing their victory, he was tapped as their Chief of Staff for the 2016-2017 academic year and then took the experience learned and ran for Student Body President and was elected to serve in that capacity for 2017/2018 academic year.
As Student Body President, Brandon provided direct oversight of budgeting and utilization of more than $1.1M in university student funds; led a cabinet of 24 diverse individuals in the strategic execution of more than 40 projects; spoke at various campus events, successfully advocated for the reduction of credit hours required to graduate from 125 to the Missouri-standard of 120; served on multiple university committees as the student representative; corresponded with and lobbied local, state, and federal government officials on behalf of Missouri State students; traveled to China to build relations with students, faculty, and staff at a partner university; and served on the Missouri State's Executive Budget Committee where he provided student input and strategy for the $286M university operating budget and fought to keep Missouri-resident collegiate tuition increase to 1% when originally facing a 10% reduction in state funding.
Brandon shared, "My time as Student Body President was the biggest learning experience of my college career. Being able to convey and represent the student opinion to administration and work together to implement projects and change policy made me become a more effective communicator and strategic problem solver. I also gained a great sense of duty as the elected representative of over 26,000 students and learned how to advocate for education on the state and national levels."
Dr. Thomas Lane, Associate Vice President for Student Affairs & Dean of Students at Missouri State University shared, "In my 25+ years working in Student Affairs, I would assess Brandon as one of the most impressive student leaders I have had the honor of working with. When I think of the leadership and values a Theta Chi man should reflect, I am confident Brandon will be the template for many years to come."
Aside from his SGA involvement, Brandon served as a Student Orientation, Advisement, and Registration (SOAR) leader for two years and was also a member of Missouri State's Leadership Team, the Homecoming Committee (where he was the Team Competition Chair), CRU Campus Ministry, Men Addressing Social Construction, Commerce Bank Emerging Leaders Program, and a Welcome Weekend Facilitator.
In recognition of all of his accomplishments, Brandon was one of six recipients of Missouri State University's Citizen Scholar Award, the highest honor a Missouri State student can receive. The award is presented by the Board of Governors for dedication to the University's mission in ethical leadership, community engagement, and cultural competence.
Clifton M. Smart, III, President of Missouri State University, shared, "I have had the opportunity to get to know Brandon well during his academic career, secondary to his involvement with the Student Government Association. He is an outstanding student, speaker, leader and person. Brandon's academic and professional accomplishments rival those of someone much older. His initiative, tenacity, and work ethic speak for themselves. He has what it takes to succeed and is willing to work hard to achieve his goals. Brandon truly embodies the university's three pillars of public affairs and is an excellent representative for the University."
In April 2018, the Missouri House of Representatives and the Missouri Senate also recognized Brandon for his dedication to alma mater and Missouri State Fraternity and Sorority Life named me the 2017/2018 Most Outstanding Campus Leader.
Brandon did not limit his leadership and involvement to the Missouri State campus. Within the greater Springfield, MO community, Brother McCoy served as a little league coach; as a tutor with the Culture Club; and participated in 'Into the Streets', a University-wide service day focusing on red flag issues in the community. He founded the Missouri Council of Student Leaders which established a council for elected student government leaders from Missouri's four-year public higher education institutions. Next, he founded and planned the Springfield Student Leadership Summit, a two-day collaborative conference for students from Missouri State, Drury University, Evangel University, and Ozarks Technical Community College. He also serves on the Board of Directors of the Springfield Bike Share, which involved developing a strategic plan, forging partnerships, and raising funds for a bike share system in the city. He collaborated in the development of a comprehensive request for proposals and vendor selection and created and maintained the organization's website. He was also instrumental in securing a six-figure investment for the program.
Outside of Springfield, Brandon was asked by Missouri Commissioner of Higher Education, Zora Mulligan, to serve on the State Student Aid Policy Task Force to aid in setting the framework for Missouri's $110M financial aid program that serves more than 70,000 students. He volunteered for the Future Business Leaders of America and facilitated local chapter officer trainings in Missouri and Georgia, served as the public address announcer for two conferences with more than 5,000 attendees, judged competitive events, and coached students on interpersonal and technical business skills. Finally, he also volunteered abroad during a service trip to Costa Rica at a coffee farm to research fair trade and sustainable practices for a program called Coffee for Change.
While giving his all to Theta Chi, Missouri State, and the greater-Springfield, MO community, Brandon successfully balanced his involvement and community work while being a full-time student. He achieved a 3.94 grade point average, was on the Dean's List every semester, and received numerous academic scholarships. He also found time to work while in school and held four internships in his field of study. He is a member of Gamma Pi Alpha, an honors fraternity for Missouri State Presidential Scholars, Order of Omega, and was also in Missouri State's Honors College, which required the completion of special coursework and experiential learning components.
Brandon is Iota Beta's second Colley Award recipient. Scott Turk (2012) received the award in 2012 and had also served as Student Body President at Missouri State. Scott shared, "Brandon interned for me and he truly embodies what it means to be a Theta Chi. He leads with humor, compassion, and intellect. There could not be a better person to be chosen for the Colley Award."
Iota Beta Chapter President Noah Kronk (2018) shared, "I experienced Brandon's influence and mentorship personally during my time as a new member of Theta Chi. Brandon served as Marshal and I began to learn through him what being a Resolute Man looked like. It was evident that Brandon truly was passionate about Theta Chi in the way he ran his new member education classes. Each lesson that was taught to me was taught in a manner of the upmost respect for Theta Chi, its history, ideals, and values." Noah added, "Brandon has always been someone people look to for guidance and encouragement and he has never turned away a brother or person who has needed his help. He has continually set the bar higher and higher for our members and has given more to our Fraternity and to our campus than anyone could have asked from him."
Brandon received a Bachelors of Science in economics with minors in finance and general business in May 2018. He is currently working as a Financial Analyst with CFO Network, LLC in Little Rock, AR.
"I hope to have been an example to other students, a voice for the voiceless, and an inspiration to future leaders during my time at Missouri State and in the Springfield community," Brandon shared. He continued, "My life mission is to make a positive impact on my realm of influence, and that's what I will continue doing wherever life takes me. I believe that my biggest accomplishments in Theta Chi haven't fully come to fruition [and I may never know their full impact.] Whether I inspired a younger brother to make an impact in the community, lived our Sacred Purpose by showing a brother care in a time of need, or inspired future generations of bigger and bolder leadership, it is these small impacts in the lives of others that I hope improve their lives and the lives of whomever they encounter."
Congratulations to Brother McCoy, our 2018 Colley Award Recipient – Truly, a Resolute Man.
Click here to check out the article on the 2018 Colley Award Runners-Up.
---
First presented in 1929, the Colley Award is named for Reginald E.F. Colley, a World War I veteran and past member of Theta Chi's board of directors, the Grand Chapter. As a member of Phi Chapter, Brother Colley developed a celebrated reputation as a campus, community and civic leader. He graduated in 1915 and eventually headed overseas to fight for the U.S. Army on the Western Front. Brother Colley died at the age of 39, but his legacy of leadership continues to inspire future generations of talented Theta Chis. Today, the Colley Award is treasured as the Fraternity's most prestigious collegiate honor.

Founded in 1856, Theta Chi Fraternity is a men's collegiate fraternity with more than 191,000 initiated members and has established 239 chapters. Leadership development, personal development, and service to alma mater are fundamental to Theta Chi Fraternity's mission.