Theta Chi Fraternity Announces 2018 Colley Award Runners-Up
CARMEL, IN - Theta Chi Fraternity is proud to announce the two runners-up for the 2018 Reginald E.F. Colley Award. The award is Theta Chi's most prestigious collegiate honor and annually recognizes distinguished service to alma mater, Fraternity, and community. You can read about the 2018 Colley Award recipient, Brandon McCoy, here.
First Runner-Up: Daniel S. Novinski (Gamma Phi/Nebraska Wesleyan 2019)
Second Runner-Up: Daniel A. Mendoza (Eta Psi/UAB 2018)
---
Daniel Novinski is currently a junior and completing his Bachelor of Science in biology with a minor in chemistry. He is a member of the Blue Key Academic Honorary, the Huge Society of Leaders and Scholars where he recently finished his term as secretary, Phi Kappa Phi Honor Society, Beta Beta Beta Biology Honorary, and Order of Omega. Impressively, he maintains a 4.0 grade point average amidst all the activities and achievements that we will review this evening.
Brother Novinski served his chapter as the freshman representative on the standards board and was then elected Secretary and ultimately, Chapter President. Dan is currently in his second term as Chapter President and recently led his members to a cumulative chapter grade point average of 3.44, which is above the all-men's and all-fraternity averages on campus.
Outside of his chapter, Dan has gone above and beyond to involve himself in Theta Chi at the regional and international level. He has made a point to invite brothers from Alpha Upsilon/Nebraska and Delta Zeta/Nebraska-Omaha to attend brotherhood building activities and social events and also takes the time to visit them and attend their initiation ceremonies. He has attended Theta Chi University at the University of Minnesota and at the University of Kansas as well as the Sasser Presidents Conference.
On campus, Dan is involved in the Student Affairs Senate Executive Council, the Pre-Health Club, and is a star on the University men's swim team, where he holds several school team records including the 200 m backstroke, 200 m freestyle, 1,000 m freestyle, and the 800 m freestyle relay. He led the team to the Iowa Intercollegiate Athletic Conference Men's Swim Team Championship and was selected for the Liberal Arts All-Champion Team and the College Swimming Coaches Association of America Scholastic All-America Team. He is the 2017 recipient of Theta Chi Fraternity's "Shug" Jordan Award which recognizes Theta Chi's top scholar-athlete.
Interfraternally, Dan attends IFC meetings and hosts IFC events at the Theta Chi chapter house to promote interfraternal relations. He was recognized on campus during the Greek Awards Celebration as the 2016 Most Values Oriented Member and was also the 2018 Outstanding Chapter President.
Dan's community and civic activities include working with the Literacy Council to assist immigrants in learning English, mentoring students from Thailand, and participating in the FoodNet program to redistribute food from the student dining center to shelters in the city. He frequently volunteers more than 25 hours a semester.
From leading his chapter to volunteering 25 or more hours of service per semester, to membership in several on-campus clubs and activities, countless hours in the pool, AND maintaining a 4.0, Brother Novinski truly represents a commitment to Theta Chi's ideals and our maxim of Alma Mater First and Theta Chi for Alma Mater.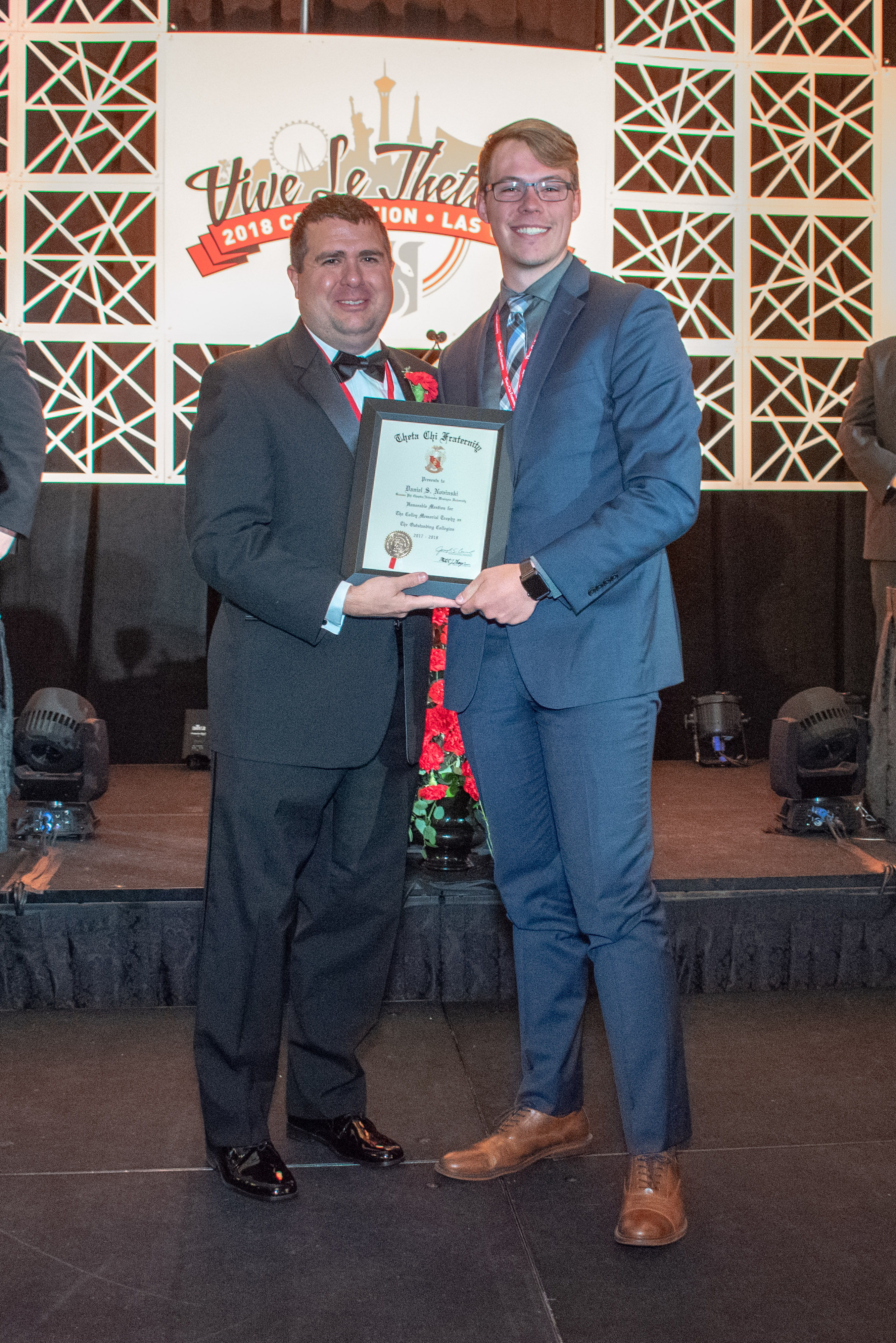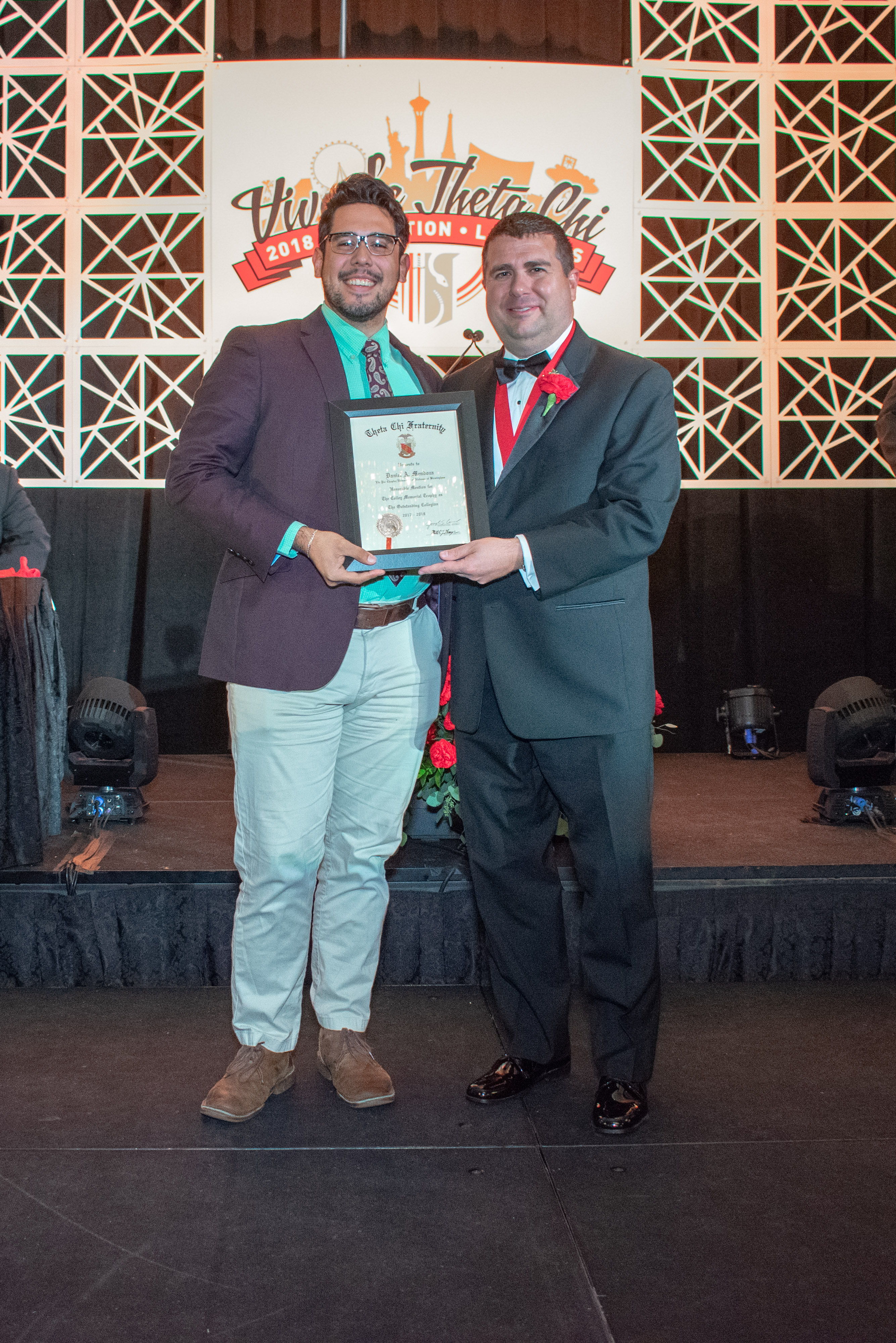 This year's Second Runner-Up, Daniel Mendoza, is in the process of completing a Bachelor of Science degree in biology with minors in chemistry, international studies, STEM education, and Spanish. He is a member of Alpha Epsilon Delta pre-health honor society and Order of Omega, where he served as president. He maintains a 3.38 grade point average and is a recipient of a Sherwood and Janet Roberts Blue Scholarship from The Foundation Chapter of Theta Chi Fraternity; a Gates Millennium Scholarship; and the William Jefferson Clinton Scholarship which funded a semester at American University in Dubai. He also studied abroad in Costa Rica and Cuba. He has conducted four research projects, with one being funded by the National Science Foundation.
At his University, Brother Mendoza served as a Teaching Assistant and has also supported international students with learning English. He was elected as the representative of the University Honors Program to the Honors College Leadership Council and was a member of their Activities Committee, and currently serves as vice president. He was also one of 22 honors students tapped as the inaugural group of Honors College Ambassadors and represents the Honors College at off-campus recruitment events and at multi-day retreats. He has served as president of UABTeach, a University program that aids STEM majors in receiving secondary education teaching certificates. He currently serves as the Student Government Association Director of Campus Relations and is also a member of his University's ballroom dance society.
Daniel was named as a finalist--and ultimately as first runner-up--for Mr. UAB, the highest honor given to a student based on academics, leadership, and involvement in student life during his University's homecoming festivities in 2016.
Within his chapter, Daniel served on the Ritual Committee, Standards Board, and as Alumni Relations Chairman, Inter-Greek Chairman, Marshal, and is currently serving as Chapter President, where one of his major accomplishments has been the establishment of a chapter advisory board.
Through his start as IFC Executive Secretary, Brother Mendoza has become heavily involved in interfraternity affairs outside of his university. He attended the Southeastern Interfraternity Conference's Leadership Academy and was elected as Vice President of Awards. Through his excellent work and diligence, he befriended and impressed many, and currently serves as President of the Southeastern Interfraternity Conference. He has also attended the Undergraduate Interfraternity Institute and is serving this summer as a student coordinator.
In his community, Daniel established a scholarship at his high school for a graduating senior within the theater department, volunteered to clear space and trails at Red Mountain Park, supported local health fairs, and served as a STEM tutor in local high school classrooms.
Daniel holds a job within the Office of the University Registrar and as an Education Abroad Peer Counselor.
Brother Mendoza's record of achievement is impressive, but perhaps even more so in light of his personal tragedy regarding the recent loss of his mother due to illness. Daniel's strength of character, positive outlook on life, and caring attitude truly represent the very best in Theta Chi Fraternity.
Congratulations to our 2018 Colley Award Runners Up!

---
First presented in 1929, the Colley Award is named for Reginald E.F. Colley, a World War I veteran and past member of Theta Chi's board of directors, the Grand Chapter. As a member of Phi Chapter, Brother Colley developed a celebrated reputation as a campus, community and civic leader. He graduated in 1915 and eventually headed overseas to fight for the U.S. Army on the Western Front. Brother Colley died at the age of 39, but his legacy of leadership continues to inspire future generations of talented Theta Chis. Today, the Colley Award is treasured as the Fraternity's most prestigious collegiate honor.
Founded in 1856, Theta Chi Fraternity is a men's collegiate fraternity with more than 191,000 initiated members and has established 239 chapters. Leadership development, personal development, and service to alma mater are fundamental to Theta Chi Fraternity's mission.