Brandon McCoy receives NIC Undergraduate Award of Distinction
Carmel, IN - Theta Chi Fraternity is proud to announce Brandon McCoy (Iota Beta/Missouri State 2018) has been named a recipient of the North-American Interfraternity Conference (NIC) Undergraduate Award of Distinction.
This is the most prestigious award that can be presented to an undergraduate fraternity man in the interfraternal world. The NIC Undergraduate Award of Distinction recognizes a fraternity man who has developed as a leader, and person, striving to embody the values of his fraternity while holding others to the same standard.
After joining the Iota Beta Chapter in 2014, Brandon served as Marshal for a year. The leadership gained from that position transferred to his time as Missouri State's Student Body President. He also served on the planning committee for Bears at Bat: Iota Beta's Guinness world record baseball game with Missouri State's FIJI chapter, which raised more than $20,000 for the USO ($800 of which was personally raised by Brandon). In April 2018, he was chosen to travel to Washington D.C. as a student lobbyist for the Fraternal Government Relations Coalition to discuss priorities impacting the national landscape of Greek life.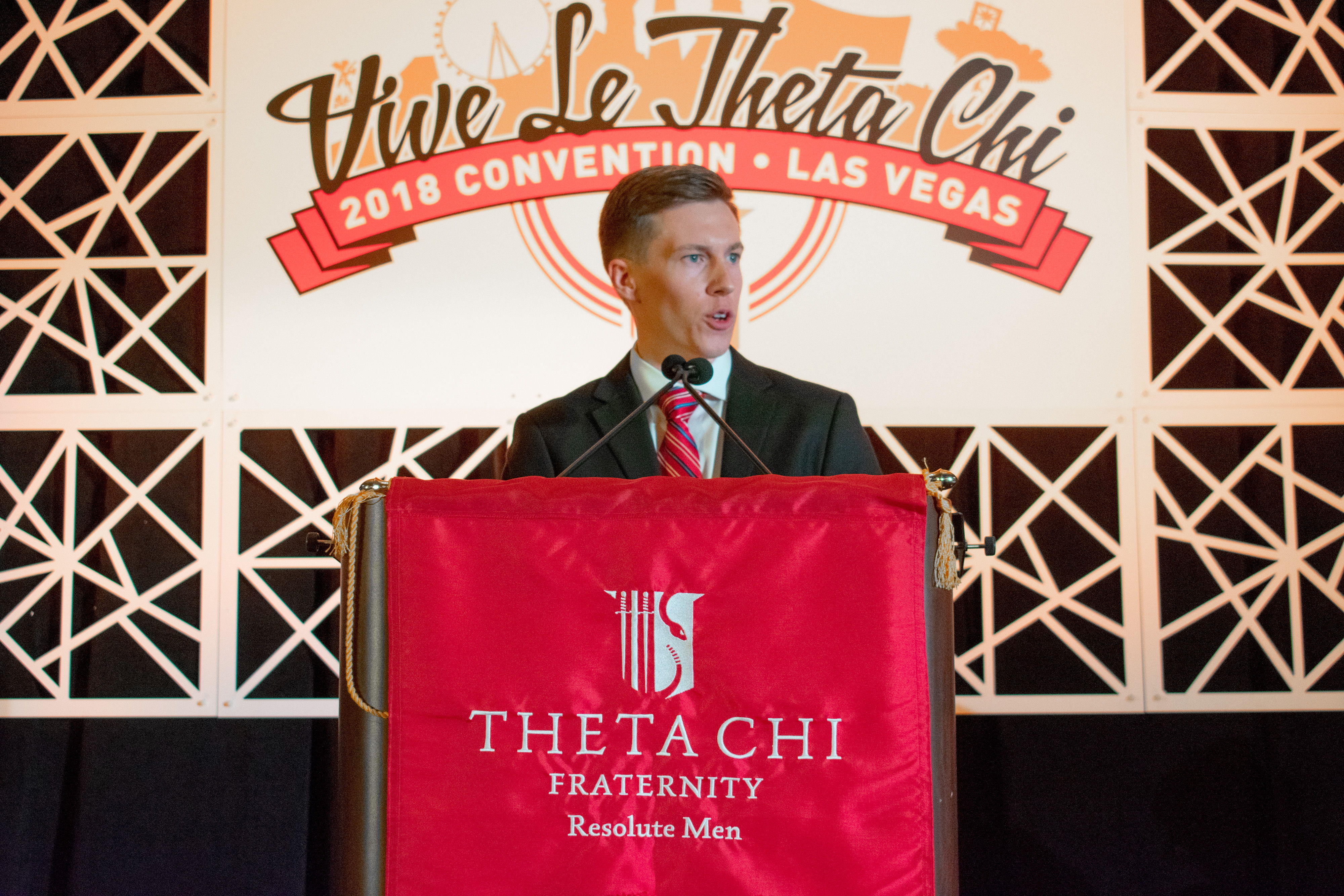 Before being recognized by the NIC, he was selected as the 2018 recipient of the Reginald E.F. Colley Award, the highest distinction available to Theta Chi collegians. McCoy is the eleventh brother to receive both the Colley Award and the NIC Undergraduate Award of Distinction, and is the second member of Iota Beta Chapter to be so honored, following in the footsteps of Scott Turk (2012).
"It's a true honor to receive the NIC Undergraduate Award of Distinction," stated McCoy. "I'm thankful for the opportunities Theta Chi, Missouri State University, and the NIC have provided me over the years and the doors that continue to open as a result of my fraternity experience. It doesn't stop here—I will work to uphold the ideals of the Resolute Man and fraternity men everywhere for years to come."
Brandon currently works for CFO Network as a Financial Analyst.
Founded in 1856, Theta Chi Fraternity is a men's collegiate fraternity with more than 191,000 initiated members and has established 240 chapters. Leadership development, personal development, and service to alma mater are fundamental to Theta Chi Fraternity's mission.