Twenty years after the tragic terror attacks on September 11, 2001, we pause to reflect and remember those we lost and the heroes who stepped up in the face of insurmountable challenges.
Using material collected from articles, obituaries, books, social media, recollections, and other sources, the Fraternity has assembled profiles of the ten (currently known) Theta Chi brothers who were affected and involved that horrible day.
In each case, the facts are reported as best as is currently known and available.
We present the following profile with all due respect, sympathy, and care.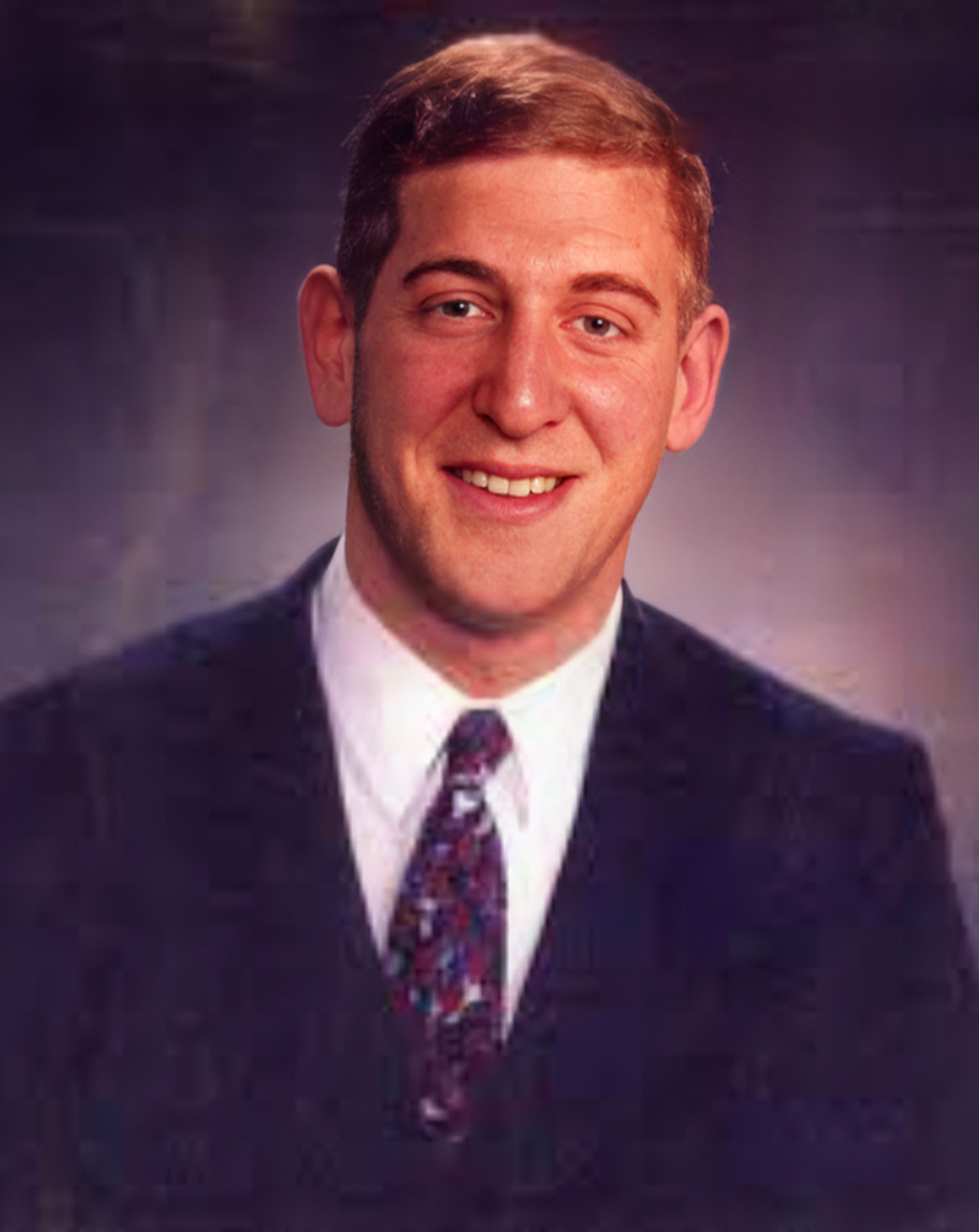 Craig M. Blass (Eta Kappa/James Madison 1996)

February 7, 1974 – September 11, 2001
Craig was born in New Hyde Park, NY, and lived in Greenlawn, NY. He worked as a stock trader with Cantor Fitzgerald on the 104th floor of 1 World Trade Center (North Tower).
Craig was a Rechartering Member and was installed as Vice President when Eta Kappa Chapter was reinstalled in 1995.
Sean Walsh (Eta Kappa/James Madison 1994) said, "I was Craig's friend and fraternity brother at JMU. I will always remember him as an upbeat, positive, and kindhearted person who truly never had a bad word to say about anyone. We had a shared love of sports, and we were both native Long Islanders going to school in VA, but besides those common bonds, I also knew that he had a beautiful spirit, was a friend to everyone he met - and always made people feel good about themselves. Although it was devastating to learn the news all those years ago, I will always remember Craig in that way - smiling, upbeat, and a friend and positive influence to everyone he met."
Tim Miller (Eta Kappa/James Madison 1996) said, "I am always reminded of what we lost and what I lost. A great man, brother, friend, vice president, son, and so much more. Honor those we lost by never forgetting who they were and the light they brought into our lives and our world. Craig, I miss you more than I could ever put into words."
Geoff Black (Eta Kappa/James Madison 1996) wrote,
"Craig Blass came to JMU in August of 1992. As fate would have it, he ended up in Eagle [Hall] with a bunch of other freshman who became fast friends. Over the next couple of semesters, this group of young men rushed and pledged an emerging fraternity on campus, Theta Chi. Craig immediately became a respected member of his fraternity, being voted onto executive council as Treasurer for his sophomore year. He then was voted to two consecutive terms as Vice President, where he served an integral role in helping the chapter regain its charter.

In addition to his involvement and accomplishments with the fraternity, Craig took an active part in intramural sports at JMU. Originally an athlete, and later as an employee, Craig was able to achieve a balance of activity outside of fraternity life. As a student, he majored in finance and graduated in May of 1996. He later took a job at Cantor Fitzgerald where he worked until tragedy struck on September 11, 2001.
More than all his activities and accomplishments, Craig was a dear friend to many people, whose kindness and easy going spirit touched everyone he came in contact with. He loved New York and its sports teams and never hesitated to extend the Helping Hand to anyone and he will be missed by all who knew him."

Ray Heath (Eta Kappa/James Madison 2000) shared, "One of the first brothers of Theta Chi I met in 1995! Great guy and one of the reasons I am a Theta Chi today."
Eulogy delivered at a Memorial Service held at James Madison University by Jason Sfaelos (Eta Kappa/James Madison 1996):
Thank you all for being here this morning. We have returned to this campus to celebrate, to see old friends, and make new ones. But this is also a morning for remembrance. September 11th changed the world we live in. Gone is our country's complacent sense of invulnerability, and gone, too, is our friend Craig Blass who was taken from us that atrocious day. We're here to remember our friend Craig Michael Blass.
Craig and I go back 15 years. We became friends in high school, roomates our freshman year at JMU, and fraternity brothers during our sophomore year. Looking back, I realized that I lived with Craig for four years at college, and, since 1992, there were few weekends that we didn't spend together. Most recently, I was fortunate enough to have him as a groomsman in my wedding.
Many of you will remember Craig and the smile he always had on his face. For those of you who visited the house in which we lived, you may remember that Craig always seemed to be there. And most likely when you walked up to the front porch, Craig was sitting on the couch wearing his Syracuse hat, Georgetown sweatshirt, and, of course, his Adidas sandals while eating an entire Papa John's pie and watching SportsCenter. We should keep that image in our minds, and always remember Craig laughing and smiling, joking or simply moving along with an optimistic outlook on life. Craig had a positive outlook because he understood life. Craig took the good with the bad, never taking himself too seriously and always able to put things into perspective. Thankfully, for those of us that were close to Craig, his attitude rubbed off on each and every one of us. Making our lives that much better.
Craig was a good friend to all of us. He became part of everyone's life here. Which is why you are all here today. Each one of us will remember him in his or her own way. Personally, I've lost more than a friend or a fraternity brother. Craig was my family, an integral part of my everyday life. I know I will never forget him. He is my brother and always will be.
In Craig's religion there is no afterlife; you make your heaven or hell while you are on earth. Craig not only made his heaven here, but, as a result of his friendship, he made our lives that much more joyful.
So, in fond remembrance of the spirit that Craig brought to us, and the way in which he approached life, let us not forget why we are here this weekend. This is Homecoming at our Alma Mater, James Madison University. Please go out and celebrate life. Find your old friends; re-establish the bonds that were once strong. Make some new friends, but, most importantly, live life.
The following profile published in The New York Times on September 30, 2001:
By all accounts, Craig Blass was living the high life, and he loved it. Bachelor parties in Las Vegas, summer weekends in the Hamptons, the social scene in the city. But there was one other thing he really liked to do that always seemed to surprise people. "He loved to go shopping with me," said Mr. Blass's mother, Barbara Blass. "My friends would say, 'He still shops with you?' And I'd say, 'Oh, yes.' "
He splurged on himself, his mother and others because "he was living the good life, making good money and spending it because he made it," Mrs. Blass said. Mr. Blass, 27, worked as an institutional stock trader for Cantor Fitzgerald. He grew up in Greenlawn, on Long Island, and cheered for the New Jersey Devils hockey team. If he was not out at an athletic event or socializing, he could probably be found on his mother's couch, flipping through the sports channels with his younger brother and their father. He also loved to gamble.
"That was one of his joys," Mrs. Blass said. "But I guess if you work on Wall Street you have that in you, you gamble all the time."
Brother Blass' name may be found at the 9/11 Memorial in New York City on the North Pool: Panel N-28.
Raising funds through gifts and an annual golf tournament, the Craig Blass Memorial Scholarship was established at James Madison University by Craig's classmates and Eta Kappa Chapter brothers Geoff Black (1996), Tim Miller (1996), Andrew Norton (1996), Bill Roche (1996), and Jason Sfaelos (1996). The Blass Memorial Scholarship is awarded annually to a JMU student who meets GPA requirements and is an active member of Theta Chi Fraternity (preferred) or another Greek organization; preferences include students from New York, business majors, and students who are involved in intramural, club, or other sports.
For additional photos, tributes, and information on Brother Blass, please visit his page on the 911 Living Memorial and the Craig Blass Memorial Facebook Page.
Click here to view an approximate timeline of what is currently known about Brother Blass and other brothers during September 11, 2001.
Click here to access additional individual profiles of other Theta Chi brothers lost or involved on 9/11.