Daniel S. Novinski Named 2019 Reginald E.F. Colley Award Recipient
CARMEL, IN - Theta Chi Fraternity is proud to announce Daniel S. Novinski of Gamma Phi Chapter at Nebraska Wesleyan University as the recipient of the 2019 Reginald E.F. Colley Award. Brother Novinski is Gamma Phi's second Colley Award recipient. Bradley K. Stock (1998) received the award in 1997. The Colley Award is Theta Chi's most prestigious collegiate honor and annually recognizes distinguished service to alma mater, Fraternity, and community.
From leading his chapter to volunteering 25 or more hours of service per semester, to membership in several on-campus clubs and activities, countless hours in the pool, all while maintaining a 4.0, Brother Novinski truly represented a commitment to Theta Chi's ideals and our maxim of Alma Mater First and Theta Chi for Alma Mater.
Brother Novinski served his chapter as the freshman representative on the standards board and was then elected Secretary and ultimately as a two-term Chapter President. He led his members to a cumulative chapter grade point average of 3.44, which is above the all-men's and all-fraternity averages on campus. He also led the chapter to raise more than $11,600 for the USO, American Cancer Society, and Junior Achievement. He doubled the size of his chapter: when he joined Gamma Phi, there were only 20 brothers. When he graduated, there were nearly 50.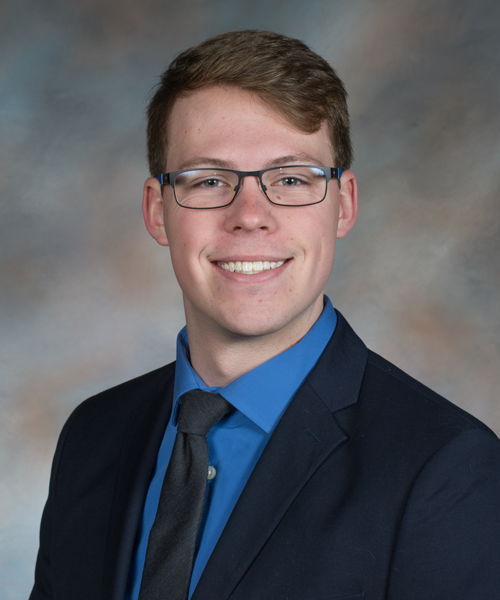 On three occasions, Dan organized a cross-country summer road trip and weeklong brother retreat to his family's cabin in Flathead Lake in northwestern Montana. The trip, a 20-hour drive from Lincoln, NE, created memories that will last a lifetime. Activities included hiking, wakeboarding, jet skiing, camping, visiting Glacier National Park, cookouts, and bonfires as well as a day-long service project in an elderly community in Montana which included home repairs, transfer station runs, dock repairs, and many other tasks. When a brother on the trip contracted a severe case of tonsillitis, Dan quickly arranged for the brother to be taken to the closest hospital – which was 70 miles away. Dan then created a GoFundMe page for this brother so his mother could fly up and be with her son. In one week, Dan raised over $2,500 for the brother's family.

Prior to his graduation, Brother Novinski was recognized with the Resolute Man distinction. As a Resolute Man, Dan had demonstrated that he had developed leadership skills, learned how to work within a team, enhanced his social skills, and created a plan to support his university and Theta Chi in the years to come.
Outside of his chapter, Dan went above and beyond to involve himself in Theta Chi at the regional and international level. He invited brothers from Alpha Upsilon/Nebraska and Delta Zeta/Nebraska-Omaha to attend brotherhood building activities and social events and visited them and attended their initiation ceremonies. He attended Theta Chi University three times, the Sasser Presidents Conference twice, and the 162nd Anniversary Convention in Las Vegas.
Interfraternally, Dan attended IFC meetings and hosted IFC events at the Theta Chi chapter house to promote interfraternal relations. He served as the 2019 NWU Greek Week Director and organized a week full of social and community service events, awards and judge delegation, and liaised between Nebraska Wesleyan administration, community organizations, and
Greek chapters on campus. Dan was recognized on campus during the Greek Awards Celebration as the 2016 Most Values Oriented Member, the 2018 Outstanding Chapter President, and the 2018 Greek Man of the Year. In addition, Gamma Phi was recognized as the 2018 NWU Greek Chapter of the Year.
On campus, Dan was involved in the Student Affairs Senate Executive Council, the Pre-Health Club, and was a star on the university men's swim team, where he holds several school team records including the 200 m backstroke, 200 m freestyle, 1,000 m freestyle, and the 800 m freestyle relay. He led the team to the Iowa Intercollegiate Athletic Conference Men's Swim Team Championship in 2017 and 2018 and again in 2019 as part of the American River Conference. He was selected for the Liberal Arts All-Champion Team for four straight years and the College Swimming Coaches Association of America Scholastic All-America Team in 2015. In 2018, he was tapped for the Coaches Sports Information Directors of America's Academic All-District Team [District 8]. Finally, Dan was the 2017 recipient of Theta Chi Fraternity's "Shug" Jordan Award which recognizes Theta Chi's top scholar-athlete.
As a 4.0 student, Dan was a member of the Blue Key Academic Honorary, the Huge Society of Leaders and Scholars (where he served as secretary), Phi Kappa Phi Honor Society, Beta Beta Beta Biology Honorary, and Order of Omega. In addition, he was awarded the CRC Press Award, which is given to the "Most Outstanding First-Year Chemistry Student."
Dan worked in the SEA-PHAGES Virus Research Program that successfully discovered and completed the isolation, purification, and analysis of a novel bacteriophage virus. Because of his efforts, Dan was given the privilege of naming it BonaeVitae, which means "Life is Good." During the following semester, Dan extracted and annotated the virus' genome and presented his research at the university's symposium and was asked to become the Lab and Teaching Assistant for the program.
Dan also had success in his National Science Foundations Bioinformatics Research where he studied the transcriptomes of corn snakes to better understand the movement patterns and gene expression levels of various locomotor modes. At the University of Nebraska Research Experiences for Undergraduates research symposium, Dan won the Systems Biology Most-Distinguished Poster Presentation award for his research. He continued that research as an independent study through his junior and senior years and presented his findings at the Nebraska Academy of Sciences.
Dan frequently volunteered more than 25 hours each semester. His community and civic activities included working with the Literacy Council to assist immigrants in learning English, mentoring students from Thailand, serving as a Triage Patient Assistant in the emergency department of area hospitals, and participating in the FoodNet program to redistribute food from the student dining center to shelters in the city.
Nebraska Wesleyan University President Frederick Ohles wrote, "Among all undergraduate students at our university during my twelve years of service, I place him among the five most distinguished and capable. He has that impressive standing among a group of more than 10,000 students. His excellence, demeanor, and accomplishments put him in the category of students who could compete seriously for a Rhodes Scholarship, the foremost academic distinction in the U.S."
Gamma Phi Chapter Adviser Dustin Bartley (Gamma Phi/Nebraska Wesleyan 2003) shared, "[Dan] is a model member of Theta Chi Fraternity due to his commitment to alma mater and to his chapter. He is well-respected by his chapter brothers, fellow students, professors, and administrators for his continuing level of achievement and the kindness with which he treats everyone. As the chapter adviser for the last twelve years, Mr. Novinski absolutely stands out as a gifted leader and excellent representation of the best of Theta Chi."
Gamma Phi Chapter President Hunter Smith (2021) wrote, "Daniel Novinski is an individual who excels in all activities within and outside of Theta Chi. He is someone who exemplifies everything a Theta Chi should be and is a true Resolute Man." He continued, "Without Dan, the
Gamma Phi Chapter would not be considered one of the top chapters at Nebraska Wesleyan University…His commitment to recruitment of ideal brothers, as well as pushing everyone to shine academically and get involved on campus, represents all that a Theta Chi should strive to become."
Dan received a B.S. in biology with a minor in chemistry in May 2019. He has started his medical studies at the University of Nebraska Medical Center School of Medicine.
Dan stated, "Despite my initial hesitation, joining Theta Chi impacted me in ways I could have never imagined. My brothers in Gamma Phi Chapter pushed me to grow as a person and become a leader in our chapter and campus community while living the ideals of a Resolute Man. Through my commitment to my chapter, I gained both confidence and leadership skills while finding the support needed to succeed in my academic pursuits."
He continued, "Since joining Theta Chi, I have seen members come out of their shells; be accepted regardless of sexual orientation, race, or social background, and find solace in their brothers during difficult times. Our Fraternity supports each member to overcome obstacles and provides an unparalleled system of assistance not just on campus, but in every aspect of life."
He concluded, "Being a part of this impact, of Gamma Phi Chapter, and of Theta Chi Fraternity has been humbling and inspiring. I am truly honored to receive the Colley Award."
Congratulations to Brother Novinski, our 2019 Colley Award Recipient – Truly, a Resolute Man.
Click here to check out the article on the 2019 Colley Award Runners-Up.
First presented in 1929, the Colley Award is named for Reginald E.F. Colley, a World War I veteran and past member of Theta Chi's board of directors, the Grand Chapter. As a member of Phi Chapter, Brother Colley developed a celebrated reputation as a campus, community and civic leader. He graduated in 1915 and eventually headed overseas to fight for the U.S. Army on the Western Front. Brother Colley died at the age of 39, but his legacy of leadership continues to inspire future generations of talented Theta Chis. Today, the Colley Award is treasured as the Fraternity's most prestigious collegiate honor.
Founded in 1856, Theta Chi Fraternity is a men's collegiate fraternity with more than 191,000 initiated members and has established 241 chapters. Leadership development, personal development, and service to alma mater are fundamental to Theta Chi Fraternity's mission.